The Perfect Home Gym
Time to chuck the ab-blaster and sell the ellipti-trainer. All you need for your ultimate home fitness center are these key essentials.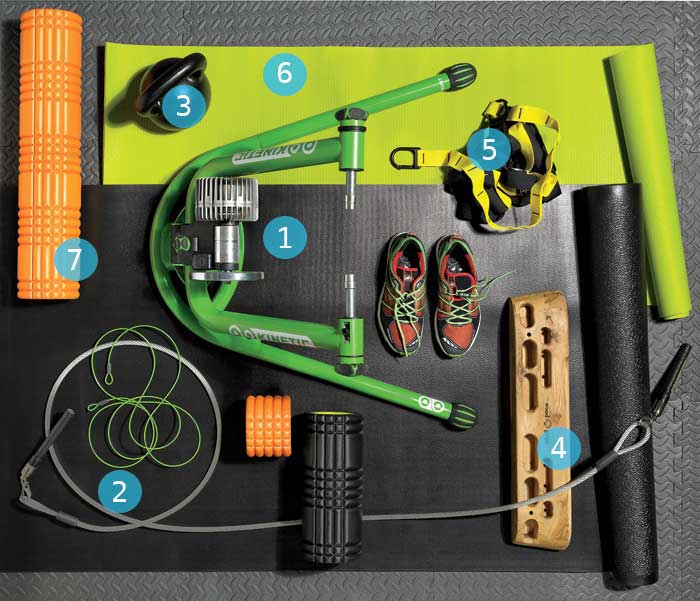 Inga Hendrickson
Heading out the door? Read this article on the new Outside+ app available now on iOS devices for members! Download the app.
Cardio: Rev Your Engine
1. Kurt Kinetic Rock and Roll trainer: Thanks to the pivoting frame, the Rock and Roll mimics the road, so both your legs and your cycling-­specific core muscles get a workout. ($579)
Winter Fitness Tips Home Gym
2. Crossrope ­Complete set: ­Seven interchangeable ropes, from two ounces to three pounds, clip into steel-ball-bearing handles and will get you Floyd Mayweather fast in no time. ($139)
Rx: Ride for an hour on the Kinetic or jump rope for 20 minutes three times a week. Set to ­increased resistance, the Kinetic is also great for high-intensity intervals.
Weight Training: Strengthen Your Frame
3. DragonDoor Russian kettlebell: It comes in a range of weights, but the 35-pound cast-iron classic is favored by strongmen everywhere. ($108)
4. Metolius Wood Grips training board: More versatile than a pull-up bar, this compact hang board also lets you perform a variety of climbing-specific exercises. ($70)
Rx: Ten kettlebell clean-and-presses per arm, followed by ten pull-ups. That's one set. Do three of them three times per week.
Full-Body Workout: Train Your Muscle Chain
5. TRX Home kit: A do-it-all device that hangs from any doorway in your home and stashes in a drawer. ($200)
Rx: Instructions for six basic exercises are included. Do them twice a week for a full workout.
Injury Prevention: Bomb-Proof Yourself
6. YogaJack One mat: Wider, longer, and thicker than most mats, with a nonslip surface for steady traction during sweat-inducing workouts. ($70)
7. Trigger Point Grid foam roller: Varying densities along the Grid's length are designed to mimic a masseuse. Available in three sizes. ($40)
Rx: Begin your workout with 15 minutes of yoga moves. End it by targeting your calves and quads for five minutes with the roller.
Ready To Get In The Shape of Your Life, Right Now?
Start today with our award-winning, five-part plan: The Shape of Your Life. And to help kick off 2014 right, get 50-percent off for a limited time by using code getfit2014 for a 50 percent dicount on our interactive training plan.