Should You Be Going to Preventive Physical Therapy?
Here's what the experts say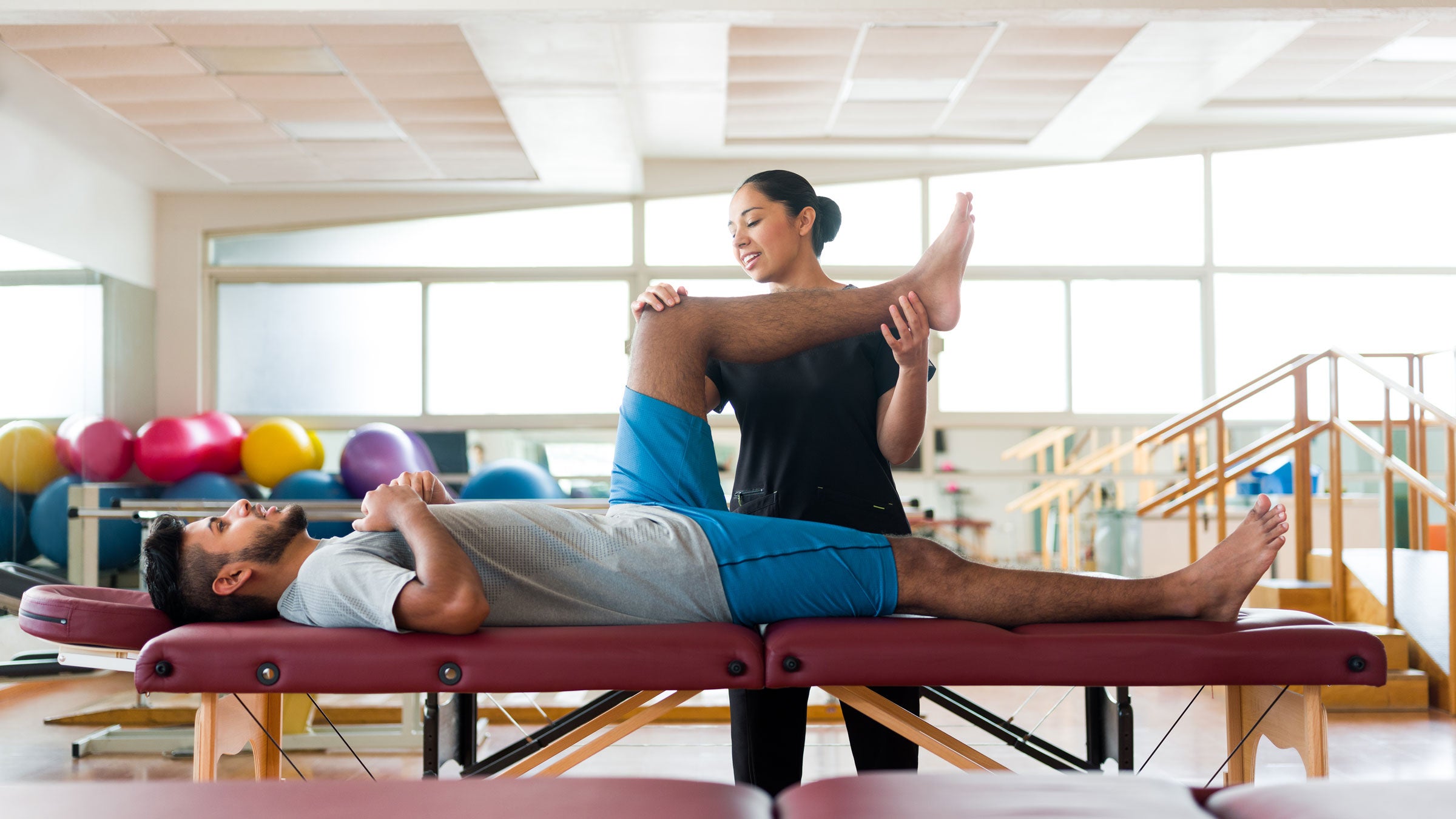 Getty Images
Heading out the door? Read this article on the new Outside+ app available now on iOS devices for members! Download the app.
In this era of wellness, you might engage with multiple health professionals—from your primary care physician and dermatologist to your therapist and dietitian—to take care of all aspects of your body. That may soon include a physical therapist.
"I know a number of clinics that are trying to implement an annual visit to a physical therapist—similar to how you would see your primary physician for a yearly physical," says Katie Flores, a professor of physical therapy at California State University, Northridge.
What Is Preventive Physical Therapy?
Typically, you go to physical therapy because you're trying to recover from an injury. But at a preventive physical therapy check-up, you can expect to take similar tests of strength, flexibility, balance, and gait. The results of these assessments determine where you could be prone to injury when walking, running, playing sports, or even just performing daily chores, Flores says.
In the same way that tests at your annual physical might indicate high blood pressure or an irregular heart rate, the results of these evaluations can do the same. "For instance, slower gait speeds have been linked to increased hospitalization, cognitive decline, fall risk, and even mortality," Flores says. Once you identify these problem areas, your physical therapist can develop an action plan.
However, that doesn't mean your calendar is about to be full of ongoing sessions. According to Paulo MacMillen Sitagata, a physical therapist for MJ the Musical, preventive physical therapy isn't meant to be perpetual.
"We don't want clients to be coming to physical therapy forever, especially if they don't have an injury," MacMillen Sitagata says. "We do, however, want to have them coming in for checkups—or to get the groundwork that they need to properly do their exercises and go on from there."
How Much Does Preventive Physical Therapy Cost?
Unfortunately, there's no industry standard for how much you can expect to pay for preventive physical therapy. A single appointment could run you between $150 and $350, MacMillen Sitagata says. However, your insurance may cover these sessions—especially if you have a referral from your primary care physician.
If that sounds steep, consider the costs of injury, particularly if you're a competitive athlete. "Even though insurance does not cover it all the time, preventive physical therapy could save you so much money," MacMillen Sitagata says. "Even if you did 12 sessions and paid more than $1,000, that's still going to be less than if you had one surgery for a preventable injury."
Do I Still Need Preventive Physical Therapy If I'm Cross-Training?
Sure, you may be dedicated to your cross-training regimen—but that won't protect you from injury in the same way preventive physical therapy might.
"When I'm doing a physical therapy assessment, I'm not only looking at one part of the body," says Angelica Alberto, a physical therapist. "I'm looking at how the rest of the body may potentially be influencing whatever ache or pain the patient is coming in with." For instance, Alberto adds, if a client is experiencing knee pain, she'll conduct tests to see what the source of the discomfort is.
Those are the types of questions that cross-training can't answer. While this smart workout methodology can help you avoid overstressing the body with the same repetitive movements, it doesn't address specific injury-prone areas, Flores says.
For the best odds of decreasing your risk of injury, combine your yoga and strength training efforts with some preventive physical therapy. Trust us: your body will thank you in the long run.
Lead Photo: Getty Images