Can Fancy Home Fitness Tech Kill the Gym?
A new generation of futuristic at-home workout solutions—including Mirror, Tonal, and Peloton—were gaining steam even before the pandemic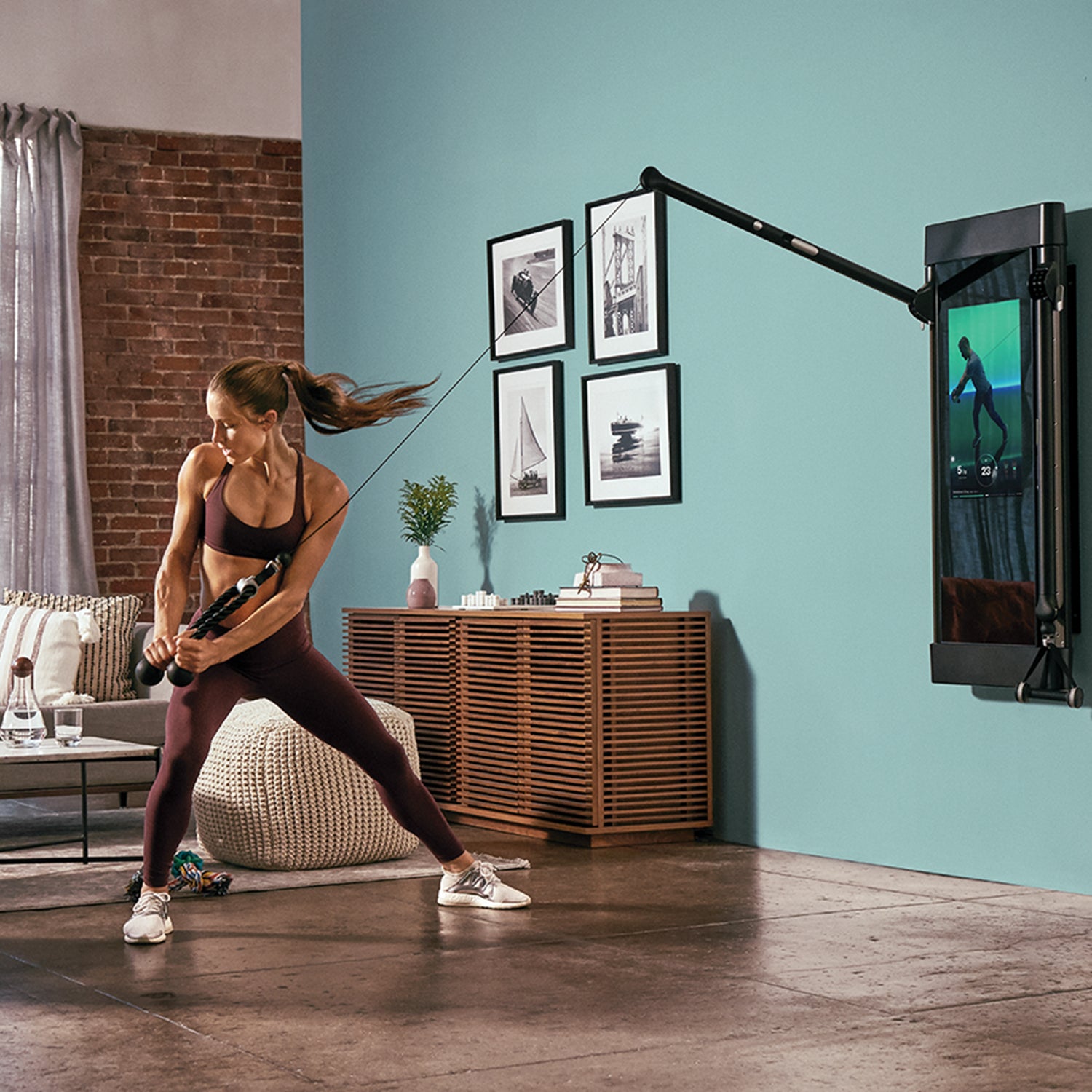 Courtesy Tonal
Heading out the door? Read this article on the new Outside+ app available now on iOS devices for members! Download the app.
The pitch sounds tailor-made for fitness in a socially distanced world. A sleek mahogany cabinet, suitable for even the most elegant living rooms, conceals a cleverly designed system of weights and pulleys for strengthening pretty much every muscle in your body. Forget the expense and inconvenience of a gym— it'll pay for itself in less than six months. What are you waiting for?
Just one detail: the Portable Gymnasium, introduced in 1861 by "ortho­poedic machinist" Gustav Ernst, is no longer available. And its modern successors—overengineered contraptions that made big infomercial promises but generally turned out to be more suitable as clothes racks—have yet to bring Ernst's vision of a gymless future to fruition.
That may be changing. Even before the pandemic hit, pundits speculated that an inflection point had been reached, thanks to a new generation of technologically advanced, attractively designed, and—most important—socially connected home ­fitness systems. Peloton, the high-end spin-bike company, received an IPO valuation of $8 billion last fall, and a host of competitors are coming up behind it: Mirror for the cardio crowd, Tonal for strength training, FightCamp for boxing, and so on. (See "Home Game," below.)
Then came the coronavirus, which super­charged equipment sales and, according to Tonal chief marketing officer Chris Stadler, transformed consumer behavior for good. The San Francisco company's strength-training system uses electromagnetic resistance to simulate weight up to 200 pounds, and it guides progress with artificial intelligence. Sales of the $2,995 unit tripled when the pandemic shut down gyms, and Stadler is confident that these new users will stick around regardless of when and how gyms reopen. Indeed, where the old brick-and-­mortar fitness model is concerned, "I think there's no return to normal," he says.
The idea that home fitness could replace neighborhood gyms goes against what most researchers tend to believe. "There's a general consensus that gym-based programs must be better when it comes to exercise adherence," says Paul Jansons, a research fellow at Deakin University in Australia. Certainly, gyms have a lot to offer—not just equipment, but also social interaction and opportunities to learn from others. But Jansons says there are ways of boosting the support people feel when working out at home. In one study, he showed that guidance offered by telephone made people just as likely to stick with a home exercise program after a year as were participants in a supervised gym program. Streaming a live class on Mirror and seeing on-screen icons indicating that your friends are doing it, too, could serve a similar function.
Even in non-pandemic times, getting people to follow a fitness plan is tricky. "The vast majority of people are not sufficiently active," says Mark Beauchamp, a professor of exercise and health psychology at the University of British Columbia. Promising convenience and next-gen technology only gets you so far. "People see these shiny gadgets and think, Maybe that's the magic bullet that'll get me to exercise," he says. "But whether the novelty is enough for them to stay with it in the long term is debatable."
Exercise psychologists use something called self-determination theory to assess whether a fitness program will spark lasting motivation. The framework suggests that we have three basic psychological needs that must be satisfied to optimize performance and well-being: autonomy, or the feeling that we're choosing our own actions; competence, the sense that we're mastering a task; and relatedness, which refers to social connection and belonging.
Tonal and Mirror tick the box for autonomy. After all, you bought the thing, and you can choose to work out anytime you want. The perception of competence is possible if the streamed classes and workout programs are well designed and progress is easy to track. But the highest hurdle for home workout systems, according to Beauchamp, is social connection. That's why Peloton—which features a range of interactions with other users, including virtual high fives and video chats—has been so successful. The extent to which other connected-­fitness companies are able to deliver on that social dimension will weigh heavily toward their fate. "Some of these will flourish," Beauchamp predicts, "and some of them might fade."
It's not only about psychology—the quality of the experience matters, too. Few would expect sitting on a Hydrow smart rowing machine to fully deliver the feeling of cutting along the Charles River on a misty morning in sync with your boatmates. Nor can pounding a heavy bag with FightCamp's punch trackers truly mimic sparring. "Not to be too poetic about it," Beauchamp says, "but boxing is a dance, with two people responding to each other's moves."
Still, where many people are concerned, Tonal and other home fitness companies are betting that convenience and design count for a lot, and that a virtual workout is better than no workout at all. "We can pack a gym's worth of equipment into something that seamlessly fits into your home and your life," Stadler says. Somewhere in the ether, Gustav Ernst is ­nodding his head in agreement.
---
Home Game
The connected-fitness market is getting crowded, with options ranging from merely expensive to ridiculous. Here are some of the major players.
Aerobic
If you've already got a smart trainer or a treadmill at home, the most accessible option is cycling and running app Zwift ($15 per month). If you don't, Peloton ($2,245 and up, plus a $39-per-month subscription) is the big name, with competing systems from Echelon ($1,200, plus $40 per month) and ­SoulCycle ($2,500, plus $40 per month) also available.
Resistance
Tonal's chief selling point is its weight system ($2,995, plus $49 per month). Instead of schlepping around stacks of iron plates, you ­essentially push or pull through a magnetic field whose resistance can be dialed up or down. Tonal rival Tempo ($1,995, plus $39 per month) uses conventional weights but promises real-time form feedback using 3D motion sensors and artificial intelligence.
Specialty
Name an exercise and someone's working to bring it home. Hydrow ($2,199, plus $38 per month) and Ergatta ($1,999, plus $29 per month) make smart rowing machines. Hone your left hook with FightCamp's punch trackers ($439 without gloves or bag, plus $39 per month). Mirror's reflective display ($1,495, plus $39 per month) provides access to a bevy of gym-style classes.
Trending on Outside Online