This Instant Coffee Replaced My Love for the Real Thing
It's fair to be skeptical of instant coffee. But after tasting Laird Instafuel, even one of our coffee-snob editors has been converted.
Heading out the door? Read this article on the new Outside+ app available now on iOS devices for members! Download the app.
The world of wellness products is vast and confusing. In our new series, Well Spent, Outside staffers recommend the hidden gems that they're unabashedly obsessed with.
---
My morning routine used to always include a cup of pour-over coffee. It set me on the right track each day: I would look forward to smelling the freshly ground beans, pouring hot water into the grounds, and watching meditatively for two minutes as the java dripped into the carafe. But one morning in late January, I slept past my alarm and rushed to get ready for work. With no time to make coffee my usual way, I grabbed a sample of Laird Instafuel instant coffee and added water, my caffeine craving outweighing my inner coffee snob.
I didn't have high expectations. I thought instant coffee was reserved for backpacking and travel, a benchwarmer to the original. Most to-go versions have a burnt, one-note flavor that's only acceptable on groggy mornings at the campground (and even then it's questionable). But after mixing the powder with hot water, I took a sip—and was sold.
It's now my go-to morning drink. It might not have the robust taste you get with an authentic cup, but the beverage, consisting of a smooth coconut creamer mixed with freeze-dried arabica coffee, is semisweet and delightful to sip on the go or when I'm checking email.
With 13 grams of carbohydrates per serving, it keeps me satiated until lunchtime when paired with a light breakfast. I also love mixing coffee with collagen peptides for additional protein. (Collagen may help joint health, but the jury's still out on that research.) This coffee's blend of sodium, sugar, and fat does a better job of masking the collagen's bitter taste than a regular cup of joe.
While I'll never completely abandon my time-intensive pour-overs (they're just too good!), I now reserve them for special occasions. The convenience of Instafuel ($27 for 16 ounces, which makes 16 12-ounce cups of coffee), coupled with its well-balanced taste, makes it a great alternative for busy weekday mornings—which is why I recently bought two more bags.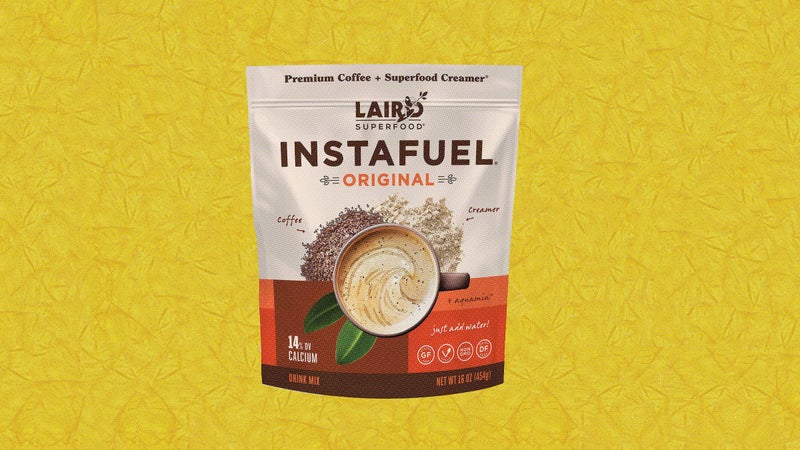 Trending on Outside Online