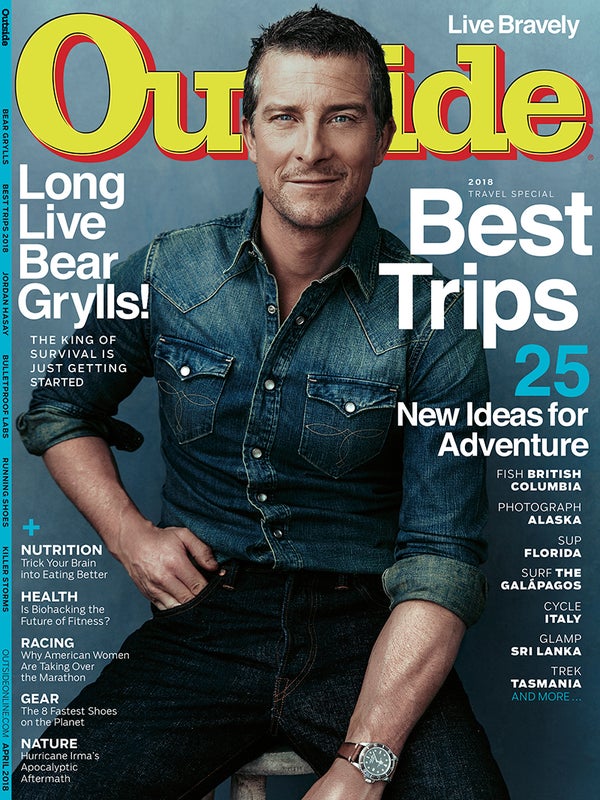 Outside Magazine, April 2018
Stories
Shooting life above, below, and on the ocean
---
Features
The Ultimate Fitness Machine: Dave Asprey, the man who brought you Bullet-proof coffee, is expanding his biohacking empire into performance. Nick Heil hops inside the Vir­tual Float Tank at the pilot Bullet­proof Labs. —Nick Heil
Irmageddon: Two months after Hur­ricane Irma flattened the house where he grew up on St. John, in the U.S. Virgin Islands, Devon O'Neil returns home to help survey the damage, clean up the wreckage, and begin to rebuild. —Devon O'Neil
Redemption on Heartbreak Hill: Can an American woman win the Boston Marathon for the first time since 1985? Ask Jordan Hasay. After years of injuries and losses in shorter races, she has finally found her stride. —Katherine Laidlaw
A Terror Way Beyond Falling: Adam Roberts was never happier than in the back­country, where skiing steep lines quieted his depression and made him feel alive. So when he died in an avalanche, people wondered: Did his risky behavior finally kill him, or was it helping to keep him alive? The answer is yes. —Christopher Solomon
Dispatches
Big Idea
Let's Fix This for Good: The scandal in USA Gymnastics is no aberration—it's part of a culture of sexual abuse that has to stop. —Irvin Muchnick
The Outsider
Bear Grylls: It's no longer enough for the survival star to brave rivers, mountains, and snakes. He wants you to do it, too.
Travel
Best Trips 2018: Tasmania. Texas. Alaska. Argentina. Add Nova Scotian surf breaks and Mexican treehouses and these are this year's can't-miss places to go.
Style
What to Pack: Keep the adventure big and your carry-on small.
Exposure
Portfolio: Australian photographer Krystle Wright in her element: the water.
Fitness
Nutrition: That empty bag of Flamin' Hot Cheetos isn't your fault. Blame your prehistoric brain.
Moves: A routine—complete with toe yoga—for your all-important feet.
Media: Books, vlogs, and Instagram feeds that will inspire you to lace up and go.
Habits: Cyclist Coryn Rivera relies on instinct, cross-training, and hydrogen peroxide.
Fuel: Palatable options for drinking your lunch.
Gear
E-Motorbike: Alta's Redshift EX electrifies both trail and road rides.
Women's Commuting: Splashproof style for the rainy-day grind.
Road Shoes: Put some bounce in your step with foam fatties.
Adventure Bikes: Forget specialization. It's time for go-anywhere, do-it-all rigs.