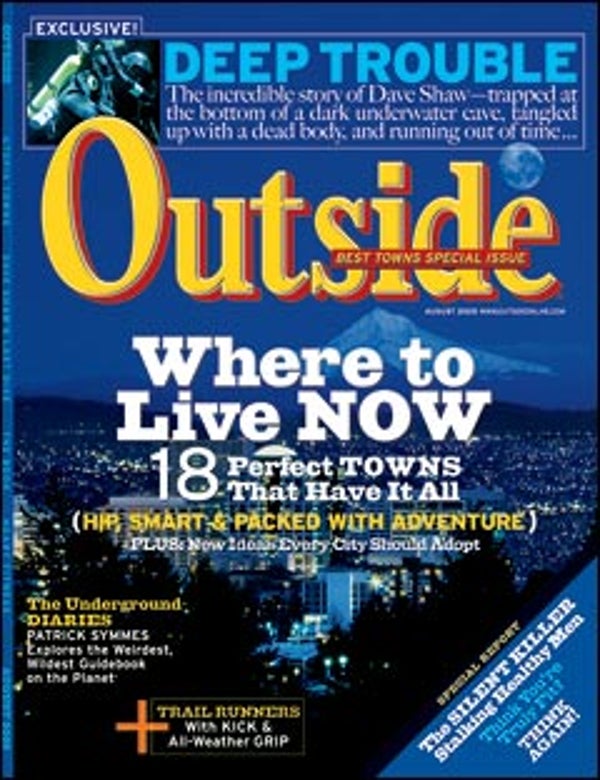 Outside Magazine, Aug 2005
---
F E A T U R E S
COVER STORY
THE NEW AMERICAN DREAM TOWNS
Looking to settle in Shangri-La? Check out ten towns that are making a strong play for perfection, with eco-smart designs, adventure-friendly innovations, and plentiful outdoor playgrounds—plus a commitment to the good life that really hits home.
By Mike Grudowski
PLUS: Eight honorable mentions for best place to live —and a sneak peek at Buena Vista, Colorado , where a pair of twenty-something kayakers are building an urban wonderland around a world-class whitewater park.
RAISING THE DEAD
At the pitch-black bottom of one of the world's deepest underwater caves, extreme diver Dave Shaw found the body of a young adventurer who'd perished while exploring the sinkhole ten years earlier. He vowed to come back, recover the victim's remains, and return them to a still grieving family. It was a quest that would end with vindication—or haunt the survivors forever.
By Tim Zimmermann
THE BOOK
Spend time on South America's vagabond highways—particularly if you're a young Israeli—and you'll hear about a legendary compendium of tips, tirades, and travelers' wisdom called simply the Book. Join our man on the back roads of Bolivia and Chile, in search of the planet's wildest guidebook.
By Patrick Symmes
D E P A R T M E N T S
DISPATCHES
» After becoming the first American to climb all 14 of the world's 8,000-meter peaks (without oxygen, to boot), ED VIESTURS says adios to all that high altitude—or does he?
» Take it outside: Build a badass BACKYARD HANGOUT with waterproof appliances, plush seating, and (sorry, Mr. Foreman) a stainless-steel infrared grill.
» Atkins is out, so what's the NEXT FAD DIET ? Chris Carmichael knows, and he's got a surprising opinion: This one might actually be good for you.
» HYPE-O-NATREMIA A recent medical study raised alarm when it linked the deaths of some recreational endurance athletes to overhydrating. Should you worry?
» After 50 unbelievable years in print, THE GUINNESS BOOK OF WORLD RECORDS has recorded some outrageous anomalies and stupid human tricks. Can you tell fact from fabrication?
» CORMAC McCARTHY delivers a spectacularly violent new novel from the borderlands, No Country for Old Men. PLUS: Get lost, Deep Throat—we've got the first interview ever with the newly unextinct IVORY-BILLED WOODPECKER .
REVIEW
Summer means it's high time to take to the wild, with little more than the shoes on your feet. We tested dozens of the season's top TRAIL RUNNERS , from Nike to Teva, bringing you the best for mud, water, and dirt. PLUS: The RIGHT SOCKS to keep your piggies cool and dry.
BODYWORK
We've got new reasons to start thinking about your heart—no matter how hard you work out. Learn the symptoms that put you at risk, plus a lifetime plan to KEEP YOUR TICKER TICKING .
OUT THERE
After scoring his own PRIVATE FOREST —a sickly outpost abutting Montana's Rattlesnake Wilderness—our writer wondered how to make his woods healthy again. The answer's in his new larch dance floor.
By Peter Stark