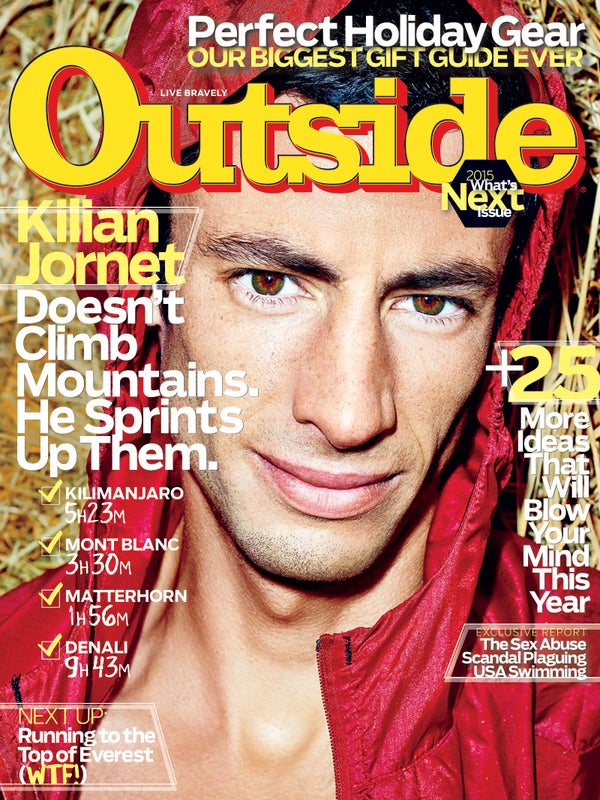 Outside Magazine, Dec 2014
The 2015 What's Next Issue
---
FKT Up?
He climbed the Matterhorn in less than three hours round-trip. He waltzed up and down Denali in half a day. Ultrarunner Kilian Jornet has revolutionized endurance sports—and now he's headed to Everest. By Christopher McDougall
Unprotected
There's a dark secret beneath the waters of USA Swimming: a history of sex abuse that has devastated scores of young swimmers. As those girls come forward, the ripples are extending beyond the pool. By Rachel Sturtz
Now Look Here
In Japan, the tourist path is not just beaten—it's ranked. Gideon Lewis-Kraus embarks on a breakneck tour of the country's Three Scenic Views.
The High Cost of Oil
Plenty of ink has been spilled about the Keystone XL pipeline. But what's it like to live next door to the open pits and toxic runoff that have turned Alberta's tar sands into a sci-fi flick? In a word, grim. Ted Genoways reports.
DISPATCHES SPECIAL
What's Next 2015: Our guide to what you'll be eating, drinking, riding, wearing, and talking about in the year ahead, from sure bets (more fitness tech) to bold predictions (we're all moving to Seattle!).
DESTINATIONS
Ski Report: Mountains are like ski boots—it's all about fit. Whether you're hunting bottomless powder or family fun, we've done the homework for you. Plus: how to score early-bird access, and the best bargain passes.
BODYWORK
In the Lead: What will it take to stop athletes from dying of broken hearts?
Fuel: If eating for immunity means oysters, we're in.
Tools: Gym-bag all-stars.
My Body: Nordic phenomenon Simi Hamilton on the grace of going long.
ESSENTIALS
Holiday Gift Guide: From Vermont whiskey to a sweet commuter bike, the perfect presents for foodies, globetrotters, sweat junkies—and anyone who's been very, very good.

Plus
Exposure
Parting Shot