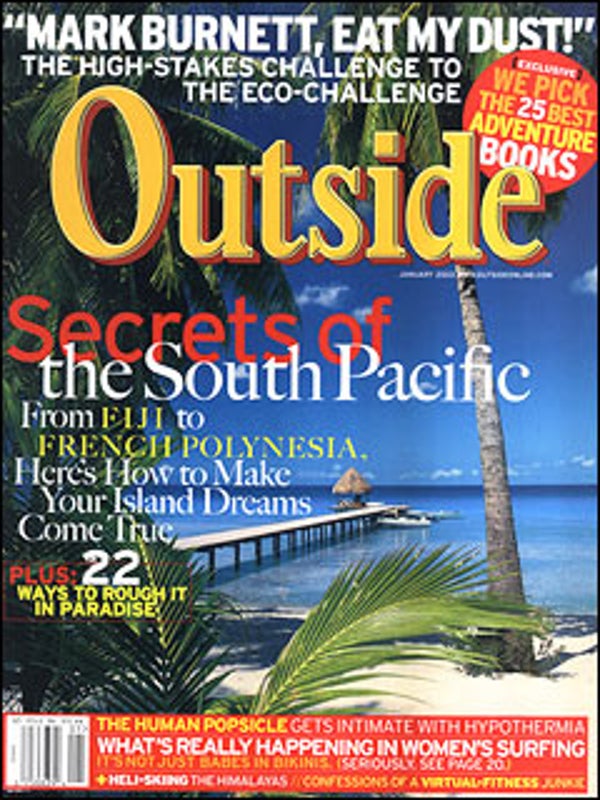 Outside Magazine, Jan 2003
---
F E A T U R E S
THE OUTSIDE ADVENTURE CANON
THE 25 ESSENTIAL BOOKS FOR THE WELL-READ EXPLORER
Introducing our page-turning, read-'em-now, can't-miss list of the 25 best adventure books of the past 100 years. Why? Because there's a great big world of words out there—and you need a guide.
PLUS: Annie Dillard , Thomas McGuane , David Quammen , Gretel Ehrlich , and other literary lions on the texts that changed their lives; the ten most thrilling adventure books you may never have heard of (but should) ; the strange mystery behind The Long Walk ; and a machete-powered tour through (eek!) the Worst Exploration Story Ever Told
By Brad Wieners and the Editors
IS THIS ANY WAY TO MAKE A LIVING?
Ever since Mark Burnett shipped the Eco-Challenge overseas, adventure racing's top organizers have sidestepped the United States, deeming it too lawsuit-happy and expensive for the risky business of staging a world-class event. The Subaru Primal Quest, a high-stakes sufferfest in the Colorado Rockies, set out to change all that.
By Bill Gifford
BAD SIGNS
With civil unrest flaring again in Zimbabwe, a writer looks back on her childhood in the tortured nation that was then Rhodesia, when war turned the colonial world upside down, and fatal omens shadowed the landscape.
By Alexandra Fuller
MEET PROFESSOR POPSICLE
Gordon Giesbrecht is the coolest man in science. An expert on the deadly mechanics of hypothermia, he gets his facts the dangerous way: by taking the plunge in icy waters that test the limits of human endurance.
By Alisa Smith
D E P A R T M E N T S
SOUTH SEAS ESCAPES
DESTINATIONS
FANTASY ISLANDS
We searched the South Pacific for the ultimate in tropical paradise. Now grab your hammock and sunblock and go!
Follow Gauguin's footsteps to the Marquesas and the ancient ruins of HIVA OA ; explore the powder-soft sands and kaleidoscopic reefs surrounding a FIJIAN hideaway; make friends on MOOREA at a beachside camp so sweet that Tahitians vacation there; sail the trade winds between OCEANIA 's best anchorages. PLUS: Go local and catch a freighter to MICRONESIA , one of the world's most remote island chains; choose from the EASIEST "WORKING" VACATIONS in the tropics.
DISPATCHES
The best WOMEN SURFERS regularly rip Oahu's tow-in breaks, and their lifestyle helps sell millions in movie tickets and clothes. So why is their pro tour on the ropes? PLUS: Thanks to Nepal's new commercial heli-ski service, you can SKI ANNAPURNA —and then ski it again; a revolutionary contraption that turns DEADWOOD INTO ELECTRICITY ; Shane McConkey unveils his FREAKY NEW POWDER SKIS ; BOOK REVIEWS ; and this month's RADAR .
THE WILD FILE
If apes evolved into humans, why are they still around? Is another Dust Bowl inevitable? How steep can a typical mountain get before it tumbles down?
By Brad Wetzler
THE HARD WAY
Because outdoor APPRENTICESHIPS never end, relish the time and guidance it takes to develop the expertise your adventures require. Why? 'Cause there are no shortcuts.
By Mark Jenkins
REVIEW
HOORAY FOR RANDONNÉE! Euro-style ski systems that let you walk up mountains, then lock in for the trip down, now come in two delicious flavors: fast-and-light, for extended excursions, and bombproof, for kamikaze chutes. PLUS: A pup tent for your pup, a spiffy Swiss alternative to the plastic water bottle , and a carabiner with brains .
BODYWORK
Under the daily tutelage of Chris Carmichael's VIRTUAL COACHING , you too can train like Lance Armstrong, at a fraction of Carmichael's $2,300 monthly fee. Where? On the Internet, where nobody can hear you groan.