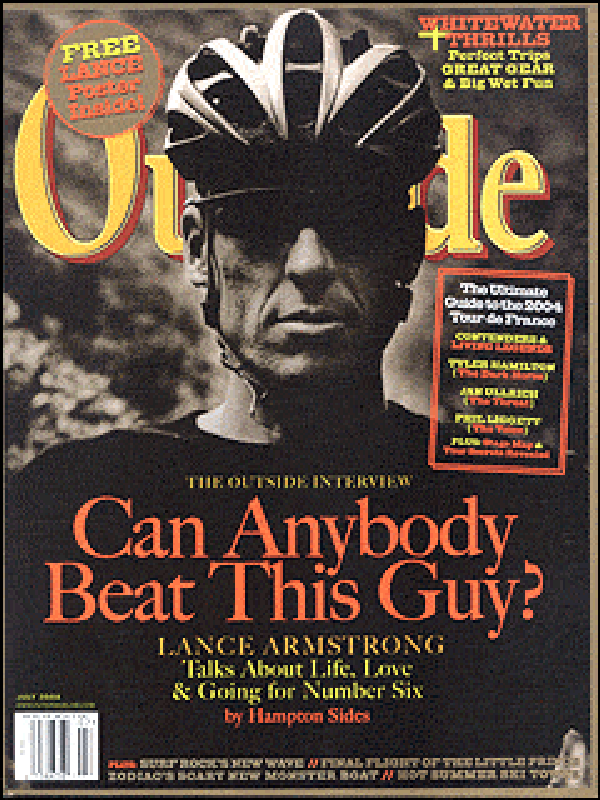 Outside Magazine, Jul 2004
---
F E A T U R E S
SPECIAL REPORT: Tour de France 2004
THE AGONY IS THE ECSTASY
Tyler Hamilton thrives on pain that would flatten lesser riders. Even if he never wins the Tour, he's earned his place among the immortals.
By Daniel Coyle
FIVE IN THE WAY OF SIX
Ullrich, Mayo, Vinokourov … You've seen the sweaty challengers snarling behind Lance's wheel. We pick the ones who could chomp the champ this year.
MOUNTAIN GROWN
U.S. Postal's Colombian powerhouse, Victor Hugo Peña, wants to build a dream team of fellow countrymen. Could it be the next force de Tour?
By Bill Gifford
THEY'RE DANCING ON THE PEDALS!
Announcers Phil Liggett and Paul Sherwen shout the action from send-off to Champs-Élysées. Meet the buoyant Brits who make spinning sound cool.
By Will Palmer
SIX-SHOOTER [COVER STORY]
Lance Armstrong offers Outside a nakedly honest Q&A about last year's close call, this year's challenge, and a game plan that hasn't failed him yet.
By Hampton Sides
PLUS: a trio of FIVE-TIME TOUR WINNERS handicap this year's race; our downloadable PDF COURSE MAP ; a user's guide to TEAM TACTICS ; a tour GLOSSARY ; why racers SHAVE THEIR LEGS and other mysteries, explained.
D E P A R T M E N T S
DESTINATIONS // REVIEW // BODYWORK SPECIAL
WILD-WATER REPORT 2004
Get into the flow this summer with North America's finest blue-ribbon river trips. We scouted out perfect currents, from a Class V roller-coaster ride on CALIFORNIA'S KERN to the Class II bliss of MAINE'S ALLAGASH . PLUS: Three weeks of high-intensity lunch-hour workouts are all you need to put STAMINA into your paddle stroke and the latest in AQUATIC FOOTWEAR for creek, river, lake, and beach.
DISPATCHES
Mystery solved: The sunken wreckage of a WWII plane off the coast of France explains the 1944 disappearance of adventure pilot and Little Prince author ANTOINE DE SAINT-EXUPÉRY . PLUS: Be the first in your marina to launch your own superbad, spec'd-out ZODIAC , the Hummer of the high seas and PEAK SEASON : summer is the new prime time at mountain resorts..
THE WILD FILE
Do plants go potty? Why do loons have red eyes? Where can you see the North Star and the Southern Cross at the same time? Was there ever a mountain higher than Everest?
By Brad Wetzler
OUT THERE
Rough seas ahead: The annual BLACKBURN CHALLENGE —Gloucester, Massachusetts's 23-mile open-ocean rowing race—separates the salty dogs from the swamped and the sunk.
By Rob Buchanan