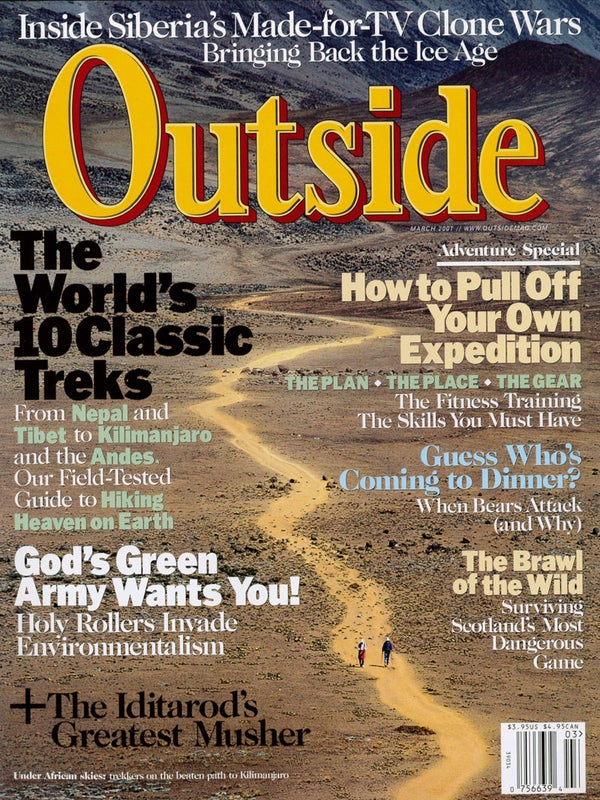 Outside Magazine, Mar 2001
---
F E A T U R E S
Bringing Back the Beast
If this story weren't true, Michael Crichton would have to invent it: First, a Dolgan nomad finds a woolly mammoth in a block of Siberian permafrost. Next, a French explorer digs the creature out for a made-for-TV spectacle. Now, a team of scientists wants to defrost the beast and learn its Ice Age secrets. Our correspondent tracks down the mammoth in Siberia to see and touch (and smell!) this 23,000-year-old creature—before the cloning begins. By Adam Goodheart
Walks on the Wild Side
This is it: The year you take an epic trek that gets you away from it all, slows you down, and immerses you in a stunning place and extraordinary culture. Yet with so many journeys out there, how do you choose theright one? We've selected ten classic treks for 2001 (eight from Trekking, the new Outside Books/W.W. Norton travel guide). Now get going. By David Noland
Switzerland: In the Alps, discover what Europeans have long known: Hut-to-hut systems rock. By Mark Jenkins
Chile: Circumnavigate the surreal Paine Circuit.
New Zealand: Tramp the Milford Track.
Pakistan: Ascend to the most beautiful place on earth.
India: Monastery-hop through Zanskar.
Tanzania: Knock off Kilimanjaro.
Tibet: Pay your respects to Mount Kailas.
Bhutan: Yak it up the High Lunana Trail.
Morocco: Strike deep into the High Atlas.
Nepal: Get off the tourist highway and into Inner Dolpo.
Dog is My Copilot
Make way for Doug Swingley, the biggest thing to come out of Lincoln, Montana, since the Unabomber. At 47, this former mink farmer and upstart musher has chalked up three Iditarod victories and intends to snag his fourth this March—much to the chagrin of xenophobic Alaskans who see Swingley as the damndest interloper since Steven Seagal. By Bruce Barcott
For God so Loved the World
In the beginning, God created heaven and earth. And it was good. Then he created Man, and, well, armed with God's word, Man did with the earth what he would. And it was not always good. But today, growing legions of faith-based environmentalists are trying to turn back centuries of church-sanctioned abuse and neglect and resurrect God's green earth. A report from inside the burgeoning, God-fearing eco-warrior camp, and a preview of the coming holy war that'll be fought all the way to the Bush White House. By Bruce Barcott
D E P A R T M E N T S
Dispatches
After black-bear attacks left two women dead last spring, one question lingers: Were the tragedies rare coincidences or signs of a terrifying new trend in ursine behavior?
Sixty-foot-cliff hucker Joshua Bender takes mountain biking into rare air.
A new brokerage company converts cash-starved adventurers into cash cows.
In a weird convergence of night-lights and nightlife, a tiny backpacking flashlight dazzles the rave scene.
Wayward robins, melting 'bergs, and other alarming Arctic firsts that will raise your global-warming fever.
Bouldering gets bolder as "highballers" extend the reach of a once-harmless sport.
PLUS: New information on last August's Kyrgyzstan kidnapping; three-wheeled "dirtboats" sail for the desert; and we calculate the worth—in hot tubs and picnic tables—of Julia "Butterfly" Hill's stricken Luna.
The Wild File
Is it possible to fall asleep while walking? Are humans the only mammals that don't innately know how to swim? How much does the earth weigh? Why do red ants give off a sweet smell when exiting their anthills en masse?
By Stephanie Gregory
Field Notes
Each year, the Scottish town of Kirkwall boards up its shops, dons steel-toed boots, and splits into two teams for the Ba': a 1,000-year-old game involving one ball, two goals, no rules, and hundreds of bloody noses.
By Christopher McDougall
Destinations
The Ring of Fire: Overcoming their collective inexperience, eight Outside staffers stormed the Northwest with a plan to climb and ski four Cascade volcanoes in a week. A hefty skill deficit, an overbearing would-be guide, and mounds of dehydrated food put their do-it-yourself ethic to the ultimate test.
The best books to help you execute your own ambitious expedition.
The rookie mistakes we made and how you can avoid them.

PLUS: The technical expertise you shouldn't leave home without; a quick-hit guide to state-of-the-art snow kitchens; five tips for achieving culinary nirvana at altitude; and the world's best mountaineering stove.Bodywork
Get High: Jonesing to plan your own self-guided ski-mountaineering expedition but don't know where to start? This no-frills primer will give you the baseline fitness, backcountry, and nutrition skills you need to turn fantasy into reality.
The strongest safety essentials from Black Diamond, REI, Petzl, Boeri, and Grivel. Review
Infinite Glisse: No matter how you carve your turns, new backcountry gear can take the hurt out of steep mountain slogs. The Outside team tested the latest off-piste equipment—snowboards that split in two, barely-there alpine bindings, shaped telemark skis designed to float on powder—to get you up and down with ease.
Books: A Primate's Memoir, by Robert M. Sapolsky; Killing Dragons: The Conquest of the Alps, by Fergus Fleming; and The Mountains of My Life, by Walter Bonatti.

Between the LinesLetters
Cover photo by Hauke Dressler/LOOK
Pilgrims on the road to Kilimanjaro, Tanzania