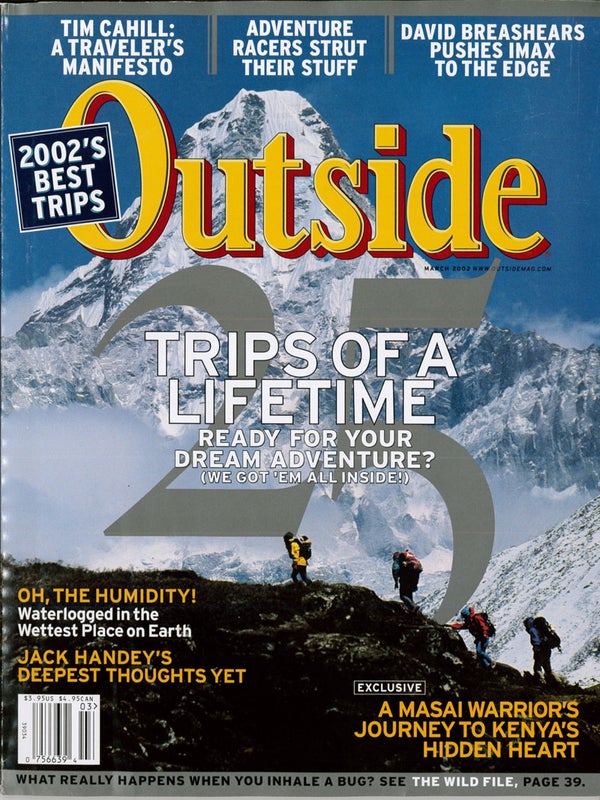 Outside Magazine, Mar 2002
---
F E A T U R E S
2002 DESTINATIONS SPECIAL
LIFE'S A WILD TRIP
EXOTIC PLACES MADE ME DO IT Our resident gadabout's cri de coeur to get you off your duff and out chasing your travel dreams. By Tim Cahill
THE 25 MOST WANTED EXPERIENCES OF A LIFETIME Behold the wonders of the cosmos. Bond with mighty beasts. Chart a first ascent. Live a South Seas fantasy. Help save an endangered species. And 20 more epic journeys worth adding to your to-do list.
+ IT'S A REAL, REAL, REAL, REAL WORLD Problem: It's dangerous out there. Solution: Click here. By Ron C. Judd + All the MP3s, shortwave radios, GPSs, binoculars, digital cameras, PDAs, and handheld generators a traveler can handle.
ACROSS THE GREAT RIFT
A native son of Masailand journeys to the hidden heart of Kenya's most famous tribe: the Loita Hills, one of East Africa's last pure swaths of pastoral wilderness and a tense proving ground that will determine the Masai's uncertain future. By Rob Buchanan
SOAKED
In which a brave, mold-resistant band sets out to conquer Mount Waialeale on the Hawaiian island of Kauai—a forbidding, misty, jungle-encrusted peak that just happens to be the wettest place on earth—and comes away with a deep, damp appreciation of what it takes to get there. By Bruce Barcott
THE RESPECT OF THE MEN
Forget the magic tricks, the boot-kissing, that funny cowboy dance. When you lead a group of guys into the woods, respect has gotta be earned. By Jack Handey
D E P A R T M E N T S
Dispatches
Strapped behind the wheel of an amphibious snowcat, two lunatic Brits try to drive across the Bering Strait. PLUS: IMAX director David Breashears takes his cliffhanger moviemaking to Kilimanjaro; surfers head for the Amazon to find the world's longest ride; why legendary Kiwi skipper Sir Peter Blake was murdered; new books by William Fiennes, Michael Novacek, and Charles Bowden; park rangers get empowered; Sean Isaac, the rising star of mixed climbing; and this month's RADAR.
THE WILD FILE
What happens if you inhale a bug? Why is lichen used in natural deodorant? Can lightning strike swimmers? By Brad Wetzler
THE HARD WAY
Far-flung travel in exotic, remote places is great—but true adventure doesn't require packing a dozen duffels, spending big bucks, and crossing time zones. Instead, try striking out from your own backyard. By Mark Jenkins
REVIEW
No matter how foul the weather or how hard you charge, today's all-weather shells can keep you dry without making you clammy. Get ready to covet these eight jackets from Cloudveil, GoLite, Marmot, Mountain Hardwear, Patagonia, Pearl Izumi, Sierra Designs, and The North Face. PLUS: The best in backcountry coffeemakers, cycling cleats that stay comfy off the pedals, the ultimate wilderness fridge, and more.
BODYWORK
Trapped in a regimen that leaves you bored and lonely? Find emancipation in sport-specific clubs for cyclists, runners, and swimmers. They'll supercharge your performance and take the work out of working out. PLUS: Boost your VO2 max and take our short course on buzz drinks.