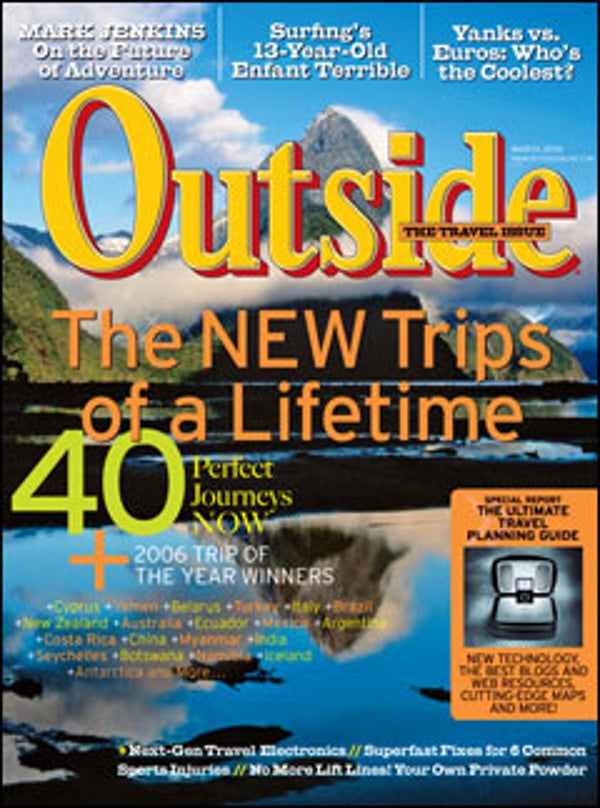 Outside Magazine, Mar 2006
---
F E A T U R E S
BEST TRIPS 2006
THE WANDERLIST
Feeling restless? Dive in to one of these 40 wild, mind-bending journeys, both rugged and refined. From ancient-trail walking in Utah to jaguar tracking in the Yucatá;n to elephant trekking in Botswana, there's a trip of a lifetime here for you.
MEDIA
THE OUTSIDE EXPLORER'S GUIDE TO THE BRAVE NEW WORLD OF TRIP PLANNING
Don't let the dizzying deluge of travel resources out there keep you homebound. Our experts bring a laser focus to the mess, setting you free to roam where you want to.
REVIEW SPECIAL
POWER TRAVEL
The next digital revolution fits in your hand, thanks to adventure travel gadgets that combine GPS, cell-phone, video, and MP3 technology in sleek, travel-friendly packages. We test the best.
SHOWDOWN
HUCK YOU! NO, HUCK YOU! THE GREAT YANK-EURO-SKI-OFF
Who rules ski-dude-dom—the precise Swissman Dominique Perret or Wyoming ski-porn star Micah Black? We hit the slopes of Whistler for an unprecedented battle for freeskiing gold—and (natch) the adoration of ski-bar babes.
BY ROB STORY
NATURAL ACTS
THE THING WITH FEATHERS
Two years ago, an ivory-billed woodpecker—a species presumed extinct for the past half-century—was spotted in an Arkansas swamp. In the biggest conservation story of the 21st century, seekers of every stripe are proving that hope is the thing that never dies.
BY WELLS TOWER
D E P A R T M E N T S
D I S P A T C H E S
» Hawaiian enduro mountain biker MONIQUE SAWICKI is the fastest thing on knobby tires, with two national titles in her rookie year. But can she make the switch to Ironman Triathlons?
» Grab your backcountry planks and head to the wide-open runs of America's BYGONE SKI RESORTS. The only things missing are the lifts and crowds.
» We examine the origins of SPECIES NAMES, including slime mold beetles Agathidium bushi, A. cheneyi, and A. rumsfeldi. Even Han Solo gets a fossil. PLUS: Disaster workers make an impact much faster with sun- and wind-charged mobile command centers.
» Thirteen-year-old PIPELINE PRODIGY John John Florence rips with the big dogs at surfing's deadliest break.
» Nature's got competition, from a perpetual river to a ski resort in the Arabian Desert. Check out the audacious frontier of ADVENTURE ENGINEERING.
» Three waylaid explorers relaunch their quest for THE TRUE SOURCE OF THE NILE. PLUS: Chris Carmichael shines the spotlight on calcium's unsung sidekick, VITAMIN D.
» CLIMATE CHANGE is in the air in Elizabeth Kolbert's Field Notes from a Catastrophe; The Weather Makers, by Tim Flannery; and Eugene Linden's The Winds of Change. PLUS: Steven Rinella's The Scavenger's Guide to Haute Cuisine.
» With hypoxic and hyperbaric chambers, altitude training's HIGH-LOW MIX no longer requires mountains and valleys.
» THE WILD FILE ponders falling bullets, the athletic benefits of a well-stocked iPod, and earth's fastest procreators. PLUS: Can you survive on leather?
BODYWORK
Let the healing begin. Our team of expert docs and trainers dip into their bag of rehab tricks for fixing sport's six MOST COMMON INJURIES, from scrapes to stress fractures.
STYLE
We take to the rails in hot spring travel wear, riding into the green season with first-class threads.
THE HARD WAY
On a climbing trip to the Tibetan Himalayas, Mark Jenkins gets Zen about THE FUTURE OF ADVENTURE . Don't go thinking the age of exploration is over. It's a great big world out there, and—21st-century ennui and unprecedented mobility notwithstanding—it'll still kick your ass.