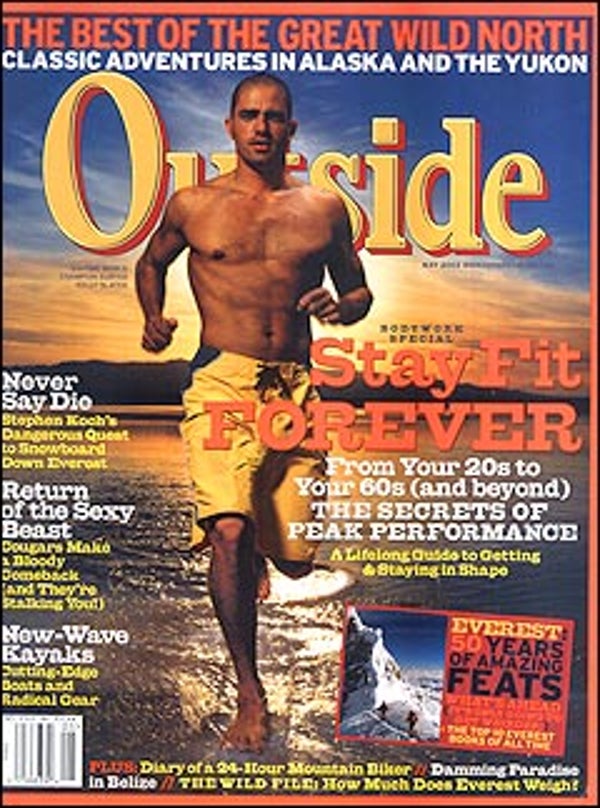 Outside Magazine, May 2003
---
F E A T U R E S
STALKER
The cougar, America's stealthiest predator, is surging in numbers, and close encounters with humans—some fatal—are skyrocketing. Who'll be shadowing you on your next hike?
By Elwood Reid
*BODYWORK SPECIAL
THIS IS YOUR LIFE
Good news, adventure athletes. No matter how old you are, you can still get stronger and fitter. Dial in our decade-by-decade fitness plan and discover how to maintain peak performance at any age.
By Andrew Tilin
PLUS: MR. NATURAL
Is aging just a pesky disease waiting to be cured by science? We prefer an even more radical prescription—a maximum dose of carpe diem.
By Bill McKibben
SLAVE TO THE QUEST
Big-mountain hero Stephen Koch is getting ready to climb Everest's deadly North Face—and snowboard back down. It could be the splendid culmination of an astonishing career, or else the final act of an obsession that won't let go.
By Rob Buchanan
LAST FLIGHT OUT
A proposed dam in Belize might drown a jungle paradise and threaten a rare scarlet macaw. Can Harrison Ford, Robert F. Kennedy Jr., the Crocodile Hunter, and the Zoo Lady stop the project and save the bright-red bird?
By Bruce Barcott
D E P A R T M E N T S
DISPATCHES
EVEREST ANNIVERSARY SPECIAL
This month, 50 years after Hillary and Tenzing's historic first ascent, a record number of neophyte climbers are gunning for the summit. WHAT DOES THE FUTURE HOLD FOR EVEREST? PLUS: Apa Sherpa goes for his 13TH SUMMIT .
THE WILD FILE
What's the deal with sun-blocking apparel? How much does Mount Everest weigh? Will bike tires keep you grounded in a lightning storm?
By Brad Wetzler
DESTINATIONS
The undiscovered wilds of the YUKON and ALASKA harbor North America's supersize multisport paradise: pristine rivers to fish and raft, snowcapped peaks to climb or heli-hike, and even a HIGHWAY TO THE END OF THE ARCTIC SEA . PLUS: SUMMER ADVENTURE starts north of the 60th parallel.
THE HARD WAY
Twenty-four-hour mountain-bike races are notorious for hairy singletrack and mind-bending sleep deprivation, but it's the warm, fuzzy sharing that keeps riders coming back for more.
By Mark Jenkins
REVIEW
When it comes to WHITEWATER KAYAKS , futuristic design will help you rule the rapids. We test six radical new torpedoes that'll take you from Class II surf holes to epic V+ runs. PLUS: ULTRALIGHTWEIGHT WALKING POLES that can increase by miles the distance you hike in a day.