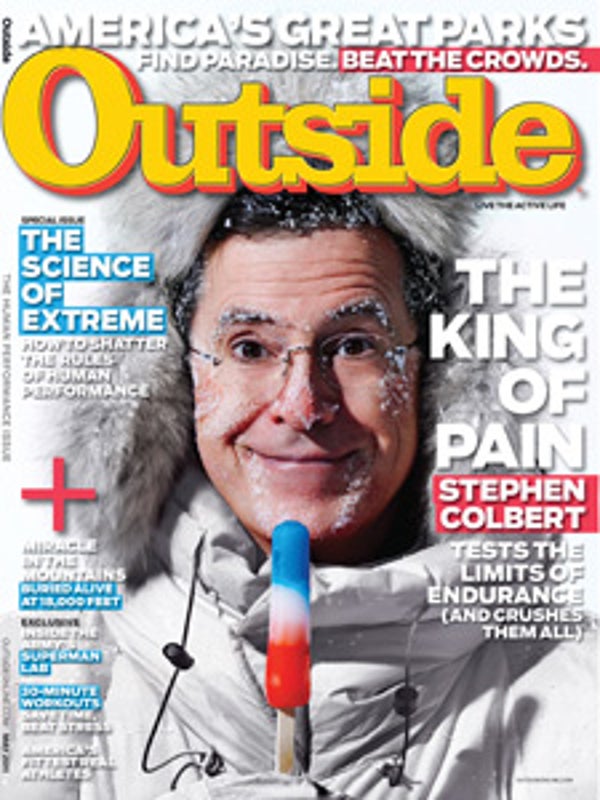 Outside Magazine, May 2011
---
STEPHEN COLBERT'S (SHOCKING!) SECRETS OF THE (VERY!) EXTREME
In which the satirist joins a regatta crew for a (totally serious!) 777-mile plunge into the Bermuda Triangle.
THERE'S SOMETHING IN THE WATER
Can a sports drink called Evolv give you doper-grade stamina and make you filthy rich at the same time? Brian Alexander enters the ziggurat.
G.I. JOE AND THE HOUSE OF PAIN
At a nondescript Army lab, researchers use extreme methods to push soldiers to the brink. The goal: to identify limitations—and blast through them. Christopher Solomon reports on the new ultimate warrior.
BRAVE NEW BODY
Vascular implants, bionic eyes: a survey of the cutting-edge techniques rebooting human performance. By Gretchen Reynolds
NO STRINGS ATTACHED
Alex Honnold likes scaling thousand-foot walls without ropes. Most people think he's nuts. Has he achieved climbing satori, or is it only a matter of time before gravity takes him? By David Roberts
THE MUTANTS NEXT DOOR
They're obliterating records when they're not ferrying the kids to soccer or logging 40-hour weeks selling insurance. Meet five working athletes at the top of their game—and learn their training secrets.
plus
THE OUTER LIMITS
Skateboarding's 1080
The longest swim
Sub-two-hour marathon
The deepest freedive
Kayaking's biggest drop
The smokingest fastball
departments
DISPATCHES
First Look: In February, in the dead of the Himalayan winter, three of the world's top climbers made one of the greatest ascents in mountaineering history. But their triumph quickly became a fight for survival as they struggled to get off the peak.
MEDIA
Books: A veteran fire lookout offers a compelling treatise on the power of wilderness; plus three new works that take a glass-half-full view of the looming energy crisis.
DESTINATIONS
New outfitted trips, streamlined permitting systems, and (thanks to the lagging economy) fewer crowds: there's no better time to explore our national parks than right now. Here are this year's 18 best adventures, stretching from Shenandoah to Yellowstone to the Grand Canyon.
BODYWORK
No More Barriers: In part two of our four-part series on overcoming the most common fitness obstacles, we tackle the dreaded time crunch: how to pull off a hyper-efficient workout with a hyper-booked schedule.
THE ESSENTIALS
Covet: A tent that's light, hurricane-proof, and breathes like it's made of mesh.
Technical Footwear: Adventure-ready boots, sandals, and all-purpose kicks to take you from beach to bar to backcountry.
SUPs: Finding the perfect stand-up paddleboard, whether you're a newbie or a salty pro, just got a whole lot simpler.
columns
NATURAL INTELLIGENCE
On the short-grass plains of eastern New Mexico, a band of elite marathon runners tests a controversial theory: Did the aerobic endurance of ancient man allow him to chase down the fastest ungulates on earth? By Charles Bethea
DROPPING IN
To quash the boredom he encountered after losing his eyesight, Ryan Knighton decided to test his surfing skills in the 50-degree waters off British Columbia. His guide? An old college bud who happens to be deaf.
plus
EXPOSURE
LETTERS
BETWEEN THE LINES
PARTING SHOT