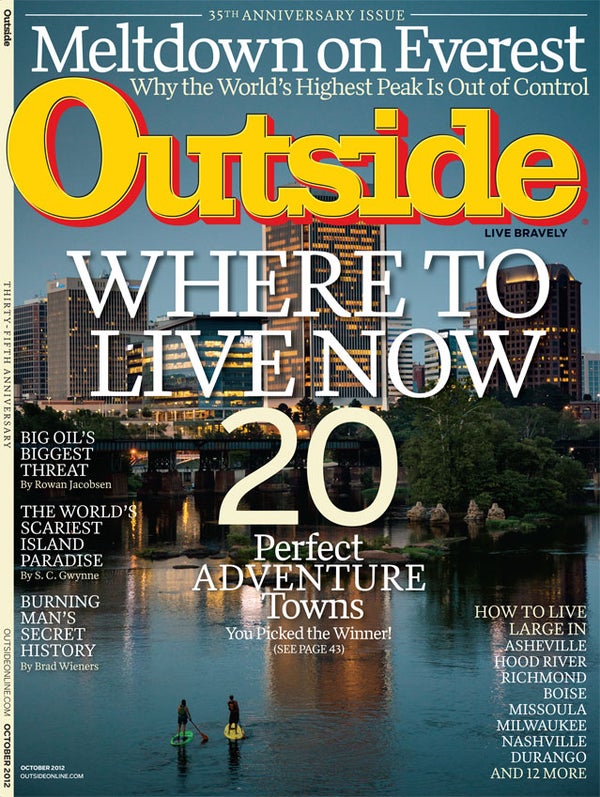 Outside Magazine, Oct 2012
---
Photo Mosaic Cover
A special cover of the 35th anniversary issue we sent to Outside subscribers is made up of the thousands of photographs you submitted during the voting process for this year's best town contest.
Take a Number
These days, all you need to make a run at Everest is a dose of willfulness and a fistful of cash. Which is why 2012 was the mountain's busiest year—and one of its deadliest. Grayson Schaffer reports on why the bodies will only keep piling up.
The Beautiful Game
Argentina's soccer fans may be the sport's most impassioned. So much so that the rowdiest among them have formed gangs that intimidate players and coaches, control stadium concessions, and murder rivals. Patrick Symmes investigates.
Hot Mess
It started as a bunch of friends torching an effigy on a Bay Area beach. Now, despite all the gunplay and infighting, Burning Man is worth millions. An oral history of the biggest, weirdest, most clothing-optional desert carnival on the planet. By Brad Wieners
Boilover
Environmental writer turned crusader Bill McKibben can rally 100,000 activists at the drop of a tweet. So how did the journalist and former Sunday school teacher become the voice of the climate-change movement? By Rowan Jacobsen
Paradise With an Asterisk
Remote Bikini Atoll would appear to be the world's last pristine adventure destination. Except that just below the surface, deadly radioactivity endures. S.C. Gwynne returns to the site of one of history's most infamous science experiments.
The Outside 2012 Reader Poll
We probed the dark recesses of your psyche to learn everything from how often you work out to where you get it on outdoors.
best towns 2012
WATERFRONT PROPERTY
Readers voted Richmond, Virginia, the nation's most livable river town. (No joke!) To find out why, Jon Billman paddles, runs, and snorkels for crabs in the former Confederate capital. Also: 19 more dream towns, from Hood River, Oregon, to Bristol, Vermont.
departments
EXPOSURE
Sure Shots: For Outside's 35th Anniversary, we opened our most popular section to readers. Hundreds of images streamed in. Some were amazing; others had us forsaking our GoPros. These 11 nailed it.
DISPATCHES
The Overachievers: A lawyer who's canoeing 4,000 miles (on us), an architect who spent 2,000 hours on a custom RV, and a Manhattanite who proves adventure and urban living are an easy fit. What do they share? They're Outside readers who go to extremes to do what they love. Plus: The ultimate gear garage, and dumpster-diving for REI sponsorship.
THE ESSENTIALS
The Things You Carry: Your picks for the 32 greatest pieces of gear ever, from the tried and true—Patagonia fleece! Black Diamond trekking poles!—to the curious, including pee funnels, outdoor showers, and a thrift-store shirt.
BODYWORK
The Pros Next Door: Careers? Yep. Kids? A few. Excuses for skipping a workout? Not from these accomplished amateurs. Three of our fittest readers share their secrets for balancing training with a busy life.
plus
IN FOCUS
RESEARCH DEPT.
READER POLL
UNDER THE COVER
FEEDBACK
EDITOR'S LETTER
PARTING SHOT
SOCIAL MEDIA: BOOFING THE VOTE
WHEN OVERACHIEVING GOES TOO FAR
TRUE INSPIRATION