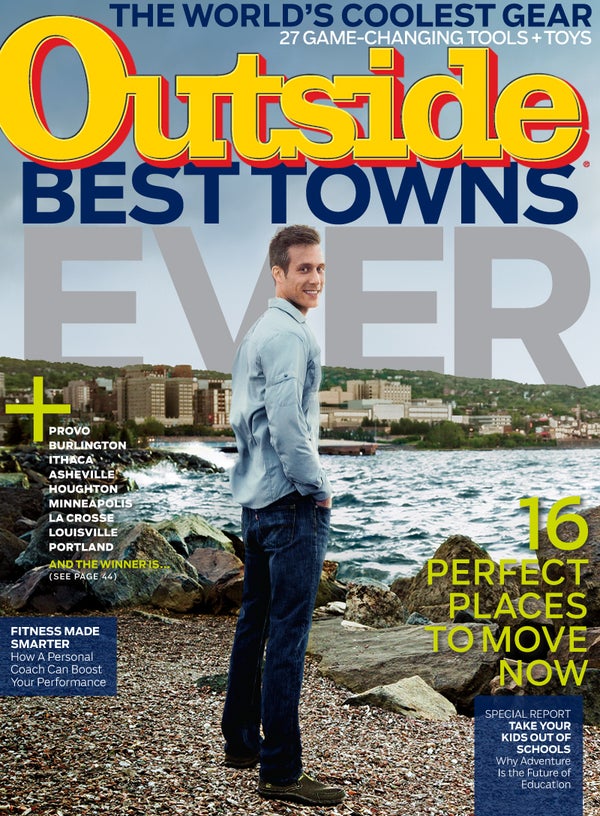 Outside Magazine, Sep 2014
---
Something in the Water
You cast more than 1.5 million votes in our biggest Best Town Ever contest to date. Duluth, Minnesota, may have triumphed, but you loved 15 other amazing places, too—from Burlington, Vermont, to Anchorage, Alaska.
We Don't Need No Education
Thanks but no thanks, say Ben Hewitt and a growing movement of unschoolers. Dissatisfied with classrooms that leave kids staring out the window all day, they want to set our little learners free. PLUS: How to rewild your child.
Uncivilized
Fifty years ago, Congress passed the landmark Wilderness Act, setting aside 9.1 million acres of mountains, canyons, and forests in perpetuity. Today that number has grown to 110 million acres. And as bestselling author Barry Lopez writes, they're the secret to our sanity.
From Dusk Till Dawn
Gathering for moonlight mountain-biking sessions and grueling early-morning group rides, Los Angeles's cycling community is small but vibrant—and it doesn't fade away when the sun goes down. By Sam Moulton
DISPATCHES
First Look: As the new documentary Valley Uprising shows, the outlaw spirit is alive and well in Yosemite.
Tech: Formula One-style electric-car racing leaves the roar to the crowd.
Media: A lopsided account of one of the biggest environmental lawsuits in history.
Rising Star: Ultrarunner Mike Foote used to sell shoes; now he's wearing them out.
Epic: Serial adventurer Mike Horn goes the long, cold way around.

BODYWORK
In the Lead: Amateur athletes are using pro coaches to significantly up their game. Should you?
Tools: Hydration gear that'll never leave you thirsty.
My Body: National cyclocross champ Jeremy Powers on the power of core work—and naps.
Fuel: Energy bars for quick lifts, recovery, or going the distance.
ESSENTIALS
Design + Tech: A wetsuit made of biorubber. Running shoes woven from a single strand of yarn. Skis constructed from a supercarbon that's lighter than paper and stronger than steel. Get an exclusive peek at the next generation of gear.
Plus
Exposure
Parting Shot