#2020cyclingdeaths
A Cyclist Writes His Own Obituary
Let's get this straight: if something horrible happens to me on a ride, don't ever say I died doing what I love. I feel no affection about the idea of getting pulverized by a 4,000-pound SUV, especially if the driver was flipping through Instagram. Still, I recognize that something might happen. And rather than leave it up to other people to commemorate my life and death on the bike, I've decided to take matters into my own hands—with facts based on a terrifying encounter with a speeding Porsche that actually happened—just in case the next run-in turns out differently.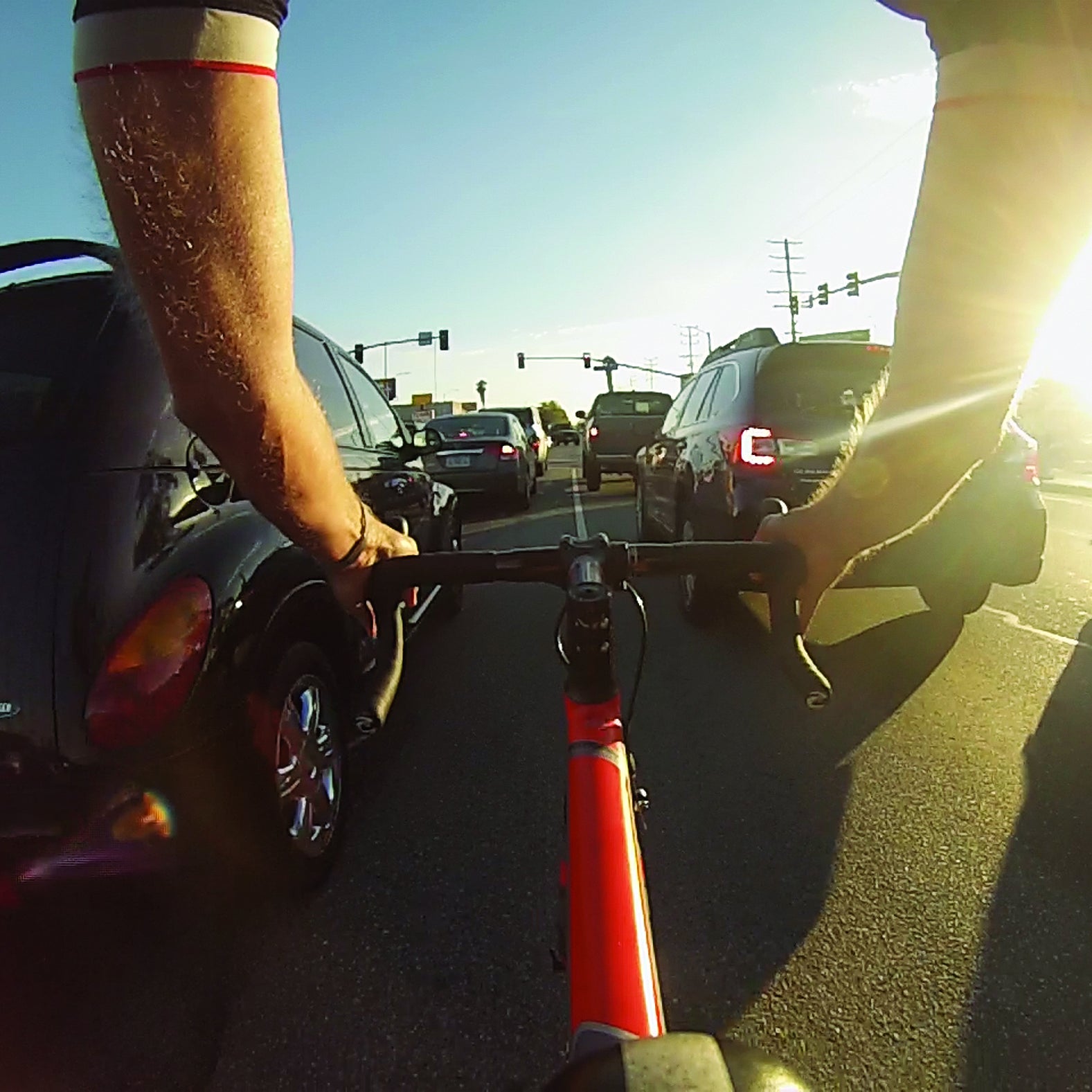 Heading out the door? Read this article on the new Outside+ app available now on iOS devices for members! Download the app.
Peter Flax loved bikes. His father taught him to ride without training wheels when he was five or six, and he convinced his parents to get him a bike with drop bars when Gerald Ford was still president. That feeling of freedom he got from riding around the neighborhood as a kid—it never went away. He rode to school, he rode to work, he rode from Seattle to New York one time. 
He died on his bike one night in early May. He was just beginning his daily commute home on Olympic Boulevard in Los Angeles. Most of his 16-mile route was pretty safe—in bike lanes, down quiet side streets, or on bike paths—with most of the risk contained to a half-dozen sectors of distilled chaos. Crossing Olympic was one of them: in L.A.'s mid-Wilshire district, the boulevard is seven lanes wide and has fewer traffic lights than other nearby east-west thoroughfares. The posted speed limit is 35 miles per hour but traffic tends to flow at 50 or faster.  
On the night in question, he had waited for a safe moment to cross at an intersection midway between two lights. It was dark, meaning no one had the sun in their eyes and it was easy to spot headlights and tail lights. Traffic lights in both directions turned red. There were no cars heading westbound and only one going eastbound. At the moment that car passed the corner where he straddled his bike, he did a final look both ways—clear, clear—and rolled into the street.
But then he heard the sound of squealing rubber. The car that had just passed going eastbound was a Porsche 911 and the driver, perceiving an empty roadway, decided to execute a U-turn on all seven lanes of Olympic Boulevard at highway speed. The headlights were on Flax in a heartbeat. He always had imagined that he would sprint out of harm's way in such a situation but the truth is he froze there like a deer. The man in the Porsche slammed on his brakes but the car simply couldn't stop in time.
He saw so many metaphors for the rest of his life in bike racing—especially the way you can ride through a rough patch if you just keep turning the pedals.
Since Flax had moved to L.A. three years earlier, he'd logged way more than a thousand hours of riding without getting hit. He was always pretty damned careful. He also was aware that statistics indicate that bike riding is getting less deadly—particularly in America's larger cities, where participation is growing faster than the number of serious crashes. On paper, it's getting safer. 
Yet as Flax knew from riding city streets on dark nights, it can feel less reassuring out on the pavement. Hundreds of cyclists are getting killed; last year at least 32 cyclists were lost to fatal crashes in Los Angeles County alone. There are more bikes on the road and more drivers fiddling with mobile phones, a disconcerting combination. And thanks to social and digital media, it's nearly impossible to sidestep some scary issues—the victim blaming, the number of fatal hit and runs, the disregard many drivers have for cyclists and pedestrians. 
Flax understood the dangers. Whenever he thought about death, he thought there was a very real chance it would happen on the bike. That sad truth never made him want to stop riding his bicycle. Bikes were part of the fabric of his life. 
Flax had raced bikes a little bit but never was any good at it. But he loved being part of the pack, the feeling of winding up a sprint, the taste of a cold beer after emptying himself in effort. He did his share of the work and rode through suffering and he almost always held his line. He never got to post up at a finish line but he once came in third in a Cat 5 race with five official finishers. He saw so many metaphors for the rest of his life in bike racing—especially the way you can ride through a rough patch if you just keep turning the pedals. 
He got to ride with some of the giants of the sport—Merckx, LeMond, Indurain—and drank wine with guys whose last names were Colnago and Pinarello, Campagnolo and Pegoretti. Flax stood on Alpe d'Huez and the Galibier and alongside Flandrian cobbles and witnessed the spectacle of human performance. He saw cheaters get caught and other cheaters not get caught and he saw the sport struggle to find its way but he never stopped loving it. 
 
He wrote and edited a ton of stories for people who ride bikes. He loved telling stories that tried to capture the way that cycling and the truly important things in life intersect. Flax wanted more people on bikes; he wanted cycling culture to embrace everyone who rides. He wanted everyone to be able to feel empowered to fix their own flat tires.
 
After he moved to Los Angeles, Flax crafted a different sort of riding life, one that revolved around utility rather than recreation. His wife and kids wanted to live near the beach, nowhere near his new office, so he decided he would sell his car and ride to work every day. In this manner, he logged 24,000 miles in three years. Some men respond to the doldrums of middle age with material or lustful indulgence, but he had an affair with a bicycle. He lacked a strong social circle, and found that the hours of solitary riding became a sort of glue that helped him keep his life together. 
Flax had expressed the hope that his family, in reading this memorial, would find solace that he always had been thoughtful about safety. He took the lane when necessary, he rode hard but avoided risky moves, he treated the perils posed by distracted drivers and harried bus drivers with respect. He made a calculated gamble to keep riding because it gave him joy. He believed that safe streets for cyclists and pedestrians are a civil right, something that is worth fighting for. 
He asked that you not dwell on the horror of his final moments. Feel free to seek justice for the driver responsible for his death, but otherwise Flax hoped people contemplate the thousands of hours of riding that proceeded that dark episode.
He believed that the bicycle is magical. He spun circles and carved turns and coasted and suffered and laughed and made friends and found things within himself. He did all that on a bike and he would like that to be remembered.
Author's Note: In real life, the dude in the Porsche slammed on his brakes and skidded to a stop a few feet from where I stood. I have occasional moments riding in the city where outrage pours out of me, but this time I was too stunned to do anything but walk my bike back to the curb and gather myself. The Porsche guy parked on the side street and came over and said sorry about six times and then sat on the lawn running his fingers through his hair. When I got back on my bike a few minutes later and resumed my journey home he was still squatting there on the grass, muttering to himself.