Daniela Ibarra-Howell on Saving the World's Grasslands
Desertification is out of control, but there may be a way to stop it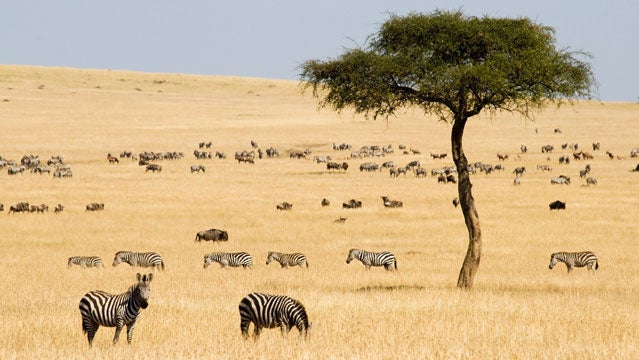 Heading out the door? Read this article on the new Outside+ app available now on iOS devices for members! Download the app.
While climate scientists are constantly worrying about the effects of climate change on our planet, one man is doing something to stop it. Allan Savory began work in Zimbabwe studying desertification and has become a passionate advocate for changing the way we see grasslands. I had a chance to talk with the CEO and co-founder of the Savory Institute, Daniela Ibarra-Howell, who is working with Savory to renew our land and maybe even save our planet.
Savory and Ibarra-Howell believe in holistic land management, which involves careful planning, managed grazing, and accounting for the constant possibility of change.
How did you get involved in this movement?
It was a long time ago in Argentina. I was working on desertification control with the United Nations and the Argentine government in Patagonia. All the solutions we had at the time were unaffordable. I went to New Zealand to study more and I met my husband there. He introduced me to Allan Savory's research.
The work made sense. I went to New Mexico to work on a plot of land with Savory. Then I knew I wanted to work with him.
When did it click that this was the right way to save our grasslands?
It was immediate. As soon as I went through Allan's research all the pieces fell into place. It wasn't just about better management, but about planning and understanding the complexity of the environment—natural, cultural, social, and political.
How did the Savory Institute come to be?
About three years ago we realized we needed a better model. We needed a bigger model in order to help our clients become more entrepreneurial, to empower others, and to inform policymakers.
How do you form relationships with the landowners who adopt your techniques?
Our work is completely community-driven. In the U.S. we work with local offices, whereas in Zimbabwe we work with smaller landowners. We learned something along the way. With private land there is more incentive for change because of the commercial interests of the owner. Unfortunately, in many of the countries we work in, there is no access to traditional financial markets.
So in order to work with a community we first find out what they want because inevitably new ways of land management will cause changes to tradition, but it must come with desire for change.
What is it like working in a diverse agrarian society like South Africa?
In South Africa we work mainly with native pastoralists with no access to markets so we have to figure out how to get funds for these people. Can we get commercial partners is always a big question. But we found in many communities that if we find the innovators in a community they will become the agents of change. These people are found in every community.
How do you deal with predation by large carnivores in places like Kenya?
We do no management of wildlife. What we do is try our best to understand its habitat needs. Everything is mapped and planned so that we are not stepping on land used for breeding at certain times of year.
In general, though, livestock do not know what to do when faced with predators, but we are experimenting with portable enclosures, which seem to be effective because lions won't cross the barriers.
How do you train your clients?
Our training involves lots of different modules on planning, management, living with local wildlife, and sustainability. The more important question is can we execute? Sometimes we find that people understand our system in theory, but cannot put it into action for whatever reason. That's why we like to create hubs nearby so that they can work with us.
Many areas of the world have already undergone terrible droughts and desertification. How do you start working in such challenging environments?
We will start in areas where work can still be done. In areas like the Horn of Africa and Central Australia, there is no hope without huge investments, but we start on the edges and tweak management to start rebuilding the land.
Australia actually has a huge holistic management culture in place. It's a hugely pastoralist country and they are very aware of climate change. Our hope is that we can continue to expand to 100 management hubs by 2020.
How is the movement changing?
Producers are facing more and more climate-related problems and we think we are reaching a tipping point. We don't have to push them; over 25 communities have contacted us to help change the way they manage land. We are sponsoring an international event at our headquarters in Boulder, Colorado, this June to talk about training and the future of agriculture.
Right now we have more demand than we can serve. That is why we want to create franchises in the communities so that they can function locally as opposed to needing our support.
But with the bigger organizations such as the U.N. and large countries, change comes slowly. They are not fluid, but we use large organizations to help us inform policymakers and to show them there are stakeholders on all sides of the issue.
Where is a country that you want to expand to, but haven't met with success?
We would love to work in China. China is a huge country with lots of grasslands suffering from desertification. Unfortunately, current policies address the symptoms rather than the root causes of the issue just as in other countries. We don't have enough connections though; we are just getting started in Asia, but if we got an indication that the Chinese government or businesses were interested in working with us we would jump at the chance.
Lead Photo: erichon/Shutterstock