Those Planes Aren't the Problem
Three plane fuselages in a Montana river might seem like a problem, but there's more to the accident than meets the eye.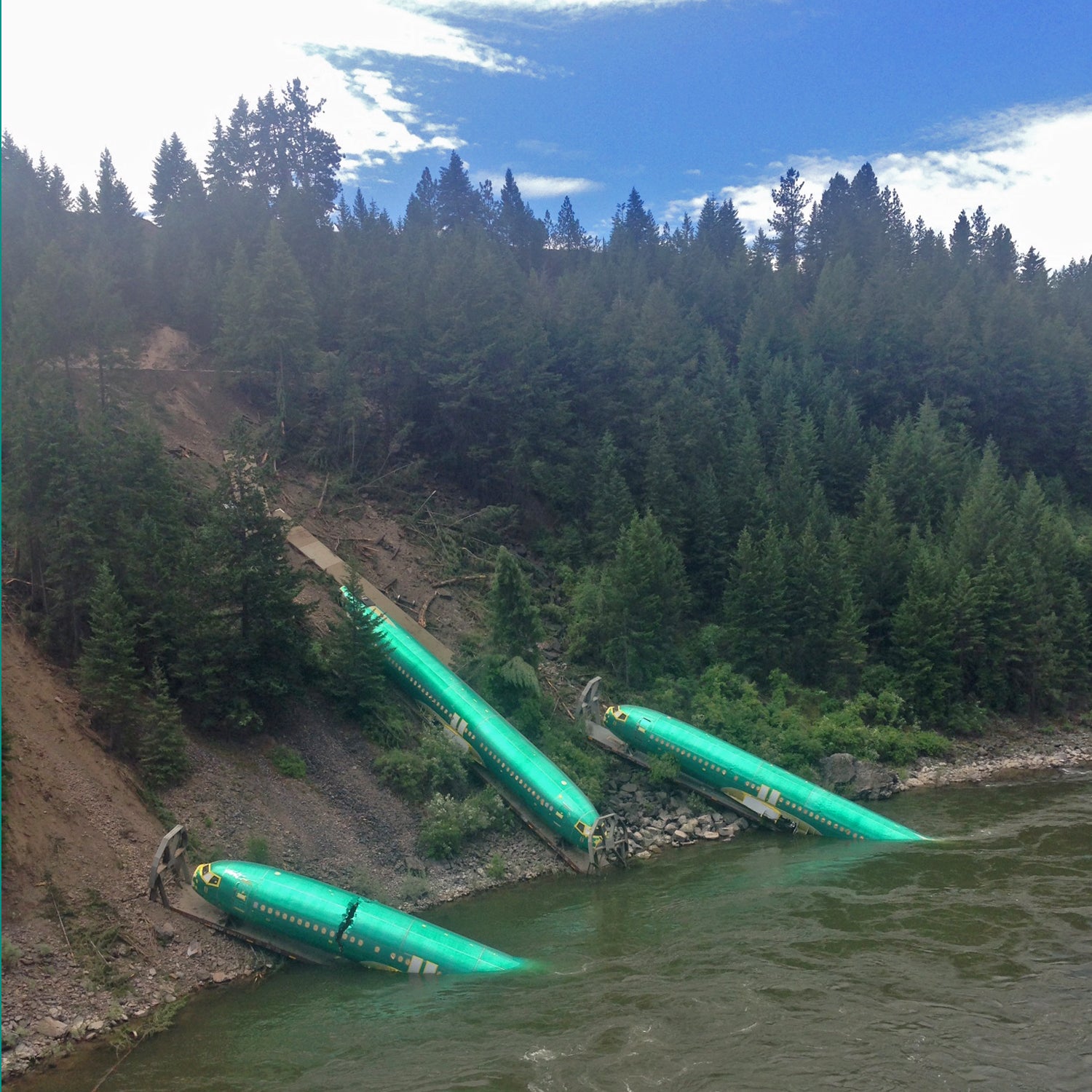 Heading out the door? Read this article on the new Outside+ app available now on iOS devices for members! Download the app.
By now, you've likely seen the photos. On the afternoon of July 3, a train paralleling Montana's Clark Fork River derailed at Atherton Gorge, sending payloads of soybeans, denatured alcohol (not for drinking, this is the stuff used in fuel), and Boeing plane parts into the water—and into view of stunned outdoor enthusiasts.
While photographs of the failure made waves in international news, the accident was actually more spectacle than disaster. "Since the denatured alcohol and soybeans were contained, the damage is very temporary," Pat Saffel, fisheries manager of Montana Fish, Wildlife, and Parks told Outside. "There was really no impact."
The things that really hurt the Clark Fork, and American rivers at large, aren't as conspicuous or visible as fuselages—they tend to be subtler, come on more gradually, and cause long term damage. Of the more-than 500,000 miles of rivers analyzed in the 2004 National Water Quality Inventory, the USEPA found that 44 percent of them were impaired.
For the most part, the biggest threats to rivers are results of our attempts to control them. America's dams, constructed to retain water and create energy, damage downstream ecosystems, disrupt the flow of nutrient-rich silt, are aging, and have little water to hold back. As a result of damming and diversion—for agricultural, municipal, and residential use—some of the largest rivers in the world are running dry, requiring intensive cooperation between countries to maintain any flow at all.
We can damage waterways when we put them to use, but rivers get caught in the crossfire when we forget to include them in our plans, too. Fertilizer runoff is the leading source of water quality damage. The way watersheds are graded, this pollution, as well as stormwater runoff from cities, inevitably ends up in rivers and streams.
Groups like American Rivers, Trout Unlimited, and Wild Earth Guardians—along with other watershed groups and the USEPA—spend lots of time and money restoring (or at least improving) rivers, but all it takes is one spill to send them right back to bad places. 
"From our perspective, this is a wake up call," said Karen Knudsen, executive director of the Clark Fork Coalition. "As disturbing as this is, imagine if it'd been tankers full of crude oil, which are increasingly shipped through Missoula. We we lucky in this case that it was just airplane parts."
Lead Photo: Courtesy of Josh Flanagan/Wiley