2020 Bike Test
5 Things We Learned at Our Bike Test This Year
What we learned from riding the best bikes of the year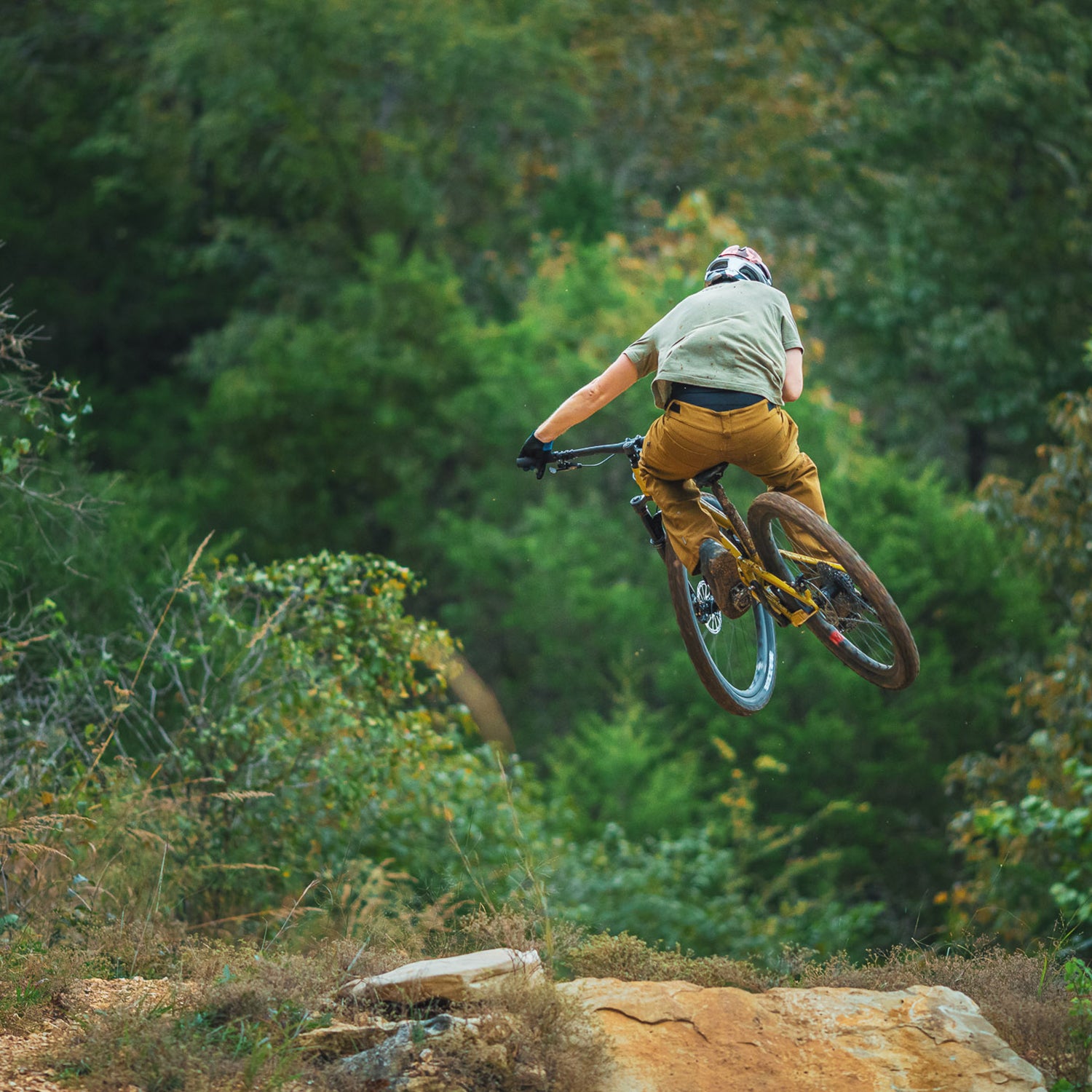 Justin VanAlstyne(Photo)
Heading out the door? Read this article on the new Outside+ app available now on iOS devices for members! Download the app.
After putting 40 bikes through their paces on the roads and trails of northwest Arkansas, our team of 28 test riders had many things to say about the direction the sport of cycling is headed. Here are five takeaways from this year's test.
Gravel Bikes Are the New Road Bikes
First lesson: gravel bikes matter more than road bikes. There are a number of reasons why the gravel category is now driving the drop-bar market. 
For one, roads across the United States are becoming increasingly dangerous places for cyclists. Riding on less trafficked dirt and gravel roads reduces the likelihood of confrontations and crashes with motorists. Many of our test riders said they were making the switch to gravel because they've had too many close encounters with distracted drivers or know a fellow cyclist who has been severely injured or killed while sharing the road. 
Another, less morose reason for the growth in gravel-bike sales is that gravel strikes a chord with many cyclists that the "comfort" and "endurance road" categories miss. Several of our older testers (who were accomplished road racers in their younger years) didn't like the idea of "downgrading" to a road bike designed for comfort. However, they can get a more upright riding position, with a shorter reach from the saddle to the handlebars, on a gravel bike and still feel like they're on something exciting. Similar reasoning also resonated with several testers who were transitioning from mountain bikes to drop-bar bikes and found the handling of road rigs too twitchy for their liking.
Even the best road bikes with intuitive handling and road-smoothing ride qualities, such as the Cannondale SuperSix Evo we tested, are still only the best tools for the job in a narrow range of applications. Gravel bikes, in contrast, cover a much broader breadth of possible uses. The Cervélo Áspero and Open UPPER can be road-bike replacements because of their light weights and efficient geometries, making them excellent choices for gravel racing. At the other end of the spectrum, Niner's carbon RLT 9 RDO is racy enough for gravel events and also comes with rack and cargo mounts to carry all the gear you need for bikepacking adventures. 
Unlike the marketing of traditional road bikes, which often features imagery of racing and suffering, marketing around gravel bikes focuses on exploration and adventure, without the unwritten rules and elitism of road-cycling culture. To be clear: there's plenty of suffering in gravel racing, but for most participants, it's an exercise in personal achievement and growth rather than the pursuit of a podium position. 
Gravel has come a long way in a very short amount of time, and if this year's test is any indication, this category is just getting started. My key takeaway from this year's test is that it's time to start thinking of gravel bikes as everyday road bikes, and to think of bikes designed for road racing as a niche within the cycling market. 
Geometry—Not Suspension Travel—Defines Modern Mountain Bikes
A few years ago, this bike test was filled with fat and plus-size mountain bikes and debates on wheel and tire sizes. In the past couple years, wheel and tire sizes have stabilized—the majority of mountain bikes feature 29-inch wheels with 2.4-to-2.6-inch-wide tires. The focus has shifted from rolling stock to frame angles. 
Mountain-bike geometry is awash in experimentation. Companies are pushing the limits of how long and slack bikes can be. As a result, we're seeing short-travel trail bikes with longer wheelbases, longer reach measurements, and slacker head angles than downhill race bikes from a decade ago. If this wasn't remarkable enough in its own right, thanks to improvements in shocks and suspension designs, most of these bikes are also more efficient on the uphill than cross-country bikes from that same time period. 
It's no longer enough to judge a bike by how much travel it has: consumers must also take into consideration the interplay of frame angles and design, which can befuddle those who just want to ride a bike. Today's raked-out steeds are exceptionally capable in most instances, though they do favor high-speed handling over slow-speed agility. As a result, there were some riders in our test team who yearned for more nimble, playful machines. 
The industry's current experiments in mountain-bike geometry make it even more important to test-ride before you buy. Two different mountain bikes with the same amount of suspension travel and different geometry will have very distinct personalities. It will be interesting to see where we are a few years from now. Will we still be going down the longer, slacker path? Or will rider tastes change, resulting in a return to more compact designs that favor agility over speed? Time will tell. 
Women-Specific Bikes Are Becoming Less Common
One of the most interesting takeaways from this year's test is that bikes designed and marketed to female cyclists are becoming significantly less common. Specialized and Trek have dropped women-specific models from their lines. Yeti has eliminated its Beti line of women's mountain bikes as well. 
Specialized has gone so far as to create a "Beyond Gender" campaign making the case that physiological differences between male and female cyclists are so slight that different frame geometry isn't warranted. Gloves and saddles, however, are areas where Specialized believes these differences are apparent, but even then, some men—myself included—have tried women-specific saddles from companies such as Specialized and WTB and found them to be more comfortable.
Frequently, bikes marketed to female riders are equipped with narrower handlebars, smaller diameter grips, shorter crankarms, and, in the case of some full-suspension models, shock tunes better suited to lightweight riders. In many instances, these are smart component considerations that apply as much to smaller men as they do to women. 
Despite the shrinking field, we included women's models from Juliana and Liv. These companies focus as much on creating a space and promoting a riding culture for women as they do on making bikes for them. Some of our female testers appreciated these bikes and said that the presence of women-specific bikes made them feel welcome in the sport. Others preferred the unisex bikes.
Two of the mountain bikes provided an interesting study: the Juliana Joplin and the Santa Cruz Tallboy. The Joplin shares the same frame as the Tallboy. Aside from paint schemes and logos, the carbon frames are identical. When it came to which bike they would actually purchase, our female testers overwhelmingly gravitated toward the Tallboy over the Joplin. One tester felt the Santa Cruz name carried more cachet. Another rider noted that while she appreciated Juliana's commitment to getting more women on mountain bikes, if she were to purchase one of these two models, she would buy the Santa Cruz, citing its broader appeal when the time came to resell. 
Electronic Shifting Reigns Supreme on the Road but Not so Much on the Trail
Many of the road and gravel bikes we tested were equipped with SRAM's wireless eTap Axs shifting or Shimano's Di2. Testers had their own opinions as to which system they preferred (more on that later), but everyone agreed that the light touch, ability to reprogram button functions, and shift speed and accuracy on both were significantly better than cable-actuated systems. I wouldn't be surprised to see cable-operated drivetrains disappear from high-end road and gravel groups within a few seasons. 
The story was different on the dirt. Several of our test bikes featured SRAM's Eagle Axs electronic drivetrains, and a few e-mountain bikes were still sporting Shimano's aging 11-speed XT Di2 system. This Di2 drivetrain lags significantly behind its cable-actuated, 12-speed counterpart in terms of range of gearing. In contrast, SRAM's 12-speed electronic-mountain-bike drivetrain is up to par, but it wasn't the hit I thought it would be. Several test riders commented that they didn't like the shape of the Eagle Axs shift paddles and didn't feel that the shifting was as fast or intuitive as high-end, cable-actuated drivetrains. The lever layout was enough of a hindrance that they wouldn't buy a bike equipped with the system, they said. Other testers got along well with Eagle Axs but worried about the replacement cost if they wrecked a rear derailleur—that's a $700 fix. 
Shimano Has Drivetrain Dominance—for Now
The battle between cycling-component behemoths Shimano and SRAM is relentless, but for 2020, Shimano has the upper hand both on and off the road. 
On the road side, Shimano's Di2 system edges out SRAM's eTap Axs drivetrains in terms of button function, layout, and shift feel. Shimano's new gravel-centric GRX group was also a big hit. Riders loved the shape of the GRX hoods and brake levers. The hoods are taller than those found on Shimano's Ultegra and Dura-Ace levers in order to provide a more secure handhold when riding rough roads with hands perched on top of the levers. Shimano also adjusted the pivot point on brake levers to provide more leverage from this position. In my opinion, this is something the company should incorporate into its entry-level road groups as well.
SRAM held dominion over the mountain-bike drivetrain market for nearly a decade. The company deserves full credit for advancing single-chainring drivetrains to the point they are today. Shimano was woefully slow to react, and the company's 1×11 drivetrains were lackluster, but the latest 12-speed XTR, XT, SLX, and Deore groups outclass all of SRAM's comparable offerings. We noted how much better Shimano's drivetrains shifted under power when we were stomping on the pedals. The ability to fire off multiple downshifts with a single throw of the release lever—a patented feature absent from SRAM's shifters—came in handy each time we sprinted out of turns. 
This fight is far from over. SRAM isn't a company to rest on its laurels. Next season it could be a very different story.
Lead Photo: Justin VanAlstyne