The Best Winter Jackets for Outdoor Sports
Our favorite puffies and shells for men and women, whether you're riding lifts or out for a tour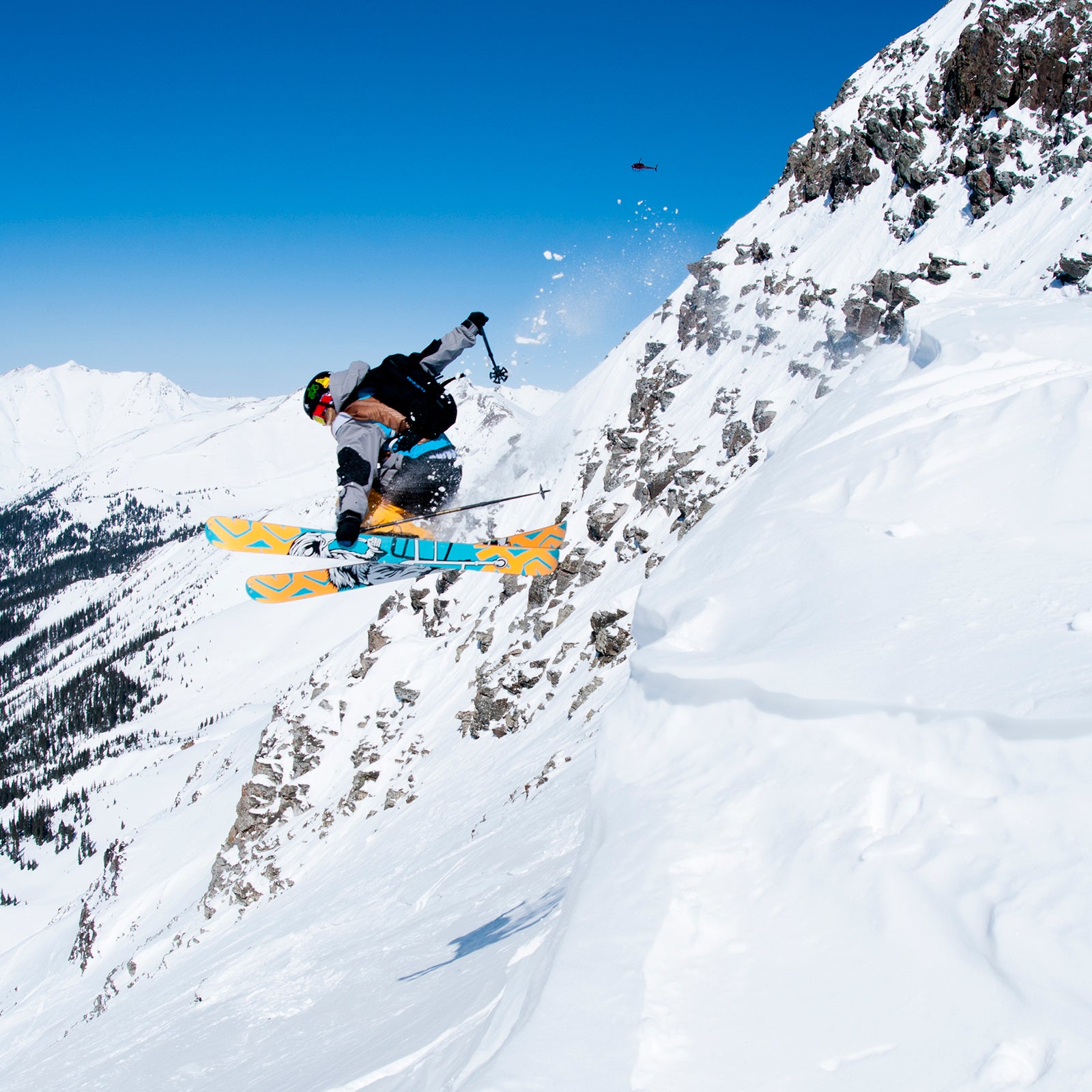 Heading out the door? Read this article on the new Outside+ app available now on iOS devices for members! Download the app.
Winter cold and wind call for a serviceable jacket. But picking the right model depends on the activity you'll be using it for. For this test, we evaluated more than 100 men's and women's jackets built for resort riding, backcountry exploration, running, and nordic skiing. The Eddie Bauer BC EverTherm Down was our top choice for all-around use—it packs warm and lightweight down feathers inside a weather-resistant shell, making it incredibly versatile—but we also identified eight other jackets (reviewed below) that proved their worth in winter conditions.
Our Favorite Winter Jacket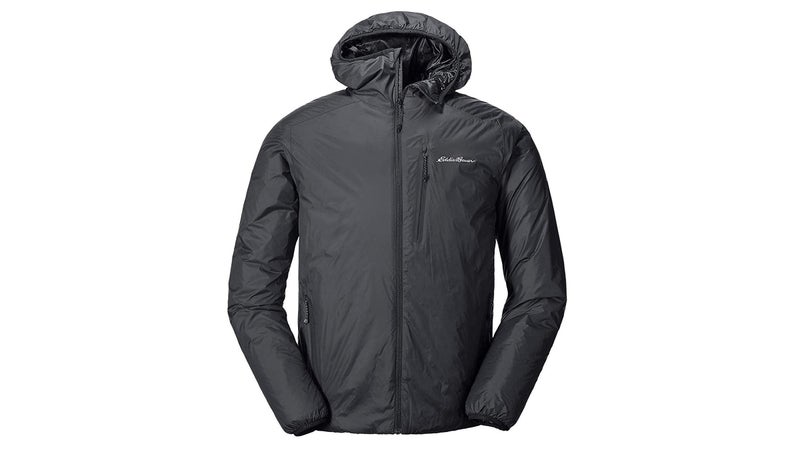 Eddie Bauer BC EverTherm Down Jacket ($499)
Like the old business joke, "Good, fast, cheap: pick any two," winter jackets are traditionally a trade-off between warm, light, and waterproof. Eddie's Bauer's new BC EverTherm down jacket checks all three boxes. Its 45 grams of Thindown insulation (more on that later) is very warm, and the 15-denier seam-taped waterproof-breathable shell offers weather protection without bulk. The whole thing weighs just 1.1 pounds. That's not a brand-new recipe, but the EverTherm executes it beautifully.
An important piece of the jacket's success is the insulation. Rather than blowing loose feathers into baffles like most down jackets, Eddie Bauer sandwiched layers of down into sheets, called Thindown, which don't need to be sewn in place. This avoids the heat loss that normally occurs through the thousands of stitches on a quilted jacket. The BC EverTherm is just as warm as heavier, bulkier puffies, like the Patagonia Fitzroy down parka or Black Diamond Mission down parka, but it's lighter and more packable.
Another highlight is the face fabric. It's on the lighter, thinner end of the spectrum but withstood a year's worth of lift rides and being yanked out of backpacks. It's also surprisingly breathable: worn over sweat-soaked midlayers, it allowed some moisture to move through, and we didn't feel clammy after four laps up the skin track.
Otherwise, Eddie Bauer has kept the feature set relatively light: a long hem in lieu of a powder skirt, three hood adjusters, and five pockets, including an interior mesh pouch big enough to for a hat, gloves, or fat powder skins.
---
Best Resort Jacket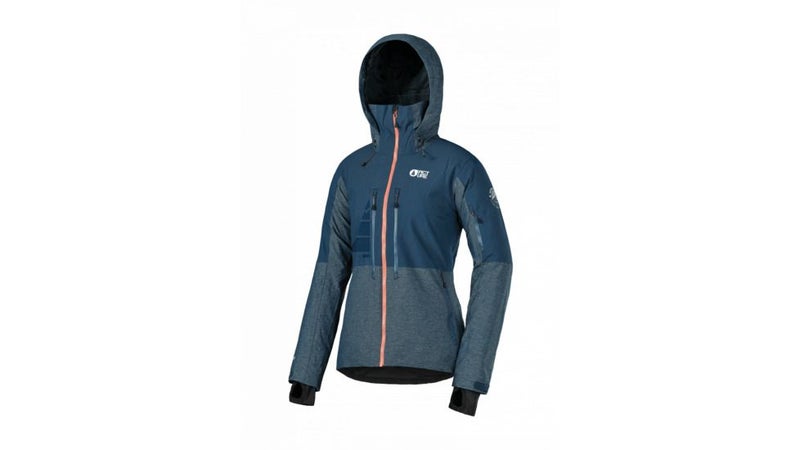 Picture Women's Signe ($350, pictured) and Men's Goods ($400) 
Riding lifts lets you get away with wearing heavier, feature-rich jackets, because you're not hiking up every hill you descend. Our favorite jacket in this category is Picture's Signe (the men's version is called the Goods), which kept us warm skiing in-bounds for hours on ten-degree days.
The Signe is 2.6 pounds (the Goods is 2.8 pounds), with a corn-based insulation called Synthetic Sorona that's strategically placed—or "body mapped," in technical terms—in thick baffles across the back and omitted under the arms for breathability in high-heat zones. The shell fabric is 46 percent recycled polyester and treated with a PFC-free, durable water repellent. (PFCs are often used in DWR treatments, but they're bad for the environment and our health.) The waterproof-breathable membrane is recyclable.
In practice, the Signe kept us dry in heavy snow and handled the temperature swings of stop-and-go skiing. On bitterly cold lift rides, we could warm our noses in the tall inset collar, which is wide enough to accommodate a neck gaiter and helmet strap. The generous hood fit over a range of helmet models. Breathability, aided by pit zips, was good enough for a jacket in this category, and we never felt damp or chilled on lifts after high-output power laps in the trees.
Other features we appreciated: stretchy wrist gaiters and a removable powder skirt, both of which helped seal out snow during an 18-inch powder day. There's also a dedicated ski-pass pocket in the sleeve and a leashed goggle cloth in another pocket.
There are plenty of other good jackets in this category. The Black Crows Corpus Insulated jacket ($599) costs more but weighs less (2.2 pounds) for the same features—a powder skirt, cuff gaiters, pit zips, and synthetic PrimaLoft insulation. The Columbia OutDry Diamond Piste jacket ($650) boasts 800-fill down, weighs just two pounds, and has pit zips, a snow skirt, cuff gaiters, and a ski-pass pocket. Two things things held them back from becoming top picks: they're too warm on anything but the coldest days, and they cost significantly more than the Signe.
---
Best Hard-Shell Backcountry Touring Jacket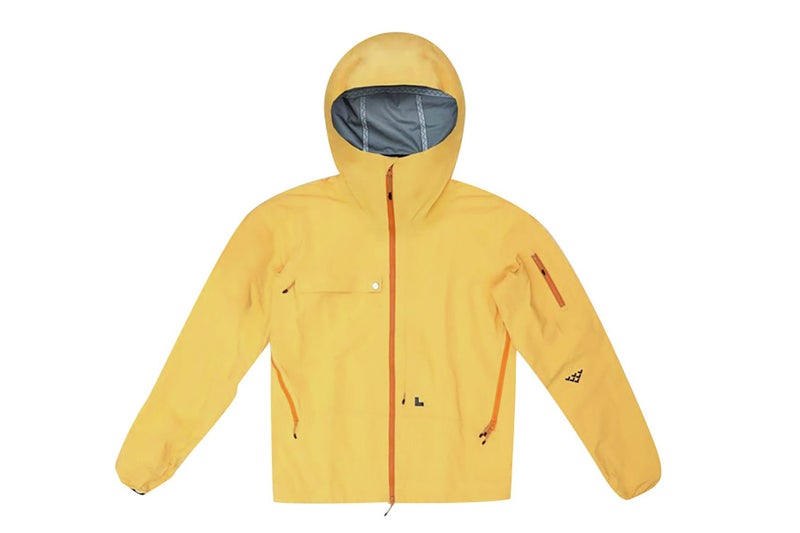 Black Crows Ventus Light ($550)
When it comes to lightweight gear, you can expect to pay more to get less—and that's true of the 15-ounce Ventus Light (1.3 pounds in men's sizing). Plenty of jackets drop weight by using minimalist construction. But it's this jacket's mix of features, weight, and durability that makes it extremely practical. Five capacious exterior and interior pockets hold everything from climbing skins to snacks. Adjustments at the chin and the back of the head keep the hood snug around a helmet, so we could look up a steep slope without being blinded by loose fabric or letting in a blast of wind. A patch of fleece prevents the collar from sandpapering your chin. The pit zips are 21 inches long and use a three-way zipper for maximum adjustability. There's no powder skirt, but a band of silicone inside the hem did a good job of keeping out snow as long as we stayed on our feet. (A little did sneak in when we face-planted).
But our favorite feature was the fabric, which successfully walks a fine line the line between durability and weight. The three-layer construction features Gore-Tex C-Knit, which is less breathable but more rugged than other Gore-Tex materials, and a light, stretchy 70-denier face fabric that's tough enough to resist punctures but thin enough to breathe. (We only noticed sweat building up during hard, sustained climbs.) Plus the inside of the jacket feels soft next to the skin and stays flexible even in ultracold conditions. That's not true for jackets (such as the Patagonia PowSlayer, $699) that use Gore-Tex Pro, which is more durable than C-Knit but becomes stiff and brittle when the mercury drops.
The FlyLow Vixen Coat 2.1 ($375) gives women a cheaper but heavier alternative to the Ventus Light. It's also waterproof, soft, and stretchy but weighs seven ounces more. The women's Pfeifferhorn and the men's Grizzly Gulch ($430, a collaboration between Backcountry and FlyLow) improve on the Ventus Light's breathability by using sweat-dumping Polartec NeoShell. And while both are three ounces lighter, they're also more minimalist, with fewer small pockets. We preferred Ventus Light's feature-rich design.
---
Best Soft-Shell Backcountry Touring Jacket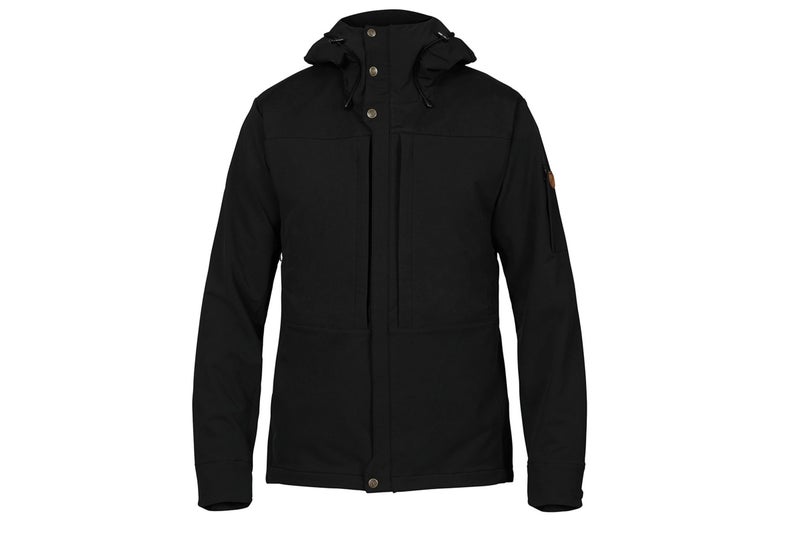 Fjällräven Keb Touring ($330)
Sometimes you don't want to look like you're strutting around the Gasherbrum III base camp just to take a ski tour. The Fjällräven Keb Touring jacket has an understated, classic peacoat look that's as at home stepping out to dinner on a Friday night as it is stepping onto the Jackson Hole tram. A pair of pockets large enough for climbing skins or a small pantry of snacks are placed on the chest, out of the way from your backpack's hipbelt. The whole jacket is water-resistant, and a wax waterproof coating on the shoulders and lower back offers additional protection from a pack's wear points, which tend to gather moisture. Zippered vents on the torso make the Keb Touring even more breathable, something our testers liked when they were hammering up boot-packs with their skis strapped to their packs.
Like all good soft shells, this jacket is stretchier, suppler, and more breathable than a hard shell like the Ventus Light, which would leave you sweat soaked if you wore it during vigorous activity. The downside is that soft shells are not fully waterproof. The Keb Touring is not the jacket we'd reach for during an all-day storm, but to fend off flurries on shorter outings, it's just right.
---
Best Cross-Country Skiing and Running Jacket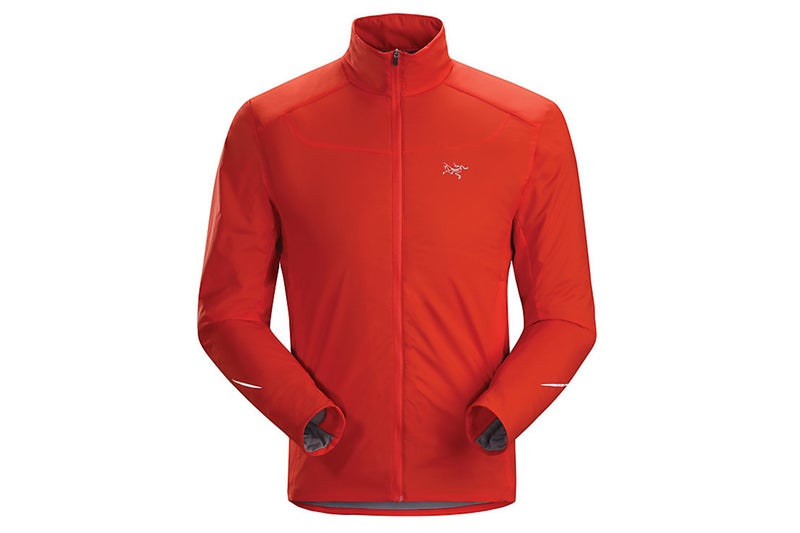 Arc'teryx Men's Argus (Pictured) and Women's Gaea ($199)
Running on snowy or icy roads takes a lot of motivation, and having a sweet jacket helped us get out the door all winter. The Arc'teryx Argus (the Gaea is the women's version) is the nicest aerobic piece we tested this year. It has a thin layer of very breathable synthetic insulation on the shoulders and chest and all the way up the tall, zip-up collar, but a stretchy soft-shell material on the back panel kept us from overheating. We liked the built-in thumb loops and smartphone pocket, a phone-size elastic pouch inside the right hand-pocket with a media port to feed your headphones up inside the jacket. In the back panel, two angled pockets are great for stashing gloves, snacks, or a hat, and they also feature another smartphone pouch (if the hand-pocket unit doesn't suit your running style). The Argus is snug but seemed to fit almost every tester body type, thanks to smart tailoring and a generous amount of stretch.
Three More Jackets That Stand Out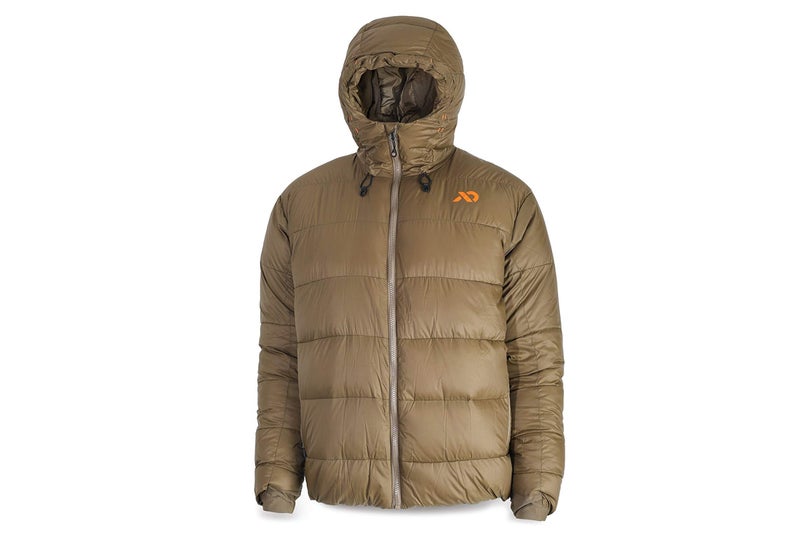 First Lite Chamberlin Down ($360)
First Lite designed the Chamberlain Down to keep hunters warm while they squat in a 40-degree November drizzle. It's stuffed with 300 grams of 800-fill down that's blended with a mix of synthetic and carbon fibers, which absorb moisture that would otherwise impair the loft of traditional down insulation. A durable DWR coating and high collar keep you warm even in blowing sleet.
---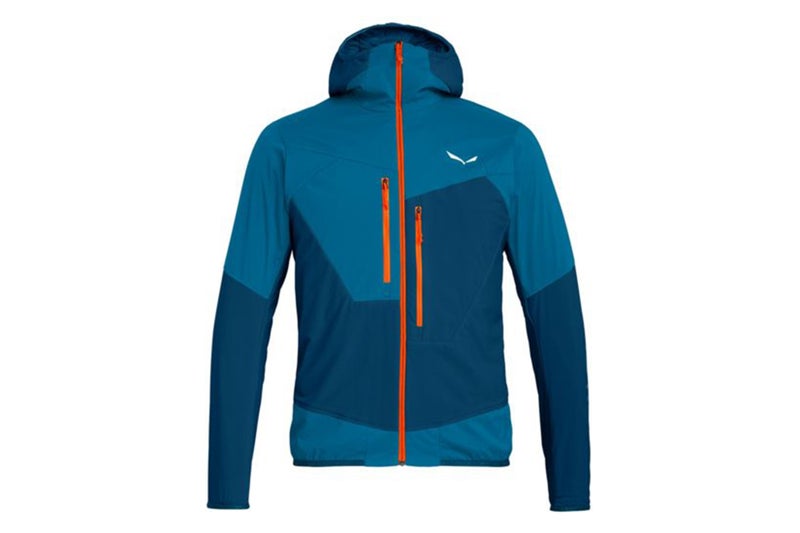 Salewa Sesvenna Polartec Alpha ($225)
This hybrid jacket exploits the properties of four different fabrics and insulations—windproof Pertex Quantum on the chest and shoulders; breathable and stretchy soft shell under the arms and across the back; Polartec Alpha insulation on the chest, shoulders, and hood; and Polartec Alpha Direct fleece for breathability on the sides of the torso. The result still moves moisture on hours-long climbs but plenty warm and weatherproof for windy ridges. It'll work best when you can pull out a lightweight shell when the wind really kicks up.
---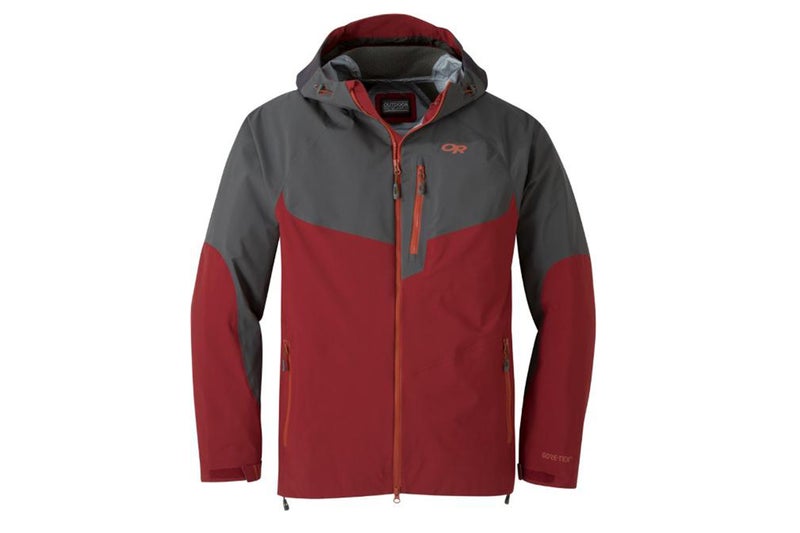 Outdoor Research Hemispheres Jacket ($599)
The main feature of note on the Hemispheres is a set of zippers that extend from the arm to the hem for poncho-style venting, which may appeal to backcountry skiers who don't want to stop to drop a layer or who need to vent when the snow is falling too fast to go without a hard shell. The waterproof stretch fabric offers a better range of motion than the Ventus Light, but it's also about five ounces heavier.
How We Picked the Best Winter Jackets for Outdoor Sports
Test directors Kelly Bastone and Frederick Reimers have been reviewing winter gear and apparel for more than 25 years combined. Reimers lives in Jackson, Wyoming, where he earns his turns on Teton Pass and plumbs the steeps at Jackson Hole Mountain Resort. He's also a winter runner, fat biker, and skate skier. Bastone lives in Steamboat Springs, Colorado. Like Reimers, she divides her time between lift-served skiing and backcountry powder missions and also logs a few miles each week on her local nordic trails.
For this test, we also recruited a team of seven winter athletes (alpine skiers, nordic skiers, runners, backcountry tourers, and snowshoers) to round out our perspectives. We asked broad-shouldered guys to test the jackets' freedom of movement, and we put women's jackets on various body shapes to confirm their fit and performance. We tested insulation on negative-ten-degree days, evaluated breathability during climbs up Glory Peak on Teton Pass, assessed waterproofness in sleet, and measured sweat-vapor diffusion on skate-skiing sprints.
How Should I Choose a Winter Jacket?
With most manufacturers having access to the best factories, designers, and materials, nearly every jacket you'll find at a reputable retailer is well-made. So the primary determining factor is whether the jacket you are considering is suited for the way you'll use it.
For running or nordic skiing, you'll want something light and breathable—either a thinly insulated piece or a shell to block wind and snow. For resort skiing, an insulated jacket cuts down on constrictive layers and is nice when the ski lift suddenly stops. For backcountry touring, you'll need something breathable for the way up and something warm for the ski down. If there's precipitation, you'll want both to be at least water-resistant, if not waterproof. And, as always in the backcountry, light makes right.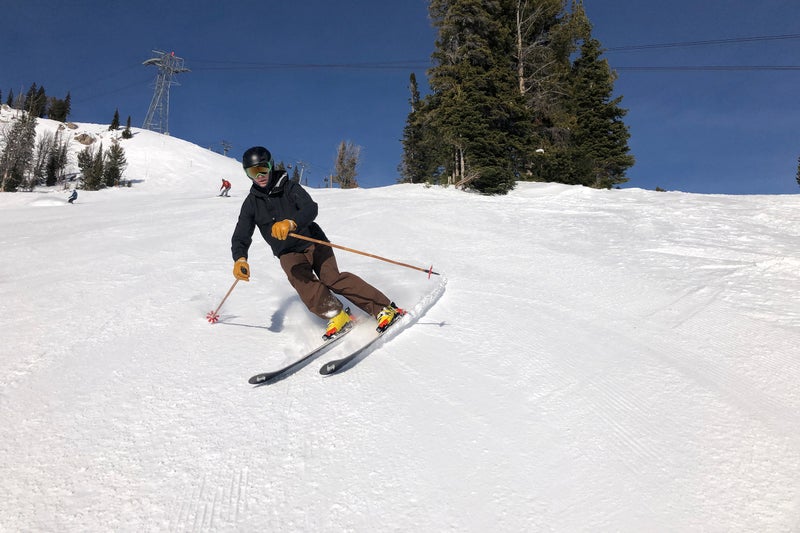 Of course, every jacket design comes with trade-offs. Wear that pared-down running piece on the skin track and you might wish you had a hood when a sidewind comes howling over the ridge. That cozy resort jacket may end up soaked with sweat when you ditch your kids to chase your buddies up a boot-pack. Down jackets offer the most warmth for their weight but will become utterly useless if the snow turns to a downpour and the down feathers clump together, forfeiting their insulating loft.  
We'd all love a quiver of jackets dialed to every separate activity, but if that's just not in your budget, a hard-shell parka made with a waterproof, breathable fabric is your best purchase. You can always stack insulating layers beneath it on cold days or make due on sweatier outings with judicious venting. Look for something with a large hood for times when you wear a helmet, and a loose enough cut for layering, and you can make it work for most any condition.
Speaking of fit, always try a jacket on before you buy. Every manufacturer has a slightly different cut. European manufacturers tend to make their tops longer and leaner, and mountaineering-oriented companies like Arc'teryx will have longer sleeves—a nod to climbers who spend much of their time with their arms overhead. Some companies tailor specific lines in their collection: aerobic pieces will be trimmer, while downhill ski coats will be roomier in the torso for throwing flips in the terrain park, if not just aggressive riding in general.
Insulation
Down provides the best warmth-to-weight ratio of all lofted insulations. Its fill is rated from 400 to 1,000, with higher numbers being loftier and therefore warmer for the weight. But untreated down is useless if it gets wet. Some companies blend down and nondown fibers to help move moisture from the insulation. Others treat it with hydrophobic chemicals. For fail-safe insulation in soggy conditions, look for synthetic insulation by companies like Polartec and PrimaLoft.
Fabric
Waterproof jackets are usually built from two- or three-layer fabrics, which have a waterproof-breathable membrane either adhered to a face fabric and protected by a mesh liner or sandwiched between a face fabric and backer. Three-layer fabrics tend to hold up better over time and are more breathable. Some companies make two-layer shells without the hung liner, like Gore-Tex's Shake Dry, but those are fragile and intended for fast and light alpine missions.
Both hard shells and soft shells are usually treated with a chemical coating of durable waterproof repellent (DWR) that will shed moisture. Though those coatings lose their efficacy over time, they can be refreshed with a quick rotation through the washer and dryer.
Breathability
A plastic trash bag is totally waterproof, but wear one cross-country skiing and you'll end up soaked from your own sweat. Most waterproof jackets—from shells to insulated resort ski jackets—now use a breathable membrane that helps move moisture through the face fabric. But any waterproof membrane is still less breathable than a soft shell. Some hydrid layers, like the Salewa, have water-resistant material on the areas most exposed to precipitation, like the shoulders and hood, and breathable fabric in high-heat areas, like the underarms and back.
Lastly, a word about ventilation: openings on the chest can funnel cool air into the torso better than pit zips, but many manufacturers avoid them because consumers expect vents in the armpit. Our favorite air-flow features pull double duty as large, mesh-backed chest pockets.
Features
Resort ski jackets are particularly known for being full featured, with powder skirts to keep out snow, zip-off hoods, wrist gaiters that seal in heat, and goggle wipes tethered to the inside of a pocket. Speaking of pockets, some jackets will come with as many as nine! The trade-off to all that is weight. Mountaineers don't want to lug those zippers up and down peaks. In addition, as a jacket designer once observed: "The more times you perforate the shell, the less waterproof a jacket is."
Durability
As with a jacket's bells and whistles, the trade-off to durability is weight. Thicker, heavier fabrics are simply more durable. A good proxy for durability is a fabric's denier, which will usually range from 15 or 20, as tends to be found in an ultralightweight down vest, to 80, like in a ski parka's face fabric. Higher-denier fabrics can brush up against trees and shoulder ski edges without issue.
Price
The price of jackets is determined by the quality of materials and the features it sports, which require additional labor to install. Higher-rated down fills and name-brand waterproof-breathable fabrics will particularly drive up the price of a jacket, though we don't always see a large performance difference between material companies. Most are pretty good, but some brands charge a premium based on their reputation for fit, durability, or social consciousness.
Lead Photo: Ian Fohrman/Red Bull Content Poo