Innovation
The Next-Gen Outdoor Innovations We're Watching
From green trucks and biodegradable garments to thinner and warmer wetsuits and on-demand insurance for athletes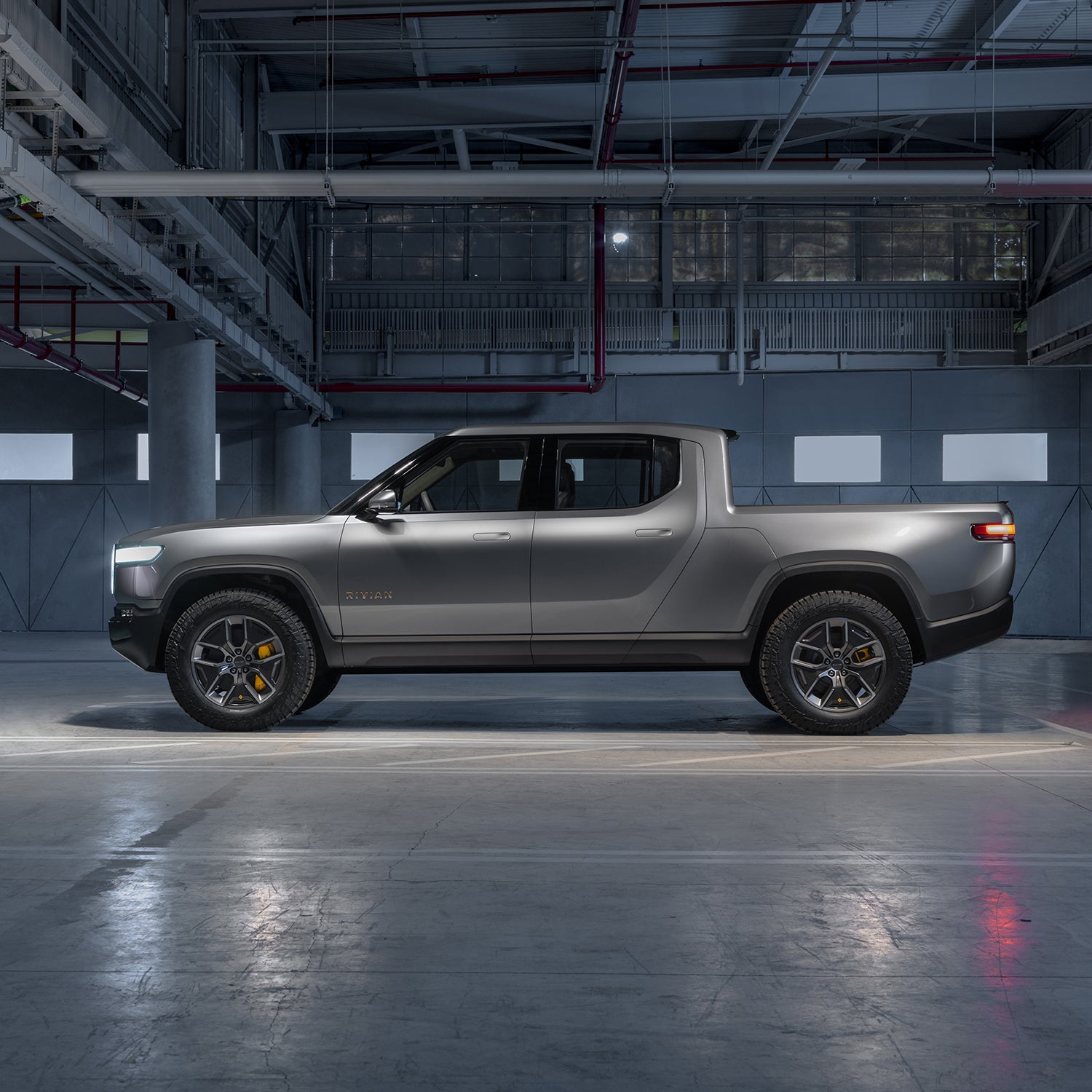 Heading out the door? Read this article on the new Outside+ app available now on iOS devices for members! Download the app.
Your Truck Gets Electrified
Rivian is building rigs to appeal to the green crowd and overlanders alike
By Will Egensteiner
Though the electric-vehicle startup Rivian was founded ten years ago, the company intentionally flew under the radar until 2018, when it pulled back the curtain on the R1T pickup at the L.A. Auto Show. Why spend nearly a decade avoiding the limelight? Founder and MIT mechanical-engineering grad R.J. Scaringe and his team were quietly developing a battery system that could hold enough power to get you far off the beaten path and was sufficiently rugged to withstand the bumps along the way. The result? The world's first full-featured electric truck. 
"There wasn't really someone making a vehicle that catered to the outdoor adventurer and that was also conscious of the environment," says Jeff Hammoud, Rivian's vice president of design. "It's amazing to see how many people have a Prius or a Tesla as a daily driver, and then when they go on adventures, they've got a Jeep or a Tacoma."
The midrange R1T runs on a 135-kilowatt-hour battery pack—good for up to 300 miles—­integrated into the floor of the cab. The four-wheel-drive version has four motors that sit above the wheels, providing 750 horsepower. But the rig's defining feature is what it doesn't have: an internal combustion engine. The big compartment where a normal truck would have an engine is an 11.7-cubic-foot space called the frunk. Where the truck bed meets the cab, there's a gear tunnel big enough to accommodate a snowboard.
The R1T isn't cheap: it will be priced at $69,000 when production begins in 2020. And if Tesla's factory issues and struggles scaling are any indication, making a mainstream electric vehicle can be tricky. But plenty of big names are optimistic that Rivian can deliver on its promises. The company has already secured $700 million in investment from Amazon and another $500 million from the Ford Motor Company. And perhaps most notably, they've recruited Alex Honnold as an ambassador.
Gear that Disappears
It doesn't get recycled…it turns to dust
By Ariella Gintzler 
For more than a decade, companies have been doing whatever they can to up their green bona fides, investing in everything from enviro-friendly manufacturing to shipping methods that reduce packaging waste. But until recently, there were few solutions for mitigating the impact a product has once its life span is over. According to the EPA, the textile industry alone generated more than 16 million tons of solid waste in 2015. But what if all our stuff—jackets, water bottles, tents, coolers, and sleeping bags—simply disappeared when we were done with it? That's the goal of the latest weapon in the green arms race: biodegradability.
Leading the way is PrimaLoft, which in 2018 introduced Bio, a line of high-performing synthetic insulation and fabric that break down when they hit the landfill. Lab tests in accelerated conditions showed 80 percent degradation in 394 days. (The company declined to provide real-world degradation rates.) Vanessa Mason, the brand's senior vice president of engineering, says Bio "represents the largest investment of dollars PrimaLoft has made into the development of any technology since the company's founding in 1988."
In fall 2020, companies like Helly Hansen and L.L.Bean will release apparel featuring the fabric, and other PrimaLoft partners are working on concepts for fully biodegradable garments, zippers and all. Adding to that, hard-goods manufacturers like Igloo and Casus have recently released biodegradable coolers and grills, and Bella Eco has started making women's underwear, bras, and leggings that break down at the end of their life span. 
Of course, it's pointless to make biodegradable gear if it doesn't perform well, so PrimaLoft spent two years making sure that the materials were up to company standards. "The biggest challenges were the incredibly long period of time and high cost of the testing required to ascertain the biodegradation rate," Mason says. "Every fiber iteration or change to the fiber composition had to be tested." 
Given that reality, it might be a while before we can toss our entire gear closets into the compost pile with our eggshells and coffee grounds, but soon we'll at least be able to start with our jackets.
With One Hand Behind Your Back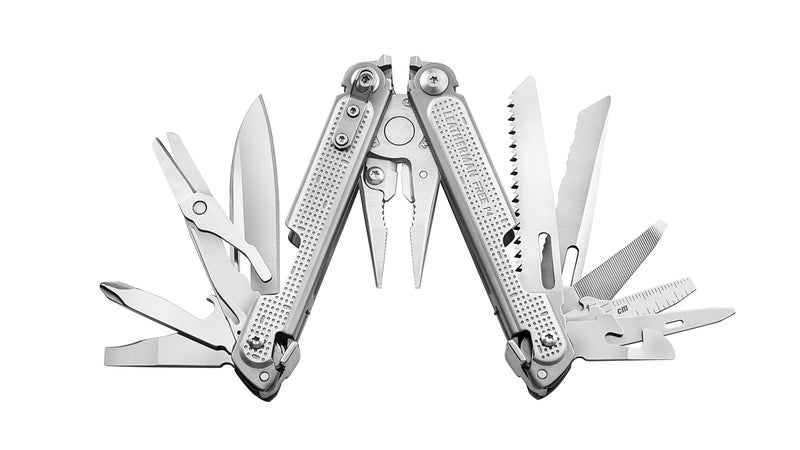 A true one-handed multitool has long been the holy grail of gear design. Enter the Leatherman Free P4 ($140), which uses magnets to hold its two sides closed. Simply slide your thumb between them to flick open the P4 and use the pliers (or any of the other 20 tools) single-handed. —Will Taylor
Insurance for Risk-Takers
On-demand policies change the game for athletes
By Dean King
Sooner or later, most outdoor enthusiasts encounter a pitch too steep, a bend too tight, or an immovable object on the trail, and then it's ass-over-elbows. But now there's backup: Buddy, an on-demand insurance policy that you can buy on your phone or laptop in minutes, 24/7, from virtually anywhere. As their inspiration for the startup, founders Charles Merritt, David Vogeleer, and Jay Paul, all avid outdoor athletes, cite rising health-care deductibles—the U.S. average for individuals is around $4,000—and out-of-pocket medical expenses for their friends who've been hurt mountain biking, skiing, and pursuing other adventure sports. "We have dozens of stories about ourselves, friends, and others who've been injured," says Paul, 59, who has worked in the insurance industry for more than 25 years. "I personally have been to the emergency room four times through the years for everything from broken ribs and a broken shoulder to lacerations."
At Buddy, which is backed by Lloyd's of London, accident coverage costs $10 for a day, $21 for a week, or $55 for a month, and payouts range from $500 to $50,000. There's no deductible, and the payout can be used for any purpose.
So far, Arizona, Colorado, Kentucky, North Carolina, Ohio, Tennessee, and Texas have given Buddy the thumbs-up and are currently the only states in which you can purchase a policy if you're a resident. Once purchased, the policy covers you wherever you plan to adventure, whether it's your backyard, across the U.S., or internationally. Buddy expects to be available for purchase in dozens of other states by mid-2020. And you don't have to worry about being rejected: everyone is eligible for Buddy's policies.
Meanwhile, other companies with similar approaches have hit the market. There's Spot, which is rolling out accident and life insurance geared toward the adventurous with prices varying by state, as well as Trov, which covers gear (like bikes and skis) on a sliding scale that starts at less than $1 a day. So when you're on the edge of a gnarly couloir or about to paddle Class IV rapids and suddenly get the heebie-jeebies, you can now get a last-minute safety net. "Our goal," Paul says, "is to help outdoor enthusiasts live their lives more fearlessly."
Fat Suit
Surfers stay warmer with artificial blubber
By Peter Andrey Smith  
Submerge yourself in water below 50 degrees and you might last an hour before losing consciousness. Wearing a neoprene wetsuit or a drysuit can double that, but even those getups have issues. In 2017, Jeffrey Moran, then a postdoctoral researcher at MIT, interviewed surfers in San Diego, a professional underwater photographer, and curators at the New England Aquarium in Boston. He identified two complaints about wetsuits: they're not warm enough, and they're too difficult to get in and out of.
Moran, now a professor at George Mason University, devised a way to roughly triple survival times in 50-degree water wearing only a wetsuit. Wetsuits are made of neoprene, a foam insulation that traps tiny air bubbles. By putting a suit inside a sealed container and pumping it with xenon or krypton gas, Moran and his colleagues at MIT found that it's possible to replace those air pockets with inert gas. This, he says, results in wetsuits that are 40 percent thinner or have double or triple the insulating properties.
The team dubbed the invention artificial blubber and their first scientific paper was published in 2018. The gas treatment doesn't require a specialized suit, but the downside is that the effect lasts only about 20 hours before the gas leaks out. "You don't want to have to recharge your wetsuit every time you go for a dive," Moran says. Now he's trying to find a pliable material that will trap the gases indefinitely, perhaps the stuff used in space blankets that marathoners wear after crossing the finish. A silver lining in the suit would "not only prevent the gas from diffusing out," he says, "it would also reflect some of the thermal radiation produced by the diver back into the body."
Clear the Air
Across the American West, fire season is over a month longer than it used to be, on average. The freestanding Molekule ($799) runs smoky air through two filters to remove contaminants. And it looks a lot better than an HVAC nestled in the corner of your bedroom. —W.T.
Natural-History Horror Films
The best way to get people to do something about climate change is to freak them out with epic imagery
By Luke Whelan
Near the end of the first episode of the Netflix nature series Our Planet, which streamed in 33 million households after premiering last April, the camera pans over the vast Greenland ice sheet, then lingers on a bird's-eye view of where it suddenly meets the ocean. Small pieces of ice start to crumble, then larger chunks, and finally, as the symphonic music swells, whole sheets explode into the sea. "Within 20 minutes, 75 million tons of ice break free," observes David Attenborough.
This scene is one of many in the Emmy-nominated, eight-episode series that combine cinematic fireworks with the urgent message of human-caused climate crisis and habitat destruction. Coproducers Keith Scholey and Alastair Fothergill mastered the use of cutting-edge camera technologies and natural-­history storytelling while working for the BBC Natural History Unit (the outfit behind the acclaimed Planet Earth and Blue Planet series). For Our Planet, they employed the same tools and techniques but with the focused purpose of presenting the terrifying transformations unfolding around the globe. "We knew from past experience that if you don't dazzle, you won't get the big audience," Scholey says. "And if you don't get the big audience, you're wasting your time with the message." 
A crew of 600 spread out across 60 different countries with drones and 4K cameras rigged with custom-built stabilization systems to capture sequences in ultra HD that are as devastating as they are stunning. An underwater camera illuminates Australia's Great Barrier Reef before and after a massive coral-bleaching event. Drones follow endangered bluefin tuna and a rare blue whale and her calf as they swim through the open Pacific Ocean. High-­resolution satellite images reveal massive phytoplankton blooms off the Florida Keys. This phenomenon plays an important role in creating the earth's (increasingly unstable) weather systems, which the show captured using time-lapses of thunderheads. "We were constantly looking to push technology to its limits in the field," says Our Planet director and producer Sophie Lanfear. 
The collapsing ice in Greenland at the end of the first episode is the crown jewel. Land and aerial teams monitored an unstable glacier night and day for three weeks so they'd be able to deploy their camera systems—two on a fjord across the glacier and one on a helicopter to film above it—at the exact right moment. Their patience paid off: the calving event took place on the last day of filming, during the last hour of sunlight. "You need to see the magnitude of this kind of thing to get an impression of what climate change can be," Scholey says. "It's absolutely huge."
Shelter from the Storm
For decades tent manufacturers across the country complied with a California state law that required flame retardants on all their shelters. Problem is, these chemicals are carcinogenic and wind up in the air inside tents. Applying the retardants has also hamstrung designers into relying on the same tired materials. But this year, Mountain Hardwear became the first major American brand to stop using fire retardants across its entire line, which could spur a new wave of lighter and thinner shelters that won't, of course, be sold in California. —W.T.
Ride Smoother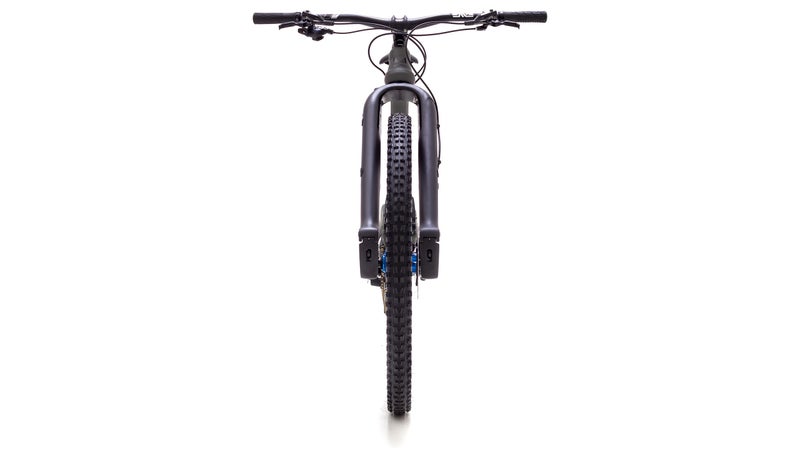 Traditional front-suspension design on a mountain bike telescopes to absorb the jolts of the trail. Trust Performance's Message fork ($1,975) employs links and pivots to do the same thing, but it activates under ten times less force than a regular fork. That means a buttery ride over the roughest stuff. —W.T.