10 Rules to Detox Your Digital Life
You're overworked, overstressed, and overconnected. But don't worry. We're here to help.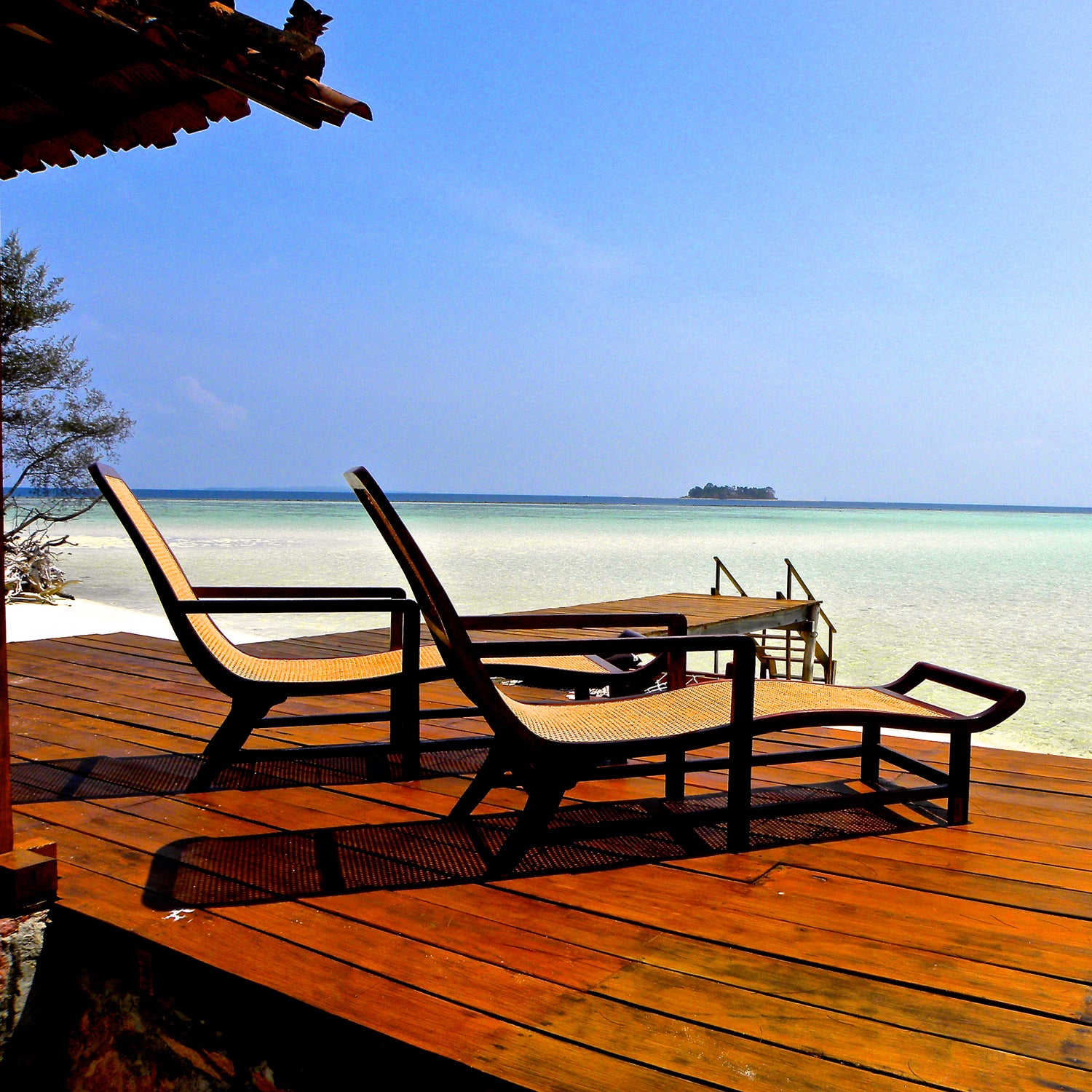 Kura Kura Resort(Photo)
Heading out the door? Read this article on the new Outside+ app available now on iOS devices for members! Download the app.
Remember the dire Y2K technological apocalypse predictions? If only they had come true. Without sermonizing, here are 10 ways to disconnect the broadband flow of digitized scheiße that's drowning our souls.
#1: Smell a Book
Hey, iPad readers: Do you remember what a book smells like? Especially an old book that everyone in your family has read a few times? As an 11-year-old, I read The Lord of the Rings trilogy, plus The Hobbit, and, verily, even The Silmarillion at least four times. Call me a creep, but sometimes I'd walk by, pick up one of the tattered, coverless paperbacks, and smell it.
I won't attempt to describe the aroma—it's too personal—but it made me feel good. Books are tactile and sensory. Like candlelight, they're intimate and calming. And a book won't knock your teeth out when you fall asleep reading one—if you can sleep at all after reading on an iPad. Experts say the light your iPad or phone emits is jacking with your melatonin. Not so with books.
#2: Ditch the Smartphone Alarm Clock
One of the only smart features I actually use on my phone is the alarm clock. This is a trap. Alarm clocks go next to the bed, so your phone goes next to the bed. My latest software update makes a wee light flash blue (Facebook), white (text), or green (email) every time a message arrives. What's that? Somebody tagged me? Oh, it's an irate reader calling me a douche at 11:00 p.m.
Now I'm angry, or stressed, or annoyed, or distracted, and perhaps worse, I'm looking at a bright white light (more on that later). Recently, I moved my angry alarm phone to the kitchen and replaced it with a large wall clock at my bedside. It ticks like a school clock and somehow reminds me of my late grandfather—and the heartbeats of my sleeping dogs. Studies have found that our constant connectivity affects our mental health and frequent cellphone use can lead to insomnia.
#3: Talk to Your Coworkers
We hire and train a few interns at my office each year. Important parts of the job entail checking facts, connecting with sources, and asking for photo-shoot gear. Invariably an intern—a journalism student, mind you—will enter my office and hopelessly explain that a source hasn't gotten back to them. "Did you call?" I ask. "Uh, no," they reply, shaken by the thought.
It has been reported that the generation currently in high school send upwards of 1,300 text messages a month, and they're seven times more likely to text than to call. Email and text are marvelous tools, but they work best in place of otherwise guttural vocalizations like "got it" and "on the way." Texting while you drive is a thumb stroke away from a negligent homicide charge. A poorly worded email can get you fired. Easily articulated nuances like mirth, sarcasm, facetiousness, or just the right amount of displeasure do not cross over to hastily typed digital communication. Pick up the phone. Unless you're driving. In which case, shut up.
#4: Put Down the Camera
Recent studies have shown that aggregating pixels is not the same as observing and reflecting upon the world. It's called the "photo-taking impairment effect," and although you may feel like you're documenting wondrous existence, mostly you're just operating a chintzy camera and not paying attention.
This means that unless you're carefully framing the subject and noting the light and composition of the impending image, you're not really absorbing the experience into your memory. As Socrates once wrote on a wildly popular Athenian bumper sticker (it bombed in Sparta), The Unexamined Life Is Not Worth Living. Your daughter's dance recital. Skiing with your son. Mountain biking with friends. Put your camera phone down and be there. Socrates didn't take selfies. #drinkinghemlock 
#5: Join the Dark Side
I interviewed a sleep-disorder specialist a few years ago. For the most common form of insomnia, his advice was stupid simple. Don't drink coffee after 3:00 p.m., and get your television, laptop, tablet, and smartphone out of your bedroom. It sounds like hippie science, but biorhythms are real. Staring at a bright box late at night tricks the body into thinking it's morning. The effect is so powerful it can make you hungry for breakfast, which is why it has been linked to obesity. Unless your insomnia is entrenched, it's probably fine to read a book made of paper by a dim light. Otherwise, the bedroom is for sleeping—and "wrestling." 
#6: Bring Back Cursive
Like art and gym class, handwriting has largely been dropped by our education system—not that adults are writing by hand much these days, either. It's a bigger loss than we thought. A series of studies have shown what we intuitively knew all along. Like creating art, the act of writing lights up the brain in ways that typing decidedly does not. There has even been conjecture that the very act of writing cursive may instill "functional specialization" (focus, control), help us compose our thoughts, and even treat dyslexia. We aren't going to stop typing anytime soon, but when paired with just the right fedora and skinny jeans, perhaps bringing a journal on vacation and a legal pad to a meeting might pass as hip.
#7: Turn Off Your Alerts
The end of the world is coming. Check this box if you'd like to be notified by email or text message. Last winter, I downloaded an NFL app, thinking—as advertised—I would be able to watch a playoff game as I flew to Utah. Naturally, it didn't work. But then, many months later, during the far-superior hockey playoffs, my phone alerted me no less than 20 times about the endlessly fascinating and life-affirming results of the NFL draft, an event that now competes with the birth of a British royal for pure idiotic spectacle.
With the exception of reverse 911 updates, turn off all your phone notifications. Yes, including Facebook. And adjust your computer settings. Do you really need the little pop-up and accompanying chime when an email arrives? Has instant messaging ever benefited you? They seem petty when isolated, but systemic distractions are a big deal. NASA big. There's even a field of research devoted to it called "interruption science." For the humans among us, no matter what kind of work you do, true creativity or even just workaday focus comes in brief bursts. The masterful novelist Gabriel Garcia Marquez once told the Paris Review that, at his best, he could write a worthy paragraph in a six-hour workday—and most of the time he'd tear up those lines the next morning. The breaking news that Johnny Football went to the Browns might have completely derailed him.
#8: Unplug from the Data
I wear a brilliant GPS watch in the backcountry. My mountain bike is kitted out with a touch-screen computer that tells me my location, route, speed, heart rate, and pedaling cadence. My Strava-connected road-cycling friends speak the strange language of power meters. For them, riding isn't about mileage but wattage.
I enjoy my outdoorsy gadgets: The watch once saved me from a night wandering the high country in search of my tent. The bike computer lets me gauge my effort so I don't blow up before the final climb. Power meters have taken the guessing out of training regimens. But sometimes we rely upon tech too much. A map or even just a look around tells me that if I follow the creek, I'll hit the pond. And there are times when you should listen to your body instead of your power meter.
"Athletes sometimes have to separate themselves from their data analysis," says Jason Hilimire, director of coaching at FasCat Coaching in Boulder, Colorado. "As coaches, we can spot it in their written comments. 'I'm tired. I'm hungry. I can't sleep.' They're cooked from training or their jobs or their family life. We tell them to unplug and ride with no prescribed goals. Hit the mental reset. Have fun."
#9: Forget About Facebook
Unless it's to notify you that their 27-year-old dog died, nobody goes on Facebook and tells the world about their downfalls: Can't afford new snow tires. The kid has lice! Dead-end job. Drinking too much lately! No, those aren't good posts. Facebook is about gloating and pretense, not the harsh realities of life that actual friends help with. The showing off is especially prevalent with outdoorsy types—and I'm as culpable as anyone. Nothing but sunshine, gleaming choppers, and powder on my page. Nobody's life is that perfect. One small study hinted that the more participants interacted with Facebook, the unhappier they became. Sometimes, when I'm feeling alienated from society and nauseated by being, Facebook makes me feel a whole lot worse. For those days, what we need is a social media site composed of morose French existentialists chain-smoking Gauloises. "We refuse to like your post," they would say. "At the most, we'll recognize that behind the veil of your public presence, you too also suffer."
#10: Share the Music
In Empire of the Summer Moon, author S.C. Gwyne spends a few lines telling the reader how Comanche would wake up singing. That passage resonated with me. And then, last night, my 12-year-old son said he didn't listen to as much music as his peers who spend their days isolated in their private soundtracks. He seemed almost dejected. Music is part of our family life, but earphones and portable music are not. In the car or at home, we listen to music together. We share music, just as I did with my parents and teenage friends. And when we wake up, we wake up singing.
Lead Photo: Kura Kura Resort