How to Meal Prep Like an Elite Athlete
During intense training, it's easy to let good nutrition fall to the wayside, but it's also the most important time to get fueling right. Here's how to do it.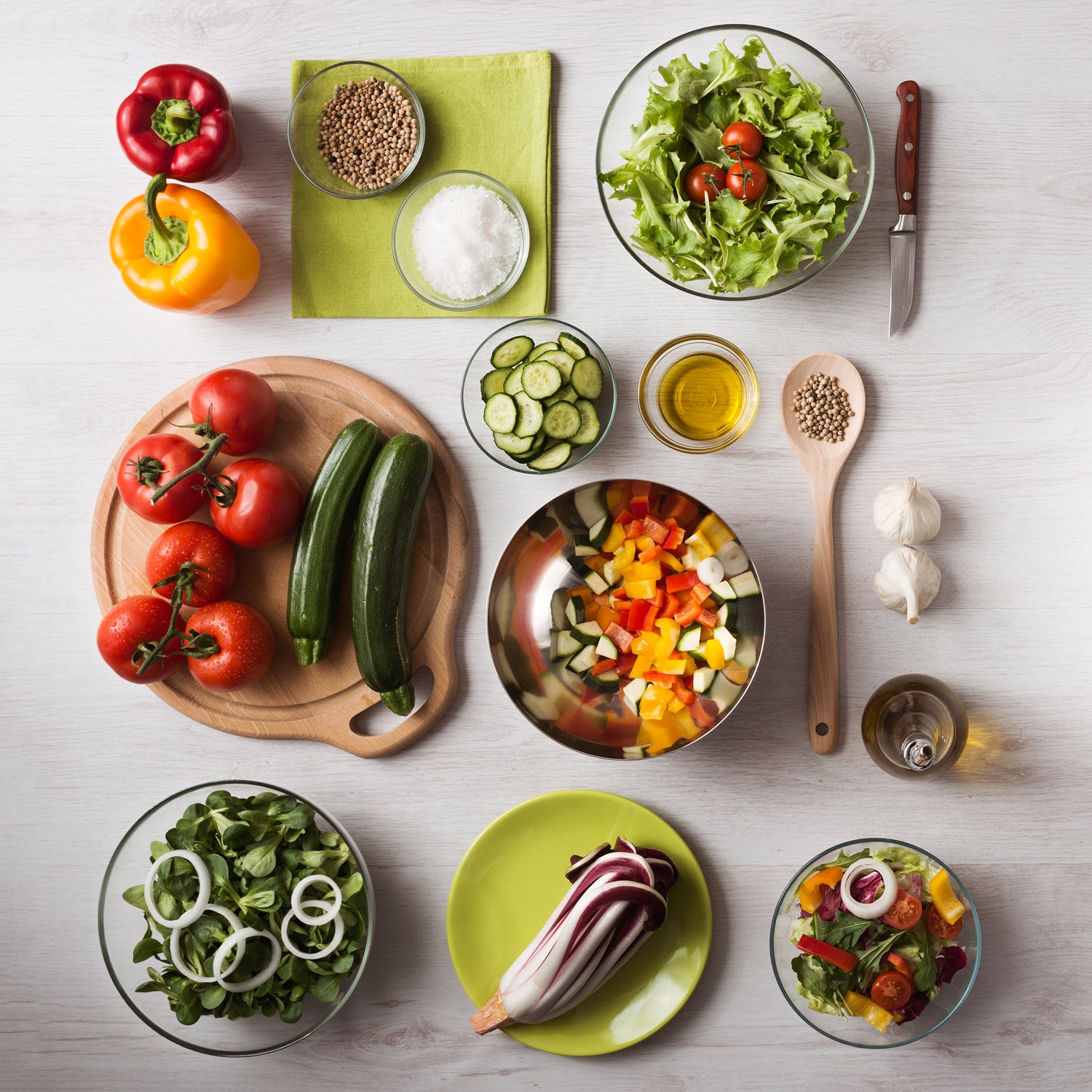 demaerre/iStock(Photo)
Heading out the door? Read this article on the new Outside+ app available now on iOS devices for members! Download the app.
After a long day with lots of mileage and hard efforts, the last thing any athlete wants to do is head home to cook an extravagant meal. But all too often, quick options are unhealthy. To feed their bodies right, the elites rely on having ingredients ready to go ahead of time so they can turn around nutritious dishes in just minutes.
Meal prepping doesn't have to be a long and labor-intensive process. Stick to these guidelines from the pros, and you'll be eating like them in no time.
---
Sara and Ryan Hall
Professional Marathon Runners
"As a professional athlete, you are expending so much energy in training that you are always in energy-conserve mode," says Sara. Add to the mix four kids, and having an efficient meal-prep strategy becomes even more critical.
To avoid turning to convenient but less healthy dishes in a time crunch, the Halls always keep a stocked kitchen. They buy rice, lentils, and complex grains in bulk; use prewashed and chopped vegetables to save time; and always keep a few fillets of fresh-caught and wild Alaskan salmon, cod, and halibut in the freezer. Their overarching rules: Keep it mostly natural, and eliminate the processed stuff.
Favorite Meal Prep–Friendly Recipe: Alaskan Salmon Pasta Puttanesca
Ingredients
1 tablespoon olive oil
1 small white onion, diced
1 small yellow pepper, diced
3 cloves garlic, finely minced
1/4 to 1/2 teaspoon crushed red chile flakes
1 jar (25 ounces) marinara with herbed pasta sauce
2 tablespoons capers, drained
1/2 cup pitted Kalamata olives, chopped
1/4 cup chopped fresh basil
1 can (14 3/4 ounces) traditional pack Alaska salmon, or 8 to 10 ounces skinless, boneless salmon (canned or pouched), drained and chunked
1 pound whole wheat penne pasta
Directions: In a large saucepan, heat the oil over medium-high heat. Add the onion and pepper and cook, stirring often, for five to seven minutes or until soft. Add the garlic and chile flakes, and cook, stirring often, for one minute. Add pasta sauce, capers, olives, and basil. Heat until hot, then fold in salmon; reduce heat to low while pasta is cooking. Cook pasta according to package directions, then toss with one cup of the sauce. Top with extra sauce.
---
Mikaela Shiffrin
2014 Olympic Gold Medalist in Slalom
She may be a winter athlete, but Shiffrin's almost always training. "There isn't really a long enough period of time where I'm not either training or racing to feel like I can just let my diet slip," says Shiffrin. "It's important to have my meals planned out, especially if I don't have someone who can cook for me, because it's easy to let that slide."
Rather than fall victim to the frozen microwave meal, Shiffrin takes time every week to plan out her meals. She then visits the grocery store to load up on power foods such as milk, eggs, cheese, orange juice, and fruit.
Her weekends are less busy, so that's when Shiffrin preps many of the week's meals. "I have a couple good chicken recipes that are easy, and I like them as leftovers," she says. "Beyond that, it's really easy to boil a box of pasta and make a salad or cook up some veggies to go with the chicken, so making some simple, healthy meals is not too difficult."
Favorite Meal Prep–Friendly Recipe: Farfalle with Edamame, Lemon, Black Pepper, and Pecorino Cheese
Ingredients
1 box farfalle pasta (Shiffrin uses Barilla ProteinPLUS)
2 tablespoons extra virgin olive oil
3 cups edamame, frozen shelled beans
1 tablespoon garlic, minced
Grated zest of 2 lemons
1 tablespoon lemon juice
Sea salt and black pepper to taste
1/2 cup pecorino cheese, shredded
Coarsely ground black pepper
Directions: Cook pasta according to package directions. Drain and reserve 1/2 cup of pasta water. In a large skillet, heat olive oil over medium-high heat. Add edamame and garlic to the pan and sauté for one minute. Add pasta water, lemon zest, and lemon juice. Season to taste with salt and pepper. Serve in bowls and garnish with cheese and coarsely ground black pepper. Makes seven servings.
---
Juliana Buhring
Ultra-Endurance Cyclist
Living on the Italian coast means Buhring has fresh fish at the ready, making it one of her dietary staples. Her fish is always accompanied by heaping amounts of vegetables (they comprise almost 75 percent of her diet), most of which she grows in her own garden. Right now, Buhring is adding homegrown zucchini, eggplant, tomatoes, and peppers to her lunchtime salads and omelets. Since she follows the ketogenic diet, Buhring also eats a fair amount of healthy fats like those found in cheese, eggs, avocado, olive oil, and nuts.
"My diet is pretty simple, but it's extremely healthy," says Buhring.
Buhring isn't one for cooking in bulk or preparing a week's worth of meals at once. She goes to the grocery store once a week but cooks nearly every day. She also avoids recipes, preferring to spontaneously decide what she'll cook that day and almost always chooses to make her own meals, regardless of any time crunch. "If you can make it yourself, it's always better than buying it already made, because you don't know what kind of shit they put in it otherwise," says Buhring. She also believes you have to find healthy food that's enjoyable for you to eat. If you hate what you're eating, you won't stick with it for very long. "You have to find the balance between what's healthy, but also what's enjoyable; otherwise you're going to hate your life after a certain point."
Favorite Meal Prep–Friendly Recipe: Caprese Salad with Avocado Slices
Ingredients
3 tomatoes
1 8-ounce container mini mozzarella balls
Olive oil
1 avocado
Thyme and oregano to taste
Directions: Slice tomatoes and mozzarella and combine in a large bowl. Drizzle with a generous amount of olive oil. Next, slice avocado and add to the bowl. Add more olive oil if desired and season with spices like thyme or oregano.
---
Laurenne Ross and Tommy Ford
Olympic Skiers
Although these two take great care to prepare healthy and wholesome meals, they don't spend hours in the kitchen. After intense five- to six-hour training days, they find that stir-frying some vegetables and meat, blending a simple sauce, and pouring it all over a bed of grains is quick, easy, and nutritious.
Above all, Ross and Ford are adamant about using fresh, high-quality ingredients. To that end, they've learned to love the grocery store and farmer's market, going up to three times a week. They cook daily breakfasts like gluten-free pancakes; oats with nuts, seeds, cashew butter, and goat's milk yogurt; or eggs with sweet potato, kale, and bacon. They prep the sides, sauces, and bases for lunches and dinner ahead of time.
Ross and Ford often throw sweet potatoes, beets, or other veggies in the oven while cooking dinner so they're ready to eat the next day. They'll make extra rice to keep a full Tupperware. "When I make sauces, I like to make a pretty big batch and have them in the fridge for the week so we can spice up any meal while still keeping it it simple to make," says Ross.
Favorite Meal Prep–Friendly Recipe: Black Rice Protein Bowl
Ingredients
1 to 2 cups black rice (makes enough for a week)
1 small red onion, diced
3 cloves of garlic
1 to 2 tablespoons organic ghee
1 teaspoon fresh ginger, minced
1 teaspoon turmeric
1 teaspoon pink Himalayan sea salt
1 sweet potato (The darker orange the better—more nutrient rich.)
1 orange bell pepper or 1/4 cup chopped peppers
1/2 cup broccolini heads and stalks, chopped
1/2 cup eggplant, cubed
1 cup kale, cut into small strips
Protein of your choice (Ross and Ford recommend chicken or fish.)
Black pepper to taste
1 egg per meal
Avocado oil to taste
1 cup arugula per meal
1/2 avocado, sliced
Directions: Cook the black rice according to package directions. While rice is cooking, sauté the onion and garlic in one tablespoon of Ghee over medium heat; add ginger, turmeric, and a pinch of salt. Once onion is translucent, add the sweet potato and sauté for a few minutes while covered. Add pepper, broccolini, eggplant, and kale one at a time and cook until they're soft but not soggy. Add ghee as needed. When veggies are mostly cooked, add your choice of protein and cook until done. (Cook protein separately if you're planning to save the excess veggies for later.) Add salt and pepper to taste. Fry egg (or two) over easy in ghee or avocado oil. On a plate or in a bowl, pile arugula, black rice, protein, vegetables, and fried egg. Add avocado slices or olive oil if desired.
---
Tim Olson
Ultrarunner
"The way we eat is one of the biggest factors in my training and racing," says Olson. "I use organic food to fuel my body for running, racing, working, and playing with kids. I try to put quality fuel in my body. That said, I like a good snack like anyone, so we'll have some coconut ice cream and gluten-free beer on hand as well."
The Olson family cooks most of their own meals and prepares food every day. While he tries to stock up on necessary items at the store once a week, Olson and his wife both enjoy cooking often, so they usually end up making an additional trip.
They make big batches of snacks like kale chips, always have smoothie ingredients available like berries and kale, and often bake grain-free, sugar-free muffins with hazelnut flour. They'll almost always make extras of their meals to have leftovers for the next day.
"Just the other day, we had friends over for dinner. We made grain-free/dairy-free eggplant lasagna. We slice up eggplant, whip up some cashew cheese, and make a tomato sauce with grass-fed beef. We made extra so we had plenty for the week," says Olson.
Although Olson loves making his own food, he also recognizes that he sometimes needs a little help. That's where Real Athlete Diets (RAD), a meal delivery service that brings organic and local food to athletes' homes, comes into play. Contents of the RAD box vary by season and depend on what local farmers have available each week, but everything inside is already prepared. The Olsons' box typically contains fish (salmon, trout) and meat (bison, chicken, turkey), and because Tim is open to experimenting with food, the owners of RAD sometimes include beef tongue or oxtail in his box. Favorites include turkey meatballs made with chickpea flour and chia pudding with berries.
Favorite Meal Prep–Friendly Recipe: Avocado Vinaigrette over Brussel Sprout Slaw (Recipe courtesy of Kelly Newlon, Real Athlete Diets)
Avocado Vinaigrette
1 tablespoon mustard (Dijon or whole grain)
2 teaspoons maple syrup
Pinch of cracked black pepper
Pinch of red pepper flakes
Zest of 1 lemon
1/4 teaspoon Kosher salt
1 cup olive oil
1/4 cup apple cider vinegar
1/2 avocado
1/2 cup fresh herbs. (The Olsons use a combination of parsley and basil.)
Directions: Add all ingredients to a blender and mix on high to a smooth consistency. Adjust seasoning to taste.
Brussels Sprout Slaw
1 pound Brussels sprouts
3 medium carrots
1 red bell pepper
1/2 red cabbage
2/3 cup lightly packed fresh herbs, like parsley and basil
Directions: Wash and trim the Brussels sprouts, carrots, pepper, and cabbage. Using the shredder blade on a food processor, run each vegetable through one at a time, being careful not to overcrowd the processor. Empty into a large bowl. Rough chop the herbs and add to the bowl. Add one cup of the avocado vinaigrette and mix gently yet thoroughly. Add more dressing if desired. Either store in fridge or dress just before serving. Add the protein of your choice.
Lead Photo: demaerre/iStock