How to Make (Good) Cocktails with Pantry Staples
You probably have more mixers on hand than you realize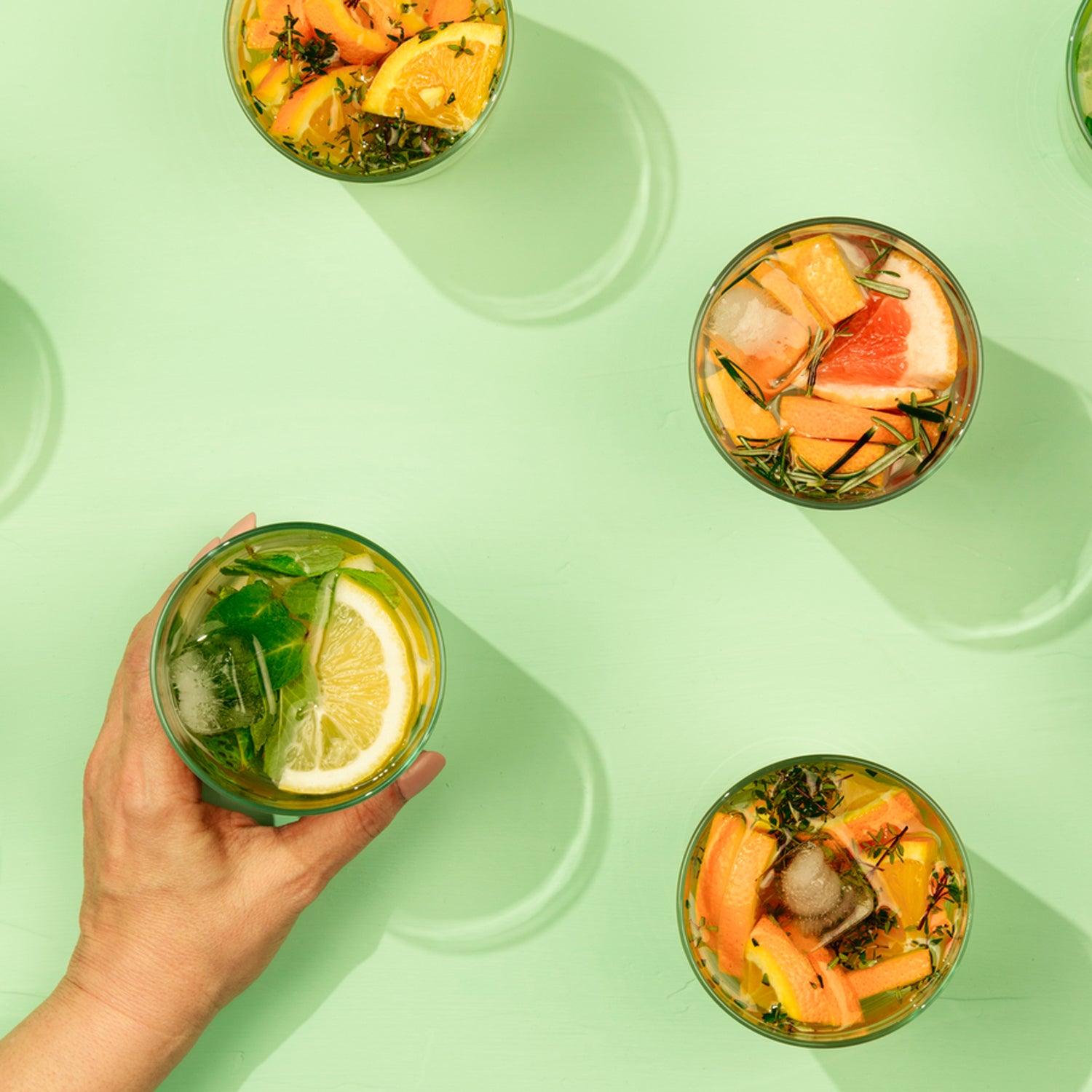 Pixel Stories/Stocksy(Photo)
Heading out the door? Read this article on the new Outside+ app available now on iOS devices for members! Download the app.
When Courtney Cantrell was designing new cocktails for the menu at the Old Hickory Whiskey Bar in Pensacola, Florida, she opened up her pantry and thought, "What can I find in here that might be interesting?" She found a lot. "A couple of our cocktails ended up using things like chile garlic sauce, miso paste, and soy sauce," she says. 
Now that management has closed the Old Hickory Whiskey Bar for everything but bottle sales during the pandemic, Cantrell is back to raiding the pantry while making cocktails in lockdown. And she's urging you to do the same. "Don't be intimidated. What we do does take some skill, but it's not that hard. Just try things," she says.
If you're healthy and jonesing for a drink, well, we feel you. Many states have relaxed alcohol laws, so you can now order takeout or delivery drinks from local restaurants. That's an excellent option for supporting independent businesses. But if you can't do that or don't feel safe getting takeout, dive in on making your own.
Take Stock of Your Liquor Cabinet
Don't make an extra trip out if you don't have to. The easiest thing to do is figure out what cocktail to make with the liquors you already have. If you have gin, consider a martini. If you have whiskey, this probably isn't the day to make a negroni. If you're down to nothing but vanilla extract? Well, you may need to make a run to the store.
Choose the Cocktail You Want to Emulate
Cantrell usually has a basic cocktail formula in mind before diving in. Maybe she wants to riff on an Old-Fashioned. Or perhaps she's aiming more for a Manhattan. Having an idea of what you want to drink will help you think about what components should go into it. 
For example, an Old-Fashioned needs a hint of sweetness and a dash of something bitter. A margarita that doesn't pucker your lips isn't a margarita at all—you're going to need a good dose of sour and a hint of salt.
Raid the Pantry
Gaze at your pantry in wonder as you realize how many things actually double as mixers. Here is a rundown of some favorite shelf-stable ingredients that are just waiting for their moment to shine.
Pickle brine: It's as salty as olive juice and has that vinegar tang to it. "When the weight of everything gets to me, I pile ice into a rocks glass, add a quarter-ounce of pickle juice, four ounces of gin (or vodka), and a half-ounce of water to make a martini that needs neither stirring nor shaking," says Arch Bernard, a longtime New York City bartender who recently relocated to Florida.
Canned tomatoes: You can blend these into a Bloody Mary, thinning it with water to get the consistency you want. Add some Worcestershire sauce, salt, hot sauce, black pepper, maybe some Old Bay, and vodka, and you're off and drinking. If you don't have horseradish, Bernard says wasabi works in a pinch. 
Tea: You can make just about any tea into a simple syrup and use it to bring bitter or herbaceous notes to all kinds of cocktails. "Boil some water, add the same amount of sugar, and drop two tea bags into it," Bernard says. Let it steep for a few minutes, then cool and store in the fridge for later use. 
Canned fruit in syrup: Don't you dare pour that syrup down the drain. Puree the last peach in a can of peaches with the syrup it came in and use it for a fruity margarita or mojito. 
Coconut milk: This will work in a white Russian or thicken any kind of tiki-inspired cocktail you can dream up. 
Coffee: If you want to add a bitter note, consider infusing a drink with a few whole coffee beans, says Christopher Menning, host of the podcast On the Back Bar. Just shaking your cocktail with the beans adds a surprising amount of flavor.  
Hydration mix: Is it as sexy as freshly squeeze juice? No. But we are willing to bet many of you have some powdered drink mix lying around. It works surprisingly well in a cocktail. In fact, Outside published a whole story on hydration mix cocktails a few years ago. 
Canned beans: Say what now? The water that canned beans come in can be whipped like an egg. Add a couple tablespoons and shake for a frothy cocktail, like a flip. (The water from chickpeas is most famous for its ability to replace egg whites, but Bernard says other types of bean juice might work if you were, say, stuck at home with nothing but kidney beans because of a global pandemic.) 
Mix and Taste
Tasting early and often will be your best friend, Cantrell says. Add a little bit of your nonalcohol ingredients, mix, sample, and repeat. To conserve booze, add it at the end. "I've had plenty of first sips where I pitch it down the drain," Cantrell warns. If you add the booze after you've mostly gotten the rest of the cocktail right, you can avoid this quarantine nightmare. 
Don't Sweat It If It's Not Perfect
You have enough supplies to make a drink. You are healthy enough to be drinking. That's a lot of good news right there. If your drink doesn't hit the standard of what you'd pay $13 for at a bar, well, we have good news for you: You didn't have pay that much for this one! And a mediocre drink is better than no drink.
Here are two recipes to make with things you probably have on hand.  
Rum Old-Fashioned
This recipe is courtesy of Menning. The only hitch is that infusing the rum with vanilla takes three days, so give yourself some time.
Ingredients 
Dark rum
2 to 3 vanilla beans  
1 cube of brown sugar (Or 3/4 teaspoon of brown sugar, or white sugar if that's all you've got.)
3 drops of bitters 
3 whole coffee beans
A day or two before making this cocktail, infuse the rum with the vanilla beans for up to three days. Go ahead and infuse at least half the bottle; if you're going through this effort, you might as well use it in several drinks. 
In a mixing glass or tin, add the sugar and a drop or two of water and mix it into a paste. Shake in the bitters, then add the coffee beans and two ounces of rum. Stir for up to 30 seconds, then strain it into a rocks glass filled with ice. If you're feeling fancy, garnish your drink with the coffee beans and a slice of orange peel. 
The Works with Anything Flip
This is Cantrell's basic "make it with what I've got" formula. You can use any berry, any liquor, and whatever herbs you have on hand.  
4 to 5 berries
3 to 4 herb leaves
Egg white
3/4 ounce of citrus juice
1/2 ounce of simple syrup
Ice
1 1/2 ounces of spirit
Start by muddling your berries and herbs—by the way, frozen berries will work here if you don't have fresh, and you could even use jam. Don't have fresh herbs? It will still turn out fine. Add the egg white, muddled fruit, citrus juice, spirits, and simple syrup to your shaker. Shake first without ice. Then add the ice and shake again. Strain and pour it into your favorite glass. (By the way, don't taste this one as you go, because the egg white will be all gloppy and gross until you shake it.)
Lead Photo: Pixel Stories/Stocksy