America Needs a Playtime Intervention
Anxiety, depression, obesity—kids are increasingly becoming unhappy and unhealthy. But there is a pill-free solution: outdoor play.
Heading out the door? Read this article on the new Outside+ app available now on iOS devices for members! Download the app.
So far this summer has been one of the wettest and coolest on record across much of North America. In Ontario, where my family and I spent a month at our island cottage, the thermometer topped 80 only a couple of times. Many days started out damp and chilly, but I'd bundle our two daughters in sweats and fleece and boat across the channel to Juniper Island for the usual morning drill: swimming, canoeing, and tennis lessons, a kind of retro DIY day camp that's been a tradition on Stony Lake for more than 50 years.
By 4 p.m. most days, the wind would have scrubbed the sky clear of clouds, and my daughters would fling themselves off the front dock or we'd go paddle boarding or motor across the lake to visit friends. But when the wind was blowing hard out of the north or west, sending whitecaps barreling down on our point and making it too blustery to be on the water, Pippa, 6, and Maisy, 4, took a more laid-back, old-fashioned approach to summer: They played. 
A generation ago this wouldn't have been worth noting. Playing was what kids did, naturally. But with the onset of schedules and screen time, free-play among children has been steadily decreasing since the mid-1950s. According to two studies out of the University of Michigan, as reported by Peter Gray, Ph.D., in the American Journal of Play, children's play time fell by 25 percent from 1981 to 1997; outdoor play has plunged by 50 percent, with kids today spending a mere 4-7 minutes per day goofing off outdoors.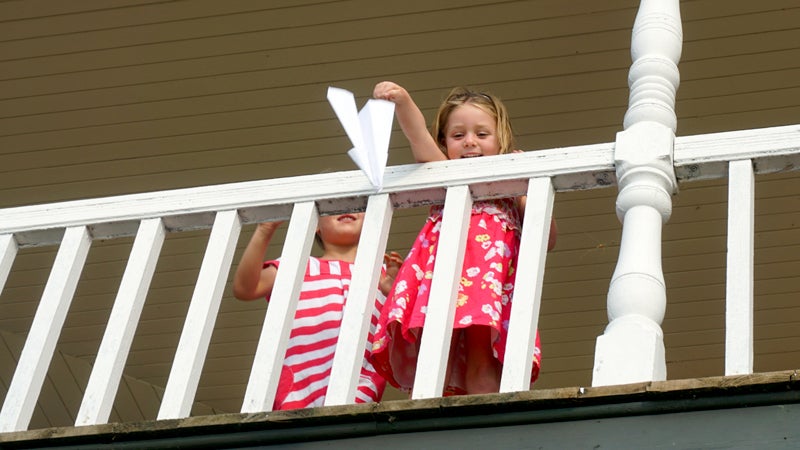 Plenty of factors have conspired to take the fun out of childhood. As more children are raised in two-income households, middle-class kids have become increasingly regimented with sports and after-school activities. Competitive school sports have become default babysitters, just as they've become lucrative businesses. Concerned that their children will fall behind in school and competitive sports, and worried about their safety when they're on the loose outside, parents have unwittingly reigned in the creative and physical freedom children so desperately need. Rare are the kids who can wander down the block by themselves or walk home from school with their friends, a prime time for impromptu play that's vanishing from children's lives. 
All this to our children's great detriment. In his research, Gray posits that children who don't play are more likely to suffer from anxiety and depression; childhood obesity and diagnoses of attention-deficit disorders are on the rise. Play teaches children how to work together and mature into more socially well-adjusted adults; it has also been proven to build better brain function and improves academic performance. Dr. Stuart Brown, a psychiatrist and clinical researcher who founded the National Institute for Play, calls play "a fundamental survival aspect of all social animals." Through his research of homicidal males in the 1960s, he found that a lack of "normal give-and-take play behaviors" may even be an indicator for mass violence. 
This includes what Brown calls "rough-and-tumble play"—the hitting, tackling screaming, physical rowdiness that parents have been taught to discourage but which Brown contends is actually a healthy outlet because it teaches limits and empathy. The 2011 book The Art of Roughhousing draws on decades of research supporting the perks of horseplay. Rowdy social interaction builds resilience, encourages problem-solving, and triggers feelings of true joy, according to authors Anthony DeBenedet and Lawrence Cohen, whose website offers suggestions for popular parent-child roughhousing moves (think pillow fights and airplane). As kids in the late 70s, my sister and I made up an exciting and terrifying game that our dad called Morsel, in which he'd lie flat on the ground and try to grab us while we ran in frantic, panicky circles around him. The thrill of the chase in action. 
The science of roughhousing makes me feel better about the times when six-year-old Pippa clocks her four-year-old sister and chases her around the room, both shrieking with equal parts delight and possibly horror, but I'm still happier when they play nicely together. One blowy afternoon at the lake, they built sailboats using a cache of small, square wooden boards I fished out of the kindling box. Each had been cut with a round depression in the middle, about the diameter of a candles—just the right size for a toy mast. I'm not a crafty person, and the last time I made anything by hand might have been a summer day on the same island some 30 years ago, when in a fit of desperate boredom, my sisters and I hammered together our own wooden sailboats.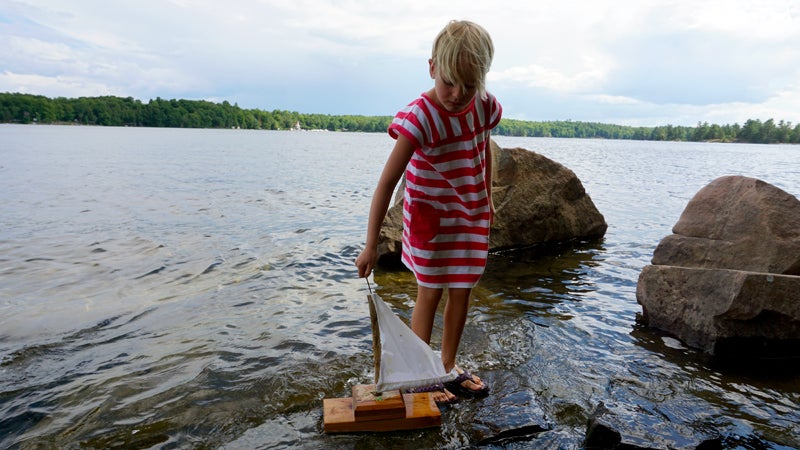 The girls thought it was the greatest idea ever invented. They raced barefoot into the meadow to scavenge for sticks, thick ones for the mast and skinnier ones for the boom. With my husband, Steve's, help they whittled the sticks to fit into the holes and used a hammer to nail them partway into the blocks; an old cotton rag, which I cut into a triangle, became the sail. Wielding a needle and thread, six-year-old Pippa sewed the bottom of her sail around the boom and tied it with twine to the mast.
Once the boats were seemingly seaworthy, we trekked over to the leeward side of the island for an impromptu homemade sailboat regatta. At Flat Rock, a long slab of granite that slopes gently into the lake, Pippa waded in and launched her sloop, which sailed downwind with the eerie precision of a remote controlled boat. Maisy's dingy, whose mainsail was fashioned from a Tropicana orange juice container cut in half, bobbed awkwardly and then promptly tipped over. No big deal. The girls spent an hour sloshing around in the lapping lake, pushing their boats with sticks and watching how the wind caught the sails until eventually it was time to go home for dinner.
And this was just the beginning of their summer of outdoor play. They hunted grasshoppers and turned a knobby granite outcropping into a downsized Mt. Everest (the summit team consisted of a miniature bear and a pig). Afternoons at their cousins' cottage, they built fairy houses in a hollowed-out, spidery tree stumps and filled acorn caps with tiny juniper berries. While some of these summer activities came at our suggestion, the kids did what kids will do, if given the chance and the time: They took the ideas and ran, inventing their own elaborate worlds and rules, losing themselves in the magic of their own imaginations.
Stony Lake is a rare, old-fashioned bubble where we don't have to worry about traffic or strangers, or any kind of serious schedule. Real life isn't like that. The good news is that, for most of us, encouraging kids to play freely doesn't have to cost a lot or be complicated. That's the point. So much depends on your home environment and your child, so start by taking baby steps to gauge your comfort and theirs.
If you have a yard, shoo them out the door to build forts, climb trees, or kick a ball while you make dinner and can keep an eye on them. If you have neighbors close by with kids who don't mind drop-ins—spontaneous, self-directed activity is the key to free play—walk them down after school to see if their friends can play, or invite them over to play outside. Once they've practiced with an adult several times and you're both comfortable, they're ready to try on their own. Help them by giving them rules: Stay on the sidewalk, stay with your brother (in our house the motto is "sisters stick together"), come right back if nobody's home. It's OK to call or text the neighbor parent to make sure they arrived or to tell them to come home, or to take them or meet them halfway.
In public parks—urban or rural—give them parameters in which to explore freely. The key word is freely, and yes, it can be hard to do. A couple of weeks ago, we took our kids camping in Crested Butte with several other families, whose kids ranged from three to eight. The campground was undeveloped, a large meadow bordered by a quiet parking area and a small creek. There were few cars coming and going and the water was shallow and clear, but still both required respect and attention from parents and kids alike.
The first day, one parent kept tabs on the kids down by the water (all the kids are swimmers), and a careful eye on cars. By the end of the second afternoon, though, the children were moving as a pack, organizing their own mountain bike races on the dirt road, including a "bumps" course, and running contests through the grass while we cooked or cleaned or just hung out. Though they were out of sight for many minutes at a time, we'd observed the group long enough to know that the older kids would come for help if the needed us, and we drilled in the rules: Watch for cars, look after one another. They ran and rode for hours, until they straggled back into camp, happy and exhausted, the way it should be.
Summer may be fleeting, but childhood doesn't have to be.