A 'Woks of Life'–Approved Camping Meal Plan
The Leungs love to cook creatively in the wild. Here's how they do it.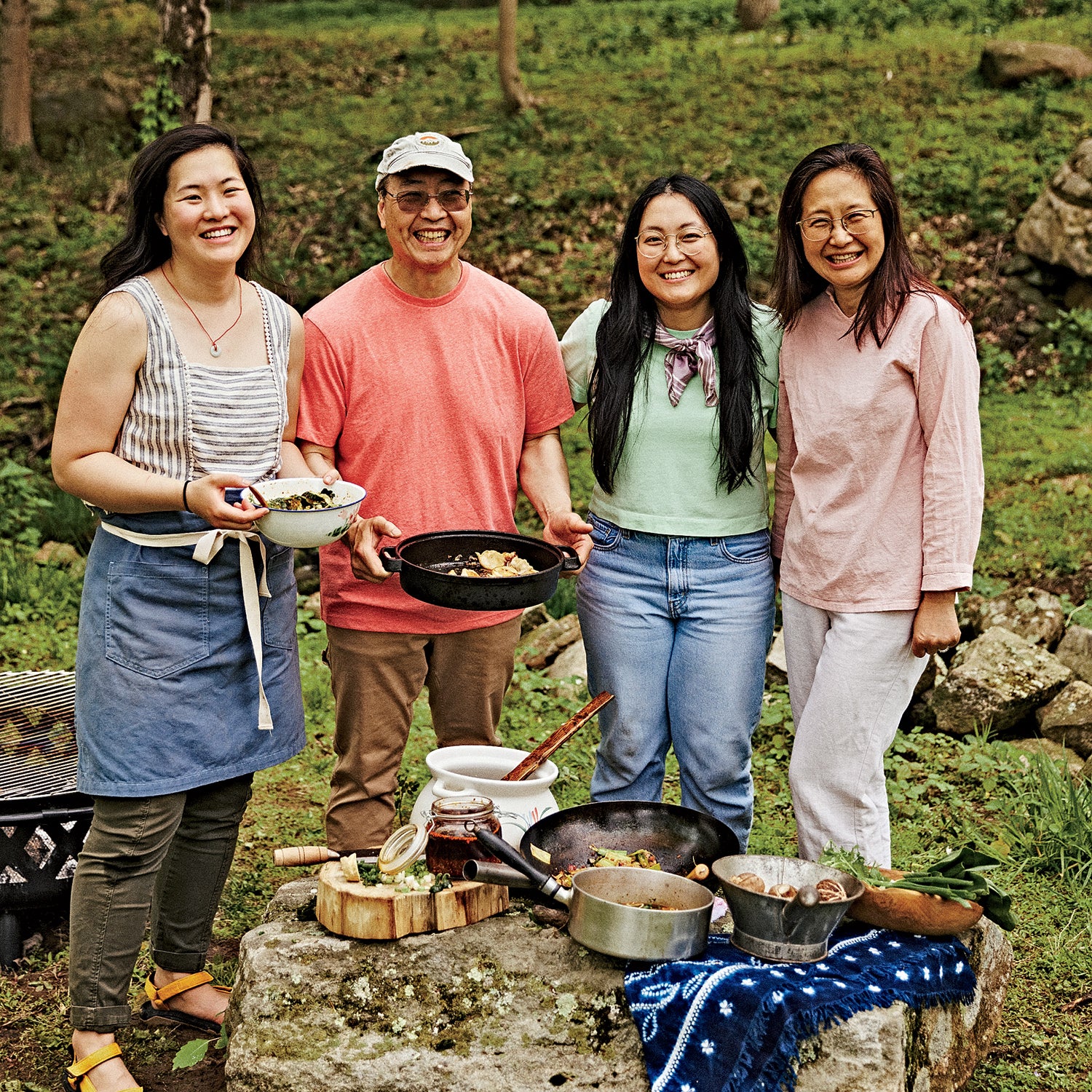 Alex Lau
Heading out the door? Read this article on the new Outside+ app available now on iOS devices for members! Download the app.
Sarah and Kaitlin Leung still remember one of their favorite outdoor meals. It was 1998, and their dad, Bill, had carried two raw, marinated Cornish game hens in his backpack for a hike at New York's Bear Mountain State Park. During a break, his daughters, wife Judy, and niece Jen collected sticks to fashion a rotisserie spit and then roasted the birds over an open flame.
The meal wasn't a one-off novelty. The Leung family, who now run the popular online food blog, The Woks of Life, which chronicles their preparations of a wide variety of dishes and their adventures cooking on the road, have made everything from spaghetti carbonara to beef stew at beaches, docks, national parks, even in a roadside ditch just outside Olympic National Park. "My earliest memories of camping circled more around food than nature," says Sarah. "There were times when we would go on a three-to-four-hour hike and we'd bring ingredients to make a full meal after."
After Sarah and Kaitlin, now 31 and 29, reached adulthood and started planning their own trips, food continued to be a priority. "When I went camping with my friends for the first time, they were expecting to eat hot dogs and cold sandwiches," Sarah says. "I was like, Actually, we're having seared salmon and a salad and pasta tonight." The sisters typically reserve extravagant dishes for dinners as a reward for an activity-packed day. But with adequate planning, every meal has the potential to be a feast. Here, they share some of their best culinary advice, along with a grocery list and meal plan for a weekend car-camping trip. For more, pick up The Woks of Life cookbook, out in November.
Bring the essentials.
Sarah and Kaitlin always pack a multitool equipped with a knife and a can opener, various spices, a frying pan, an MSR WhisperLite stove, a bamboo spatula that can withstand high heat, and a collapsible cooler to keep perishables cold. They also favor tools that have multiple uses, including a set of nested stainless-steel pots whose lids can double as plates, or measuring cups that can be used as mugs and soup bowls.
Don't skimp on flavor.
"When you are packing spices and seasonings, you want your core foundational stuff and a few wild-card items," Kaitlin says. The sisters' go-tos are garlic, onion, and curry powder, cumin, cinnamon, salt, and pepper. One of Sarah's newest discoveries is Japanese curry roux, which resembles a chocolate bar and is sold at most major grocery stores. She adds a square to a pot with vegetables and protein to make an easy and hearty curry dish.
Professionalize your provisions.
In addition to staples like ramen, dried pasta, rice, and beans, the Leungs pack sturdy, long-lasting vegetables like carrots, potatoes, cabbage, ginger, and onions. They also like to shop at Trader Joe's for precooked meat like carnitas and pulled pork, along with frozen steaks, pork, and fish. (Pro tip: frozen food can serve as a good ice substitute in a cooler.)
Think in succession.
Whenever the Leung sisters come up with a camping meal plan, they take into consideration each food's shelf life. "It's key for keeping your food safe and for adding variety when you're out in the wilderness," Sarah says. "So we would have a salad at the beginning of the trip to use up delicate leafy greens, and then a heartier stew with root vegetables at the end."
Trending on Outside Online