How to Make Salad You'll Actually Want to Eat
Use these tips to create light, healthy, and packable summer meals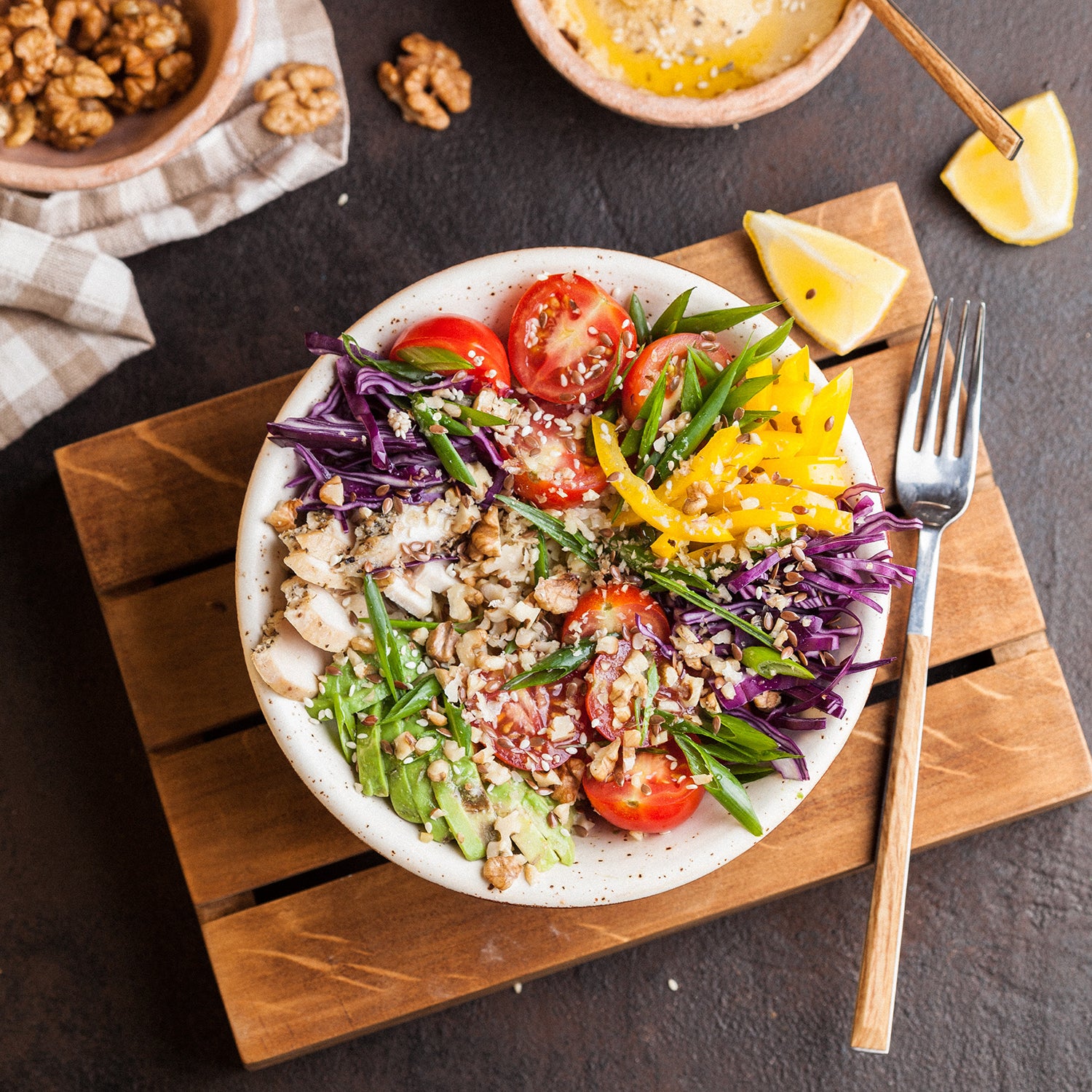 Mariana Medvedeva/Unsplash(Photo)
Heading out the door? Read this article on the new Outside+ app available now on iOS devices for members! Download the app.
Salads need to toss whoever's doing their public relations campaign.
For far too long, they've been relegated to the realm of side dishes or "rabbit food." But when made right—with more stuff, not less—salads are endlessly interesting. They're also a great way to consume a ton of nutrient-dense items and, when assembled with care, are surprisingly portable. Finally, if you panic-planted a pandemic garden, salads are by far the best way to deploy your bounty. They're also ideal for using up leftovers in your fridge.
Here's how to build a summer salad that will satisfy and pack well, according to three experts.
Lose the Diet-Food Mindset
Katie Cavuto has one golden rule when it comes to creating salads: no fat-free cheese or dressings. Cavuto is a registered dietitian, but she's also the executive chef for Saladworks, a design-your-own-salad franchise. "In some cases, the fats in the dressings may be some of the most nourishing parts of that salad," she explains. Olive oil? It's the omega-3-rich kind of fat that may actually lower triglycerides. Losing the diet mindset goes for the ingredients, too. Avocados? Again, they're healthy fats that take longer to digest, keeping you satisfied for hours.
The broader point, though, is that if you want to make a meal out of salad, you have to make sure it has enough calories to be a meal. For Cavuto, in addition to her dressing, that means adding some sort of carbohydrate, a source of protein, and a source of fat, like nuts or seeds, to her mix of fresh veggies.
Expand Your Definition of What Belongs
Right now, Kyle Markt, the head chef for Farmer's Fridge—a company that dispenses fresh salads in vending machines (but has pivoted to direct-to-consumer deliveries during the pandemic)—is really into mixing grains with greens. He keeps cooked batches of brown rice, farro, and Israeli couscous in his fridge for quick weeknight salads. Lauren Chandler, a culinary instructor based in Portland, Oregon, likes to toss boiled potatoes with a vinaigrette and tons of fresh herbs to add heft and flavor to any salad.
Know Your Greens
Iceberg wilts quickly, so it's not a great for anything but a meal you plan to eat right away. Romaine is slightly heartier, but it still has a limited life span in a plastic container. Spinach will hold up for several hours—especially if you don't dress it until you're ready to eat. But when it comes to true resilience, kale and cabbage are king. If you're bringing a salad for an overnight camping trip and want it to be toothsome tomorrow, pick those greens as your base (and keep them in a cooler with an ice pack or two).
Raid Your Pantry
Chili flakes are Markt's new obsession for salad toppings. "We've been experimenting a lot with Korean gochugaru chili flakes," he says. Freaked out by the idea of a searing-hot salad? There's literally no need to sweat it: the heat in chili flakes is ramped up when you heat them, but when eaten cold—straight from the jar—you mostly get a fruity, smoky flavor. If you can't find gochugaru flakes, try Aleppo pepper.
Chandler's favorite pantry item to add to salads is toasted mustard seeds. "Take brown mustard seeds, put them in a dry skillet, and toast them until they turn gray and start to pop," she says. That quick sear makes them crunchy and nutty and adds an interesting flavor to your final product.
Always Make Sure These Four Boxes Are Ticked
Do you have something crunchy, like seeds or nuts? Do you have something acidic, like a vinaigrette or citrus juice? Do you have a fat of some sort to make the whole thing satisfying? Finally, do you have seasoning? Salads, just like all dishes, need to be seasoned. A light sprinkle of salt and pepper will generally do.
Splurge on Good Vinegars
Olive oil and balsamic never disappoint, but outfitting your cupboard with interesting vinegars is worth it for any devout salad eater. Markt loves burgundy-wine vinegar and champagne vinegar—which are upgrades on good old red-wine and white-wine vinegars. Chandler says that sherry vinegar is the bottle she reaches for most often. As for the ratio of oil to vinegar, that's up to you, but most restaurants use at least a two-to-one ratio of oil to vinegar, with some using three to one. The more piquant your vinegar, the more oil you'll need to counter it, but go by what tastes good to you.
Pack Your Salad Right
The best vessel for taking a salad to go is a mason jar, says Cavuto. Most of us have one stashed in a cupboard, the lids screw on tightly, and you can pack your salad vertically in layers, which is crucial to keeping things crisp. If you're bringing your salad on a hike, wedge a small ice pack next to it, especially if it's a hot day.
Assemble your mason jar in this order:
Dressing and grains. Markt says grains are great for keeping salads fresh, because they'll absorb any extra moisture from veggies like tomatoes, which can make a salad soggy. If you plan to put your dressing in with your salad, pour it in first, then put the grains on top.
Water-rich veggies. Tomatoes, cucumbers, and anything else that's going to leak a bunch of water need to be on the bottom of the jar or on top of the grains.
Dense veggies. If you are adding roasted brussels sprouts, sweet potatoes, or any other veggie that's denser than lettuce, put that on next.
Nuts and seeds. Dried fruit or fresh berries can go in this layer, too. If you're adding cheese, place it above the layer of nuts and seeds.
Greens. These go on top. If you're really worried about your lettuce wilting, add a damp paper towel after you've put your lettuce in.
Avocados. Add right before serving. They just don't travel well.
To eat, flip the jar upside down, and let the dressing soak through. Give the whole thing a few good shakes, and you're good to go.
Lead Photo: Mariana Medvedeva/Unsplash
Trending on Outside Online