Why Patagonia Is Suing Anheuser-Busch Over Beer
Patagonia alleges that Anheuser-Busch is deliberately trying to confuse beer drinkers and profiting off the outdoor retailer's reputation as a sustainable company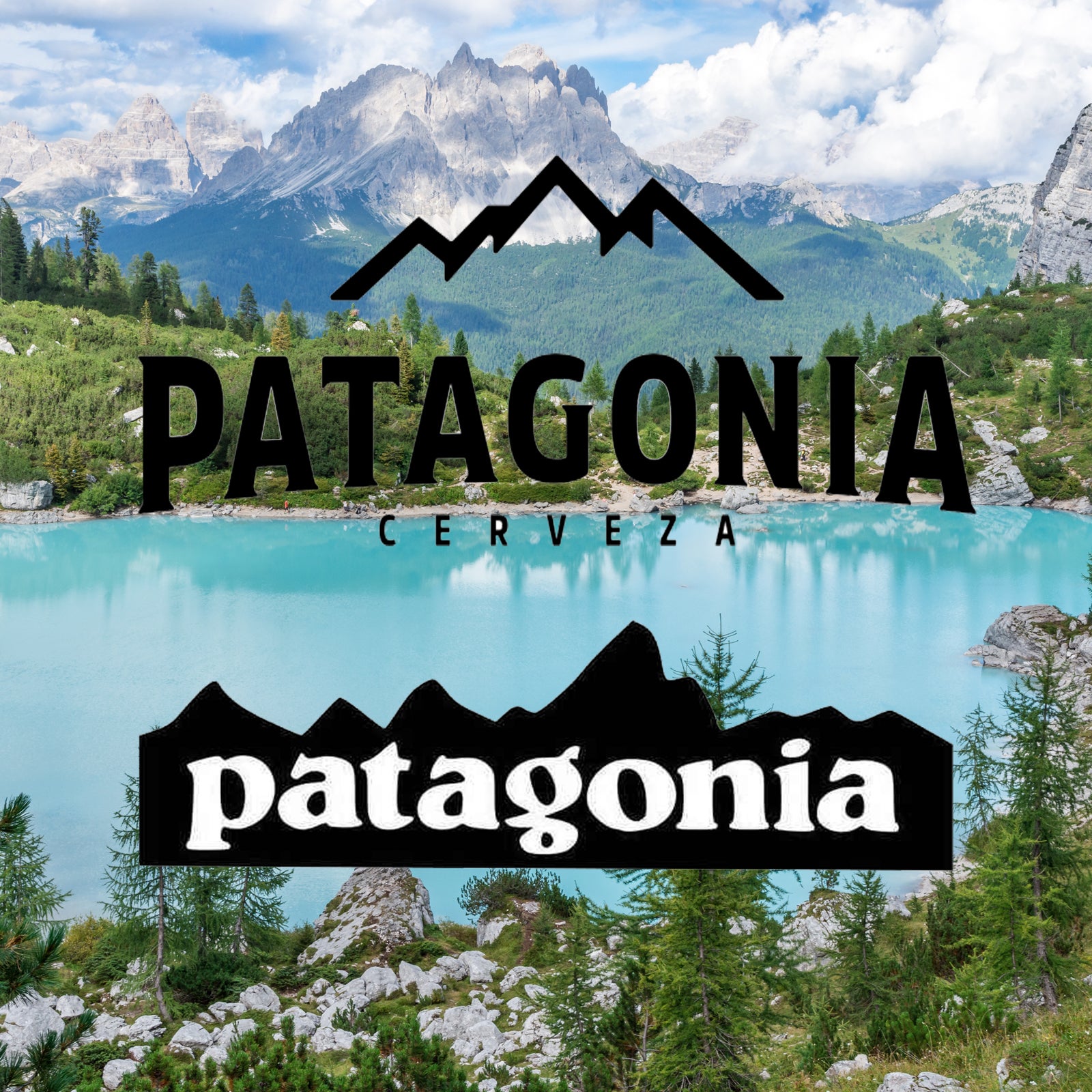 Giammarco Boscaro/Anheuser Busch(Photo)
Heading out the door? Read this article on the new Outside+ app available now on iOS devices for members! Download the app.
Earlier this year, the staff managing Patagonia's social-media accounts noticed something odd. The brand kept getting tagged in photos at pop-up bars in ski towns around Colorado. "Is this you?" customers would ask.
These pop-ups, with their reclaimed wood decor, were staffed with people in branded shirts and puffy coats with the word "Patagonia" emblazoned across the front. There was beer called Patagonia Cerveza for sale, and a sign promised to plant a tree for every case of beer sold. In other words, these are all things one might expect from the California-based outdoor-gear retailer: Patagonia crafted its own beer as part of its Provisions line in 2016 and is, of course, known for its planet-friendly ethos. 
However, something seemed amiss with the logo.
In his 2005 book Let My People Go Surfing, Patagonia founder Yvon Chouinard describes the inspiration for the company's iconic logo: "To reinforce the tie to the real Patagonia, in 1973 we created a label with a stormy sky, jagged peaks based on the Mount Fitz Roy skyline and blue ocean." On the Patagonia Cerveza label, though, generic lumps form the mountain backdrop. It looked like the "Kate Spud" version of a Kate Spade purse you might pick up from a street vendor in New York City—close but, well, not quite.
Unlike those Kate Spud bags, these Patagonia-branded puffies and beer were not the work of a micro-entrepreneur trying to eke out a living—they belong to Anheuser-Busch (AB InBev), the beer behemoth that owns Budweiser, Michelob, and a handful of craft brewers. On April 9, 2019, Patagonia filed a lawsuit alleging trademark infringement, unfair competition, dilution, and fraud, seeking a judicial declaration that an AB InBev trademark registration from 2012 is void. The suit argues that not only is the company's long-standing reputation as a sustainable business at risk, but AB InBev's claim to the trademark may be illegal, thanks to a technicality on the original trademark application. Patagonia is asking that, among other things, the court demand AB InBev pay for damages done to the brand as well as pay the company for any profits made while using the name.
"We are suing Anheuser-Busch InBev over the name, logo, and marketing of its beer," says Corley Kenna, a spokesperson for Patagonia. "They are deliberately attempting to take advantage of the hard-earned reputation that we have built over the last 40 years as a company dedicated to environmental conservation."
AB InBev says the lawsuit is without merit. In an e-mail statement, a spokesperson for AB InBev wrote: "Our Patagonia beer was first brewed more than 10 years ago in Argentina. In 2012, Patagonia beer was brought to the U.S., and we have owned the trademark since then. We stand behind our brand and will defend our trademark rights."
Patagonia knew about a trademark registering "Patagonia" as the name for a beer company as early as 2013, says Robert Tadlock, associate general counsel for the company. A year after launching Provisions, a food line introduced with the mission of changing our agricultural systems for the better, it did a one-off beer project with the New Belgium Brewing Company. As Patagonia was getting ready to release the brew, New Belgium received a letter from AB InBev demanding the partnership not use Patagonia in its name. New Belgium backed off and didn't challenge the claim to the name at that point, something some trademark lawyers say may be an issue for the brand.
This time, however, things were different. What caught Patagonia off guard were the parallels between Patagonia Cerveza's branding efforts and its own. "We felt compelled to act, given how brazen it was," says Tadlock. "The launch of their marketing campaign this winter certainly made it into something we felt like we had to respond to."
"While we think this is a really brazen attempt to rip off our logo, and that's certainly part of it, it's deeper than that."
When you register a trademark, you're only granted that trademark for a specific area of commerce, says Jennifer Fraser, the trademark-practice group leader at the national law firm Dykema. A prime example of this is Delta Faucet and Delta Air Lines. They're similar trademarks operating in totally different markets. Where this gets tricky is the fact that Patagonia actually does operate in the beer space, although it entered that market after AB InBev registered for its Patagonia trademark. 
Patagonia argues in its filing that Patagonia Cerveza is confusing to customers. The law may be on its side here, according to Fraser. "The standard for trademark infringement is whether consumers are likely to be confused," she says. Patagonia has screenshots from customers perplexed by Patagonia Cerveza's marketing. "Examples of actual confusion can be very significant evidence of whether customers are likely to be confused," says Fraser.
Patagonia also alleges that AB InBev is engaging in something called dilution. There are two types of dilution: The first is dilution by blurring, in which another entity using a nearly identical mark diminishes the distinctiveness of the plaintiff's mark. The other is dilution by tarnishing, which means you're hurting a brand's carefully crafted reputation. Patagonia says that, in this instance, it's worried about both. "While we think this is a really brazen attempt to rip off our logo, and that's certainly part of it, it's deeper than that," says Kenna.
For decades, the company has branded itself as focused on sustainability. It's a certified B Corp, it has asked its consumers to not buy new stuff, and it's suing the government over the protection of Bears Ears National Monument. In 2013, Patagonia founded Patagonia Provisions. "The co-opting is more dangerous than just taking a logo. It's just this whole movement that we're trying to create around how we need to reform our agriculture practices. Here at Patagonia, greenwashing is something we take incredibly seriously, and we never want be accused of that," Kenna says. 
Over the years, AB InBev has been called out for greenwashing (here, here, and here, for a few examples), though the company insists its commitment to the environment is sincere. For example, in this 2019 Super Bowl ad, the brand touted its push to use wind power in its production plants. On the Budweiser website, it proudly proclaims that as of 2018, 100 percent of the energy used in brewing Budweiser comes from renewable sources. That only covers the energy used to brew, not run the warehouses, offices, or any of the other energy-consuming requirements of a large business, but Budweiser hopes to cover all operations via renewable energy by 2025. According to AB InBev's 2018 shareholder report, only 16 percent of its total energy usage came from renewables, though a source at the company said that the current number is 50 percent.  
Another reason some accuse AB InBev of greenwashing comes from its political ties. According to data from the Center for Responsive Politics, in 2018, AB InBev's PAC spent $1,323,000 on campaign contributions. The vast majority of those campaign contributions went to Republican political-action committees and candidates. For example, AB InBev's PAC gave $120,000 to the National Republican Senate Committee, while giving just $30,000 to the Democratic Congressional Campaign Committee. While there are pro-environment Republicans, the current party platform specifically questions the science behind climate change and argues for the development of all types of energy—including more oil and gas exploration. It suggests weakening the Endangered Species Act and advocates for more fossil-fuel extraction on public lands. AB InBev has also taken heat for supporting the U.S. Chamber of Commerce, which has until very recently been reticent to admit that climate change is real. The chamber has also supported issues like the Keystone XL pipeline and expanded oil and gas exploration.
While Patagonia doesn't have a PAC, its giving aligns with its stated environmental mission. Over the past 30 years, the company donated more than $100 million to grassroots environmental-activism groups. Its Patagonia Works program not only helps pair customers with local grassroots groups, but it also helps identify potential groups for new grants. 
Perhaps the strangest thing about this lawsuit is the claim that AB InBev procured the Patagonia trademark unlawfully. According to Patagonia's filing, a German brewer named Warsteiner, which is not part of AB InBev, registered the Patagonia trademark in June 2006, with an intent-to-use application, which Fraser says gives it three years to put a product on shelves. Trademarks are use-it-or-lose-it deals. You can't just file a trademark for something you may someday sell. However, Fraser says you can apply for extensions if it's taking longer than anticipated. Which is exactly what Warsteiner did—every six months for six years.
Then, in 2012, an AB InBev attorney stepped in as Warsteiner's attorney of record for renewing the intent-to-use application, according to the filing. Patagonia alleges that AB InBev also submitted label designs to the Alcohol Tax and Trade Bureau for approval at the same time. Four days before Warsteiner's intent-to-use application was set to expire, AB InBev filed those labels as proof that Warsteiner was doing business with the Patagonia name. However, just showing proof that the label was submitted for approval is different than actually engaging in commerce, which is what would have been required to keep the trademark, according to the lawsuit. 
"Patagonia is challenging the legitimacy and questioning the timing," says Fraser, adding, "Patagonia is also challenging who was really acting." Warsteiner is technically a competitor of AB InBev, so it's somewhat odd that not only was an AB InBev lawyer filling in on these filings, but just four months after the it was issued, the trademark was transferred to AB InBev. We reached out to Warsteiner to get its take on events, but our calls were not returned. 
All this is not to say that Patagonia has a clear path to victory with this suit. And it will likely have to answer the question of why it has waited so long to contend the trademark registration. Before a new trademark is officially registered, the pending trademark is published in the U.S. Patent and Trade Office's weekly Gazette. That, in theory, gives companies like Patagonia a heads-up if someone is planning to register a similar mark. We asked Patagonia's attorney why they hadn't taken issue with the trademark at the time of registration and got a "no comment" back in an e-mail.
Further confusing things is the fact that Patagonia does have a new beer out. It's called Long Root Wit, in part because AB InBev owns the patent for Patagonia when it comes to beer, it doesn't have Patagonia's name on it. Patagonia Cerveza is floating around the marketplace, too, though the company's website doesn't list where it's being sold.
It will likely be a while before anything definitive happens with this case. "Trademark cases in federal court, the fastest you would have your day in court would be generally a year, and that's in a very fast court," says Fraser. In the meantime, AB InBev is still able to sell Patagonia-branded beer. "It's possible that the court will make preliminary determinations that may affect AB's ability to use the trademark—and to market and frame its product and brand in some of the ways that we've addressed in our complaint—while the case is pending. Until the court orders it, AB is not required to stop using the mark," says Tadlock. And of course, the two sparring parties may settle out of court, as often happens, says Fraser. 
And what does this mean for you? You don't need to choose sides at the bar. 
Lead Photo: Giammarco Boscaro/Anheuser Busch
Trending on Outside Online