5 Ways to Save Money on Backpacking Food
The tastiest nutrient-dense options for backpackers on a budget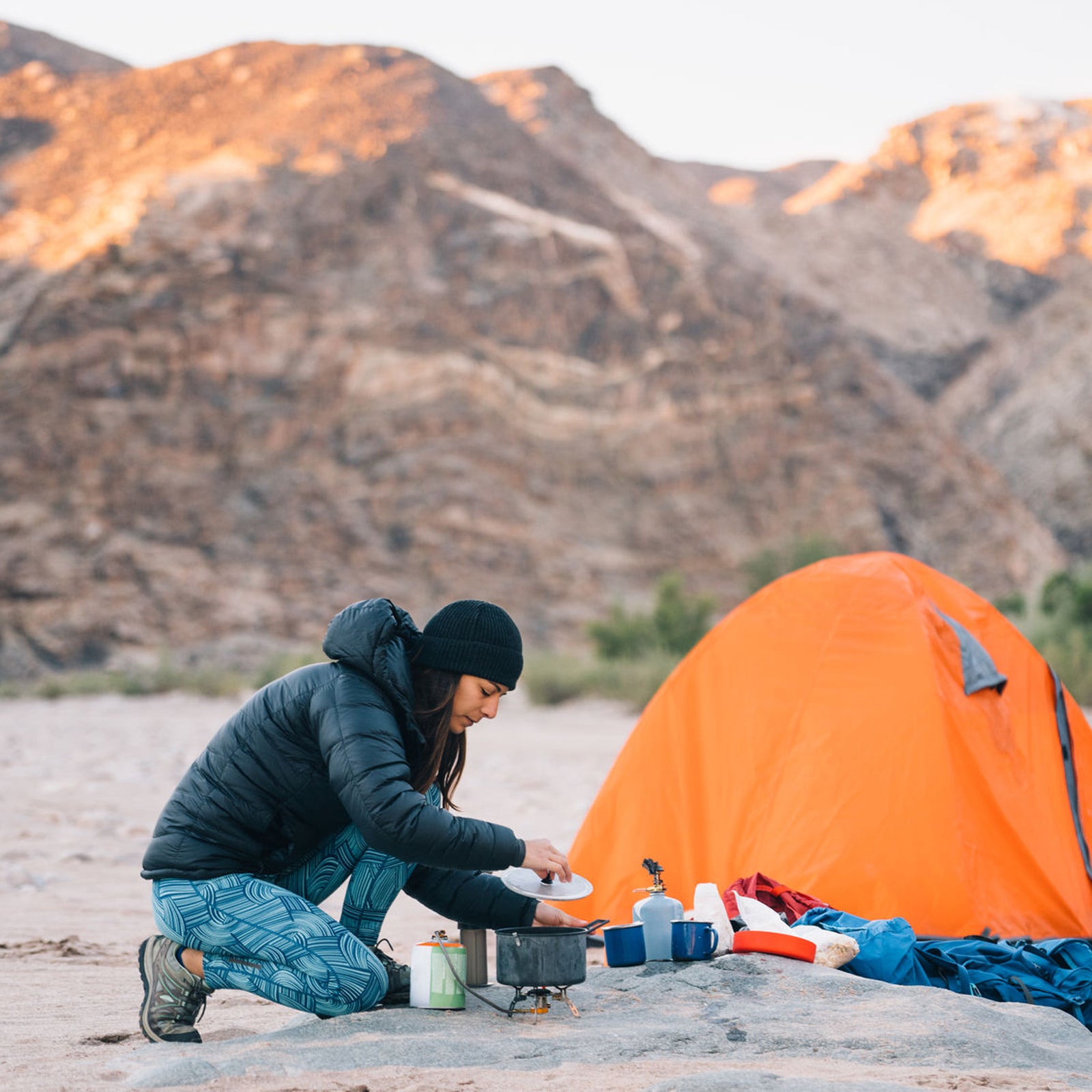 Micky Wiswedel/Stocksy(Photo)
Heading out the door? Read this article on the new Outside+ app available now on iOS devices for members! Download the app.
Hiker-ready dehydrated meals might be simple and tasty, but they aren't cheap. While it's certainly nice to just add water and have a steamy chicken korma meal during a weeklong hiking trip, you can stay well-fed on the trail without the help of packaged meals. Here, a few seasoned backpackers share their best packing, cooking, and prep tips for keeping the budget low but the calories and flavor high, with minimal effort and a little bit of ingenuity. 
Cook Like You're at Home
For a decade, former mountain guide and Outward Bound instructor Josh Whitmore spent 300-plus nights a year in a sleeping bag, and he swears by inexpensive supplies that you can stock in your pantry and use at home, too. Many of his backcountry meals start with fast-cooking rice, and he adds ingredients like dehydrated beans and sweet-potato cubes, olive oil, powdered pesto, and tuna, salmon, or jerky to round out the meal (with a little curry paste for flavor, too). Whitmore does recommend you splurge on one thing: a lightweight stove to boil water in the backcountry. He uses a Jetboil.
Start Simple
Hiker Will Barnes fueled his trek on the Appalachian Trail with 50-cent ramen packets mixed with powdered peanut butter and sriracha, which he says tasted like "a makeshift gourmet Thai-peanut-noodle dish" after five hours of hiking. It's calorically dense at an incredibly low cost: a packet of ramen plus the add-ons end up providing around 520 calories for under $1 per serving. You can do a lot with a base of organic dried mashed potatoes, too, which pack about 100 calories an ounce for 23 cents. Hiker and cyclist Anne Racioppi adds a wide variety of spices, sauces, and toppings to change up the taste and add calories. If you're feeling lazy, keep it simple with a few drops of hot sauce. The simplest, cheapest trail breakfast—oatmeal—is already a pantry staple. Add powdered peanut butter, nuts, and other lightweight and budget-friendly proteins and fats to your oats for a fraction of the cost of a camping-ready dehydrated meal.
Eat Like a Kid Again
Long hours on the trail come with a serious caloric deficit. Luckily, plenty of foods that might not be ideal for a balanced meal in the real world are super satisfying along the trail and can take the place of pricey performance foods. For example, a package of Clif Bloks costs $2.80 for 200 calories of simple carbs. Haribo Gummi Bears cost $2 for 800 calories (with less packaging). Take advantage of your high-energy output to snack on classic snacks: Racioppi is a fan of pepperoni slices, Pop-Tarts, Snickers bars, and traditional trail mix. Seth Haskell, a wilderness-loving hiker and cyclist, swears by tortillas packed with peanut butter and Nutella. You can make these even lighter weight and budget friendly by swapping the peanut butter for a powdered option.
Make Your Own Dehydrated Foods
Not only can you make dried fruits with less sugar and dried vegetables and meat with less salt, but a dehydrator will also pay for itself after your first hike: Amazon's top-ranked option is only $90. Bikepacker Paul McCarthy likes to dehydrate vegetables, pointing out that while calorie intake takes priority on long trips, your body still needs a varied diet. Your taste buds will thank you after a few days of dense meals. Save more money (and limit waste) by buying a set of reusable silicone baggies that can handle boiling-hot water.
Add in Foraging and Fishing
If you can forage safely, you can add fruits and vegetables (and important vitamins, minerals, and fiber) to your on-trail meals for free. "Keep a stowage area open for stashing goodies found along the way, and then keep an eye peeled for mushrooms, fruits, and greens," says Jeff Potter, an avid outdoorsman based in Michigan. "I'm finding them to be more common—and tastier—than I'd earlier appreciated." There are a surprising amount of foraging classes held around the U.S., so do a search to find one in your city if you're interested in learning more. Use great caution as you learn to identify plants. Potter also recommends sampling any mushrooms, fruits, or vegetables that you plan to forage before you go, since you may have an undiagnosed allergy. 
Potter also suggests trying to fish for your dinner. "You don't have to bring a pole, just a coil of line and hooks. Use a sapling to reach out to a little hole and get an awesome meal," he says. He gets his bait by rolling over nearby logs and snagging worms. Make sure you have the proper permitting to fish where you're hiking, and bring enough calories to get through your trip even if the fishing doesn't—ahem—net you any results. 
Lead Photo: Micky Wiswedel/Stocksy
Trending on Outside Online