How to Build the Ultimate Trail Mix
Kick the store-bought options to the curb and go with this DIY formula for delicious, all-day energy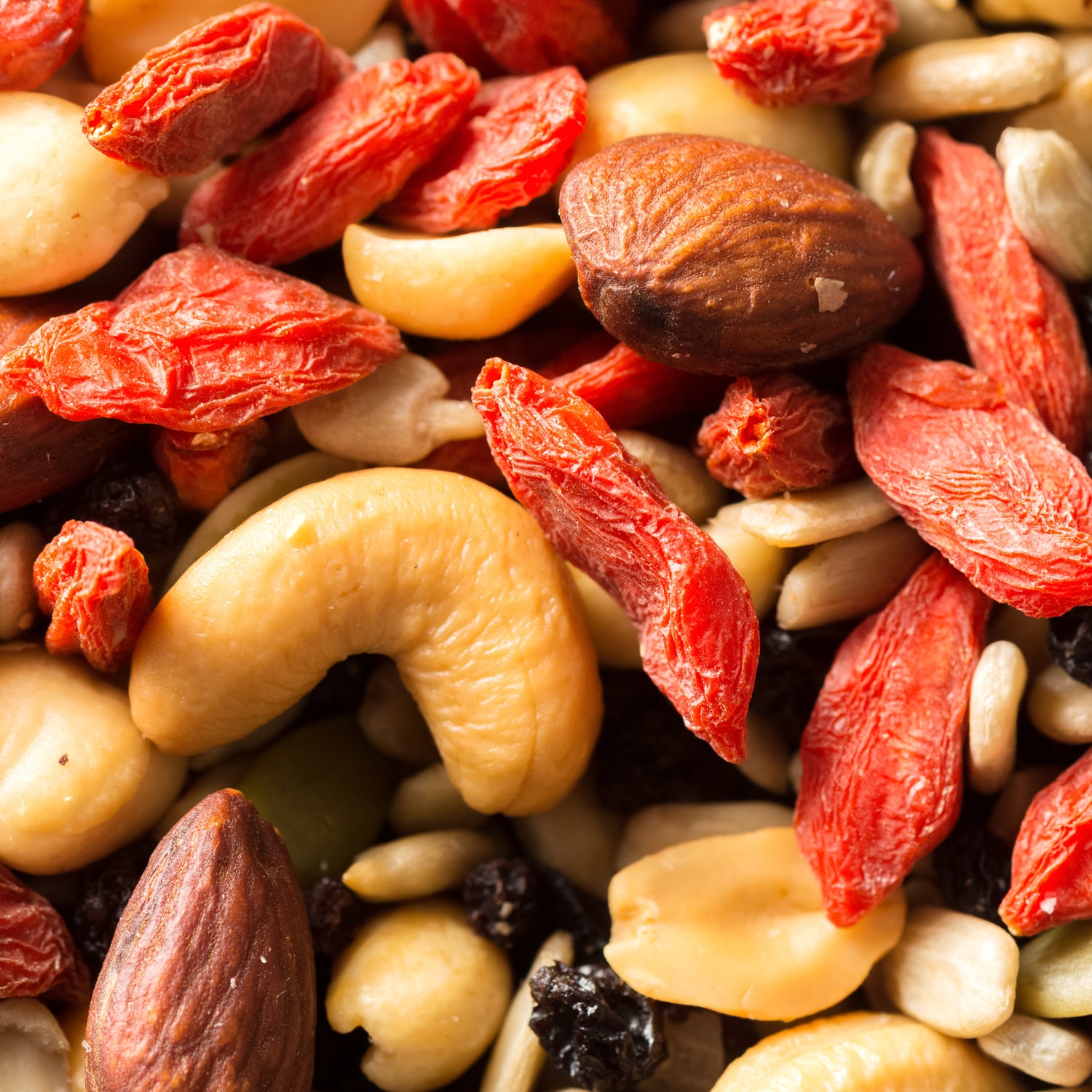 Heading out the door? Read this article on the new Outside+ app available now on iOS devices for members! Download the app.
Trail mix is perhaps the ideal outdoor snack. But the packaged stuff tends to be loaded with unhealthy added ingredients like sugar, salt, and oil.
To keep the fuel nutrient-dense, skip the stuff wrapped in plastic and make your own instead. It's an easy way to avoid junk calories and unnecessary sugars while tailoring the nutrient ratio to fit your needs and tastes.
How do you know whether to go heavy on nuts versus carbs? It's pretty simple, really. "If you're going to be out for a casual all-day hike, you want a mix with more protein and fat. If you're going to be doing a more-intense, faster workout, you'll want more carbs," says Allen Tran, in-house dietitian for the U.S. Ski Association. His ideal ratio for an all-day hike is 50 percent (by volume) protein and fat (like nuts) to 50 percent quick-burning carbs (like raisins). For more intense days that will sap your energy quicker, Tran recommends upping the amount of carbs to 60 to 70 percent, with nuts filling out the remainder.
Of course, exactly how many calories you need per hour depends on your size, the terrain, and the weight of your pack, but Tran gave us basic guidelines. If you weigh around 120 pounds, take in around 350 calories per hour. If you're 160 pounds, aim for 450 per hour, and if you're 200 pounds, you may need as many as 550 calories per hour.
Here's how to construct that perfect mix.
#1. Choose Your Nuts
Don't always opt for standard peanuts: mixing up the types of nuts and seeds will vary taste and nutrients. "Brazil nuts have a lot of selenium, which boosts blood flow," says Tran. "Pumpkin seeds have magnesium, which is good for muscle function, and walnuts have omega-3 fatty acids to help joint pain."
Flavoring can be good, too. Dry-roasted and lightly salted nuts are an easy way to keep your electrolyte stores replenished with sodium, especially if you'll be sweating a lot.
Once you've zeroed in on your on-the-go protein, pack the appropriate amount. A 120-pound person should plan to consume a quarter-cup of nuts per hour, a 160-pound person should plan on eating a third of a cup, and a 200-pound person will eat half a cup, says Tran.
#2. Choose Your Carbs
Dried fruits, pretzels, bagel chips, and, yes, chocolate all count as carbohydrates, and you can mix and match as you please as long as you maintain a good ratio. Avoid dried fruit soaked in added sugars, says Tran. And be aware that the saltier options, like pretzels, bagel chips, or sesame sticks, will add even more sodium to your mix.
Tran suggests incorporating at least one ingredient containing potassium to keep your electrolyte levels stable as you sweat throughout the day. His picks: raisins, apricots, and prunes.
If you're adding chocolate, go with dark chocolate or cocoa nibs, both high in antioxidants, according to Tran. They also tend to have less sugar than other candy.
Remember, for your slow-burn, all-day hike, the carb-to-nut ratio will be about 50:50. That means a 120-pound person should plan to consume a quarter-cup of carbohydrates in their trail mix each hour. A 160-pound person will need closer to a third of a cup, and a 200-pound person should eat half a cup.
#3. Avoid Flavor Fatigue
We're talking about a plastic bag of nutritional goodness that's going to sustain you all day long. So you definitely want to give some thought to taste. "Mixing sweet and savory helps to combat flavor fatigue," says Tran. His favorite mix has pretzels and pistachios, plus chocolate and dried apricots.
On especially long days, Tran will take two different trail mixes—one sweet and one savory. "You can use wasabi peas, pretzels, crunchy roasted chickpeas, and wasabi almonds to make a really good savory mix," he says, adding that in this scenario, the peas and chickpeas count toward your overall protein category, not as carbohydrates. His salty-sweet mix, on the other hand, will have dried fruit, chocolate chips, and nuts.
Here are two of Tran's favorite recipes.
---
Sweet-and-Salty Trail Mix
For the Day Hiker
1/3 cup almonds (Choose dry-roasted and salted if you'll be sweating.)
1/3 cup shelled pistachios
1/3 cup pepitas (shelled pumpkin seeds)
4 tablespoons mini pretzels
4 tablespoons chopped dried apricots
4 tablespoons dried blueberries
4 tablespoons dark chocolate chips
For the Adventure Racer
1/4 cup almonds (Dry-roasted and salted if you'll be sweating.)
1/4 cup shelled pistachios
1/4 cup pepitas
5 tablespoons mini pretzels
5 tablespoons chopped dried apricots
5 tablespoons dried blueberries
5 tablespoons dark chocolate chips
---
Savory Trail Mix
For the Day Hiker
1/3 cup wasabi-spice almonds
1/3 cup roasted and salted chickpeas (You can find these at most Indian grocery stores.)
1/3 cup pepitas
1/2 cup mini pretzels
1/2 cup bagel chips
For the Adventure Racer
1/4 cup wasabi-spice almonds
1/4 cup roasted and salted chickpeas
1/4 cup pepitas
3/4 cup mini pretzels
3/4 cup bagel chips