The Really Weird Trend of Breast Milk as Energy Beverage
Some full-grown athletes are turning to breast milk—yeah, you heard us—for an energy boost and protein push. If you're thinking there's something wrong with that, you're right.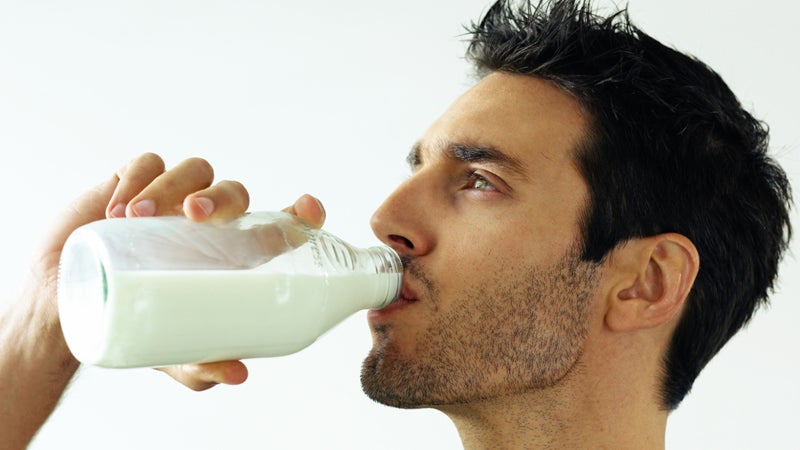 Getty Images(Photo)
Heading out the door? Read this article on the new Outside+ app available now on iOS devices for members! Download the app.
There are grown men who drink breast milk. For some, it's undoubtedly a kink. But for others, it's something else: a "God-given" performance-enhancing elixir—and believers are paying top dollar for it online. Once a fringe gym-rat movement, now athletes of various stripes are chugging the stuff in search of a high-energy protein fix.
Far away from government oversight or official scrutiny, hundreds of gallons of breast milk flow through online classifieds, according to one of the leading online facilitators, OnlytheBreast.com. The site officially caters to mothers who want to sell their "liquid gold" (their language, not ours) to other women, but about a third of the requests for milk on the site are posted by men. The demand has set off an arms race among the 10 percent of women willing to sell their milk to the other sex. One St. Louis provider catering to athletes boasts that her milk is best because she adheres to a "Paleo-style diet with added grass-fed butter," only organic foods, and a daily regimen of supplements including charcoal and probiotics.
The "breast is best" believers drink this stuff up. They say that the milk is more nutritious than anything you can get from a cow, best for body building, the secret to fighting off disease, and a sure-fire way to boost energy levels. It's the energy drink of the future, New York Magazine reports.
It's too bad it's soggy logic—on all counts, says Bo Lonnerdal, a professor of nutrition and internal medicine at University of California at Davis. "I don't see much sense in it all," she says. "It doesn't provide more energy than other drinks with the same energy content."
Which brings us to protein. Fans of human breast milk point to its supposedly superior whey-to-casein ratio of 60-to-40, compared to nearly the inverse 20-to-80 of cow's milk. But a liter of breast milk has only one-third the total protein of cow's milk. And it contains nearly twice as much lactose sugar, making it sweeter than cow's milk and a poor choice for those who are lactose intolerant. Then there's breast milk's fat content, which varies widely based on the donor's diet.
More souring is that the heralded bioactive components within breast milk are unlikely to make it through your stomach—precisely because adult men aren't at all like children. "We highly likely would break down bioactive components like lactoferrin and immunoglobulins long before they could have any potential function," Lonnerdal says.
It's just wrongheaded to think that what works for baby boys and girls will be best for grown men, says Katie Hinde, assistant professor of human evolutionary biology at Harvard University, who tracks advances in milk research on her "Mammals suck… Milk" blog. 
"Breast milk is nature's magical elixir for those particular infants at a particular time, but the benefits for adults are less clear. There's still too little we know about what it does even in infants," she says.
Then why all the fanfare? Adherents are committing a naturalistic fallacy, says Sarah Tishkoff, a professor of genetics and biology at the University of Pennsylvania who studies the evolution of lactose tolerance. They believe that people evolved to drink breast milk, not cow's milk. They're wrong. "No humans have evolved to drink breast milk after weaning," Tishkoff says. Most human populations whose ancestors practiced dairy farming have actually adapted to drinking cow's milk.
But would it really hurt to give breast milk a try? That's not a good idea, particularly if it is purchased online versus milked from a willing wife or girlfriend. "The biggest issue is that breast milk can contain live viruses and bacteria," says registered dietitian nutritionist Sharon Donovan, former president of the American Society for Nutrition and a professor at University of Illinois, Urbana-Champaign.
When moms donate to a hospital milk bank, they are screened before being approved, Donovan explains. But men buying from strangers could result in transmission of diseases including HIV, syphilis, or hepatitis. Most milk bought online also comes contaminated with pathogenic bacteria, as Dr. Sheela Gerahrty's lab at Cincinnati Children's Hospital Medical Center reported last year. Granted, OnlyTheBreast.com has explicit instructions about home pasteurization.
Plus, there's the issue of cost—at $2.50 to $4.00 per ounce, a gallon of breast milk is priced at $320 to $512, versus just $4 a gallon of cow's milk, Donovan says. And what really sucks?  There's a chance you might not even get what you're paying for. Because it's sold by volume without any oversight, the milk could be cut with water or cow's milk, Hinde warns. These aren't problems you find with hospital milk bank donations where no monetary gain is involved.
Getting beyond the ick factor, athletes commanding high prices for breast milk could inadvertently encourage disadvantaged women to sell their milk instead of feeding their own infants. It may also discourage women from donating to milk banks, which are crucial for supporting the needs of premature infants.
The "invisible breasts of the free market" selling their products online comes with lots of questions, Hinde says.
If you're still convinced that breast milk is best, take heart: cows may soon be genetically modified to produce human milk, The Telegraph reports.
Lead Photo: Getty Images