Yep, Pizza Can Be a Recovery Fuel
The secret is in the toppings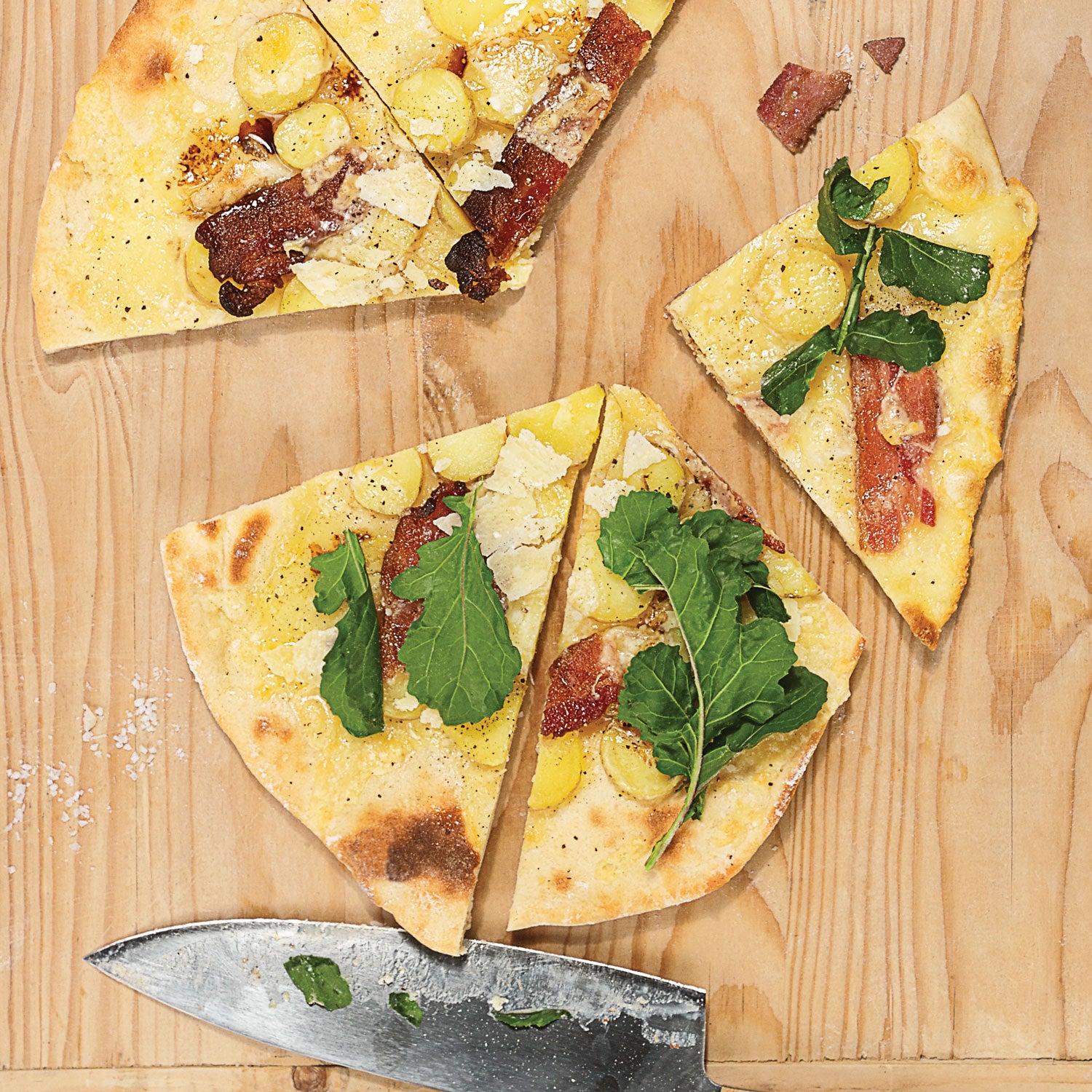 Hannah McCaughey
Heading out the door? Read this article on the new Outside+ app available now on iOS devices for members! Download the app.
Pizza is a delicious reward after a tough workout. But we shouldn't always treat it as an indulgence. Consider the flatbread, pizza's somewhat healthier cousin. Shawn Hueglin, senior sports dietitian for the U.S. Olympic Committee, says the basic concept here is nutritious and versatile. With the right toppings, the final product can offer a winning combination of carbs and protein—perfect before a big effort or to recover afterward, Hueglin says. We turned to George Schenk and Clay Westbrook of American Flatbread in Vermont for a high-performance recipe.
---
Nine-to-Five Foccacia ­Flatbread
3 1/4 cups all-purpose
bread flour
1/2 teaspoon active dry
yeast (not fast-rising)
1 tablespoon
kosher salt
1/4 cup olive oil
1¾ cups cool water
½ cup arugula
1¹⁄³ cups cheddar cheese
1/2 cup fingerling potatoes,
boiled and sliced
1/2 cup cured bacon,
chopped
4 tablespoons Parmesan
cheese
2 tablespoons balsamic
vinegar
In a bowl, mix and knead the bread flour, yeast, salt, olive oil, and water until well incorporated. Shape dough into a ball, cover with oiled plastic wrap, and let rise for six to ten hours. Divide equally and shape into two balls. Allow to sit for one or two hours. On a lightly floured counter, flatten and shape the dough by dimpling it with your fingers and stretching it with your hands and a rolling pin until each is ten to twelve inches in diameter. Place dough on a baking pan or skillet coated with olive oil. Top with the arugula, cheddar, potatoes, bacon, Parmesan, and balsamic. Preheat oven to 475 degrees. Cook for seven to ten minutes or until the crust is golden brown.
Mix It Up
Choose the toppings you crave or that serve your nutritional needs. Schenk likes these three combos.
Grilled lamb, pickled ramps, ricotta, parsley, and mint gremolata
Cherry tomatoes, wilted Swiss chard, ricotta, rosemary, nutmeg, and walnuts
Tomato sauce, mozzarella, marinated roasted sweet peppers, and pesto
Trending on Outside Online