What Chicago Marathon Runners Eat on Race Day
Athletes break down their nutrition rituals.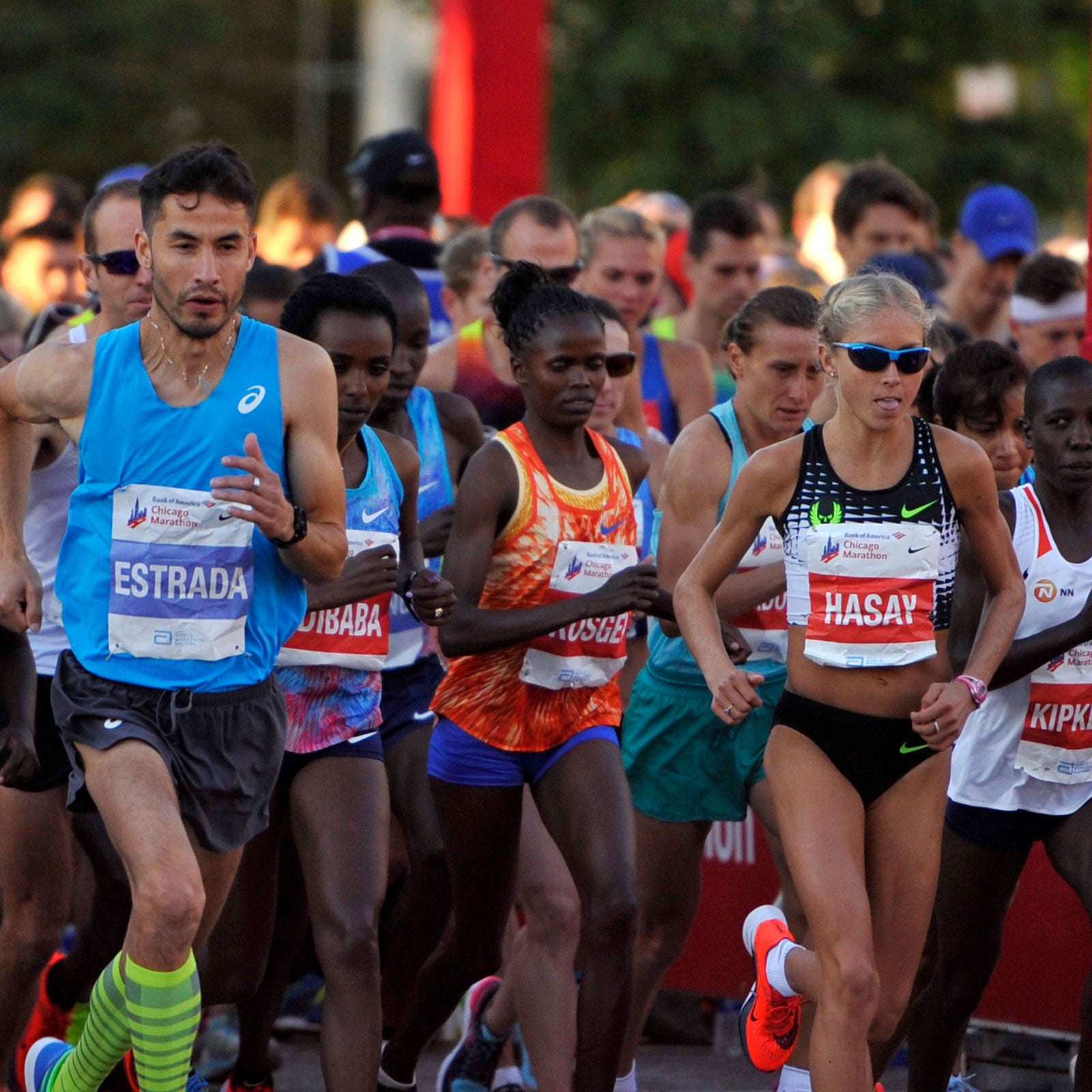 Paul Beaty/AP Images(Photo)
Heading out the door? Read this article on the new Outside+ app available now on iOS devices for members! Download the app.
Elite athletes keep variables to a minimum on race day. Heading into this weekend's Chicago Marathon, serious runners have their nutrition plans dialed. We spoke with a few to see how they'll fuel before, during, and after the race. 
Tyler McCandless
McCandless, who took second in the 2017 USATF Marathon Championships, will eat classic thin-crust margherita pizza the night before the race. "It's bad for the sport when athletes make it seem like you need to diet to prepare for a marathon," he says. "My wife and I make homemade nachos and pizza nearly every week, and we have ice cream more nights than not. It's about balance and getting enough calories to match the energy you burn."
McCandless will kick off race day with oatmeal and peanut butter—his go-to breakfast—and wash it down with Red Ace Organics beet juice. Beet juice is a whole-food performance enhancer that many athletes swear by. It's packed with nitrates, which research suggests can improve blood flow and lung function. McCandless says it sits well in his stomach during competition.
Mid-race, McCandless will fuel up with Maurten 320, a thick drink mix. It's a favorite of many elite athletes, with high concentrations of maltodextrin and fructose. He aims to take in 200 to 250 calories an hour, which means drinking four to six ounces every three miles. "The calories are easy to take when running at a five-minute-mile pace or faster. Other sports drinks make me burp or feel light-headed, but not Maurten," he says.
Post-race, you might see McCandless chug a Ripple vanilla shake for protein and carbs, but he admits that marathons leave him queasy. It may be a couple of hours before he can eat anything. Once his stomach settles, he'll have a big steak dinner—he already made the reservation.
Gwen Jorgensen
Jorgensen is relatively new to the marathon, but she's in contention for the top American finish. After winning Olympic gold in the triathlon in 2016, she made a much scrutinized move to distance running. But she's been an elite athlete for years, so she's an expert at the race-day meal plan.
Her pre-race breakfast—made by her husband, Pat, in a rice cooker in their hotel room—is a simple combination of chicken, pepper jack cheese, onion, spinach, tomato, green pepper, avocado, lemon juice, and rice. It's been her go-to since her triathlon days and ensures she starts with her glycogen stores topped off. "I'll be going through my carbohydrate stores, so leading up to the start and during the race, I have to eat as much as possible. The key is to have rehearsed this thoroughly in training," says Jorgensen. She'll fuel mid-race with Skratch Labs drink mix.
"After the race, I have a hunch I won't be feeling great," she says. "I never had this issue in triathlon, but while training for the marathon, often nothing sounded good after a super long, hard training session. I had to force myself to eat and sneak in lots of extra calories to make sure I recovered." Still, she plans to enjoy dinner out that night, either Chicago hot dogs or deep-dish pizza.
Patrick Rizzo
The Colorado runner has reached the podium in both road events and trail ultras, and he, too, opts for pizza before a race. For one thing, it's easy to find almost anywhere in the world, so it's perfect for a competitor who travels globally. "Runners are creatures of habit. We do the same thing as often as possible, and we practice every meal many times before a race—so I eat pizza a few times a week," he says.
Rizzo usually has a Pop-Tart for breakfast, and during the race he'll split his bottles between orange-flavored Tailwind—"it has a nice light flavor and a lot of calories"—and SOS Electrolyte drink mix. Over the course of the race, he'll take in around 800 calories.
Afterward, he plans to have brunch with his family. "There are a dozen great breakfast places around the race loop, so I'll shower and head to brunch," he says. "I want a traditional Midwestern breakfast—eggs, toast, bacon, and hash browns. I'm really pretty average when it comes to eating."
Kiya Dandena
Flagstaff-based Dandena made his marathon debut at the 2016 Olympic Trials and has been scaling up his training—and shaving off time—ever since. "My meal the night before is almost always the same, and that's pasta or rice with red meat sauce, veggies, and chicken or fish," he says.
The morning of a race, he keeps it simple and light with some black tea and a Garden of Life protein bar. (He's an ambassador for the brand.) The protein helps him feel full until the race begins and he needs to start refueling with carbs. Like McCandless, he opts for Maurten for training and race-day hydration. "It helped me solve my glycogen-depletion issues during long runs and workouts," he says. 
Post-race, expect to see him guzzling a plant-based shake, which offers 30 grams of protein derived from peas, garbanzo beans, navy beans, lentils, and cranberry seeds.
Lead Photo: Paul Beaty/AP Images
Trending on Outside Online