Good Vibes Are Contagious
Studies show that your emotions spread further than you think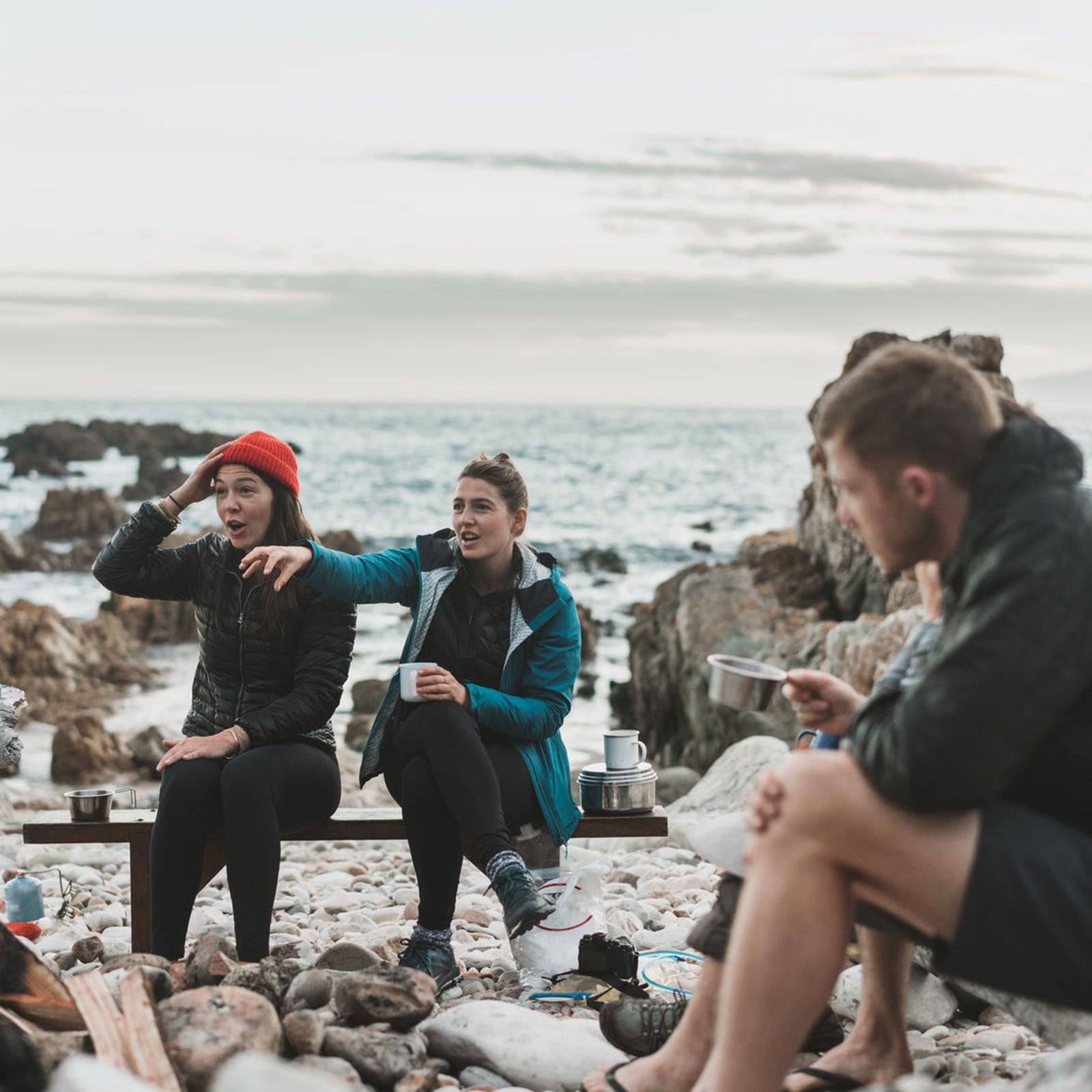 Micky Wiswedel/Stocksy(Photo)
Heading out the door? Read this article on the new Outside+ app available now on iOS devices for members! Download the app.
One of my favorite threads of research shows just how interconnected we humans are. Studies reveal that if you bear witness to someone else experiencing pain—whether it's a friend stubbing their toe, a person experiencing homelessness on a damp street corner, or a somber face in the waiting room of a hospital—you're likely to experience some degree of pain yourself. The Association for Psychological Science (APS) dubs this the "I feel your pain" effect, and most everyone experiences it from time to time.
"When we witness what happens to others, we don't just activate the visual cortex like we thought decades ago," Dutch neuroscientist Christian Keysers told the APS. "We also activate our own actions as if we'd be acting in similar ways. We activate our own emotions and sensations as if we felt the same."
Pain isn't the only contagious emotion. Researchers from Yale University closely monitored just under 5,000 people living in the small town of Framingham, Massachusetts, for more than three decades. They found that when someone became happy or sad, that emotion rippled throughout the entire town. Another study, published in the journal Motivation and Emotion, showed that even below-the-surface emotions, such as motivation, are contagious. If someone is working in the same room with people who are internally driven, their attitude also improves. If, however, someone is working in the same room with those who aren't too excited about their work, then their motivation decreases. A 2017 study out of Northwestern University found that sitting within 25 feet of a high performer at work improved an employee's performance by 15 percent. But sitting within 25 feet of a low performer hurt their performance by 30 percent. That's an enormous effect!
Emotions even spread virtually. Another study, aptly titled "I'm Sad, You're Sad," found that if you are in a negative mood when you text your partner, they are likely to pick up on it and experience a lower mood state themselves. The same is true of Facebook posts, according to research published in the Proceedings of the National Academy of Sciences. Emotions like happiness, sadness, and anger spread like wildfire on the platform. (Not that you needed a study to prove this.)
Instead of meeting sadness with sadness, you can meet it with compassion and support.
This science all points toward the same basic truth: we are mirrors reflecting onto each other. The people we surround ourselves with shape us, and we shape those around us, too. The implications of this truth are important and actionable.
For starters, you'd be wise to associate with people you admire and aspire to be like. It's not so much rote skill that is contagious as it is the motivation and emotions that lead to skill development. In other words, it is much better to work with the scrappy but less-talented performer than the all-star who phones it in. This is every bit as true on the playing field as it is in the office.
What's more, just being aware of how easily emotions spread allows you to change yourself and, in turn, change those around you. For example, if you receive a text message that suddenly makes you sad, or if you read a social-media post that makes you angry, rather than immediately reacting, you can pause for a moment and then respond thoughtfully. Instead of meeting sadness with sadness, you can meet it with compassion and support. Instead of meeting anger with anger, you can try to meet it with understanding (or just ignore it altogether). The flip side is also true. When you are feeling good you're liable to spread it—though my hunch is that this happens naturally, without trying.
None of this is new, of course. Over a decade ago in the foothills of the Himalayas, before much of the above science unfolded, I asked a Nepali Sherpa named Indra about the prayer flags that were all over. "It's simple," he told me. "When you are feeling a strong emotion, you plant a flag. Since the beginning of time, my culture believes the wind will spread that energy and the universe will receive it."
Brad Stulberg (@Bstulberg) is a performance coach and writes Outside's Do It Better column. He is also the author of the new book The Passion Paradox: A Guide to Going All-In and Discovering the Benefits of an Unbalanced Life and the bestselling Peak Performance: Elevate Your Game, Avoid Burnout, and Thrive with the New Science of Success.
Lead Photo: Micky Wiswedel/Stocksy