Testing the Apple Watch Series 3
The new Watch is a more sophisticated fitness tracker than its predecessor, with an updated operating system, upgraded hardware, and cellular connectivity. But will it be enough to win over athletes?
Heading out the door? Read this article on the new Outside+ app available now on iOS devices for members! Download the app.
To really understand why the Apple Watch Series 3 matters, you have to recall a bit of recent tech history: the announcement of the first Apple Watch in 2014 was a very big deal. For the first time, a leading technology company was plunging headfirst into the smartwatch space. While reviews of the Watch were mixed, consumers were enthralled. And the product sold well. Because the Watch had fitness-tracking capabilities, many analysts predicted that it would mark the the end of brands like Garmin and Fitbit. 
Instead, the opposite happened: the Apple Watch made entire wearables market better. Sales of smartwatches and trackers surged. Garmin introduced the Forerunner 225. Fitbit launched the Blaze. Meanwhile, software developers like Strava made wearable-friendly apps.
A similar scenario played out in 2016, with the release of the Watch Series 2. Apple added health and fitness capabilities, but once again the competition responded with their own upgrades, most notably improving build quality, continuing to roll out optical heart rate monitoring, and adding smartwatch features. 
After a week of testing the $399 Watch 3 on an abbreviated fitness circuit—bike rides, long walks, navigating cities—I can safely say that Apple will once again have an outsized impact on the smartwatch industry. The Series 3 isn't perfect, but at least in the short-term, it's going to make every other smartwatch on the market feel obsolete. 
What Is This Thing, Anyway?
In our preview of the Series 3, we declared it a watch that athletes will want. This earned us scorn from some Facebook readers who were underwhelmed by the Watch's battery life and insisted that it should not be categorized as a high-performance fitness tracker. 
They're right. But Apple has never presented the Watch as the most sophisticated fitness tracker on the market. The first version was a smartwatch with some solid fitness-tracking features. In version two, it became a bona fide fitness tracker with strong smartwatch capabilities. Version three is a stellar fitness tool, and hands down the best smartwatch available for iPhone owners. 
By design, the Watch is not supposed to be the perfect gift for your Ironman-obsessed sister-in-law. There are some great high-end, sport-specific products that already do things like sync with SRM power meters. Instead, it's meant for the much larger number of us who want a device to track our hikes and rides but that can handle smartwatch functions like streaming music and responding to texts. This review is written with those readers in mind. If, like some of my Outside colleagues, you demand a tracker that holds a charge for five days and has tactile buttons for workouts, feel free to stop reading here.  
The New Hardware
The Series 3 looks and feels just like any other Apple Watch, and it's compatible with all your old bands. Complete details are on Apple's website. And you'll find them thoughtfully dissected and explained on sites like The Verge. For our purposes, there are two main considerations: 
Cellular connectivity. That's the big headline. You can now (actually, coming next month), stream music from your Watch, make calls (directly on the Watch or by using Apple's AirPod earbuds), receive texts, and let friends and family track your location without your iPhone. This all happens seamlessly from your current phone number. And it works better than advertised: the calls are crisp and the Watch is responsive. I expected that I'd find myself missing my phone. I rarely did.
(Note: Other reviewers experienced significant issues with the Watch's cellular connectivity. In our experience, a few texts did fail to send on the Metro and Siri wasn't talking back. But calling worked just fine in D.C. and Santa Fe.)
Beyond the cellular upgrade, there's the addition of a barometric altimeter. This tool helps the watch accurately measure elevation gain. There isn't much else to say beyond: it works, and that's something that will make athletes happy. You can now ride and run without your phone and get accurate climbing data.
What about GPS and the heart rate monitor? Given the well-established credentials and limitations of the Watch plus its performance throughout the test, we won't be touching on those previously reviewed feature. We will however briefly praise the new Sport Loop. It's comfortable, looks fun, and it allows you to wear the Watch more tightly around the wrist. That snug fit helps the optical heart rate sensor perform at its best.
The New Software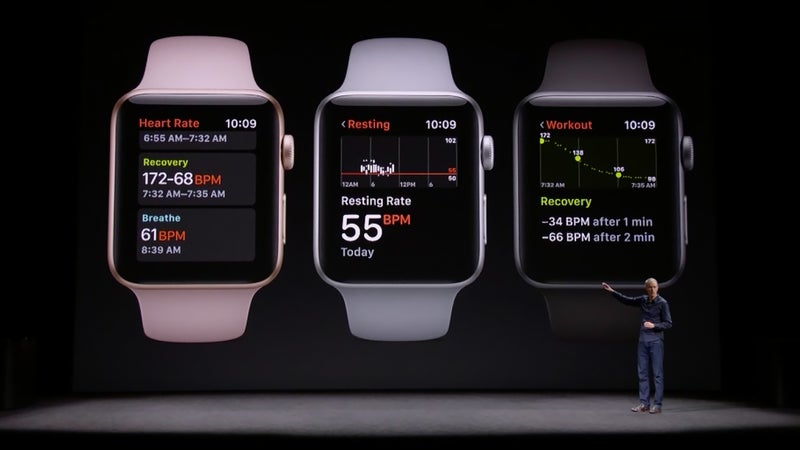 The biggest fitness upgrades come courtesy of watchOS4, the new operating system available to all Watch owners. This is a radically simplified interface that puts your health at the center of the experience. Practically speaking, it means you get a refreshed Workout app, plus some exciting new heart-rate monitoring features:
Heart-rate variability tracking. This stat can be used to understand how well you're recovering and if you're about to get sick. The Watch measures this when you initiate the Breathe app (Apple's mindfulness tool) and during other times the Watch detects to be suitable throughout the day.
Resting heart rate: The beats per minute of your heart at rest, a measure of overall fitness and fatigue.
Walking average: A new tool from Apple that measures your average heart rate while walking.
Heart rate recovery: How your heart rate responds after a workout, another potential measure of fitness and fatigue.
Elevated heart rate: An opt-in system designed to notify you if their your rate goes above a self-selected threshold when you've been inactive for ten minutes or longer
The above upgrades are significant enough to warrant a software update.
How Does It Work?
For this review, I went on a handful rides and spent several days trekking around Washington, D.C. on a trip. I didn't get a chance to test the Watch in the pool or on a trail. For our long-term test, we'll be putting the Watch through a more thorough battery of workouts.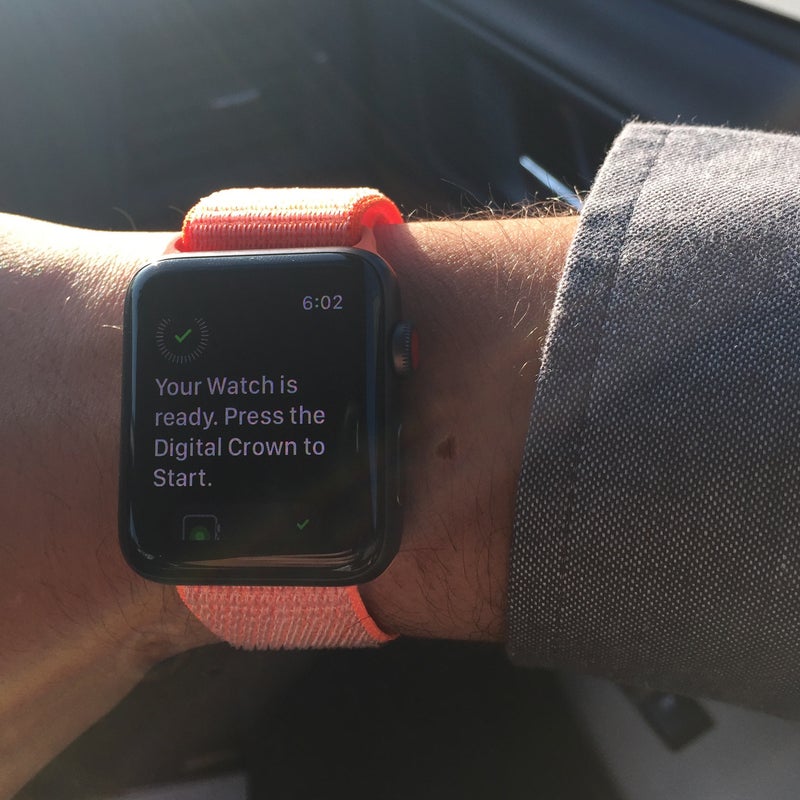 Exercising with the Watch 
I got the watch at about 4:45 p.m. on Tuesday, September 12. I jumped in a car with Outside executive editor Michael Roberts at about 6 p.m. While he drove away from the Apple Park to escape traffic, I set up the Watch, gossiped about coworkers, and ate an energy bar. By 7:30 p.m., I was ready to ride. And while my original Watch died partway through the excursion, the Series 3 kept its charge.
During our hour-long ride, I simultaneously tracked my activity through the Workout app and on a secondary phone (that wasn't paired with the new Watch) using Strava. I didn't listen to music or text my friends while riding, but the Watch's new hardware was a difference maker. It made me feel that I would have been comfortable exploring without a phone. And it allowed me to track an elevation gain of 1,200 feet. These seem like small things, but a product like this is about small advances and upgrades.
On my second ride, back in Santa Fe, the Watch showed an incorrect elevation gain recording, likely the result of a thunderstorm that blew in while I was out. The drastic change in air pressure would have have affected any barometric altimeter. As expected, it was an issue I didn't experience on any other rides or walks.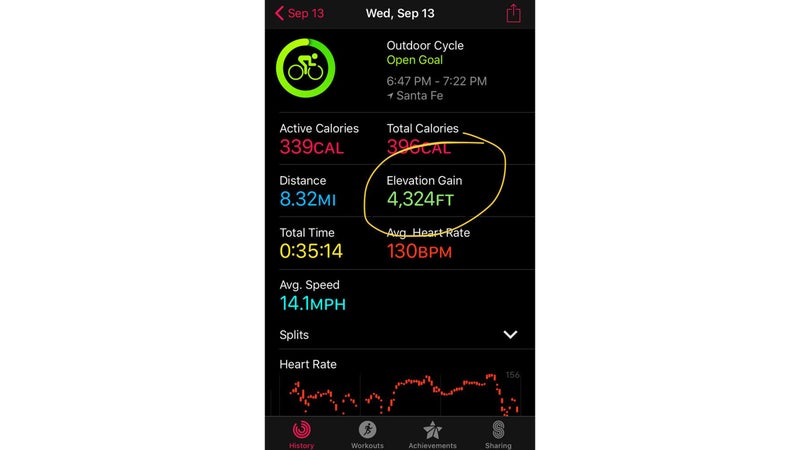 Choosing between using Strava and Workout is a common Watch experience, and one that predates the Series 3. You need to think about how you're tracking your workouts and storing your data or you'll end up with a confusing training log. There are also real tradeoffs to be made depending on what app you use.
Let's start with the Apple ecosystem. For those new to Watch, it works something like this: on the Watch you record your workouts in Workout and track your overall activity (hours of the day with standing, overall movement, and minutes spent exercising) in Activity; on the phone, all your data is presented in Health with workouts specifically appearing in Activity. That makes Health your default training log. If you're new to training or activity tracking—or if you're comfortable storing everything in Health—this isn't an issue. Your data is all in one place. 
For people with years of data stored in apps like Training Peaks, or for folks who want a robust desktop interface for reviewing their stats, it's a bit problematic. Apple doesn't have a web app or any desktop interface for viewing Health data (and because of the company's privacy stance, there likely isn't one on the horizon). And while exporting your data is doable, it isn't convenient—a sizable drawback for a device designed to make health and wellness easy. Practically speaking, it means that if you want to record everything through Workout—because you prefer the interface or just like keeping everything within Apple—and then have that data automatically export and sync to, say, Strava, you're out of luck. How big of a deal is this? For Outside readers, it hasn't been a frequently voiced concern. And for me, it just means that I should eventually pick one primary platform. 
Overall, the Watch—from a sensor and software perspective—accomplishes what I currently need from a fitness tracker on the bike. It shows me distance and duration in real time. And if I'm using Strava, it uploads my ride when I'm done. It has replaced my Garmin computer in almost every situation (save for ultra-endurance death rides). But the Watch form factor is not the ideal tool for cyclists. To view any of the stats, I have to raise my wrist from the handlebars. And to adjust music or fiddle with settings, I have to take both hands off the bars. To be clear, these are criticisms of all watches. But they're more pronounced with the Watch. Some watches have an always-on screen that make the glancing easier. And other brands come with handlebar attachments. Runners I've spoken with have expressed skepticism about the lack of buttons and the screen's ability to respond in rain and through sweat. This is a valid concern, but one I haven't really noticed on the bike (except while wearing long-finger gloves). The touchscreen always—even in light rain—has worked fine for me. I've also found it to be visible under bright sunlight.
(As someone who once fancied himself a decent cyclist, the most Watch-specific issue is that it doesn't currently sync with ANT+ devices, such as power meters. That pertains to a small subset of cyclists, but if you don't leave home without your power meter, the Watch will not be your all-in-one fitness tracker.)
Texting and Calling on the Watch
I underestimated just how impactful the Watch's cellular connectivity would be. On short rides, it gives me the comfort to go without my phone. If something were to happen, I'm confident that I could call for help. When paired with the AirPods, the call quality was clear. Likewise, being able to quickly send a text was a surprisingly important feature. Running late? Instead of leaving someone on the other end worrying, I could quickly shoot a message. While I didn't test the GPS mapping functionality on the bike, I did use it to get home from a concert after my phone died. And I could see it helping me navigate a new city while on a run or ride. 
Music on the Watch
There are legitimate reasons to stay within Apple's ecosystem. On the Watch, their apps tend to just work a little bit better, at least right now. The biggest example of this for me is the integration of Music and Workout. When I ride on quiet roads, I like to keep one earbud in to listen to music and the other dangling so that I can better hear approaching cars. My AirPods plus Watch have replaced a full suite of devices I used to ride with: a phone for connectivity, wired headphones, and a Watch for fitness tracking. In Workout, it's simple to change the song or volume: just swipe and then use the controls as usual. You stay within Workout the entire time. It's not so easy in Strava. You have to exit out of the app, open Music, make the change, and move back in. Again, it's a seemingly minor complaint. But when you're in the middle of a run or ride, those inconveniences matter—both in terms of pacing and also keeping your attention on traffic. Again, pay attention to the apps you use and how you like to use them. Spotify offers an app for AndroidWear but doesn't have one yet for the Watch (though there is one coming).
Testing the Battery
Everyone wants to know about battery life. The problem with measuring battery life is that usage can vary dramatically between people. To provide the most accurate possible assessment, I conducted a variety of tests: 
Go-till-you-die with heavy use: Almost 16 hours. I started using a fully-charged Watch at 7 a.m. I used it all day while traveling to respond to Slacks and texts. I turned it off at night for about eight hours. I turned it on the following morning and it made it until about 11:00 a.m.
Go-till-you-die with Workout: About three hours. This was the most surprising result of the test. I started a walking Workout, used the Watch to text and navigate, and played music. It didn't last long. To confirm the result, I tested it again but spent less time playing with apps on the Watch. In that case, I got over four hours of Workout tracking—in the context of a full day of use while traveling—before getting the 10 percent battery remaining warning.
Workout Power Saving Mode: Full day. I launched this mode, which disables the cellular connectivity and optical heart rate monitor (but maintains GPS functionality), and initiated a walking Workout. I kept the session going for about five hours. Then I turned off power-saving mode and went about the rest of my day without running out of charge. 
If you've owned a Watch previously, there isn't much new here. Using more features drains the battery more quickly. Expect this Watch to last about as long as the old one, so long as you're not constantly calling or texting people. If you're new to the Watch, though, some explanation: for most workouts longer than two hours, I use an external heart-rate monitor and disable the optical HRM. That helps preserve battery. 
What do I make of the above? For 95 percent of my use cases, the Watch will have enough battery to make me a happy user. Long rides? Check. Long hikes? Check. Ironman triathletes won't be in luck, but they may want another device specifically tailored to triathlons anyway. 
In-house, we've devised a holy grail test for fitness trackers: riding to a campsite, camping out, going for a short hike, and then riding back home. The Watch should theoretically be able to hold a charge for that (something I'll confirm in the long-term review). More than any other aspect of the Watch, this is one that I am eager to continue testing.
Activity and Workout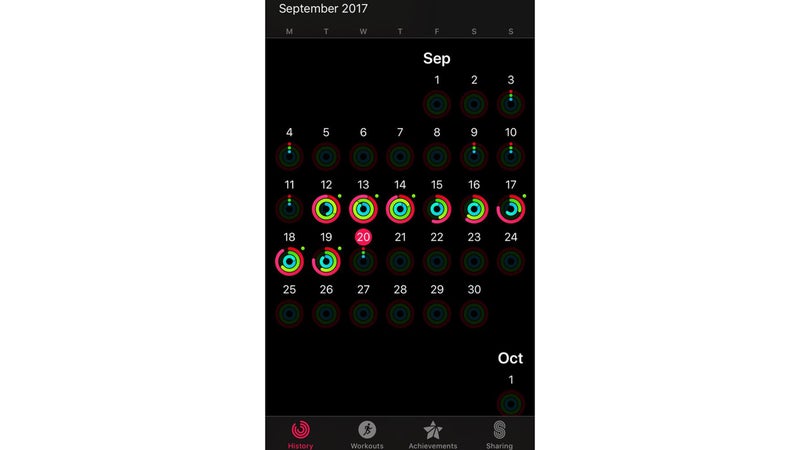 If you already own an Apple Watch, the new software will dramatically transform your device. The changes to Workout and Activity are subtle, but they reveal so much about Apple's understanding of health and wellness.
When I interviewed Jay Blahnik, Apple's director of fitness for health technologies, in 2015, he synthesized Apple's wellness stance as follows: there are three key trackable elements to activity, including standing, all-day movement, and exercise. The Watch is designed to measure all three—and to nudge you into making smarter choices. To track each element, the Activity app features three rings, one for each of the above elements. Your daily goal is to close all three rings. 
In recent years, Apple has added sleep, nutrition, and mindfulness to their health mix. While the Watch now has a built-in Breathe app to encourage mindfulness, sleep and nutrition are notoriously difficult to track and absent from the Apple native app ecosystem (save for third-party apps). Many studies and anecdotes have shown sleep tracking to be, in short, a sham. And calorie counting requires user active user participation: you have to actually input what you're eating. 
This understanding of health is surprisingly hack-free and accurate. That's where the latest version of watchOS comes in. The device is slowly but steadily gaining the ability to influence behavior. Until now, Apple largely accomplished this through the ring interface. But with smarter Activity coaching, Apple is taking a big step forward. In the morning, the Watch will prompt you to stay more active by identifying a streak you're on and urging you to keep it up. If it can't find something forward-looking, the app will pick out one good thing you did the day before and urge you to do it again. The smarter coaching shows itself in two other situations. If you've closed your ring on a run, the app will give you an in-the-moment notification. This brings the reward a lot closer to the action. And, perhaps most importantly, if you're not on track to close your rings, the app will prompt you to get up and go walk at a brisk pace. It'll also tell you the exact amount of time you need to move to hit your goal. Apple picked walking because it's something almost anyone can do in almost any situation. (It sends the notification early enough in the day that you can take action. There's another notification if you're a hair away from hitting your goals.) 
I admit that the above doesn't sound particularly impactful. Will a notification actually make anyone healthier? In my experience, the answer is yes. While I know some Watch owners who never took to the rings and don't find them motivating, I've had the opposite experience. The Watch helped me become the healthiest version of myself, in a time period when it was most difficult to stay fit. And on the flip side, when a broken band kept my Watch out of commission for over a month, I found myself gaining weight, moving less, and ignoring my body. Coupled with the experiences of so many others, I firmly believe that the Watch can have a significant impact—if your personality is primed to respond to its prompts. For this population, I think the new notifications will be a significant step forward. They're gentle enough to not be annoying, but also actionable enough to change the trajectory of a day. Their impact is something I plan to track carefully over the next few months of long-term testing.
It bears mentioning that while Activity is the epicenter of change in watchOS4, the Workout app is also much improved. You can move from workout to workout seamlessly (say, if you're transitioning from running to biking). And the app itself is just much cleaner and easier to use. 
Heart Rate Monitoring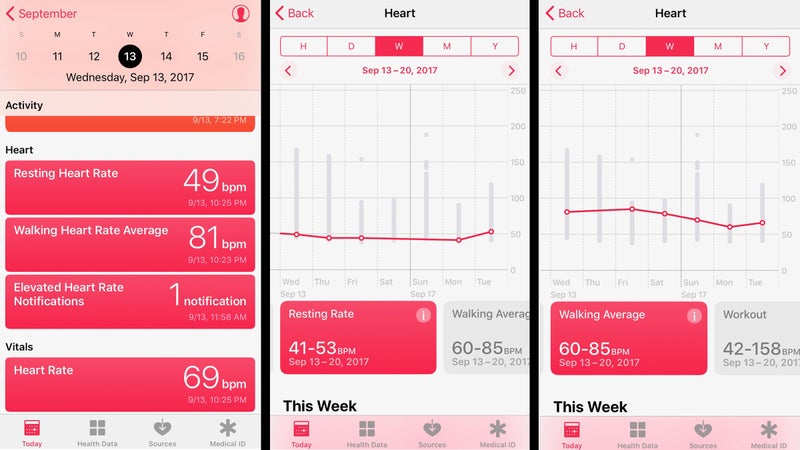 It's too early to say how helpful and influential Apple's foray into sophisticated heart-rate monitoring will be. But I get the sense that it's about to turn a large subset of Watch users into biohackers.
Historically, the Watch did essentially one user-facing thing with heart rate: it provided an average following workouts. That was it, and it was a lot less sophisticated an output than what most other apps and watches provided. With watchOS4, Apple has opened up so much more data. For the purposes of this review, I'll segment it into two buckets: performance and health data. 
Let's start with performance. Measures like heart-rate variability, resting heart rate, and recovery heart rate have long been used by athletes across an entire spectrum of sports. When in serious training, I've found recovery heart rate and resting heart rate to be surprisingly effective tools. In combination, the two measures have predicted common colds and helped me tailor my training load (in conjunction with measuring training stress score through Training Peaks). I've also found the measurements to be helpful for athletes I've coached, particularly in convincing them to listen to their bodies (people tend to trust a heart-based number more than perceived exertion). While I never before had access to Apple's walking heart rate average, I did have my own version of it. I'd start each indoor workout with a 10 minute interval at 200 watts, or a brisk pace. Tracking my average heart rate during this interval and then measuring the recovery period afterward was the single most effective metric I had in training. And it's something that Apple is trying to replicate with walking heart rate. 
When it comes to evaluating these metrics, it's worth keeping a few things in mind: there isn't consensus on their use, but plenty of people find them helpful. That may be why Apple has chosen to steer clear of providing actionable insights from the stats. If your resting heart rate has risen for a week and your heart rate isn't recovering like it used to, the Watch won't tell you to take a preemptive sick day. But there's nothing stopping an app-maker from using that data to provide such insights. While I've criticized fitness-trackers for the lack of useful recommendations in the past (possibly due to FDA restrictions), I think Apple made the right move. This type of biometric data is too likely too personal to provide population-level takeaways from. I'd prefer for a third-party app that specializes in this type of analysis take the lead. This is better for the Watch's credibility and for users.
Given the above, the following may come as a bit of a surprise: I'm very excited to see where Apple goes with its Heart Study and the elevated heart rate notification system. The former is a study designed to help spot things like irregular heart rhythms. The latter is something you can start using now. If you opt into the monitoring, Apple will notify you if your heart rate goes above a set threshold of 100 to 150 beats per minute during a period in which you've been inactive for 10 or more minutes. This is designed to help you flag potential health issues like panic attacks and tachycardia. In a team meeting post-keynote, a handful of Outside editors debated the merits of such a system. Would it create a wave of false positives leading to needless and expensive testing? Would people simply ignore it? 
The exercise and health sources I reached out to about the technology were cautiously optimistic about the functionality, but were hesitant to go on record without using the device or speaking with Apple. In my experience with the Watch, I had one notification. After looking at the surrounding data, I concluded that it was an odd mix up versus something to call my doctor about. Given that the warning is opt-in and relatively muted, it's hard to imagine the technology leading to a series of false positives and needless interventions.
The Watch as Your Phone
Will the Watch allow you to go all day without your phone? If you use your iPhone largely as a phone, the Watch is a perfectly good all-day replacement; if you use your iPhone as a smartphone, you will want to use something more powerful than the Watch at some point during the day. Essentially, the Watch does things like responding to quick texts, placing calls, and surfacing urgent email really well. In many ways, it works better than the phone. Many users set up the Watch to screen out all but the most crucial notifications. This brings the important into greater relief. Because the only folks who can reach me on my watch are immediate family and my boss (and his boss), I jump when it buzzes. Since anyone can reach me on my phone, I don't pay as much attention to the notifications. But for most everything else, the phone is unsurprisingly a better device. 
The Bottom Line
When the Series 3 was announced, we put together a brief post with our initial thoughts. Essentially, we tried to locate the product's audience by saying: it's good for the health and wellness set, really good for the fitness set, and OK for the hard-core athlete set. We stand by that overview. This Watch is a device that most readers could benefit from. If you're still using an original Watch or are looking to buy your first wearable, the Series 3 is the tool Apple always wanted to build: a fitness tool with smartphone capabilities too useful to take off.
Lead Photo: Courtesy of Apple