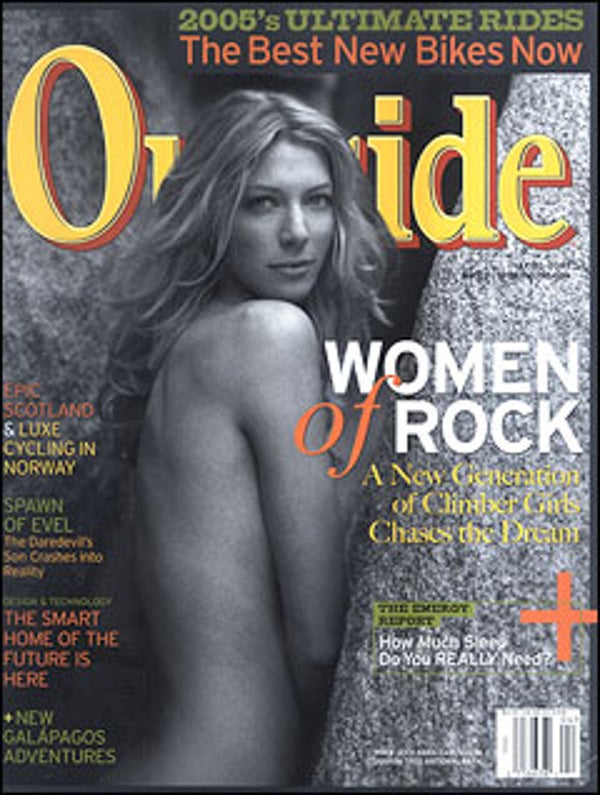 Outside Magazine, Apr 2005
---
F E A T U R E S
THE AXIS OF ECO
From high-style homes to great gear, fine food, and even movie sets, earth-friendly products and design have gone upscale and downtown. We survey the hottest goods for deluxe green living.
Harmony House The low-impact residence. By Florence Williams
Revel Without a Pause The new and improved bad food. By Kimberly Lisagor
PLUS: Aspen's enviro-makeover , smart cars , sweet mobile homes , eco-appliances , skateboarding's good wood , and more
COVER STORY
BABES ON BELAY
When four twenty-something girlfriends head out on a two-month climbing odyssey, the road rules are simple: No guys (yeah, right), shared gear (of course), and no talk about real life until the end (climb on!).
By Elizabeth Weil
THE HIGH HILLS OF FREEDOM
In Scotland, ambling around the countryside is a national pastime. And few goals are more noble than tagging the tops of the mighty Munros—all 284 of 'em.
By Rob Buchanan
REVIEW: BIKE SPECIAL
STATE OF THE ART
We have seen cycling's future, and it's built with carbon fiber, handcrafted aluminum, and flawless suspension. Welcome to the sweet spot, where aerospace engineering meets total two-wheel performance.
By John Bradley
D E P A R T M E N T S
DISPATCHES
» You're such a DRY TOOL ! Some crazy Coloradans are climbing with ice axes—but not on ice
» BIODYNAMIC WINE knocks the competition sideways with a cosmic buzz that goes way, way beyond organic
» Why do we always rush to blame the dead when a KILLER AVALANCHE strikes?
» INSURANCE FOR THE INVINCIBLE: A cool new Blue Cross policy covers biffs, whippers, and wipeouts, brah
» ROBBIE KNIEVEL , son of Evel, lands a reality show
» THE NEXT ED ABBEY? Jordan Fisher Smith's Nature Noir vividly illustrates the decline of California's wilderness
» Ecuador's GALÁ;PAGOS ISLANDS , with all those bizarre boobies and swimming iguanas, just got even more fantastic. Check out these four evolutionary excursions.
» THE WILD FILE explores crooning spiders, the ski resort closest to the equator, and whether ferrets and other critters have orgasms. PLUS: The most nutritious foods on earth.
STYLE
We head to Marfa, Texas, the most sophisticated little town in the middle of nowher, for our gigantic blowout of GROOVE-READY SPRING STYLE .
BODYWORK
Using TAI CHI , our writer kicks her tennis, running, and kayaking to the Zen level by fusing breath, balance, and motion. And we show you the best postures for your favorite sports.
By Katie Arnold
THE HARD WAY
In a cycling tour of Norway's spectacular back roads, our king of suffering teams up with a pal who prefers plush duvets to a sleeping bag, and discovers the SWEET SHAME OF THE PLEASURE PRINCIPLE .
By Mark Jenkins
OUT THERE
World-renowned snooze expert Dr. Claudio Stampi teaches round-the-world solo sailors how to thrive on virtually ZERO SLEEP . His strategy? Knowing when it's time to take a nap.
By Tim Zimmermann