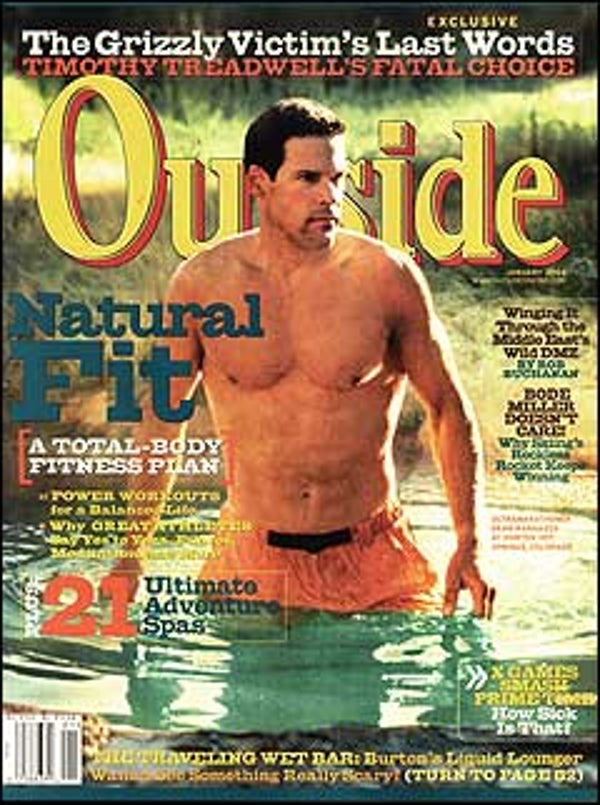 Outside Magazine, Jan 2004
---
F E A T U R E S
GATE CRASHER
U.S. Ski Team superstar Bode Miller refuses to play by the rules, follows his own wild training regimen, and parties whenever he wants to. Can his coaches do anything about it? Yeah. They can get out of his way and pray that he hangs on for the long haul.
By Bill Gifford
UP IN THE AIR
Smack in the center of the Middle East's perpetual war zone is a flyway for half a billion migratory birds. With trouble all around, a few spirited environmentalists are on a mission to save the threatened species—and to build some rare human bridges in a battered land.
By Rob Buchanan
THE BOOF WILL SET YOU FREE
Kayaker Ed Lucero made history last summer by hucking off Canada's 105-foot Alexandra Falls. Now that the ringing in his ears has subsided, we catch up with the new record holder to ask him a few questions, like: Hey, Ed, have you completely lost your mind?
By John Galvin
IF YOU ARE WHAT YOU EAT, HE'S DEAD MEAT
Inspired by a 100-year-old cookbook that's heavy on wild game, boozy recipes, and stinky ingredients, an unashamed carnivore hunts down and whips up a grand feast. Take a dive into the belly of a beastly meal.
By Steven Rinella
BODYWORK AND DESTINATIONS SPECIAL
FIT TO THE CORE
Listen up: There's way more to achieving peak fitness than strength and cardio training. Here's how to unite body, mind, and soul to transform yourself into a Whole Athlete.
Breathe In. Breathe Out. Getting started. By Paul Keegan
Wellness Secrets of Adventure Athletes
The Top Ten North American Spas
PLUS: The best urban retreats ; luxe international adventures ; a spa virgin takes the plunge ; and more.
D E P A R T M E N T S
DISPATCHES
An Outside exclusive: Grizzly activist TIMOTHY TREADWELL 's final letter from Alaska's Katmai National Park—written not long before his beloved bears took his life—opens an angry debate over the boundaries between humans and untamed animals. PLUS: The X Games push EXTREME SPORTS into prime time; fabled polar explorer WILL STEGER embarks on a seven-month, 3,000-mile dogsled traverse of Nunavut—in the middle of the Arctic winter; and more.
THE WILD FILE
Why does your appetite take a powder at high elevations? How did the elephant get its trunk? Should we be bundling up for the next ice age? How many trees does it take to oxygenate one human?
By Brad Wetzler
THE HARD WAY
On a yearlong sabbatical in southern SPAIN , a perennial traveler unlocks the secret adventures of living abroad.
By Mark Jenkins
REVIEW
Don't be fooled by the cool: When the weather turns frigid, you need liquids more than ever. Good thing the latest high-tech HYDRATION SYSTEMS flow on those frosty days. PLUS: GLOVES that fit every hand and sport; a portable SLOPESIDE BARSTOOL (complete with drink cooler!); and more.