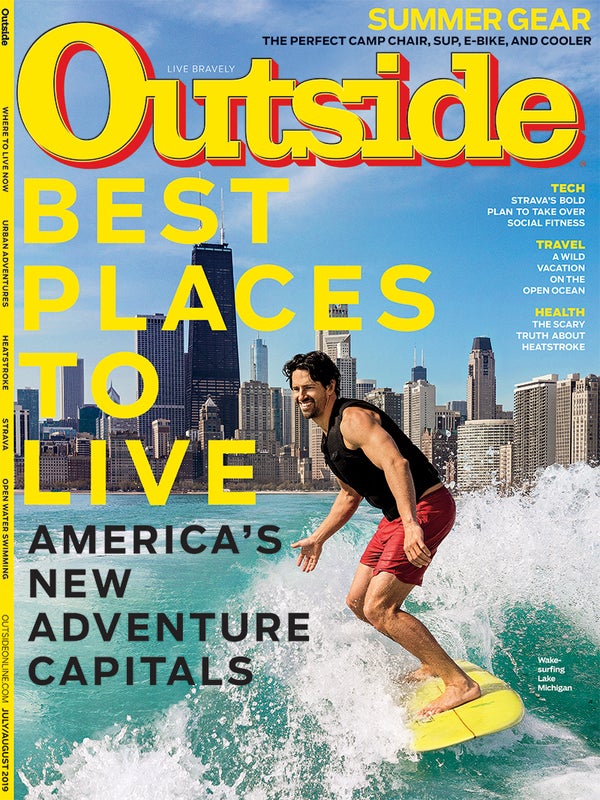 Outside Magazine, July/August 2019
Stories
How these photographers get outside in the biggest cities in the United States
Seattle has a lot to offer city folk—a thriving job market, world-class culture, and all the pour-over coffee you can drink. But for those who need frequent and fast escapes from the metropolis, the shores and woods of Puget Sound's islands are only a boat ride away.
---
Features
We're in the Deep End Now: Like the rest of us, Tom Vanderbilt was ­dreaming of a new kind of vacation. He wanted adventure and a physical challenge, but also a trip that would appeal to his wife and young daughter. The answer: swimming in the open ocean, day after wet, wild day.
The Next King of the Mountain: Strava is growing fast, adding roughly a million users a month, and it has lofty goals to expand far beyond its old identity and become the hub of social fitness. Can it succeed? —Joe Lindsey
Best Friends for Now: You know when you meet a stranger during an adventure, form a bond, vow to keep in touch—and then the whole thing fizzles out? Don't feel alone. As Chuck Thompson explains, firefly friendships are an outdoor rite of passage, and in their own strange way, they're magic.
Redline: Your head is throbbing, your muscles are cramping, and your heart is racing. Then you get dizzy and the vomiting starts. This is what it feels like to die from heatstroke—and how to know when you're in danger. —Amy Ragsdale and Peter Stark
Dispatches
America's Best Cities: Our biggest burgs have become thriving adventure hubs, home to a new breed of outdoor athletes who paddleboard before work, bike singletrack at lunch, and hit the climbing wall before dinner. Here's where and how to join the fun. Plus: four photographers capture urbanites at play.
Commuting: Tips from four overachieving professionals.
Bike L.A.: Who says the City of Angels can't be a great place to ride?
Camera Upgrade: A revived classic that's perfectly suited to street snapping.
Church Climbing: Sanctuaries are transforming into heavenly gyms.
Park Kit: Everything you need to claim your turf.
Miami Murals: How a nonprofit is using art and technology to confront climate change.
Apartment-Friendly Gear: Big toys that stow small.
Road Running: Unsanctioned races offer a slice of New York City.
Adventure Dogs: Five breeds for city living.
The Outsider: Evo founder Bryce Phillips.
E-Bikes: Three rigs that can carry as much as a car.
Foraging: A beginner's guide to wild eats.
Style Special: In Seattle, the water and woods of Puget Sound's islands are just a boat ride away.