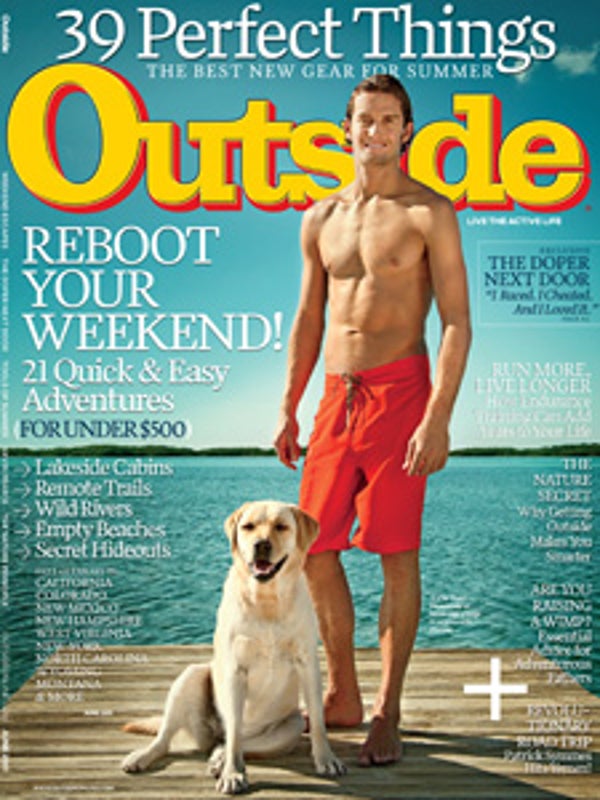 Outside Magazine, Jun 2011
---
exposure special
BUZZED
To capture an American West ravaged by overdevelopment, landscape photographer Michael Light takes to the skies, leaning his large-format camera out of a single-engine aircraft affectionately dubbed Zoe. The images he brings back are gorgeous, illuminating, and all too often disturbing. By Jeff Gordinier
PLUS: See a photo gallery of Michael Light's images
SOME REASSEMBLY REQUIRED
Kevin Pearce suffered a near-fatal slam in the halfpipe before the 2010 Olympic snowboard trials. Six days later, he awoke from a coma plagued by seizures and severe memory loss. His competition days are over, but is there a place for him in the sport he gave everything to? By Jonah Lehrer
the guide
FATHER PLAYS BEST
Having kids doesn't have to mean shelving the mountain bike/skis/Everest summit bid. But you shouldn't be ramming adventure down their throats, either. Here are six steps to instill a passion for the outdoors in your next generation. Plus: Ian Frazier, Mark Singer, and others on nature-bonding with Dad.
SAND STORM
With demonstrations sweeping Yemen, Patrick Symmes landed in the country for a long-planned excursion. A travel piece was the plan—a mix of scuba diving and desert exploration in a country full of exotic history and Al Qaeda menace. The tourists were there, all right, but so were the riot police and pistol-flashing National Security goons.
PLUS: See a photo gallery of photographer Marco Di Lauro's images
departments
DISPATCHES
First Look: Cycling prodigy Taylor Phinney is already one of the best time-trial specialists in American history, and he's only 20. But will he—or anyone—ever escape Lance's shadow?
News from the Field: Endurance-cycling nut Jay Petervary's 7,000-mile challenge; the slow demise of surf films; Greenpeace's new Rainbow Warrior.
The Wild File: The benefits of cold plunges, the limits of high-altitude living, and the portents of beached whales.
Epic: Amazon swimmer Martin Strel tackles the mighty Colorado for world peace—and a new TV show.
XX Factor: South Africa native Ursula Grobler is out to prove she is the best lightweight rower on the planet.
Books: A year after the BP oil spill, two authors assess its impact on the Gulf; a search for the reason humans hate sharks.
STYLE
Sunglasses: Get 'em while it's hot.
DESTINATIONS
Weekend Escapes: Summer was made for quick getaways. Here are the 21 best easy-out adventures, from California to Michigan to Maine—all for $500 or less.
THE ESSENTIALS
Tools of Summer: All the gear you need to rock our favorite sun-season events, from Crankworx to the Teva Mountain Games. Plus: Gauley Fest and Targhee Fest.
BODYWORK
In the Lead: Think aging's effects are genetic? Think again. That morning jog could add years to your life.
Fuel: Ultrarunning phenom Geoff Roes's pre-race lasagna.
Tools: The seven best performance-enhancing gadgets.
columns
DROPPING IN
In the interests of science, amateur cyclist Andrew Tilin spiked his system with testosterone for a year, cheating his way through a dozen races. It elevated his finishes and was shockingly easy to obtain. All of which poses the question: How many other dopers are burning up the weekend circuit?
NATURAL INTELLIGENCE
He made the case that today's children suffer from nature-deficit disorder. Now author and environmentalist Richard Louv, in an excerpt from his new book, The Nature Principle, argues that kids aren't the only ones missing out.
plus
BETWEEN THE LINES
LETTERS
PARTING SHOT