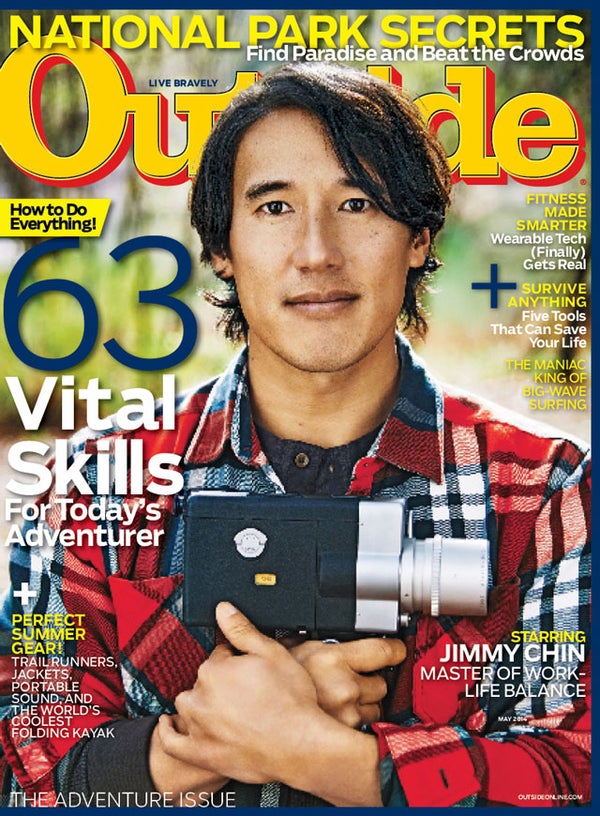 Outside Magazine, May 2014
How to do everything: 63 vital skills for today's adventurer
---
THE ADVENTURE ISSUE
Bonfire of the Humanities
When jihadis burned the ancient manuscripts of Timbuktu, it was a despicable act of vandalism. Then reports surfaced that many of the books had survived. Patrick Symmes embarks on a journey up Mali's Niger River to see the truth for himself.
Ride It Like You Stole It
On the remote coast of Portugal, Garrett McNamara is chasing the biggest wave ever ridden—and making himself the most famous surfer on the planet along the way. So why won't the surfing world get on board? By Bill Gifford
Baked Alaska
Nothing is farther out there than Aniakchak National Monument, the least visited site in the national park system and a trippy lavascape of glowing green water and candy-striped walls. But the place can get crowded—with the biggest brown bears on earth. By Christopher Solomon
Poetry Slam
Eliza Griswold was four months pregnant when she traveled to the lawless border between Afghanistan and Pakistan. If you think that sounds brave, wait until you hear about the Pashtun women whose daring songs she went there to document.
DISPATCHES
How to do Everything: Film a descent. Fix a flat. Turn your smart-phone into a GPS. The 21st-century adventurer needs a full quiver of old—and new—school skills. Our ultimate guidebook, starring expedition guru Jimmy Chin, has got you covered.
DESTINATIONS
National Parks: Summer spells crowds in Yellowstone, but there are plenty of secret adventures to be had in America's parklands, from paddle-boarding glacier to beach-camping Hawaii volcanoes.
Active Cities: New York
Go List: New language tools, a nifty travel converter, and a better way to bike-tour.
BODYWORK SPECIAL REPORT
Wearable Tech: Fitness-boosting devices embedded in our gear will soon be as ubiquitous as the iPhone—or so we're told. But how much is available now, and how much is empty promises? Tom Vanderbilt investigates.
ESSENTIALS
Travel Gear: Tools and toys that pack light and follow you anywhere.
Trail Runners: The best new off-road kicks.
Spectrum: Fly-fishing rods for every angler.
Shells: Versatile jackets that weather anything spring throws your way.
Plus
Exposure
Between the Lines
Parting Shot