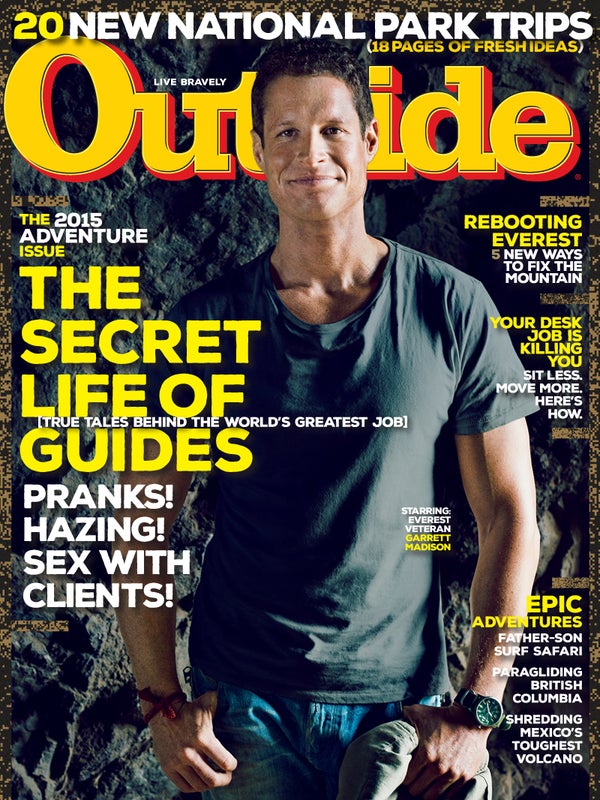 Outside Magazine, May 2015
---
Cloud Hoppers
When paragliders Will Gadd and Gavin McClurg spread their wings over the jagged, frozen spine of the Canadian Rockies last year, they were embarking on one of the most insane long-distance flights ever. By Michael Behar
The Secret Life of Guides
They get paid to climb mountains and raft whitewater. But guiding isn't all a dream—not with whiny clients, lousy tips, and the occasional colleague pranking you in a gorilla suit. By Christopher Solomon
The Road Goes On Forever
First she escaped a notorious cult. Then her boyfriend was killed by a crocodile in the Congo. So Juliana Buhring left it all behind by cycling around the world—and she's still rolling. By Grayson Schaffer
Crux Time
The avalanche that killed 16 Sherpas on Mount Everest last spring hasn't stopped crowds of climbers from flocking to Base Camp. Anna Callaghan and Molly Loomis map out the dangers of another controversial season.
Vertical Snap
Forty years after his father taught him to surf the empty, picture-perfect waves of Mexico's sprawling Pacific coast, Norman Ollestad returns with his own son—and finds that tough love is just as difficult to give as it is to receive.
EXPEDITIONS
The Ultimate Weekend Escape: Fly to Mexico on Friday. Climb an 18,500-foot volcano. Ski down. Be home in time for Monday-morning coffee. What could go wrong? By Brody Leven
DESTINATIONS SPECIAL
National Parks: The Park Service turns 100 next year. Get a jump on the crowds and explore our favorite hidden corners, empty spaces, and wild places in ten iconic parks. Plus: Exposure shots from Yosemite, Zion, and more.
BODYWORK
In the Lead: Biohackers are going beyond Bulletproof coffee with performance shortcuts they claim will lead to You 2.0.
Do It Better: How to avoid being killed by your sedentary desk job.
Pulse: Fruit and veggie gels, a power meter for runners, and wireless earphones that measure your heart rate.
My Body: Ultrarunner Max King on the value of heavy rocks and dark beer.
STYLE
Watches: Back-to-the-future classics.
ESSENTIALS
Wanted: Patagonia's retro rugby shirt.
Upgrade: Live large with the perfect five-star camping setup.
Stress Tested: Bouldering basics.
Outfitted: Finally, functional hiking shoes with style.
Plus
Exposure
Parting Shot