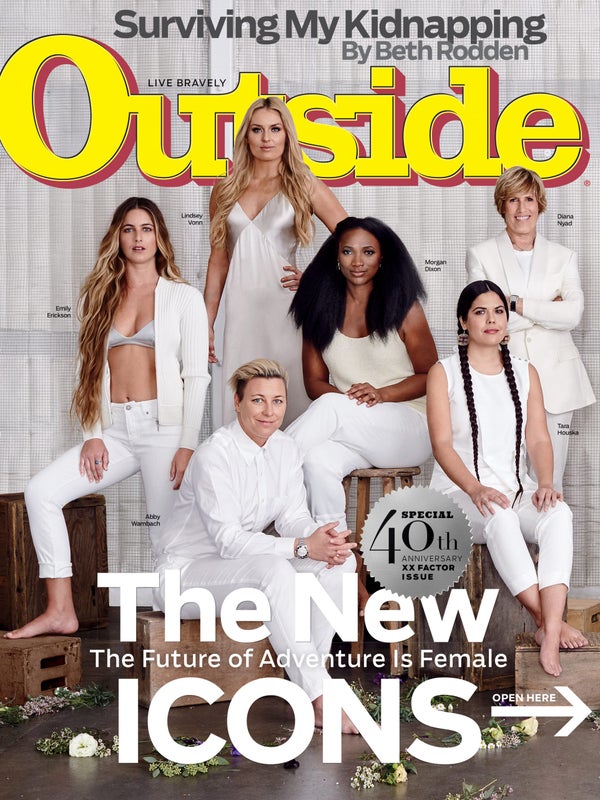 Outside Magazine, May 2017
---
Women's Issue Features
The Longer the Race, the Stronger We Get: In some of the owrld's most brutal endurance events, women are leading the pack, boosted by mental stamina and the grit to suffer hard.
We Tell It Like It Is: From the outside, Beth Rodden's life looked like a page from a climbing cataglog. But it took her years to come to terms with her perfectionism, her marriage, and a terrifying kidnapping in Central Asia.
We Go It Alone: The Appalachian Trail can be a lonely experience when you're solo, female, and black.
Our Place Is On Top: At a time when men still believed that the "weaker sex" were inferior climbers on 8,000-meter peaks, American Arlene Blum led a 1978 expedition up 26,545-foot Annapurna. The tragedy and triumph of the journey sparked a controversy that still lingers today.
We Are the Next Generation of Rippers: Today's Girl Scouts bring in $800 million from all those Tagalongs and Thin Mints. And thanks to a renewed emphasis on the outdoors, more and more of them are taking risks, having adventures, and building the self-confidence that comes from getting outside.
Essentials
Our Gear is Finally Catching Up: For decades, outdoor brands gave little attention to women's products. That's changing fast. Check out our favorite women's running, road biking, hiking, surfing, yoga, and fly-fishing gear.
We Have Found the Cure! (Sort Of): We're being sold detoxes, colonics, and weeklong fasts. But will the suffering actually make us feel new again?
Nevertheless, We Persist
Powerful, Strong, Accomplished, Compassionate, Badass: Here are ten women leading the way in sports, health, and activism—and to a better future for us all: Morgan Dixon, Vanessa Garrison, Abby Wambach, Emily Erickson, Lindsey Vonn, Erin Trieb, Tara Houska, Mira Rai, Diana Nyad, and Melissa Arnot Reid.
Parting Shot
Between the Lines