Something Radical This Way Comes
Now more than ever, the world could use some bright ideas. Like these.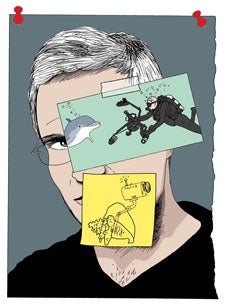 Heading out the door? Read this article on the new Outside+ app available now on iOS devices for members! Download the app.
Action Speaks Louder Than Nerds
The Cove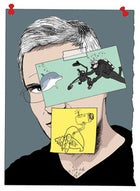 Louie Psihoyos
With his Oscar-winning documentary, The Cove, director Louie Psihoyos showed us that the best way to inspire film audiences to take on a cause is to keep them on the edge of their seats.
BEFORE HE WON the Oscar, Louie Psihoyos stood up the Academy. On March 4, three nights before the Oscars, Psihoyos, founder of the nonprofit Oceanic Preservation Society and director of the dolphin-slaughter exposé The Cove, was scheduled to appear at the Los Angeles mayor's mansion with all the other nominees. But something came up.
While the Hollywood royalty clinked glasses at the mansion, Psihoyos sat in a truck in the parking lot of a Santa Monica sushi restaurant, wearing a microphone and a wire. He had heard that the restaurant, the Hump, served illegal whale meat. With him was his right-hand man, Charles Hambleton, assistant director of The Cove and OPS's official "director of clandestine operations." In another truck were agents from the U.S. Fish and Wildlife Service and the National Oceanic and Atmospheric Administration. The group listened in as two women wearing wires ordered, then slipped their would-be supper—endangered sei whale—into plastic bags for DNA testing.
Three nights later, The Cove won the Oscar for best documentary, making Psihoyos, a first-time filmmaker, something like a rookie hitting a game-winning home run in the World Series. (Backstage, George Clooney complimented Psihoyos, noting the obvious: The Cove is better than Ocean's 11, because it's real.) The following day, Fish and Wildlife busted the Hump, earning Psihoyos a front-page story in The New York Times. Oprah called. A few weeks later, the morning after filming a segment on her show, Psihoyos flew to Seoul, South Korea, where Hambleton had found another whale-serving restaurant to bust.
It was a hectic month, but Psihoyos, 53, has become accustomed to such juggling. In the past two years, he's spent fewer than 80 days at the Boulder, Colorado, home he shares with his wife, Viki, a former dancer with the New York City Ballet, dividing the rest of his time between film festivals, speaking engagements, and shooting for his next project, a 3-D look at extinction in the oceans. After a decade in which the documentary has evolved from PBS special to de rigueur format for everyone from NYU grad students to Martin Scorsese, Psihoyos has suddenly become the "It" boy of true-life filmmaking. And while solid fact-finding journalism gave The Cove heft, what sets it apart is an electrifying jolt of blockbuster-type action and tension: The Bourne Identity meets Nova.
"It's absolutely thrilling to watch, it enrages you, and it calls people to action," says David Courier, senior programmer for the Sundance Film Festival, where The Cove premiered in January 2009, winning the audience award for best documentary. "The lesson for filmmakers is that if you want to call attention to a cause and if you can do it in a way that satisfies the desires of everyday moviegoers, that's a really smart way to go."
In a post–Inconvenient Truth world, it's hardly news that investigative filmmaking can sway public opinion. But by ditching the established documentary formula (interviews + narration + piecemeal clips) used by everyone from Al Gore to Stacy Peralta to Michael Moore and instead gripping viewers with a fast-paced and viscerally horrifying tale, Psihoyos has upended notions of how nonfiction films can convey serious messages.
The funny thing is, Psihoyos never intended to make a thriller. His vision for The Cove had been a heady film about overfishing and mercury poisoning, with the dolphin slaughter standing in as a metaphor for human abuse of the oceans. The fact that OPS spent months in Taiji, Japan, hiding out in camo, using thermal cameras to film fishermen slaughtering hundreds of dolphins, was incidental. He planned to include the footage as DVD bonus material. That changed only after he hired two documentary veterans, editor Geoffrey Richman and writer Mark Monroe, to help craft his 1,000 hours of raw film.
"When I saw what Louie considered the B roll, I said, 'You're going to have a hell of a DVD extra,'" says Monroe. "It took a couple of glasses of wine to convince Louie. I said, 'This needs to go in the film. You're talking about putting black ski masks on! That's fun!'"
But while the special-ops tactics may come across as a game, filmmaking to Psihoyos is deadly serious work. Like Paul Watson and Sylvia Earle, he's evangelical about the fate of the oceans. When we meet at OPS's headquarters, a solar-powered office in his backyard, Psihoyos tells me that OPS is "in the save-the-world business." A large, imposing man, he speaks from the gut, like a trained actor, and frequently rubs at his eyes. His OPS colleagues say that while shooting they've woken up at 4 A.M. to find Psihoyos online, doing research. "I have this jihad," he explains.
The jihad is new. Psihoyos's first life was photography. Raised in landlocked Dubuque, Iowa, he studied photojournalism at the University of Missouri, where he won the prestigious College Photographer of the Year award. National Geographic hired him as a staff photographer at age 23, and Psihoyos soon became known for his willingness to travel quickly and often; for an ability to translate abstract ideas (he shot stories on sleep and trash); and for his obsession with the perfect shot. In 1998, he rented out the Orlando Magic's arena to shoot Michael Jordan for what would become one of the bestselling covers in the history of Fortune magazine.
Also that year, he met Jim Clark, the billionaire founder of Netscape. Clark started inviting Psihoyos, a longtime diving aficionado, on dive trips all over the world. In 2002, the two were in the Galápagos when they saw an illegal longline fishing boat. Clark said, "Somebody should do something about this." Psihoyos responded, "How about us?" Clark wrote him a big check, and OPS was born.
Psihoyos first heard about Taiji's dolphin slaughter in 2005, from Ric O'Barry, the Flipper trainer turned activist who stars in The Cove. Part of the film's magic stems from the fact that there was not much of a plan. OPS simply showed up in Japan with a lot of fancy equipment, including a dolphin-shaped blimp outfitted with cameras. ("We liked to joke that we were all professionals," Psihoyos says, "just not at this.") But the same qualities that make Psihoyos a terrific photojournalist—artistic eye, monastic work ethic, affinity for risk—drive the story. You would not find Al Gore or Michael Moore pulling on XXL camo, risking jail time alongside a team of novices.
If the ultimate measure of an investigative documentary is what it does to spur tangible change, the jury is still out on The Cove: as you read this, fishermen are killing dolphins in Taiji. But if the measure is creating a groundswell of public outrage, then The Cove has few peers. This past September 2, the day after the dolphin hunt started, Ric O'Barry delivered 1.7 million petitions in protest from 150-plus countries to the U.S. Embassy in Japan.
"It's had a big impact," says Doe Mayer, co-head of the Documentary Production program at the University of Southern California's film school. "My students have been very motivated by this. They've spoken about the possibility of activism based on a documentary."
Psihoyos hopes to have an even greater effect with The Singing Planet, which will be completed in 2013 and focus on the major cause of the marine extinction crisis: the burning of fossil fuels. The idea is to take a nuanced look at issues like acidification and the depletion of plankton. Which might sound a little, well, quiet—if not for the filmmaker. After all, Psihoyos has busted two whale-serving restaurants on hidden cameras, and he's spent the past six months shooting from Abu Dhabi to the Gulf of Mexico, where he hung out of helicopters, filming oil-slicked dolphins.
"I do love the Ocean's 11 aspect of the last film," Psihoyos told me, "and I think we can really bump that up a notch. Our whole life is about picking fights."
It's Time for Maps to Stand Up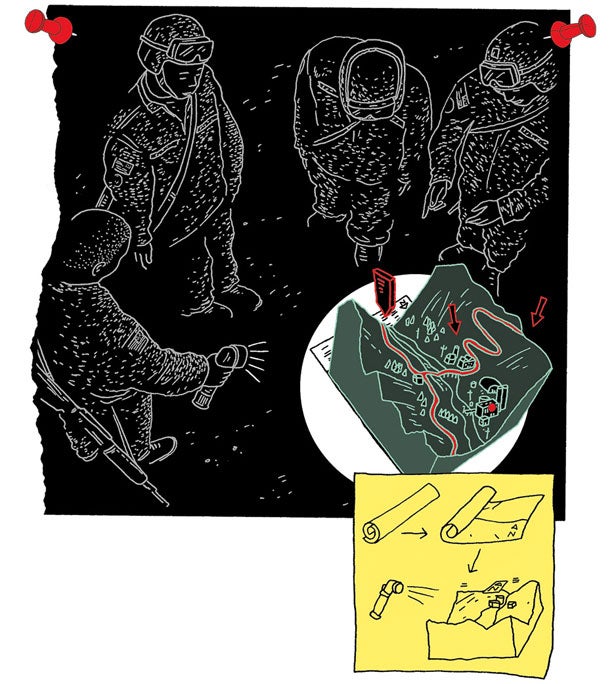 IT'S LITERALLY a matter of life and death: soldiers navigating mountain passes and urban alleyways need the fastest and safest route from A to B. Satellite-photo maps, the standard tool for decades, often have a serious drawback: no contour lines, and thus no depth. What looks like a curb could be a 20-foot wall; a seemingly shallow ditch might be impassable—and trap them in a kill zone.
Enter the holographic map. Austin-based Zebra Imaging has developed flexible plastic sheets that morph into three-dimensional holograms when exposed to a halogen or LED flashlight beam, with peaks and buildings literally rising off the page. And unlike paper printouts and GPS units, the holographic maps—of which the military now has 8,000 in Afghanistan and Iraq—can be stomped on, soaked, and stuffed. "They don't get old, they don't break, and you don't have to worry about the battery dying," says Michelle Kalphat, of the Army's research-and-development command.
Zebra starts with three-dimensional images pulled from satellites, then records thousands of perspectives of the same image onto photosensitive film. Each view is printed with lasers as a series of squiggles that reflect light in a specific direction, intensity, and color. Viewed together, layered one atop another, they give the illusion of height and depth. Printed on 3-by-2.5-foot panels, the sheets can be tiled together into 10-by-9-foot maps and etched with latitude and longitude lines and compass directions. Zebra has also begun work on maps for disaster-response teams that can show how different areas will be affected by rising floodwaters, depending on the angle from which the map is viewed.
We know what you're thinking: so when do I get to tote my 3-D map into the backcountry? It'll be a while. The maps start at $1,500 and take three hours to print on Zebra's room-size machine.
Old Surfboards Don't Have To Die—They Can Multiply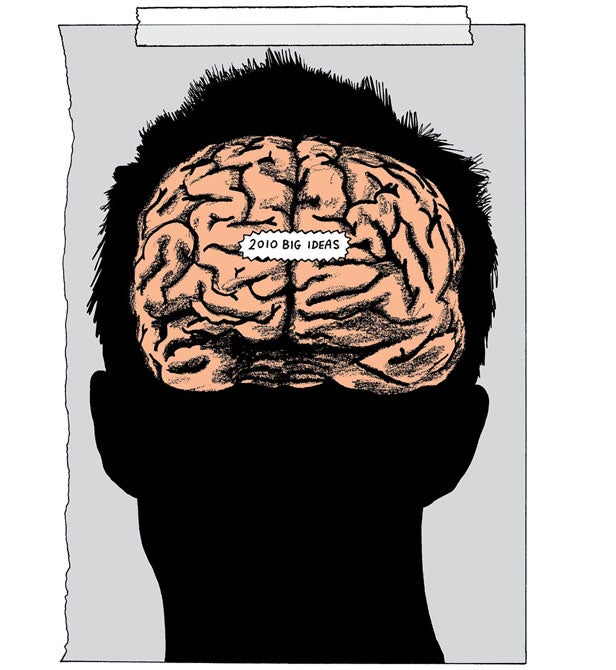 MODERN SURFBOARDS may look beautiful, but they're inherently filthy—almost every material in them is toxic. Efforts to use green alternatives—think soy- and sugar-based cores—have fallen short because they don't surf like normal boards.
That's why Joey Santley decided that instead of re-creating the surfboard, he'd just reuse it. A San Clemente, California–based surfer whose father was a board manufacturer, Santley founded the ReSurf Foundation in 2006 along with several friends with the idea of recycling the waste created in board-making. They started with the dust that piles up when shapers carve polyurethane-foam "blanks" into surfboard cores. Initially, they worked on using the dust in concrete and asphalt mixes, then decided to try to recycle it into new blanks.
That's the simple idea behind Santley's new company, Green Foam, which produces blanks made of 40 percent recycled polyurethane. They perform just like standard blanks and are being ridden by top pro surfers, including Rob Machado, who has a signature Green Foam board with celebrated manufacturer Channel Islands. Santley expects to sell some 3,000 blanks this year and 12,000 in 2011, thanks to a licensing deal with industry goliath US Blanks.
Of course, partially recycled boards hardly solve surfing's waste problem. But by infecting the mainstream board-production process, Green Foam is having a real impact. "It's a great success," says Frank Scura, executive director of the Action Sports Environmental Coalition, "and they're going to stimulate more change."
That's what Santley is after. "This is a step," he says, noting that he's researching recycled neoprene. "We'll keep pushing forward."
Adventure Loves a Crowd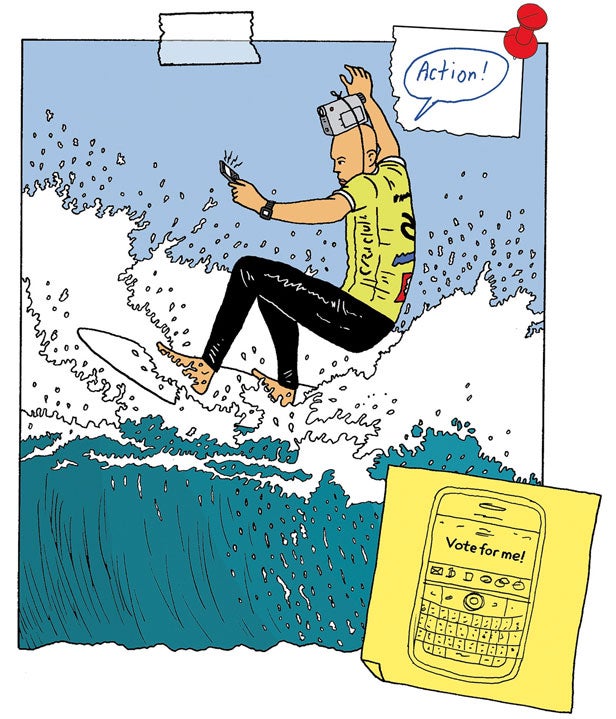 KELLY SLATER was about to lose. So he decided to go all in and … tweet.
No, he wasn't trying to sweet-talk a judge at a surfing event. Slater was rallying his fans to help him make the cut for a video contest hosted by Innersection.tv, a new Web site that calls itself a "platform for creating a surf movie." Aspiring filmmakers team up with a surfer to submit clips, Innersection members vote for favorites, and at the end of the year, 20 winners have their clips edited together by surf-film kingpin Taylor Steele. The top-rated clip overall also earns a $100,000 prize.
Crowdsourcing has officially arrived in the world of adventure. Freedom to Roam, a Denver-based nonprofit working to protect animal migration corridors, has signed on some 1,500 "citizen naturalists" to post animal observations on its new Witness for Wildlife Web site. Similarly, San Francisco transportation officials called on bicycle commuters to help map new bike lanes with a smart-phone app called CycleTracks, which records your route as you pedal. Even serious scientists are getting comfortable with outsourcing to the masses: one archaeological expedition in Mongolia asked desktop-bound explorers to scour satellite photos for the lost tomb of Genghis Khan.
Still, while emerging technologies may have us turning to the crowd for answers, sometimes we still prefer to follow the leader. Just ask Slater. In the waning hours of the Innersection.tv contest, his tweet garnered him the ratings to vault into the finals.
The Answer is Flow
MOUNTAIN-BIKE trails are often a disappointment—either over-the-handlebars steep and littered with hazards, or flat, easy, and boring. That's because most of them weren't designed for bikes; they were cobbled together from existing hiking paths, fire roads, and ski runs.
Thankfully, that's changing fast. "There's a big shift toward building trails that the average rider can enjoy," says Dave Kelly, co-owner of Gravity Logic, a Whistler, B.C.-based trail-design firm. "The idea is to create fast, flowing terrain." The key word here is flow, which has become the industry-wide term for trails that cruise like a fat-tire roller coaster over the terrain. "Flow-inspired trails are purpose-built to let gravity carry a biker down a succession of berms, rollers, and other features," explains Mark Eller, communications director of the International Mountain Bicycling Association (IMBA). "This is trail engineering to make riding more fun."
The concept of flow isn't new—Kelly built early iterations at Whistler Blackcomb in the late nineties—but the full-on embrace of the philosophy is. IMBA currently has flow projects in the works on public and private lands, from mountain resorts to national forests to municipal bike parks, where cities are eagerly building "pump tracks," loops you can ride without pedaling. "The question is, Where are they not building flow trails?" says Joey Klein, an IMBA trail specialist who worked on two of the country's newest flow networks: Paradise Royale, in Northern California, and Rush and Maple Hollow, in Draper, Utah. Internationally, flow trails are being developed in Australia, the UK, Canada, New Zealand, and Italy, to name a few locales.
And while hardcore riders may dismiss what is essentially mountain biking's answer to the blue run, they'll be drowned out by the cheers. "No single trail will make everyone happy," offers Nat Lopes, co-owner of Hilride, a private trail-design firm, "but trails with flow will capture the biggest segment of users."
Africa Has Nothing on the Southwest
IN RECENT YEARS, adventure travel outfitters have been scrambling to devise trips that meet our rapidly evolving tastes for fresh experiences. We want adrenaline (Class V whitewater!) but comfort (French wine). We want to be eco-sensitive (carbon offsets, biodiesel transport) and culturally sensitive (native guides, voluntourism) and, post-recession, we want affordability (more domestic itineraries). Now comes along an elegantly simple mashup of all these trends: the American safari.
EcoNewMexico (eco-newmexico.com), based in Santa Fe, has begun developing a network of locally owned and managed tent camps and eco-lodges that will be run much like the classic African outposts. Native American guides will lead some of the tours of ancient ruins as well as horseback outings to spot New Mexico's version of the Big Five: mountain lions, bears, bison, gray wolves, and bighorn sheep. Other activities will include volunteer work with animals set to be reintroduced to the wild, fly-fishing for trout, and mountain biking.
For EcoNewMexico co-founders Chip and Sandy Cunningham, who for 20 years have run trips in Africa with their company Uncharted Outposts, importing the safari concept has been a long-simmering vision. "We'd come back from Africa and ask, Why don't we do this here?" explains Sandy. The company got off the ground earlier this year and started offering its first tented trips this past August, with Silver City–based Great West Trail leading groups through the Gila and Aldo Leopold wildernesses.
"In the Southwest, we have these incredible places and animals that need preserving and guides who can bring it all to life," says Sandy. "But so few people really know about it."
First Ascents Can Be Easy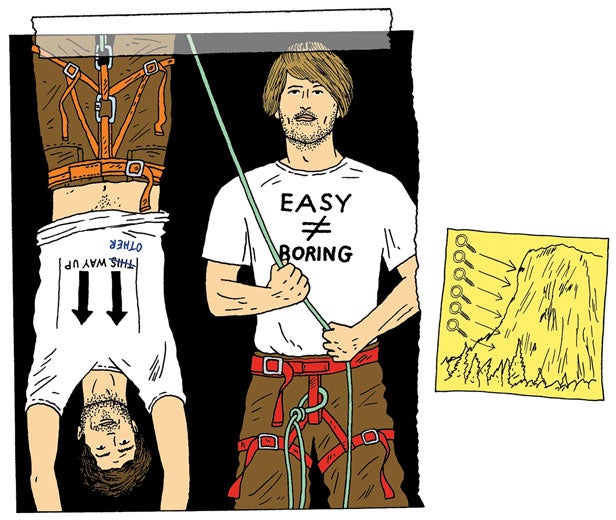 AT ITS CORE, climbing is a sport of one-upmanship, especially at the elite level. You get into the record books by climbing higher, faster, lighter, or otherwise better. So why, then, did Canadian Sonnie Trotter and climbing partner Ben Moon spend almost a week this past July pioneering the easiest route up the 1,300-foot granite face of British Columbia's Squamish Chief?
"I knew nobody else was going to do it—it just takes so much work," Trotter explains. It was "one of those deals when you say, 'Someday, someone should clean this up. People would love it.' That someone was us."
Trotter, 31, is arguably the world's best trad climber—i.e., he places his own temporary protection—having made hundreds of first ascents around the globe. Recently, he's committed himself to mostly "equipping new routes" rather than repeating the breakthrough climbs of his peers. Putting up a new route is exactly what he and Moon, a 35-year-old Oregon-based climber-photographer, set out to do on the Chief, where the easiest line was hidden by debris and plants. The pair labored siege style in their harnesses for five days, using shovels, hoes, and rakes to remove moss, muck, and rocks from a dike and series of ledges to set the 12-pitch 5.9-route they dubbed the Squamish Buttress North Face Variation. Previously, the easiest route up the Chief contained a brutal 50-foot section of 5.10c finger crack that, as Moon puts it, "bottlenecked all the climbing parties and wasn't fun for anyone."
The North Face has already seen hundreds of ascents. Meanwhile, Trotter went back to the Chief in September to set another line, this time a 5.13c. "I put up two routes this summer," says Trotter. "The easiest and the hardest."
Two Wheels Are Better Than Four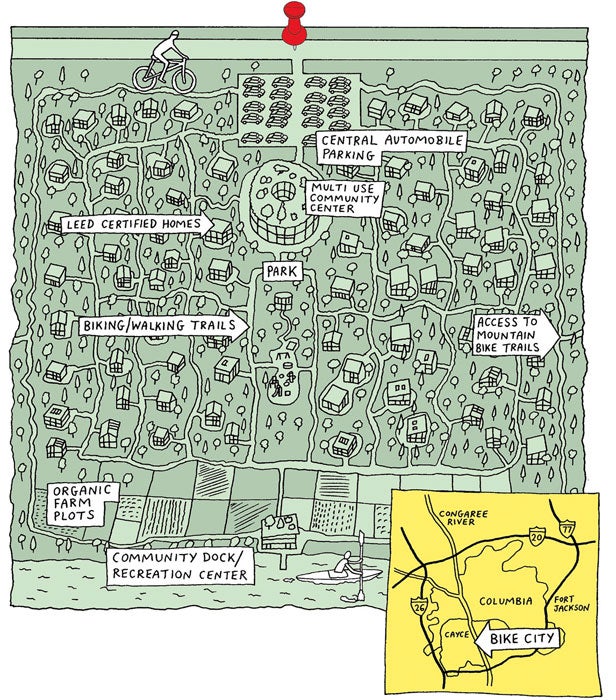 DOESN'T LOOK like much of a city, huh? Bingo. Bicycle City (bicyclecity.com), a 160-acre community now in the works in the rolling hills outside Columbia, South Carolina, has dreams of growing up to be … a village. As a prototype for a planned network of car-free burgs, the first pedal-powered, mixed-use hamlet in the nation will start small and stay that way. Initially, a handful of LEED-certified homes will anchor a lakeside parcel of forest and meadow, with an option on at least 628 additional acres—and plans for business spaces, a school, and, naturally, more trails, as well as a high-speed road-bike course. Planners envision America's answer to towns like Zermatt, Switzerland. "Bicycle City is holistic," says co-founder Joe Mellett. "We'll address climate change, childhood obesity, and alternative energy—and hope to have a great diversity of people and ideas."
But what will daily life there be like? Residents will park their cars at the edge of the village and use public carts or bike trailers to haul home any goods purchased outside of town. Prefer to ride? Nearby are the huge new state farmers' market (4.5 miles), a greenway running along the Congaree River (7 miles), and downtown Columbia (12 miles). A multi-use market center will feature a café and offer bike rentals and repairs. For green thumbs and foodies, at least two community plots will be set aside for organic gardening. A central park will feature a modern playground at one end and an entertainment gazebo at the other, and the property's surrounding forest and fields will feature some five miles of singletrack, with more planned.
Pumped?
But They Do Make 'Em Like They Used To
External frame backpack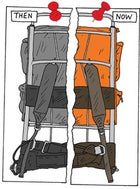 External frame backpack
RETRO. VINTAGE. Old-school. However you label it, we're all suckers for nostalgia—a fact that gets Paul McCartney a gig at the Super Bowl and has Urban Outfitters constantly restocking its inventory of buffalo-check shirts. Even in the performance-first outdoor industry, consumer hunger for that classic look has been strong enough to spur such recent developments as soft-shell track jackets and the return of red-laced waffle stompers. And yet nobody would have ever predicted this: the revival of 1960s-era external-frame backpacks.
When Greg Lowe first introduced snug-fitting internal-frame packs, in 1967, back- packers bought in big-time. Here was a pack that hugged us close on twisting ascents or when we went backcountry-skiing or climbing. Lowe's imitators went on to add all manner of features, and except for guys who kept their beards through the Reagan years, we banished our externals to the basement. There was just one problem: externals do a superior job of carrying and distributing heavy loads when you're simply hiking mellow trails. This is why companies like Kelty and JanSport never stopped making them, and externals have always had a small but loyal following.
Now, triggered by a rediscovered love of backpacking among recession-battered Americans, at least half a dozen brands are planning new external-frame models for 2011. But while the new packs' designs pay homage to hiking's heyday, they benefit from four decades of engineering innovation. "The design is old-school, the performance is full-on 21st-century," says Kelty spokesman Scott Kaier of the brand's three models, which feature lightweight, water-resistant fabrics. Likewise, JanSport's reissue of its classic burnt-orange D2 has upgrades in foam, fabric, and webbing—not that anyone can tell by looking at it.
"We purposefully hid all the new technology," says Eric Rothenhaus, JanSport's director of design and development. "You can feel it, but you can't see it."
A Photo is Worth 5,000 Acres
WHEN IT COMES to conservation campaigns, scientific evidence does little to sway public opinion. That's where the International League of Conservation Photographers comes in. Produce a photo of a polar bear cub frolicking in front of an oil derrick and the issue becomes tangible.
It works like this: The ILCP selects a threatened area and dispatches a Rapid Assessment Visual Expedition (RAVE) team assembled from its 100-plus member photographers, who include Pulitzer Prize winner Jack Dykinga and World Press Photo Award winner Daniel Beltrá. They feed their images to a carefully cultivated network of media outlets, which appreciate being handed a story on a platter. To have maximum impact, the ILCP will distribute photos just prior to public-comment periods.
Using photos to highlight endangered landscapes is an old strategy, but there's never been this kind of organized, calculated effort to distribute images with such specific intent. Since its founding, in 2005, by photographer Cristina Goettsch Mittermeier, the ILCP has helped save 5,000 acres in Mexico and enforce a primate-hunting ban in Equatorial Guinea, among other successes. In 2010, the ILCP's annual budget grew to $1.7 million and the group launched four RAVEs, twice as many as any previous year. It also celebrated one of its biggest wins yet, a ban on fossil-fuel exploration in British Columbia's Flathead River Valley, spurred, in part, by a 2009 RAVE. The backdrop for B.C. premier Gordon Campbell's announcement of the ban? A photo of the river shot by ILCP photographer Garth Lenz.
"They say a picture is worth a thousand words," offers Sierra Club B.C. spokesperson Sarah Cox. "In the case of the Flathead, it was worth about 10,000."