The On-The-Go Camp Food Showdown
There's a new brand in town. Does its dehydrated food stack up to—or shrivel before—its rivals?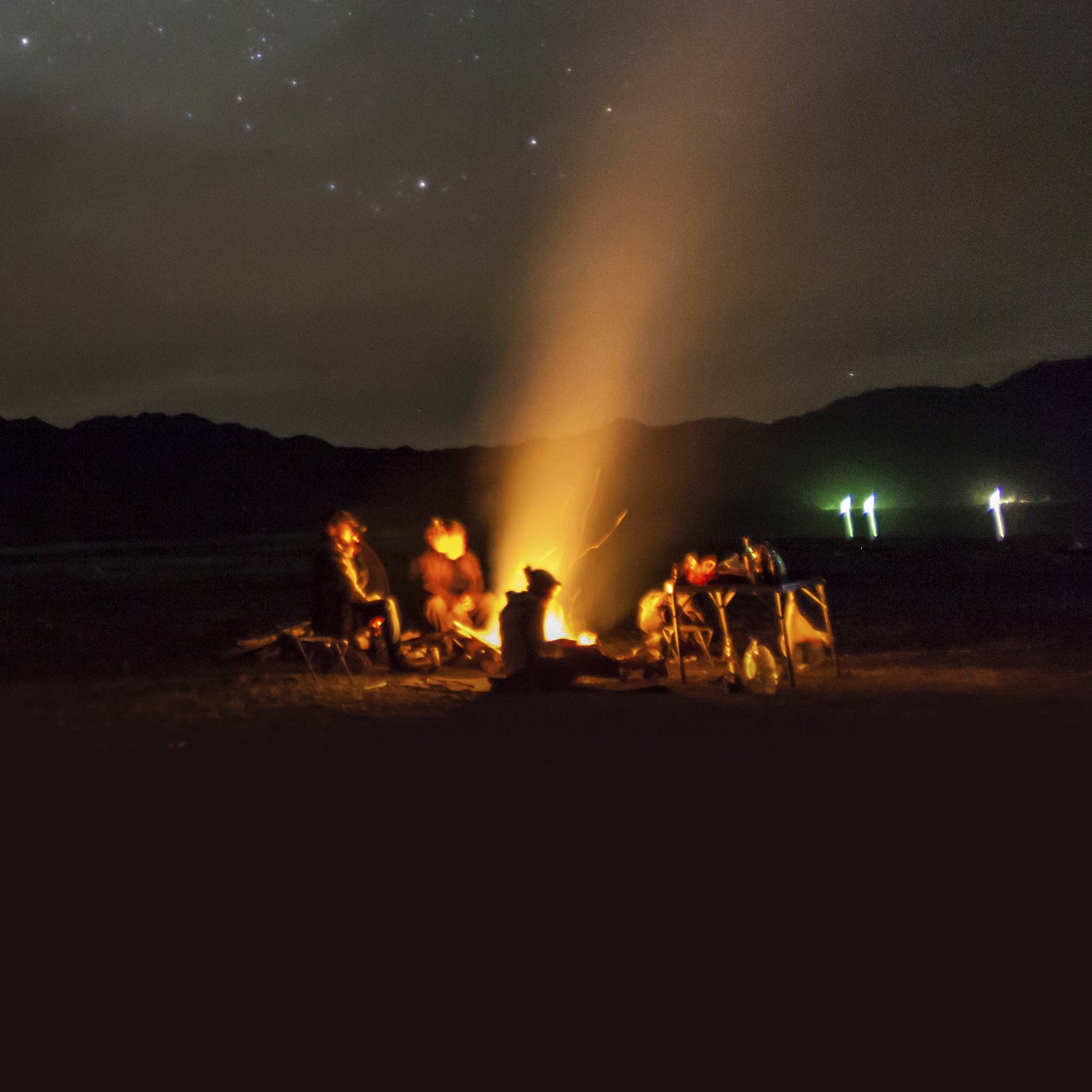 Wassiliy/Thinkstock(Photo)
Heading out the door? Read this article on the new Outside+ app available now on iOS devices for members! Download the app.
For campers and backpackers looking for the best pre-prepared backcountry meals, Good To-Go is the new contender in town. Co-founded by chef Jennifer Scism, the Maine-based company aims to make lightweight gourmet meals that outdo typical freeze-dried fare.
Scism, who co-owns Annisa in New York's Greenwich Village and has cooked at four-star restaurants, decided she needed better food options after planning a seven-day backpacking trip with her husband. So she pulled out the dehydrator and started making the kinds of meals she'd be proud of in her own restaurant. 
My fiancée, Paige, and I eat a vegan diet, and she's gluten-free. That limits options for camp food. But thankfully Good To-Go has three gluten-free flavors, two of which are also vegan (they're labeled vegetarian). We wanted to see how they stacked up against the other big names out there—Backpacker's Pantry, Mountain House, and MaryJaneFarms—so we worked up our appetites and dug in. Here are the results: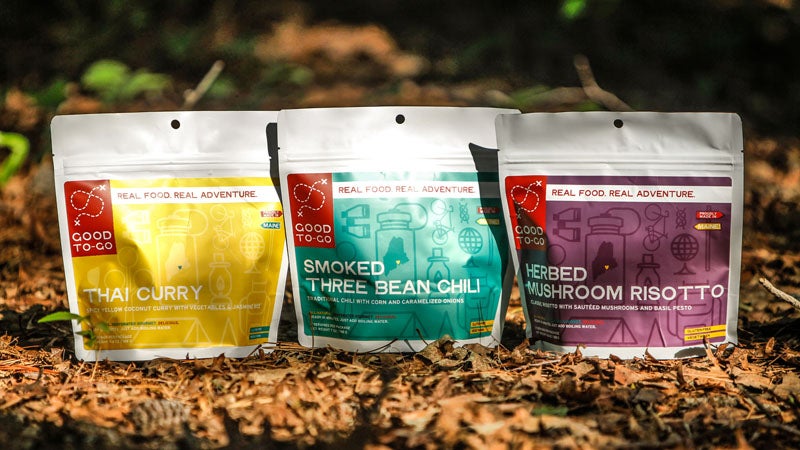 Good To-Go Three Bean Chili
Gathering firewood and setting up camp on the Chama River in northern New Mexico left us hungry. Good thing we'd brought snacks. Because Good To-Go is dehydrated rather than freeze-dried like most backpacking meals, it requires almost double the time to absorb water—20 minutes—compared to others. Expect that going in, and you're, well, good to go. When it was ready, I opened the resealable packet, and the chili was still piping hot.
The consistent first response was, "Mmm." The chili packs a lot of flavor, and it's spicy, but not over-salted like most brands. Perfect texture, too, just like you'd expect at home. At 100 grams per serving (a more realistic serving size than most offerings), the chili made for a hearty meal, the kind you want after a long day outside. ($6, 3.5 oz)
Calories: 340
; Protein: 16g; 
Carbs: 64g
; Fat: 5g
, Sodium: 360mg
Overall Rating: 9.5/10
---
MaryJanesFarm Outpost Lentils, Rice, & Indian Spice
Part two of our Chama dinner was also dehydrated, but took half the time to hydrate. Nonetheless, the rice was a bit chewy, and though the flavor was good, it didn't stand out after Good To-Go's excellent chili. MaryJaneFarms does get props for all-organic ingredients and eco-packaging that you can burn when you're done to eliminate waste. Unfortunately, the lack of insulation and no reseal option (you fold the top down while hydrating) means you lose heat for a lukewarm meal. ($6, 4.3 oz)
Calories (per pouch): 435; Protein: 16.5g; 
 Carbs: 90g; 
Fat: 2.3g
; Sodium: 780mg
Overall Rating: 8/10
---
Good To-Go Herbed Mushroom Risotto
After a 3.5-mile quad-busting hike to 11,400-foot Nambe Lake in New Mexico's Pecos Wilderness, I needed fuel. So after boiling water, I chomped into an apple and let the risotto soak. Twenty minutes later, I dove in, and I admit I didn't waste much time reflecting on every bite. But my first impression was the risotto's texture—I felt like I should be eating this on a plate at a restaurant. The mushrooms popped satisfyingly, and the flavor was subtle, but good. I was mostly satisfied, but while the serving is ample compared to other brands, I'd probably already burned most of the 410 calories it gave me just getting here. I was left wishing for just a bit more. ($6, 3.4 oz)
Calories: 410; 
Protein: 13g
; Carbs: 64g ; Fat: 10g; Sodium: 420mg
Overall Rating: 9/10
---
Backpacker's Pantry Katmandu Curry (for two)
Paige and I had just come back from a late-night music session, and we thought we'd save time by boiling up this curry dish at home. In the backcountry, a certain psychology and physical necessity tends to make your taste buds forgiving, so it's true that our home environment could have skewed the results here. Still, Backpacker's Pantry has long been my go-to when opting for freeze-dried backpacking meals, so I'm familiar with it in its proper setting.
In both scenarios, my biggest complaint is the over-salted flavor. Otherwise, it would stand up to home cooking. True, you need electrolytes after a long hike, but I found it was excessive here. And I'd normally eat the whole pouch myself, which gives me 2440 mg of sodium (ouch), yet only three grams of fat—a key requirement in the backcountry. The curry was a tad watery, too. Extra points for clear gluten-free and vegan labeling. ($6.50, 6.6 oz)
Calories (per serving): 340;
 Protein; 18g 
Carbs: 64g ; Fat: 1.5g; Sodium: 1220mg
Overall Rating: 7/10
---
Good To-Go Thai Curry 
This one has milk and anchovy, so I gave it to Paige's brother Pete for testing. He found the rice to be quite tasty, full of Thai flavor. His only complaint: the spices were a tad too sweet. But he declared it good to the last bite, which came a bit too soon to fill him up. Bring on dessert. ($6, 3.4 oz)
Calories: 380; Protein: 10g; Carbs: 56g; Fat: 14g
; Sodium: 500mg
Overall Rating: 8/10
---
Mountain House Fire Roasted Vegetable Blend
Mountain House doesn't have any full-meal options for vegans, so I opted for a side dish. While the food smelled like it was going to be very tasty, when I drained the excess water (it's in the directions, but it feels like wasting precious liquid) and ate a spoonful, the meal was bland. That's fine if you want to customize your flavor, but I didn't.
Nonetheless, I added some much-needed salt and garlic powder, but it still didn't hit the mark. Something else was missing, too. Rice would have been a good touch. The veggies were flaccid and not particularly appealing, while the beans were unremarkable. True, this is a side dish, but it's made to be self-contained, and yet I found it only works in tandem with something more flavorful. ($4, 1.5 oz)
Calories: 150
; Protein: 7.5g
; Carbs: 30g; Fat: 1g
; Sodium: 13mg
Overall Rating: 5/10
Lead Photo: Wassiliy/Thinkstock
Trending on Outside Online