Body Needs an Upgrade? Surrender to the Higher Powers at Exos
Want to perform like a pro, even with the years piling up? Nick Heil got the deluxe treatment at Exos, a cutting-edge outfit that works with NFL players and soccer stars. He came out slimmer, stronger, and more focused—the perfect upgrade for anybody, at any age, who plays hard in the outdoors.
Heading out the door? Read this article on the new Outside+ app available now on iOS devices for members! Download the app.
My brief, blissful life as a pro begins at age 49, on a September morning at the StubHub Center in Carson, California. I arrive looking like a grayer, gimpier version of the other athletes, many of them members of the LA Galaxy soccer team. Flashing my ID badge at the security guard, I head to a subterranean complex, where a company called Exos will oversee my workouts for the next two weeks.
Exos is a high-performance fitness operation that provides systematized training for anybody from corporate worker bees to special-ops soldiers to world-champion athletes. Clients have included Wayne Gretzky, "Lone Survivor" Marcus Luttrell, U.S. Soccer stars Landon Donovan and Alex Morgan, the entire World Cup–winning German national soccer team, and companies like Adidas, Intel, Porsche, and Tesla Motors. Founded in 1999 by Mark Verstegen, a 47-year-old coach and trainer from Washington State, the company operated under the name Athletes' Performance and a subsidiary, Core Performance, until 2014, when it went through a wholesale rebranding. The new name, Verstegen says, is short for "exosphere, the highest level of the earth's atmosphere. That's what we do, help people reach the highest level."
Outside Fitness Special

127 radical tips for total health.
I participate in a lot of sports, including skiing, cycling, climbing, and soccer, and I can say with confidence that I've never reached the highest level at any of them. Undaunted, I resolve to strive for my highest level, which includes unleashing some domination at a fast-approaching over-forty soccer tournament. I'm hoping to be in peak shape for it, but I've been sidelined with several injuries for weeks, watching my fitness fade.
All my activities come with challenges, but soccer is my oldest passion—or obsession, to be more accurate. I've played since grade school and still do, in local city leagues and tournaments, lately with and against the full-grown sons of former teammates. The upcoming tournament is a highlight of my year, a two-day war of attrition against teams like Man Chest Hair United and the Town Drunks, their rosters made up of dudes like me who can't quite let the dream die. 
As a center forward, I'm subject to all kinds of abuse. Off the field, my opponents may appear to be well-adjusted, mortgage-paying dads, but they morph into neon-cleated sociopaths when the whistle blows. I'm routinely shoved, kicked, punched, tripped, kneed, elbowed, head-butted, shirt-tugged, and smack-talked by these scraggly old goats, without remorse or apology. Real fitness, soccer has taught me, isn't just about strong lungs and buff pecs. It's about durability, artfully intertwined with strength, power, endurance, and mobility. 
I feel a flush of pride—I'm 80 percent pro!—but I don't beam for long.
I've known about Exos for years, but until recently I hadn't fully understood what it's all about. Exos offers various types of training with various price tags, but two weeks of what I experienced—which included personalized coaching, massages, lunch, and dietary consultation—costs between $3,500 and $4,800. In the sports world, the company is probably best known for prepping collegiate athletes for the NFL combine, the annual four-day scouting expo where aspiring draft picks perform physical and mental tests in front of NFL coaches and managers. The stakes are immense. According to Exos, a defensive end at the combine who can run the 40-yard dash in 4.7 seconds will make about $1.2 million more, on average, than one who does it in 4.8. Since 2005, Exos has trained more first-round draft picks than any other company.
To the casual observer, Exos may seem slightly veiled, because it doesn't do much paid advertising. The company is headquartered in Phoenix but operates facilities in more than a dozen locations around the country, including Los Angeles, San Diego, Minneapolis, Virginia Beach, and Dallas. It has services and programs available for non-elites, but it largely functions as a private contractor for individuals and organizations serious about maximizing performance. "When people are ready, they find us," Verstegen tells me.
I turn to Exos because I live in Santa Fe, where my options are slim: join an injury factory like CrossFit, drag myself to a dreary treadmill gym, or cram into a community-center weight room full of bros doing preacher curls. The more I learn about Exos, the more it seems like the ticket: a broad, holistic program scalable to almost anyone's needs. Beyond the PR-speak about "upgrading lives" and "creating game plans" (Verstegen's most recent book is called Every Day Is Game Day) are legit tools that have helped thousands of athletes in endurance and field sports alike. I arrive with a mix of excitement and skepticism. It's one thing to shave tenths of a second from the sprint of a top NFL prospect. It's another deal entirely to take a middle-aged wannabe and transform him into a next-level baller with enough wattage to flash past malicious opponents. I have 14 days.
Build Your Own Training Camp

Two weeks of full-time, one-on-one instruction at Exos can set you back $4,800. Here's how to get many of the same performance benefits without taking out a second mortgage.
---
You might describe the Exos method as follows: eliminate pain, cultivate movement, eat to win, recover better, and internalize motivation. In my quest to discover the secrets of the pros, I don't unearth any one thing that makes a huge difference, but I find a lot of little things that do. The winning alchemy is how it all blends together.
On Monday, day one, I meet the people who will help me: my trainers Brent Callaway and Katsuhiko Abe, nutritionist Denise Alvey, physical therapist Janet Jin, a masseuse, and two interns—Julius Charles, a former college football player from Chicago's South Side, and Hiro Kawamura, a whippet-size guy from Japan who never stops smiling. The support here is unlike anything I've encountered before, and it's a big part of Exos's success.
Many of the Galaxy soccer players are in the gym as things get under way, and I nearly trip over two megastars: Steven Gerrard, the former captain of Liverpool FC, and Robbie Keane, former captain of the Irish national team and its all-time leading scorer. They're lying side by side on the floor doing hip raises, and I nod at them coolly as I walk past. Later I try to sneak photos with my phone, but their trainer glares at me and wags a finger. "No pictures," he mouths.
My first task is to go through the functional movement screen. The FMS was developed by Gray Cook, a physical therapist and trainer who believes that most injuries result from muscular imbalance rather than a lack of raw strength or a random accident. The screening evaluates seven primary movements—squat, hurdle step, in-line lunge, shoulder rotation, straight-leg lift, push-up, and trunk rotation. You're rated on your range of motion and stability for each test. Difficulty with any of the tests can be an early-warning sign for injury. At Exos, these functional exercises make up the training bedrock.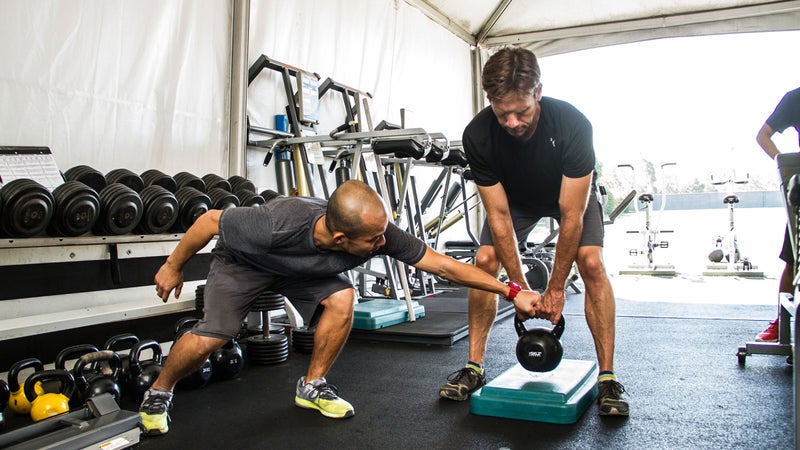 The FMS drills get progressively harder. For the last one, I start on my hands and knees and extend my right arm and right leg. I pull in my arm and leg, touch elbow to knee, then extend them again. But while attempting the move, I fall over on my side. This is noted on a clipboard.
"Don't worry, Nick," Julius whispers as he helps me up. "Everybody has trouble with that one."
After the FMS, I visit with Janet, the physical therapist. PT is a missing link in most fitness programs. At Exos, it's integrated into everything an athlete does.
Recent months of competitive league play have left me with a strained calf, damaged knee cartilage, and a stabbing pain in my abdomen that may or may not be a pulled psoas. There are some questions about whether I can even train, let alone play in a tournament in two weeks. After an hour of diagnostics and hushed conversations among my team, I'm cleared, provisionally, to proceed. "We're gonna keep a close eye on these problems," Callaway, who grew up in Odessa, Texas, says with a twang. "But let's give it a try."
We walk up a long ramp that exits the building and emerge into the warm SoCal sunshine. Soon we arrive at Exos's outdoor training pavilion. There's a 60-yard turf field marked with five-yard lines, a four-lane rubber track, and a weight area set up under a large tent. A table is loaded with towels, water jugs, and electrolyte beverages. Hip-hop thumps from a stadium-grade outdoor stereo. Callaway introduces the regimen, which progresses from foam rolling to dynamic stretching to sprints to resistance exercises to high-intensity cardio. Exos has a vernacular all its own. I don't warm up; I do "movement prep." I don't train my core; I train my "pillar." Cardio isn't cardio, it's "energy system development," or ESD.
A couple of football guys are training hard at the pavilion, including David Carter, a.k.a. the 300 Pound Vegan, a former NFL player who hopes to get back in the league. The intensity level is high; athletes of this caliber don't get that way by just going through the motions. I'm braced for a painful drubbing, but the first hour consists mostly of drills designed to increase blood flow and activate the nervous system, helping my muscles fire properly.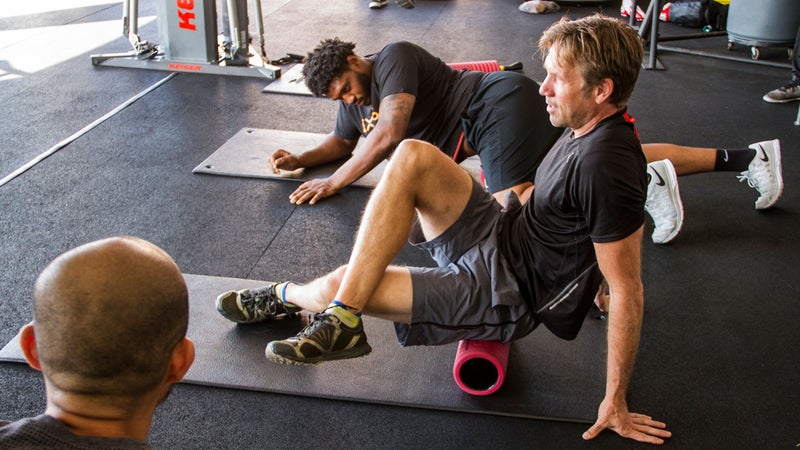 "When we sit all day, we signal the glutes to shut down," Callaway explains as he directs me through some mini-band stretches. "We set up different neural pathways. If we don't turn these muscles back on, the body compensates by overloading other muscles, typically the quads."
Our last hour involves running biomechanics, a weight-lifting circuit, and 20 minutes of ESD on a machine I will come to dread: the Curve, a motorless treadmill that allows you to rev into a full sprint and back without adjusting any controls. By the end of my first morning session, I'm tired but not crushed. My injuries lurk but don't nag me. 
Quality fitness programs turn on their ability to measure effort against reward, and there's no wasted effort at Exos, no suffering for suffering's sake. Almost all training roads lead to strengthening the pillar—the kinetic web from shoulders to pelvis, grounded in the glutes, that forms the root of movement, the platform of all athletic endeavors.
The routines are similar to other core-type training I've done, but with more twisting to link shoulders, back, abdominals, and hips. Exercises are followed immediately by a counter-stretch, which helps elongate muscles and keep them supple after they've been forced into contraction.
As I wobble through a few drills, Callaway describes any attempt to perform ballistic movement without a stable pillar as like "trying to fire a cannon out of a canoe."
That afternoon, stuck in Los Angeles carmaggedon, I think: I am a canoe.
---
During the next few days, I slide into a heavenly routine—work out, eat, go to the beach, eat more, sleep, repeat. Basically, I'm a Kardashian. The closest I get to a soccer ball is standing outside the chain-link fence at the StubHub Center, watching the Galaxy players practice. 
The physical workouts are only a fraction of the Exos program. Its emphasis on movement, nutrition, recovery, and mindset hints at the larger picture but doesn't reveal the extent of it. The quest for peak performance entails optimizing each of those four channels. The more advanced the competition, the more specific and individualized the details become. The good news for amateurs like me is that even basic attention to all of them tends to make a big impact.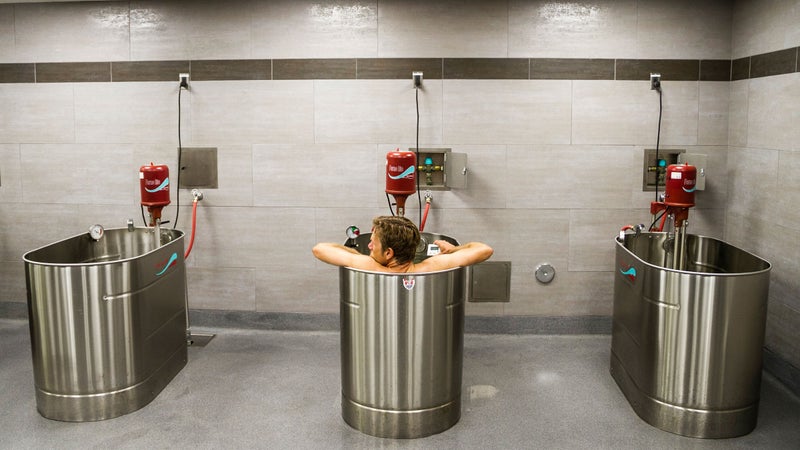 When I arrived, my nutritionist, Denise Alvey, assessed my body composition with a handheld scanner. I clocked in to Exos at six-foot-one and 193 pounds, with 14 percent body fat. This put my body mass index, or BMI, at 25, and thus made me "overweight." 
"I'd like to see you drop a little bit of fat and add some lean muscle," Alvey said, echoing the sentiments of everyone ever.
All the components of the Exos system are vital, but nutrition may play the largest role. Food provides the source of molecular remodeling that alters body composition and mass. Emerging research points to important connections among performance, food, and our microbiome—the ecosystem of healthful bacteria in our guts that can help reduce (or promote) inflammation and aid (or inhibit) recovery. A popular phrase at Exos is "You can't out-train a bad diet." 
Exos advocates "food first," meaning that most of my calories come from real food, not energy bars, drinks, or meal-replacement products. The real-food foundation is enhanced with supplements, including, in my case, twice-daily multivitamins (in six chunky pills that are hard to choke down), fish oil, a post-workout recovery shake, and creatine shooters that include beta alanine, an amino acid that helps dietary protein rebuild broken-down muscle. 
Alvey tells me how much water I should be consuming daily: one half to one ounce per pound of body weight, or, in my case, 96 to 193 ounces. That second number is equivalent to roughly 1.5 gallons. In daily life I've never consumed anywhere close to that much, and on some days my total liquid intake consists exclusively of coffee and margaritas. I ask Alvey about booze. She stares at me. "Alcohol is not part of a performance diet," she says.
I don't have any experience with creatine, which helps provide energy for muscle contraction during high-intensity activity. I'd often associated this substance with college kids trying to get swole, but it's currently in wide use by a range of athletes, including people in endurance sports. Though controversial in the nineties, creatine is legal and considered safe and effective for hard training and competition. I'm prescribed five grams per day, in two doses of sweet, orange liquid, one shot before my morning workout and one after. 
The fish oil, intended to help reduce inflammation, and ingredients in the multivitamins (like A, D, and so on), intended to "help support my training," are familiar, with one exception. After my first week, I remark to an Exos staffer that I seem to be sleeping remarkably well. "Oh, that's the Relora," they say. "It's like the wonder supp." 
Relora is a pill form of natural substances found in the bark of Chinese magnolia and Amur cork trees. It's purported to reduce cortisol levels and promote weight loss, and has been touted by Dr. Oz.
Relora is an herb and isn't regulated by the FDA. Research supporting its claims is limited and funded by Next Pharmaceuticals, the company that sells it, so I'm dubious. One study from 2001 involved injecting Relora into chicks and then measuring their "distress vocalizations." The less frequently the baby birds cheeped, the less stressed they were, the study said.
Sleep is another heavily emphasized aspect of the Exos recovery strategy. I can't tell you with certainty that the Relora aided mine, but I have no other explanation for my heavy slumber. There's a prize awaiting those who attain extended periods of deep sleep: a cascade of human growth hormone, which helps repair and rebuild muscles. "If you're not sleeping properly, you're not recovering properly," one Exos trainee told me, "which means you're pretty much just wasting your workout." A lot of big-time athletes—LeBron James, Usain Bolt, Tim Howard—advocate ten hours of sleep per night. Sure, they're pros, so what else do they have to do? But it all comes as good news to me. Sleep I am good at. Sleep I can do.
---
On Wednesday, my regular workout gets swapped for a regeneration (or "regen") day. This includes an hour of foam rolling, dynamic stretching, and trigger-point work with a small ball, followed by an hour with my massage therapist, Susan. It sounds great—spa day!—but then it starts. My hip flexors are so tender from the first days of training that I grimace and groan at the pressure from the devilish ball. The massage isn't any better. Susan digs into my mysterious psoas injury so aggressively that I squeal. Still, by the next morning, I'm feeling good again.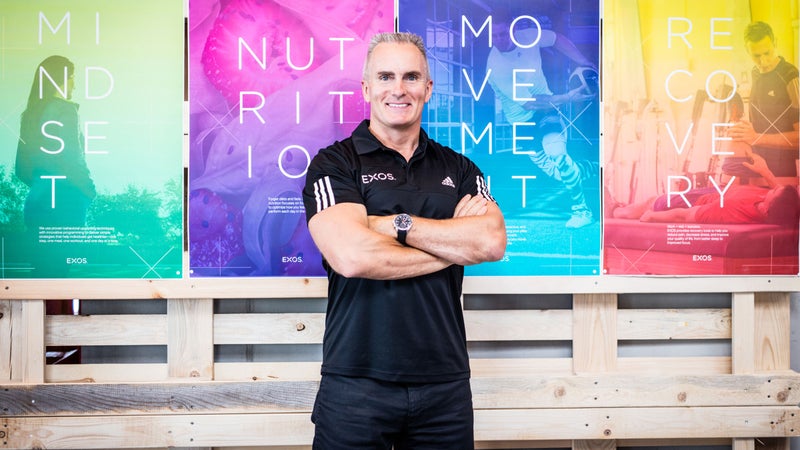 Regen and physical therapy are often deployed in tandem to resolve injury and pain. Every Exos facility includes staff therapists who work closely with athletes and trainers. They assign numerical ratings to clients to help provide trainers with guidance for working with them. Remaining as active as possible is the key to progress.
"When the typical athlete gets hurt, whether weekend warrior or not, they tend to stop whatever they're doing," says Graeme Lauriston, Exos's director of physical therapy. "They think, I just need to shut it down, let my body heal, whether that be a week or months. So then they put on weight, get out of shape, and when their injury isn't painful anymore, they go back and play in their game, or do that 5K or their weekend tournament or whatever, and wind up with chronic problems."
Like everyone else who comes to Exos, pro or schmo, my initial functional movement screen serves as the baseline for both training and treatment. Despite my collection of injuries, none of them are deemed serious enough to warrant daily visits with a physical therapist. By the second week, problems have dissipated enough that I barely notice them. Consistent workouts, good nutrition, and sound sleep blend together like a tonic.
My workouts ramp up to include some higher-intensity sprint drills and weight-lifting circuits. Callaway and I develop a jokey banter: he says I look like Huey Lewis's younger brother; I ask if he came from central casting for Friday Night Lights.
"I'm probably doing 80 perent with you of what I'd do with any of the pro guys," Callaway tells me. I feel a flush of pride—I'm 80 percent pro!—but I don't beam for long.
During a tough round of push-ups, with my hands planted on a vibrating platform called a Power Plate, Callaway crouches close, loudly counting down the reps, a descending ladder from ten to one. "Seven… six…" My arms shake and buckle. "Five…" I try to channel Lil Wayne, now playing, and grunt out four more. Sweat pools and dances on the Power Plate. There's no way I can make it to one, I think, and may in fact express that sentiment out loud.
"Do. Not. Dis. A. Point. Me!" Callaway barks. I make it to one and collapse. "Nick's gettin' good, everybody!" shouts the coach, even though the only people in the pavilion are me and the interns, who are wiping down equipment with rags. 
The morning before I leave for my soccer tournament, Julius puts "Gotta Go," a down-tempo hit by Trey Songz, on the stereo. "It's tradition for someone's last day," he says, and we all have a moment while I foam-roll. 
On my way out, Denise Alvey does another body-composition assessment. I've gained a pound on the scale but have dropped a percentage point of fat and added some muscle. I'm also more hydrated, which she's happy about.
My tournament begins the next morning, a Saturday. Seventy teams from around the country file into a field complex in Casa Grande, Arizona. The players warm up, jogging in circles and folding into static stretches. The fools. I do all my Exos mini-band and movement-prep drills, feeling smug.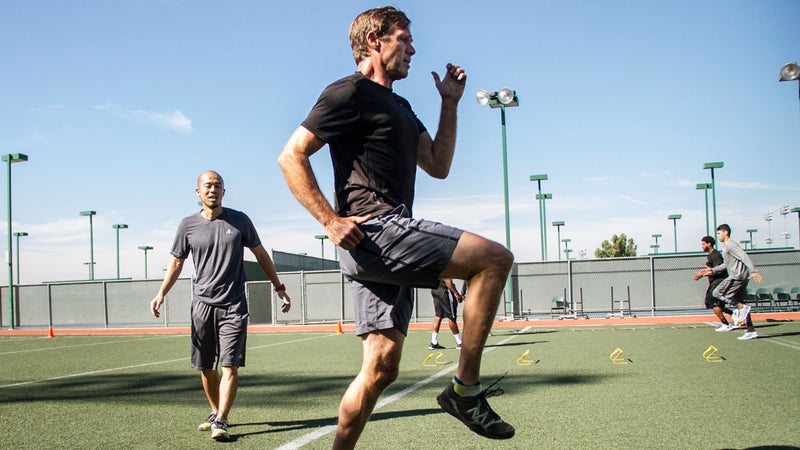 We kick off against a tough team from Portland, Oregon. At the 20-minute mark, I leap above a defender and score an acrobatic goal by heading in a corner kick. Thuggish fullbacks seem to glance off me. I tally five goals over the long weekend, one of which is a powerful blast from 25 yards that arcs over the keeper's outstretched fingertips. It easily ranks in my lifetime top five. We end up playing six games in three days, ascending to the championship match in our division, losing in overtime on penalty kicks. I feel better than I have in years, maybe decades.
I've either just experienced the greatest placebo effect in the history of fitness, or something profound happened at Exos.
---
A few weeks later, I meet up with Verstegen in Phoenix, at Exos HQ. He's six-one and a fit 200 pounds. He looks like he wears shoulder pads, but those are his actual shoulders. Although he works with athletes of many stripes, his current sport of choice is mountain biking. He owns a small fleet of high-end rigs, including a new Borealis Echo fat bike. When he's not at the Exos offices or logging his yearly average of 100,000 air miles, he's often at his vacation home in Sedona, shredding singletrack.
Back in the late 1980s, Verstegen attended Washington State University, where he played football. In his first game, while wedge busting during a kickoff return, he was nailed in the arm by an onrushing opponent, severing a nerve. 
The nerve regenerated, but slowly, forcing him into a protracted recovery. One of his mentors, Jan-Olov Johansson, a Swedish javelin thrower, introduced him to a holistic approach to rehab that transcended the standard American physical-therapy protocols. Since he couldn't play or train, he buried himself in sports-science courses while also working full-time as WSU's assistant strength and conditioning coach under Jay Omer. It all coalesced into what would eventually become the Exos system.
The injury "was the greatest thing that ever happened to me," Verstegen says. "I was never going to be a great collegiate player. I definitely wasn't going pro. This pushed me into the space I was already passionate about: How was I going to help my teammates? How am I going to help the team win?
"It used to be this black-and-white thing—you were either hurt or good to go," he adds. "All of a sudden, you're healthy and back in the game. But there's no way you're ready. You don't have the speed, the reaction time." The Exos continuum of care was developed to aid this process.
The company's early days were modest. A summer camp for athletes was retrofitted into the grounds of IMG, a tennis academy. The original facilities weren't much: 1,200 square feet of indoor space and sidewalk runs. "Recovery took place in a Mickey Mouse kiddie pool that cost 19 bucks at Walmart," Verstegen recalls. "It was critical that it was Mickey Mouse. You could only get one guy in a normal pool. But the Mickey Mouse version had these two big ears, so you could plop a big butt in one ear and another big butt in the other ear."
In 1999, Verstegen launched Athlete's Performance on the Arizona State University campus in Tempe. In 2009, the company relocated to its current facility, two hulking glass and cinder-block buildings. Now there's a state-of-the-art gym and training center, a rehab facility with full-time staff, a café, hot and cold plunge pools, a conference center, a lounge, and corporate offices. As of summer 2016, Exos employed more than 3,000 people, with programs running in 33 countries on six continents. 
Verstegen invites me along for a weekend of mountain biking in Sedona with a handful of Exos staff, including Craig Friedman, 43, vice president of Exos's performance innovation team. Friedman tells me that despite all its hands-on training, Exos considers itself an education and technology company more than anything else. By 2015, rehabbing and conditioning elite athletes had become the smallest part of the overall business, outpaced by development work for the military, corporations, and medical institutions.
Back in Phoenix, Friedman walks me through one of his latest projects, a software program called Journey, which provides clients a soup-to-nuts wellness system—from self-evaluations, similar to the FMS I'd gone through in Los Angeles, to dietary information and other performance metrics. Once a client's profile is set up, the program will construct a customized fitness and wellness program, whether you're a high-end athlete chasing PRs or an office-bound "non-mover." This, Friedman tells me, is just the beginning.
"Take wearables," he says, referring to the Apple Watch, Fitbits, and other activity trackers. "These things are just renting space on people's arms. They wear them for six weeks and then put them in a drawer. Why? Because there's no context. 
"Let's say you wear a device that gives you a pretty accurate reading of how you slept," he continues. "What does that mean? What do you do with the numbers? But what if you could combine that data with other information, like load monitoring and performance data? What if you could look at all the data and interpret it, and use it to make personal recommendations? Maybe you slept badly because you did too much activity yesterday. Maybe the ambient temperature in your room is too high and you need to set it lower."
"The technology needs to play a meaningful role in people's lives," Friedman says, "and that's where we come in. Training facilities are not our end play."
---
I spend a final week in Scottsdale, working out with an "executive" group at 6 A.M. (sharp!) and devoting afternoons to a Mindset Mentorship seminar led by two Exos vets, Tristan Rice and Brett Bartholomew. Mindset is the fourth point on the Exos compass, the guys explain, but it's also the principle that underlies the others. We start by talking about self-determination theory and "autonomous coaching," but mostly the course boils down to adjusting motivation from external factors to internal ones. There are no shortcuts, we're told; high performance is a 24/7 commitment.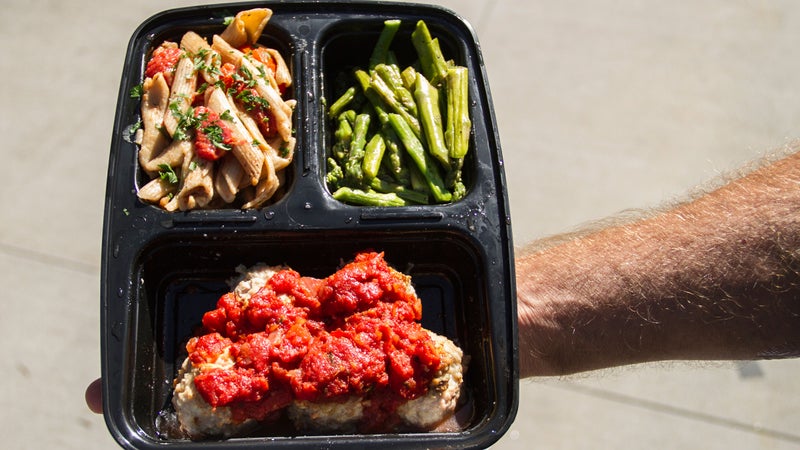 At the break, I chat with Thomas Kempinger, an engineer from Germany who helps manage a soccer team there. When Verstegen was hired in 2004 to work with the national team, he was treated with skepticism, since Germans have little regard for Americans' soccer knowledge. Now he's regarded as a national hero.
"In Germany, we have always been about players who can put the ball in the net and not so much about athletics," Kempinger tells me. "Now everyone wants to train like Exos."
Back home in New Mexico, I do my best to re-create my Exos training in California and Arizona. The exercises themselves aren't especially complicated and can be replicated in most gyms, since they rely on common fitness tools like stretch bands, medicine balls, and free weights. I blend recovery shakes, down my supps, sleep in an extra-dark room, and perform my daily contortions on the foam roller.
It's not the same. I miss the sunny pavilion, Callaway's spirited guidance, the interns always ready with water, Fetty Wap thumping over the stereo.
I keep it going for a week before I'm undone by old habits: a pint of Ben and Jerry's here, a third beer in a row there, inertia and Netflix pulling me under. It takes an enormous amount of energy to plan and program workouts, meals, and other "behavior upgrades," not to mention a sophisticated understanding of how each step, each exercise, works.
I flail through the winter months on my own, doing my Exos-cises at the community center, fist-bumping with the bros. I play in another tournament in January with sad results: no wins, no goals, an aching back, a heavy heart. I'm reminded of something an Exos trainer told me about tech-company employees. "They're all at the top of their field, and supersmart, but they come in to the gym and they don't want to know about the sports science," she says. "They're like, 'Just tell me what to do.' They want to get it done and get back to work."
I can't provide a concise explanation for what happened to me during my short time at Exos. I followed the plan; I crushed at soccer. Several factors may have been involved in this, including improved neurological activity, reduced inflammation and pain, improved range of motion, enhanced power from the creatine, and more confidence from two weeks of training surrounded by some of the best athletes on earth.
I didn't love everything I did at Exos. (I don't miss all the pills.) But I emerged a better athlete in a surprisingly short amount of time, and I won't look at human performance again without viewing it through the lens of movement, recovery, nutrition, and mindset. If you aren't addressing each of these, you are effectively wasting all of them. This is the life of a pro. When people are ready, they'll find it.
Nick Heil (@nickheil) is an Outside contributing editor.
Corrections:
(09/21/2023) This story was updated to clarify that EXOS doesn't do "much paid advertising."
From
Outside Magazine, October 2016
Lead Photo: Michael Darter