Eat Out Less with These 6 Tips
Eating out ruining your diet and your budget? Here's how to do it less.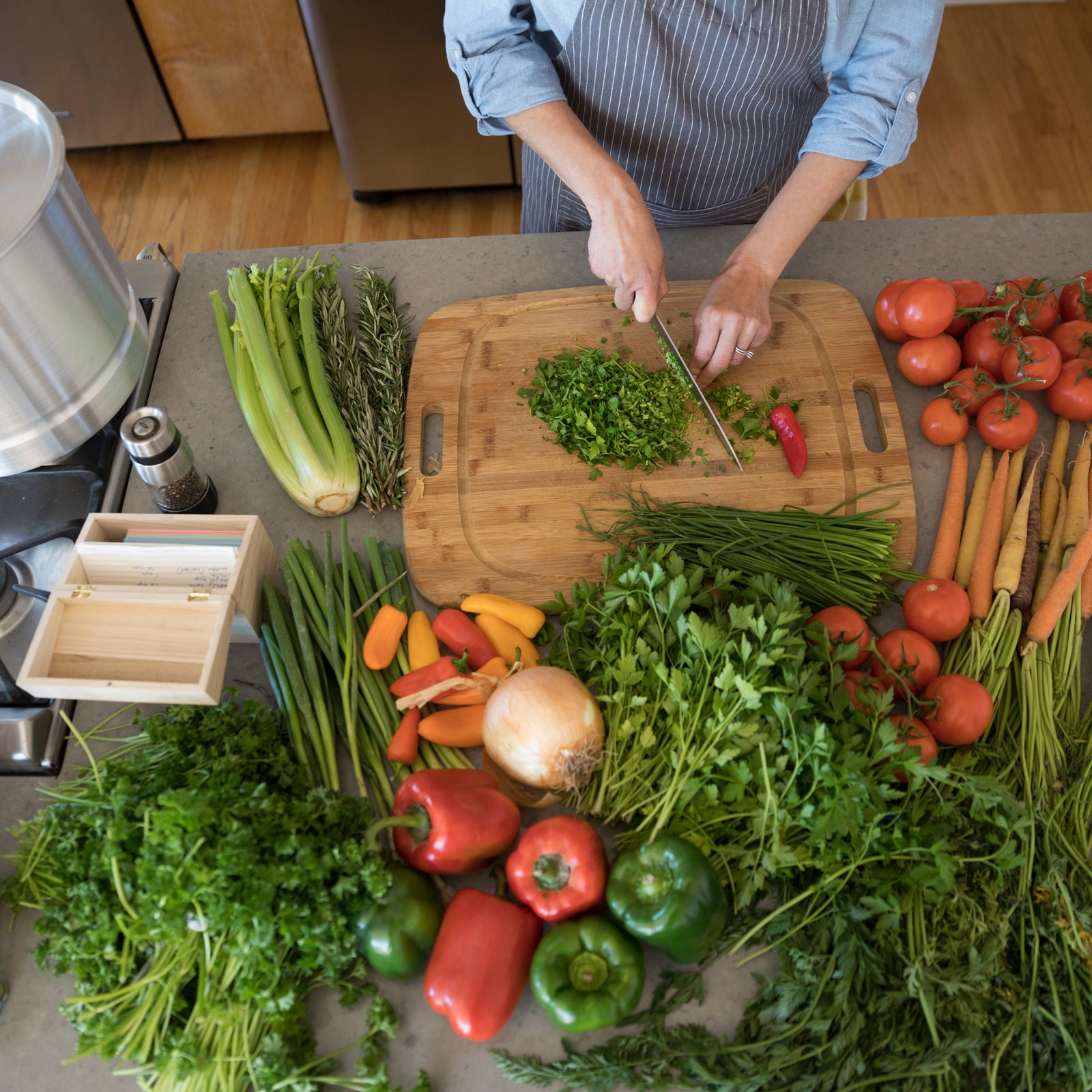 Heading out the door? Read this article on the new Outside+ app available now on iOS devices for members! Download the app.
The average American spends just over $3,000 a year on dining out, according to the U.S. Bureau of Labor Statistics. Lunch alone can rack up an annual bill of $2,000.
As a registered dietitian nutritionist, I've spent the last 20 years teaching thousands of people how to improve their diets, and one of my most frequent recommendations to clients is that they cook more for themselves. Not everyone accepts that recommendation easily; clients come to me with all sorts of excuses about why they buy their meals instead of making them: no time, no groceries, social obligations. But the financial and health benefits of cooking for yourself far outweigh any of the perceived downsides.
A 2017 study in the International Journal of Behavioral Nutrition and Physical Activity found that people who consume home-cooked meals at least five times a week eat more fruits and vegetables and are 28 percent less likely to have an overweight BMI. It's not only about weight, either. Recent research published in the American Journal of Preventive Medicine suggests that the meals we cook at home are higher quality than the ones we buy at restaurants, based on a Healthy Eating Index that measures things like whole foods and empty calories.
Cooking at home is easy once you've made it a habit, but getting started can be difficult. Here's how to get past some of the most common barriers to making more of your own meals.
Go Shopping
It sounds obvious, but it's a lot harder to cook from home when your pantry is bare. I've worked with clients who only made a grocery run every couple of weeks, which meant they ate a lot of takeout. I recommend doing at least one dedicated grocery shop a week for fresh produce and meat, and keeping staples on hand that make last-minute meals easy. I always have cooking aids like onions, garlic, olive oil, and chicken broth in my kitchen, and I keep nonperishables like canned tuna, beans, and pasta on the shelf, falafels and shrimp in the freezer, and eggs and Parmesan in the fridge.
When you first start shopping and cooking for yourself, there's a lot of trial and error involved in knowing just how much to buy and how much you're going to eat in a week, as well as how much to freeze. That's completely normal. With practice you'll get a better idea of what a week's worth of food looks like. It can be helpful to look at your calendar before you shop—if you're traveling or attending dinner parties, for example, you'll want to plan around them.
If you'd love to shop more but don't because you're busy, a grocery-delivery service like Amazon, Instacart, or Peapod  can be a great way to get what you need without setting foot in the store.
Don't Be Afraid of Preprepped Ingredients
Cooking from home doesn't mean you have to make elaborate meals from scratch. I buy plenty of preprepared ingredients to help me create dishes for my family. A rotisserie chicken can be enjoyed on its own or repurposed in enchiladas or a potpie (just add a store-bought crust and frozen veggies). Chicken broth makes quick soups and hearty steamed grains, jarred Indian sauces like butter chicken and tikka masala can make a simple stir-fry a meal, and even a tray of cut vegetables works if you know you hate prepping vegetables and are unlikely to make the time to do it. Do everything you can to make your new life as a home chef easy. It's all about doing your best, changing your habits, and using every available shortcut you need. No judgment.
Have the Right Tools and the Right Space
It's tough to get motivated to cook if your kitchen isn't comfortable, clean, and organized. Take an hour to clear counter clutter, organize your cupboards, and clean out your fridge and freezer. Simple things like easy-access cutting boards and neat counters make cooking a lot more enjoyable.
The right tools make a difference, too. Invest in a few key basics like sturdy storage containers (I prefer glass because it's easy to clean and doesn't leach chemicals into food during reheating), a Dutch oven or large cast-iron pan, baking sheets, and a slow cooker. You'll also need a couple of good knives, including an eight-inch chef's knife (my favorites come from Wüsthof and Henckels), and at least two cutting boards.
Make Foods That Can Be Repurposed
Meal prepping doesn't mean you have to eat the same thing for four days straight. Some meals, like casseroles or pasta dishes, don't change much once you've made them, but my favorite strategy is to cook single ingredients simply so I can assemble them into different dishes throughout the week.
For instance, if you prepare one or two proteins, like grilled chicken breasts and simmered black beans; a starch, like roasted potatoes or a pot of rice; and a few vegetables, like pan-roasted brussels sprouts, salad greens, and crudités, you can remix them into all sorts of dishes through the week. Use the chicken breasts in a salad, then with the beans and rice and roasted vegetables in a burrito bowl. The chicken, potatoes, and roasted vegetables make another easy meal, the vegetables and potatoes combine for a delicious frittata, and the beans can be folded into a protein-packed breakfast burrito.
Know That You're Worth It
Cooking is self-care. I've worked with a lot of clients who want to invest in their own wellness, but they're too busy with work, family, and a dozen other responsibilities to make it happen. Nourishing, home-cooked meals don't have to be complicated or time-consuming, and they're a critical part of overall well-being.
If you're hung up on investing time and money into cooking for one, remember that the same care we extend to others—kids, partners, friends, and family that we might be more inclined to cook for—we should extend to ourselves. You'll be able to give more back in your work and personal life if you're taking care of your own needs first. It's like the emergency instructions on an airplane: put your mask on before helping others.
Good Is Better Than Perfect
In nutrition, there is no such thing as perfection. It's all about doing the best you can. Some weeks will be better than others, but don't let a few takeout meals discourage you. All-or-nothing thinking is one of the most common saboteurs that I see among my clients: they think that if they're not meeting all their dietary goals, they might as well not be making changes at all. It can become a major barrier to progress, because it introduces stress and fear of failure into the equation. Instead of setting hard-and-fast rules and lofty goals, remember that you're aiming for a shift in lifestyle—and that takes time. Even replacing one restaurant meal a week with a meal you've made yourself is a step in the right direction. I always tell people: as long as you're heading in the right direction, it doesn't matter how slowly you go.
Lead Photo: Aurora Photos