5 Stew Recipes for the Cold Days Ahead
A few athlete chefs share their favorite recipes for eating healthy—and hearty—when the cold settles in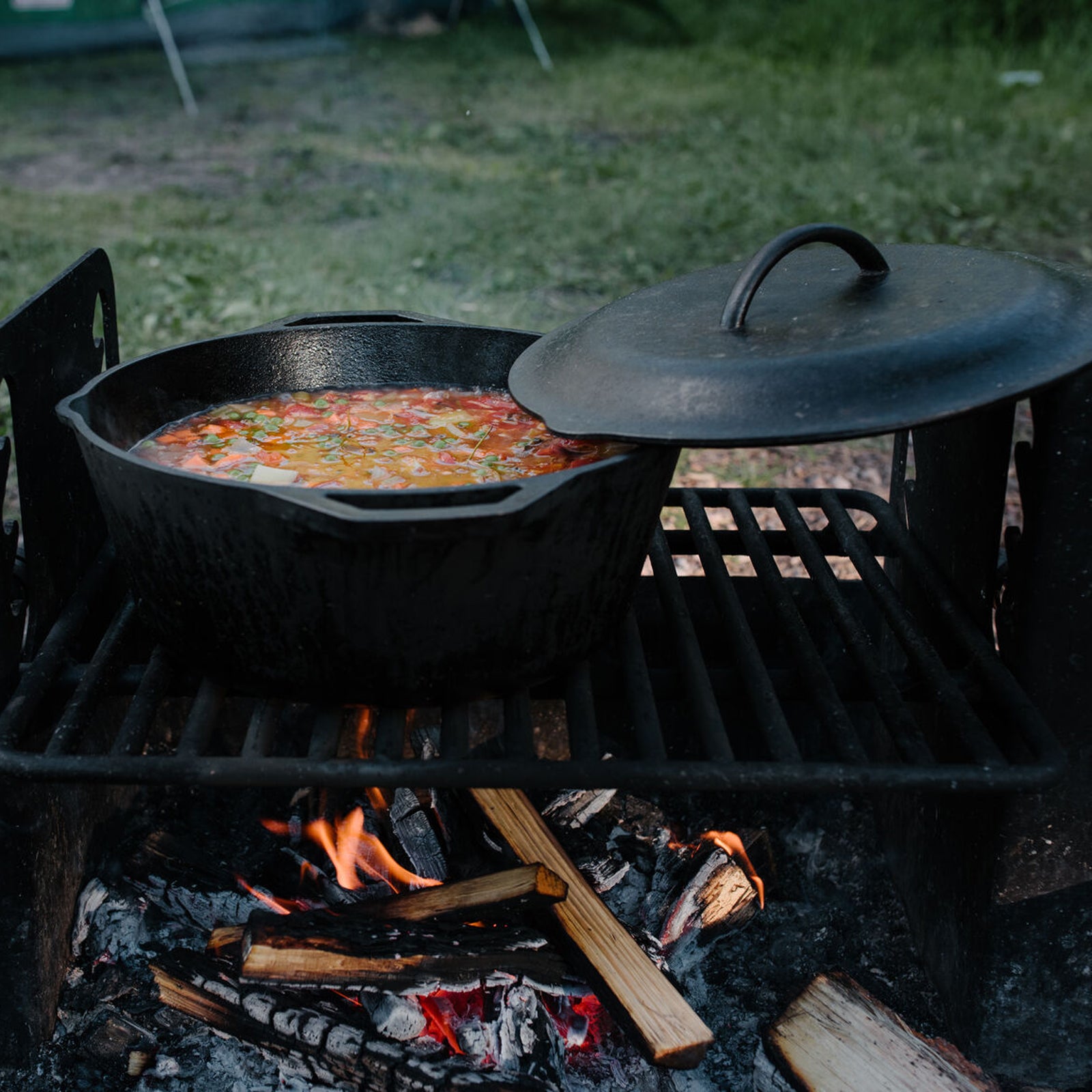 Heading out the door? Read this article on the new Outside+ app available now on iOS devices for members! Download the app.
When temperatures drop, comfort food calls—and we're not talking about post-ride pizza or macaroni and cheese. It's stew and soup season, folks. 
Stews and soups taste rich and fill you up, but they also serve as a nutritional powerhouse: you can fill a steaming pot with fiber-packed vegetables, protein-dense meats and legumes, and energy-rich carbohydrates and eat it all week long. Here, a few athlete chefs share their favorite recipes for eating healthy and hearty come winter.  
All of these recipes, which serve four to six people, are customizable in terms of carbohydrate content, so you can adjust how much bread, rice, or pasta you add, depending on your training volume. Serve with a slice of sourdough bread or a grilled cheese on the side if you need more calories.
Grandmother's Chicken Soup
Best For: Pre-Workout
"This recipe is great for lighter training days or as a quick and easy lunch, but you can easily make it more carb heavy by adding noodles or serving with good-quality bread," says Alan Murchison, an endurance runner and a cyclist who happens to be a Michelin-starred chef. "This basic soup was a household staple when I was growing up. It's easy to prepare, uses humble ingredients, and only takes 30 minutes—and one pot—to cook." If you don't have pesto, you can swap in extra fresh herbs.
Ingredients 
2 tablespoons olive oil 
1 white onion, peeled and diced 
2 large carrots, trimmed and diced 
1 parsnip, trimmed and diced 
1 medium rutabaga, trimmed, peeled, and diced 
1 leek, trimmed and diced 
1 pound skinless chicken breast, diced
1/2 cup brown rice 
8 cups chicken stock 
3 ounces frozen peas
2 tablespoons fresh pesto or a handful of fresh chopped parsley 
Optional: bread for dipping or pasta to add to soup
Sea salt and freshly ground black pepper
Directions
Preheat a large saucepan and warm the olive oil. Add the diced vegetables, and cook over medium heat for four to five minutes, until they are lightly browned (pre-sautéing the ingredients is key to a flavorful soup). Next, add the diced chicken and cook for four more minutes, stirring every so often. Stir in the brown rice and the chicken stock. Bring to a boil, and simmer over low heat for 30 to 40 minutes, until the rice is tender. Add the peas and fresh pesto or chopped parsley. Adjust the seasoning with salt and pepper. 
Divide the soup between bowls and serve.
If you plan to freeze the soup, omit the pesto and fresh herbs. Allow the soup to cool fully, and freeze in separate portions for convenience. This keeps well in the freezer for up to 14 days. When you're ready to eat, defrost in the fridge for 24 hours, then reheat thoroughly and top with pesto or herbs upon serving.
---
Roast Lamb, Harissa, and Red-Lentil Soup
Best For: Post-Workout
"A pretty full-on soup, this one," Murchison says. "Good for a post-long-ride lunch. Just stick it all in the slow cooker, and ride your bike for three hours. Simple! A proper meal in a bowl, this soup has been created for the slow cooker, but the more time you take to cook it, the better." Thanks to the lamb and red lentils, this dish is packed with muscle-rebuilding protein and a healthy dose of complex carbohydrates from the sweet potato.
Ingredients
2 tablespoons olive oil 
1 pound lamb shoulder, diced 
2 teaspoons harissa paste 
1 teaspoon coriander seeds, crushed 
1 teaspoon paprika 
1 teaspoon dried turmeric 
1 large onion, peeled and diced 
2 carrots, trimmed and diced 
2 red peppers, seeded and diced 
1 large sweet potato, peeled and diced 
3 ounces red lentils 
6 cups chicken or vegetable stock
2 cups coconut milk 
Sea salt and freshly ground black pepper 
Directions
Preheat a large saucepan, add the olive oil, and sear the lamb over high heat for five to seven minutes. Searing the lamb and (later) the vegetables before transferring to the slow cooker will give you more flavor. Stir in the harissa paste, coriander seeds, paprika, and turmeric. Cook for two more minutes, then transfer to a cold slow cooker. Then turn on the slow cooker to heat it up, which will take a few minutes. (If you don't own a slow cooker, this dish can easily be cooked in a large saucepan—just make sure you stir it regularly or the lentils will stick to the base of the pan. When cooking in a pan, add two cups of water as the liquid will reduce.)
Use the same saucepan to precook the vegetables—the onion, carrots, peppers, and sweet potato—over medium heat for four to five minutes. Stir in the red lentils, then add everything to the lamb mix in the slow cooker.
In the same pan, heat the stock and add the coconut milk while stirring. Transfer these liquids to the slow cooker and cook on low heat, with the lid on, for three hours or on medium heat for an hour and a half. Once the lentils are soft and the lamb is tender, adjust the seasoning and serve immediately in bowls.
For a vegan soup, simply replace the lamb with one pound of diced butternut squash and use vegetable stock.
Recipes from The Cycling Chef, by Alan Murchison, reprinted with permission by Bloomsbury Sport, Bloomsbury Publishing.
---
Cranberry Bean and Swiss Chard Soup
Best For: Prerace
John Pettit, a chef and cyclocross racer based in Portland, Oregon, likes to prep for long day at the racecourse with a hearty soup. "This checks all the boxes when it comes to prerace meals," he says. "It's loaded with protein, antioxidants, and vitamins." If you want a protein boost, add your choice of meat. Pettit recommends adding a ham hock at the same time you mix the beans into the cooked vegetables, for a rich, smoky flavor. You can sauté diced ham or bacon before the vegetables, and use the rendered fat to cook the vegetables. Either way, vegan or not, this soup will provide enough fuel for your upcoming race. 
Ingredients
1 pound dried cranberry beans (if unavailable, red beans and pinto beans both make good substitutes)
2 tablespoons olive oil
1 cup diced sweet yellow onion
1 cup diced carrot
1 cup diced celery root
1 cup diced turnip
4-ounce jar pimientos, drained of liquid 
2 cloves garlic, minced
1 bay leaf
1 teaspoon chili flakes
1 tablespoon dried oregano
1 teaspoon smoked paprika
Kosher salt and freshly ground black pepper to taste
16-ounce can diced tomatoes
2 quarts low-sodium vegetable stock
2 bunches Swiss chard, stems removed, leaves cut into half-inch ribbons
Swiss chard stems, diced
1/4 cup parsley, finely chopped
Directions
Soak the beans overnight in the refrigerator in 45 fluid ounces of water (about 5.5 cups, triple the the volume of the beans). The next day, drain the beans and place in a four-quart pot. Cover with water, bring to a boil, and then strain. Rinse beans thoroughly under cold water and set aside.
Meanwhile, heat the oil in a large saucepan over medium heat. (If you're using ham or bacon, add it now and cook until crisp.) Add all the vegetables and spices except the tomatoes, parsley, and Swiss chard. Season with salt and pepper. Cook slowly for about ten minutes, stirring frequently to prevent coloring. Add tomatoes and heat through. Season again with salt and pepper. Add the beans, mix well, and cover with stock. (If you're using ham hock, add it now.) 
Gently simmer until beans are cooked through and tender, roughly 45 to 60 minutes. Add more stock if necessary. Once beans are tender, add Swiss chard, and simmer for two minutes. Season soup with salt and pepper and add parsley.
Ladle into bowls and enjoy with freshly grated Parmesan cheese and some crispy country bread.
---
Beet Bourguignon 
Best For: A Vegan Recovery Meal
Stepfanie Romine, coauthor of The No Meat Athlete Cookbook, explains that her take on a traditional beef bourguignon is just as hearty as the original but uses protein-dense legumes in place of beef. The thick stew is packed with nitrate-rich beets, and potatoes and carrots add complex carbs, making this dish perfect for warming up after chilly long runs.
Ingredients
1 tablespoon olive oil  
1 yellow onion, chopped 
10-ounce package fresh cremini or white-button mushrooms, trimmed and sliced
2 celery ribs, chopped 
3 garlic cloves, chopped 
1 sprig rosemary 
1 teaspoon dried thyme 
1/2 teaspoon black pepper, plus more to taste 
1/4 cup tomato paste 
1 cup dry red wine 
4 waxy potatoes, such as Yukon Gold, peeled and chopped 
3 beets, chopped 
3 carrots, chopped 
3 cups water 
1 cup mixed lentils, soaked overnight, drained, and rinsed 
1 ounce dried mushrooms, broken into pieces 
2 bay leaves 
2 tablespoons red miso 
Salt 
Directions
Heat the oil in a large stockpot over medium heat. Add the onion and cook until it starts to soften and becomes fragrant, about three minutes. Add the mushrooms, celery, garlic, rosemary, thyme, and half a teaspoon of pepper. Cook until the mushrooms are dark and the vegetables are soft, about five minutes. Add the tomato paste and cook, stirring constantly, until it darkens in color, about two minutes. Add the red wine and scrape the bottom of the pan to remove any cooked-on bits. Add the potatoes, beets, carrots, water, lentils, dried mushrooms, and bay leaves. Increase the heat to medium high and bring to a boil; as soon as it starts to boil, cover and reduce the heat to low. Cook until the vegetables are tender and the lentils are cooked, about 30 minutes. Discard the bay leaves. Whisk in the miso and season with salt and pepper to taste.
Recipe from The No Meat Athlete Cookbook: Whole Food, Plant-Based Recipes to Fuel Your Workouts and the Rest of Your Life, by Matt Frazier and Stepfanie Romine, 2017. 
---
Olive-Oil-Poached Tomato Soup with Walnuts 
Best For: A Nostalgic Meal with a Healthy Twist
"With whole foods, I don't believe that there are healthy or unhealthy ingredients, just healthy or unhealthy choices," says Allen Lim, founder of Skratch Labs and the Feed Zone Cookbook series. "The same meal after sitting on the couch all day versus after riding all day can harm or nourish in very different ways." This tomato soup that Lim and chef Biju Thomas devised for the Feed Zone Table is calorically and nutritionally dense: olive oil adds oleic acids, which boast anti-inflammatory properties as well as ample healthy fats. A grilled cheese on the side is optional but highly recommended.
Ingredients
1/4 cup olive oil
2 pounds tomatoes, quartered (about eight cups)
1/2 teaspoon salt
1/2 cup walnuts or pecans
1/4 cup torn fresh basil leaves
Juice from one lemon
Salt and pepper to taste
Drizzle of extra-virgin olive oil or balsamic vinegar
Directions
Heat a medium pot over medium-high heat and warm the olive oil. Add the quartered tomatoes and salt, and cook for about ten minutes or until the color begins to darken. While the tomatoes are cooking, toast the nuts in a dry pan over medium-high heat. Use a wooden spoon to stir frequently. Once the nuts turn golden, remove them from the heat and set aside to cool. Transfer the poached tomatoes and olive oil to a blender. Pulse to puree. Season the soup to taste with torn basil leaves, lemon juice, and salt and pepper. 
Serve in individual bowls with a drizzle of olive oil or balsamic vinegar and a small handful of toasted nuts. 
Republished with permission of VeloPress from Feed Zone Table, by chef Biju Thomas and Dr. Allen Lim.
Lead Photo: Gabriel (Gabi) Bucataru/Stocksy