Star Power
Will you look ridiculous trying a Hollywood workout? Quite possibly. But you'll also tap into America's greatest training resource.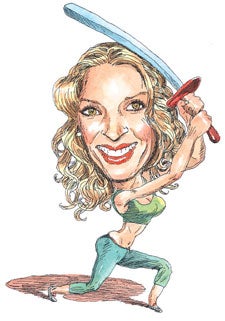 Heading out the door? Read this article on the new Outside+ app available now on iOS devices for members! Download the app.
Forza
forza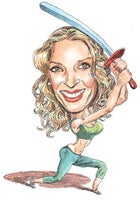 Who says swordplay can't be fun?
Origin: Martial artist Ilaria Montagnani patterned the workout after iaido, an ancient Japanese swordfighting technique.
Who's Doing It: Athletes of both genders who had Uma envy after seeing the katana-happy actress in Kill Bill

The Workout: Wield a one-to-two-pound, three-foot-long wooden sword in an arm-strengthening, high-energy workout that will please anyone who's ever yawned at tai chi. Though it debuted in the late nineties, Forza got popular only after folks saw the sexy blade work of Quentin Tarantino's film (for which cast members took private sword lessons in L.A.). Before classes, an instructor shows beginners the basics: the grip and the stance (knees bent at all times). Then she cues the Asian-tinged techno soundtrack and you go to work. At the beginning of the hourlong regimen, you perform single cuts: up, down, and diagonal. Then moves are sequenced into precise combinations and performed nonstop during four-to-five-minute intervals. The goal is to maintain quick, crisp strokes and correct form, even as the one-pound sword begins to feel like 20.
They Say: Forza is great for building strong, low-bulk muscles in the arms, shoulders, abs, and back.
I Say: After an hour, your forearms and shoulders will burn as if you're a 5.9 climber who just scaled a 5.10. And the rush of wielding a samurai sword—even a wooden one—beats holding a dumbbell.
Where to Find It: In New York at the Reebok Sports Club/NY (thesportsclubla.com; classes free with membership) and Equinox clubs (equinoxfitness.com; classes free with membership). An instructional DVD, released in September, runs $30 (powerstrike.com).
Yoga and Spinning (YAS)
Yoga and Spinning (YAS)

Yoga and Spinning
Like beer and pizza, only healthier



Origin: Kimberly Fowler, a Nike-sponsored yoga athlete (who knew?), founded YAS Yoga & Spinning Center five years ago for the simple reason that she loved both forms of exercise. "Yoga is the athlete's secret weapon," she says.

Who's Doing It: Robert Downey Jr., Julia Roberts, Gabrielle Reese, and swarms of surfers, ultrarunners, and triathletes.

The Workout: Trendsetters at Fowler's Venice, California, gym combine two of the decade's hottest workouts into one fresh routine, pairing loud-and-proud spinning with relax-the-mind yoga. The 45-minute spinning sessions are divided into intervals that mimic sprints and climbs, and the whole thing is fueled by blaring, fast-paced music. Don't be surprised to hear primal exer-screams during peak efforts. After spinning, you'll hobble to the yoga studio, where YAS's Yoga for Athletes works the kinks out of tight hips, hamstrings, quads, and lower backs. The 30-minute yoga session is geared toward stiffer, stronger athletes, not human flexi-dolls, and they eschew Sanskrit, chanting, and anything that smacks of the New Age.

They Say: Fowler estimates that her spin sessions burn up to 800 calories. The rewards of yoga include improved circulation, flexibility, strength, and balance.

I Say: After a typical spin class, I generally leave with an endorphin high, sore legs, and a stiff lower back. Following it up with a yoga session releases lactic-acid buildup, stretches muscles, and allows me to enjoy that post-spin euphoria before rushing off into buzz-killing bumper-to-bumper traffic.

Where to Find It: YAS has one location, in Venice (go2yas.com; $15 per class). But similar classes are popping up at gyms nationwide, and anyone can try the combo with the Cy-Yo DVD ($25; cy-yo.com), which sandwiches a 40-minute spin class between ten-minute yoga sets.
Budokon
Budokon

Unroll your mat and cinch your belt: Yoga and karate had a love child
Origin: Budokon was developed by L.A.-based martial-arts expert Cameron Shayne as a new-millennium cocktail of Okinawa karate, Gracie jujitsu, and Olympic-style taekwondo stirred with Ashtanga yoga.
Who's Doing It: David Arquette and wife Courtney Cox-Arquette, Jennifer Aniston, beach-volleyball star Casey Jennings
The Workout: Expect your Budokon sensei to be more Richard Simmons than Mr. Miyagi. "Let's get some Lionel Richie up in here," shouts instructor Maura Barclay during a session in L.A. "Time to get your stretch on!" The practice begins with ten minutes of silent meditation, which gives way to 30 minutes of Ashtanga-influenced yoga. Afterwards, you transition into a 30-minute martial-arts workout. The class is a demanding aerobic routine. And while the yoga is standard fare, the martial-arts rush makes this class addictive if you lean toward adrenaline sports. You will crouch and jump, punch and kick, and let loose pent-up aggression even if you think you have none. Ignore feelings of inadequacy, which are inevitable if your instructor, like Barclay, is sweet, bubbly, cute, and capable of kicking your ass. "It's not about how high you kick or how quickly you move," she says. "It's about precision and integrity in movement."
They Say: Budokon increases upper-body and core strength, as well as overall flexibility. And because the action requires constant focus, the class takes more effort and burns more calories than most mentally passive (read: treadmill) workouts.
I Say: The kicks and strikes are much harder than they look—and Budokon is fun, if a bit contrived. The pace is swift, akin to an hour of full-court basketball. Plus you'll seriously increase your odds in a bar fight.
Where to Find It: budokon.com; $10–$15 per class
The Bar Method
The Bar Method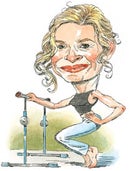 Curb your testosterone and dance!
Origin: German-born dance instructor Lotte Berk developed this workout—based on orthopedics, yoga, and modern dance—as a rehab-and-maintenance practice in the sixties. Her student Burr Leonard refined it and brought it to California in 2001.Who's Doing It: Kyra Sedgwick, Mary-Kate and Ashley Olsen
The Workout: Full disclosure: Aside from lessons in pole dancing—another fad workout sweeping Southern California—this may be the least macho exercise of all time. But while men in these classes may stick out like Michael Moore at the Oscars, that's not necessarily bad. Says longtime participant and aspiring actress Sara Giller, "Chicks dig dudes who take the Bar Method." And those brave guys will get one of the hardest workouts on the planet. Practitioners of the Bar Method balance on their toes with one leg on a ballet bar, then grip the bar and lower into quad-rattling squats on tiptoe for long, agonizing sets. Weights are incorporated to tone the triceps, biceps, and delts but not to build bulk. Hamstrings and obliques are worked into the drill via a variety of seated and horizontal positions. It all adds up to what Joey Decker, manager and lead instructor of the Bar Method in West Hollywood, accurately describes as "one hour of hell."
They Say: You'll benefit from strengthened and elongated major muscle groups, increased fat burning, and improved posture.
I Say: My body quaked involuntarily more than once during the hourlong class. My wind was tested, and my hamstrings were stretched to the limit. Best part: The tiptoe squats seemed to stabilize my chronically weak ankles. Worst part: I didn't get a date with Sara Giller.
Where to Find It: barmethod.com; $20 per class
Gyrotonic
Gyrotonic

Loosen up and strengthen your core with this one-of-a-kind device
Origin: Gyrotonic was invented by Juliu Horvath, an eccentric Hungarian ballet dancer. Classes began as far back as the eighties, but in the past five years the number of trainers has quadrupled, and there are more than 1,200 studios worldwide.
Who's Doing It: Björk, Madonna
The Workout: "The idea is to work in spirals," says Lisa Marie Goodwin, a Marina del Ray–based instructor. Her words might lead one to believe that Gyrotonic, influenced by yoga, gymnastics, and swimming, could be a tad out there. And that's before you see the, uh, apparatus. Gyrotonic practitioners strap into a spring-tensioned wood-and-steel machine, which allows them to do more than 1,000 different exercises and stretches while lying prone, sitting, standing, or hanging. Integrated with weights and specific breathing patterns, these routines are done with abdominal muscles engaged and wrist, shoulder, hip, and ankle joints supported. Goodwin calls this "stability in motion." In layman's terms, that means you will likely stretch more deeply then ever before but without risk of injury. And you really will move in spirals—the machine's wheels and pulleys encourage circular movement.
They Say: You'll enjoy increased range of motion, improved balance, and better coordination. The evidence? Gyrotonic machines are used in an increasing number of physical-therapy facilities.
I Say: My leg, arm, abdominal, and back muscles were stretched in ways I'd never felt—or thought possible. My abs burned, my tight hips opened, and my lower back relaxed. Afterwards, I was loose and calm, but I couldn't help imagining a dominatrix putting this contraption to good use.
Where to Find It: gyrotonic.com; private classes, $75; group classes, $25