9 Free Fitness Apps to Try Now
Turning to technology may be the best way to get a workout in as we continue to practice social distancing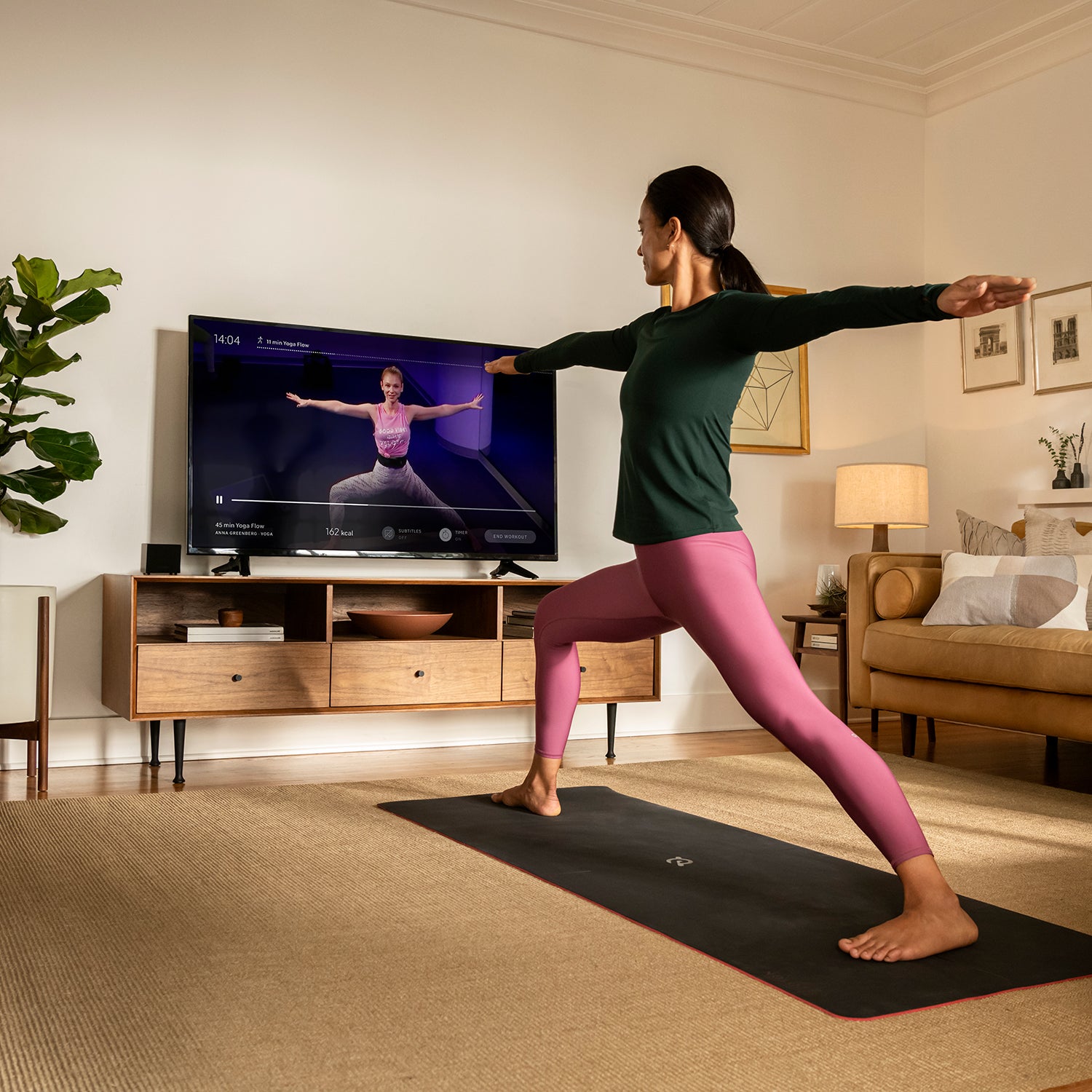 Heading out the door? Read this article on the new Outside+ app available now on iOS devices for members! Download the app.
As many of the country's gyms and fitness studios voluntarily halt operations or face government-mandated closures, now might be the best time to try a fitness app. Some are currently offering free trials for new subscribers, while others, like CorePower Yoga, Down Dog, and Les Mills On Demand, are introducing new, complementary ways to keep subscribers moving beyond their go-to at-home workout during the pandemic. And many require little to no fancy equipment. Below are nine of our favorite apps to keep you moving during this time of social distancing. 
Down Dog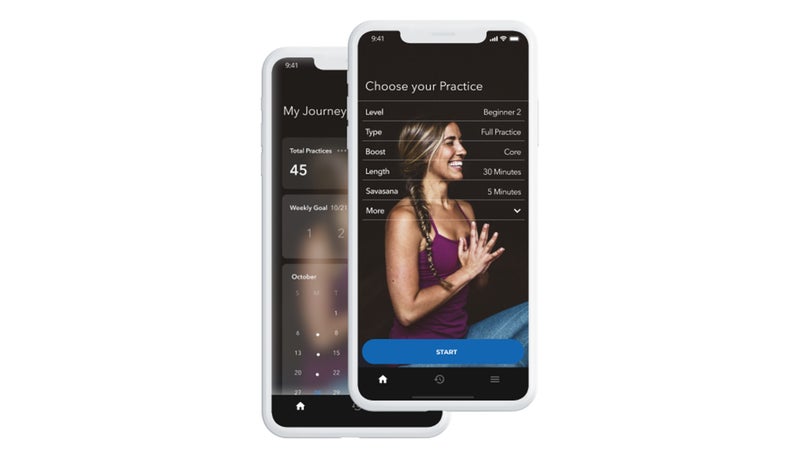 Good For: Those looking for customizable workouts
Down Dog's four apps are each tailored toward a different activity: yoga, barre, high-intensity interval training, or seven-minute full-body workouts. Now all are offering a free trial through May 1. (Students, teachers, and health care professionals can receive a free trial through July 1.) Workouts range from five-minute HIIT routines to 90 minutes of yoga. Each app provides the option to pick the type of music you want and the level of intensity—we particularly liked the unique seven-minute workout app, which combines cardio and strength training. You'll also never get the same workout twice, thanks to new exercise sequences generated every time you log in. After the trial, Down Dog costs $7.99 per month. 
CorePower Yoga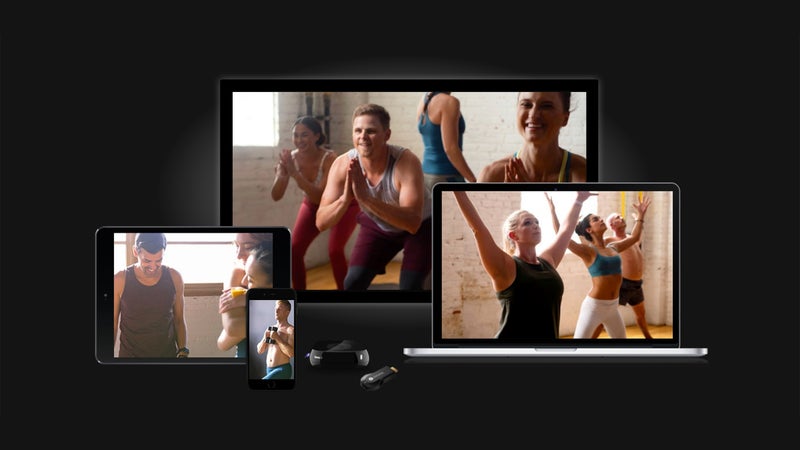 Good For: A mix of high-intensity and relaxing yoga classes led by energetic instructors 
After temporarily closing all of its studios across the country, CorePower is making its online classes free for everyone. CorePower Yoga On Demand includes the company's most popular sessions, including Hot Power Fusion, which focuses on strengthening the core and upper body; Yoga Sculpt, which combines free weights with yoga and cardio; and the Vinyasa-style CorePower Yoga 1 and 2. Each video ranges from 30 minutes to an hour, and the app also provides four short meditation/breathing exercises. An on-demand membership typically costs $19.99 per month or $199.99 annually. 
Peloton Digital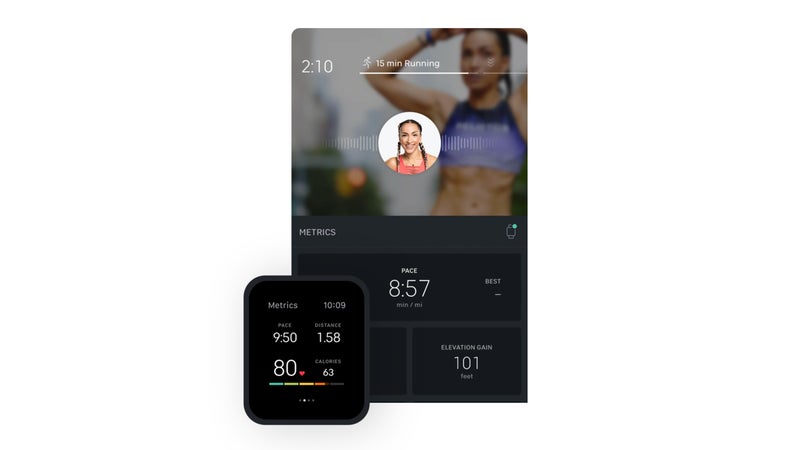 Good For: A wide array of workouts coupled with fitness tracking
Primarily known for its stationary bike workouts, Peloton's digital app is extending its free trial for new subscribers from its normal 30 days to 90 days. Users will have access to the app's full set of classes—including yoga, strength training, and virtual running training—and can choose from on-demand, prerecorded workouts or take a live daily class taught by a Peloton instructor. The app also allows you to set goals and track your progress, and it awards virtual medals and badges for the completion of each milestone. A stationary indoor bike is required for cycling classes, and a treadmill is needed for some of the running workouts (however, equipment need not be from Peloton). After the trial, the Peloton Digital Membership costs $12.99 per month.
Aaptiv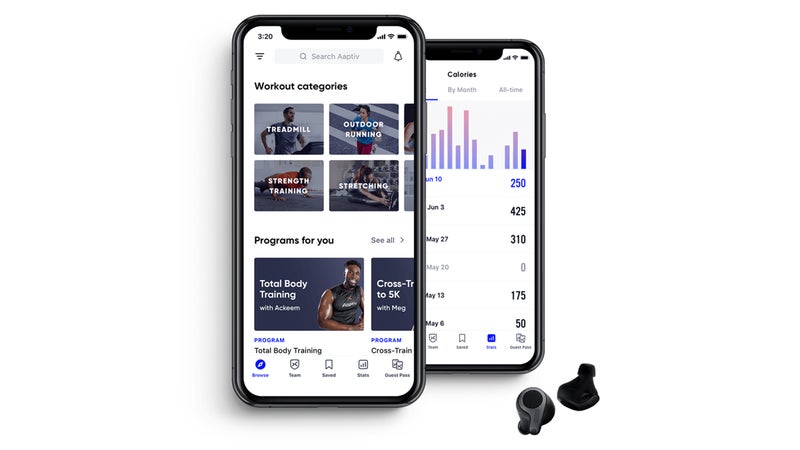 Good For: Intermediate to advanced athletes who want a more hands-off workout
Aaptiv's seven-day free trial lets you sample a variety of classes, including strength training, yoga, and stretching. The only audio-based app of this bunch, all of Aaptiv's workouts are led by energetic trainers that guide you through your headphones. Many classes require no equipment, though some are tailored toward elliptical, treadmill, and cycling routines. Because you can't see how the moves are done, this is more suited for intermediate to advanced users. After the trial, Aaptiv costs $15 per month.    
Les Mills On Demand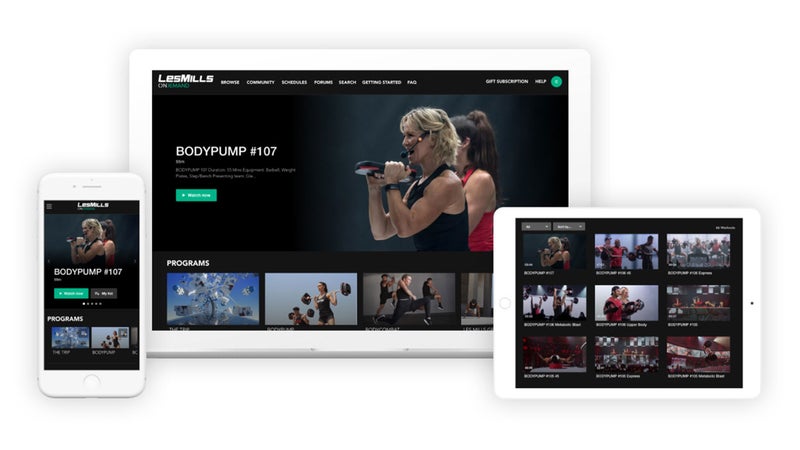 Good For: A wide range of workouts, including options for new parents and young kids
Les Mills offers a 14-day free trial for access to more than 800 workouts on its app, ranging from 15 to 55 minutes long. We liked the variety, which includes high-intensity interval training, dance cardio, and martial-arts-inspired workouts, and the fact that many of the classes are offered in Spanish as well as English. For those with kids at home, the app also has options for children that combine fitness education with easy-to-follow cardio moves. 
If you'd prefer to access workouts through your computer, the company has also created a free (temporary) website loaded with over 100 at-home workouts, including Les Mills' Bodypump weight lifting, barre classes, and routines for new parents that focus on moves you can do while carrying a baby—like squats and shoulder work. An on-demand monthly membership costs $14.99, though prices vary with an annual subscription.  
Centr Fit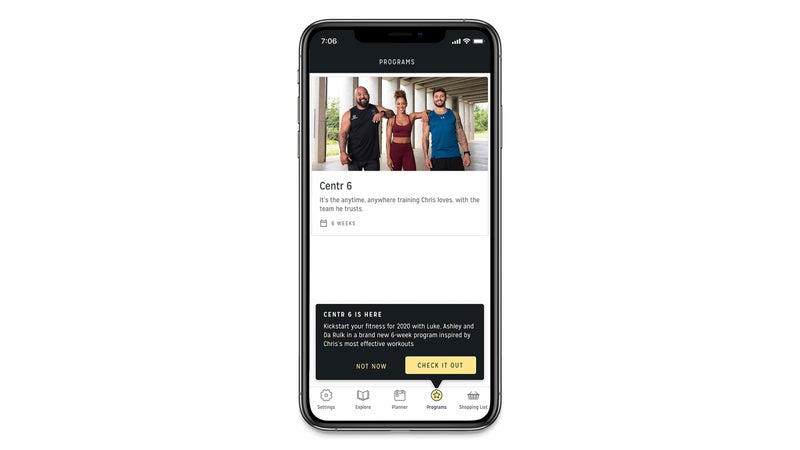 Good For: Mind and body care, high-intensity workouts, and meal-prep inspiration
If you've ever wanted to train with a celebrity, this is your chance. Centr Fit, founded by actor Chris Hemsworth, offers a seven-day free trial through the company's app as well as a six-week free trial if you sign up through Centr.com before March 31. The app features HIIT, boxing, yoga, and strength training in 20-to-40-minute workouts led by Hemsworth's personal-fitness team and accompanied by the actor himself, as well as guided meditations and ideas for healthy meal plans, including vegan, vegetarian, gluten-free, and pescatarian options. The app's weekly planner lets you organize your schedule so you have all your fitness goals and recipes in one place. A Centr monthly membership costs $29.99, though prices vary with an annual subscription. 
Fitbod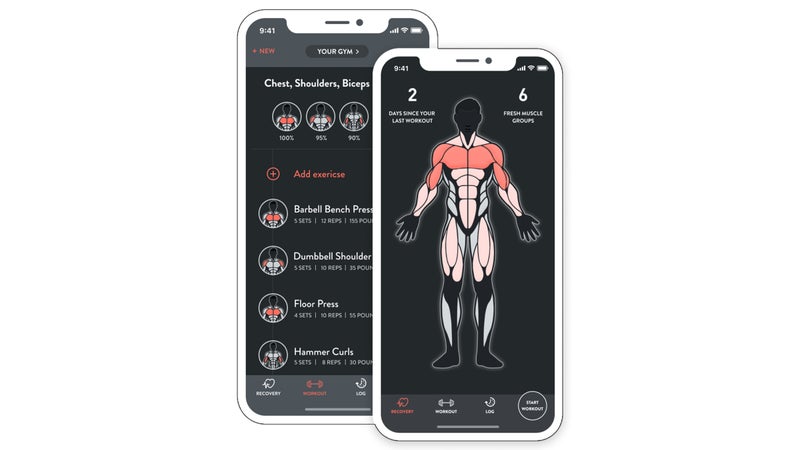 Good For: Personalized workouts that don't require video or audio 
Fitbod typically offers three free strength-building workouts to new users, an option that has expanded to include free body-weight workouts until May 1. Each is easy to customize: choose the muscles you want to target, the number of reps, and the length of the workout. Fitbod then uses a training algorithm that takes your fitness level, past workouts, and available gym equipment into consideration to create a personalized routine with moves of varying intensities and repetitions. If you like watching a video or listening to audio training, this app isn't for you; with Fitbod, you'll follow written instructions off the app. Fitbod typically costs $9.99 per month. 
Unplug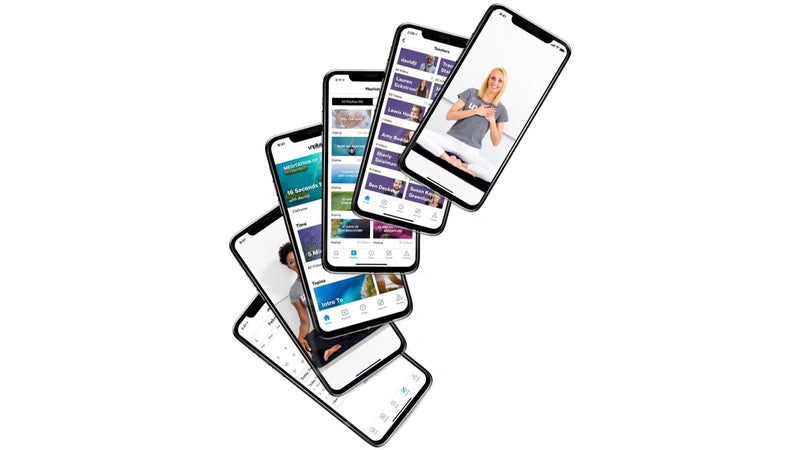 Good For: Those new to a meditation practice who would like to set specific goals 
Unplug's one-week free trial helps new users practice daily meditation techniques like mindful breathing through videos divided into categories that target focus points like sleep, stress management, and motivation. The app's Meditation of the Day, which can include 16-second sessions based on setting intentions or finding calmness, is a helpful tool to encourage daily practice. After the trial, Unplug's monthly membership costs $7.99. The company's studio classes are also being livestreamed on its website while its physical locations are closed. 
ClassPass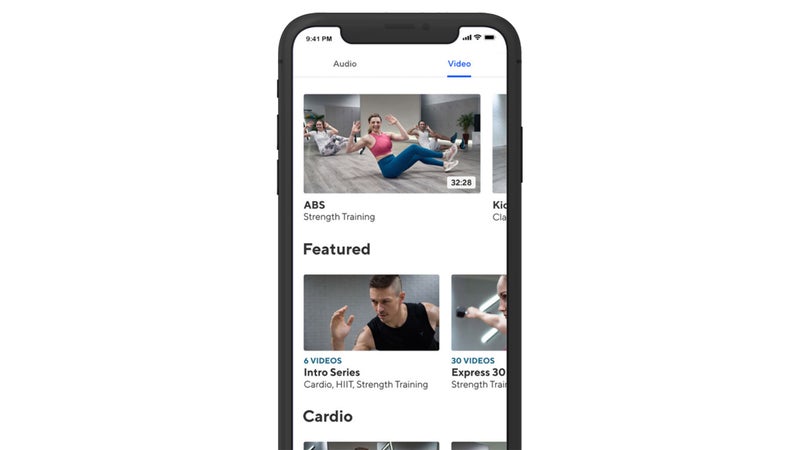 Good For: ClassPass subscribers looking to get the most out of their membership
Although ClassPass typically connects users with local fitness studios, global membership is temporarily suspended. Now the company is offering everyone free access to 2,000 prerecorded video and audio workouts through its app, taught by contributing fitness teachers from studios around the world. These classes range in style and intensity and include yoga, cardio, HIIT, and strength training, as well as workouts focused on specific areas of the body. ClassPass also offers livestreamed sessions from studio partners, but you'll need to purchase those. For the next two months, 100 percent of the proceeds from each livestreamed class will go directly to the local studio teaching the class. ClassPass membership costs vary by city, ranging from around $45 to $150 per month.
Lead Photo: Courtesy Peloton